In this article, we'll explain how to check your torrent IP address and hide it from ISP.
One of the essentials after setting up your torrent VPN or proxy is to test out security. The most effective way to prevent leaking your IP is by validating your current and historic IP address. This way you can see your IP address the same way as peers, trackers, and your ISP.
5 Reasons why you need to be anonymous while torrenting
There are many reasons why a user needs to be anonymous while they are torrenting. These reasons are:
Legal issues

– there are serious legal consequences that the user can face depending on the country they reside in. This can range from fines to actual jail time if the user is accidentally downloading wrong torrents.

Trolls

– these people work for organizations that are tasked with collecting data about users who are downloading files. This data is then forwarded to 3rd parties.

User losing their privacy

– every time the user starts a download, all the uploaders and seeders of the torrent file can view their actual torrent IP address. Some of these people can then find out where you live and or what your ISP is.

A hacker might geolocate you broadly (country) or even more detailed (the exact home address) and potentially cause harm to your device or perform DDOS attack which would prevent you from using the Internet.

ISP penalties

– when the user is downloading torrents, they use up a lot of bandwidth and also put the ISPs in a delicate legal standing and the ISPs may not like this. The ISPs may then terminate their service and reduce the user's internet connection speeds. (Be sure to follow local laws)
According to researchers,

ISP providers tend to throttle your internet speeds

. During the pandemic, many providers slowed down their streaming users' internet speed to manage the increasing growth of users. However, ISP throttling is even done during normal times and even proven by Northeastern researchers.
IP addresses could tell a lot about internet users. Let's learn how to hide it.
What you'll need to check your torrent IP address
You need to have an active VPN or proxy service

Any torrent client (Examples include Vuze, BitTorrent, uTorrent, Kickass, Deluge, Tixati)

You need a tool for the torrent IP tracker. Here's one we use:


VPN Testing: VPN Test Site
This is why is active monitoring and logging important
Actively monitoring your IP and logging IP addresses lets you know if you have had any leaks. Some torrent softwares also let your preview it on the tracker status tab, but having your own 3rd party tool for that purpose is a much more reliable approach.
The major reason why using browser-based IP locator is a BAD idea
Some of the previous guides suggest that a user can simply visit a website like iplocation.net and check torrent IP and whether this IP address is reflecting a different location. The major downside with this is that it solely checks the IP address of the browser a user is using. This is not sufficient especially if a user is:
Using a proxy (there is proof that this doesn't fully secure the user's network IP).

Using a VPN that leaks the user's IP address. VPN leaks are quite common (22/52 leak your data)
Standalone software enables the user to track and verify their IP address over and over again any time they want to.
Installing the IP tracking software
These are the steps needed to install the tracking torrent
Step 1: Visit the MIPA download page (it's completely free with no catch)
Step 2: Download MIPA (only available for Windows currently)
Step 3: Once downloaded, unzip it to any folder. The most way is to put it to "Program files".  
Step 4: Once the unzip is completed, it should be ready for using. Just open the .exe file: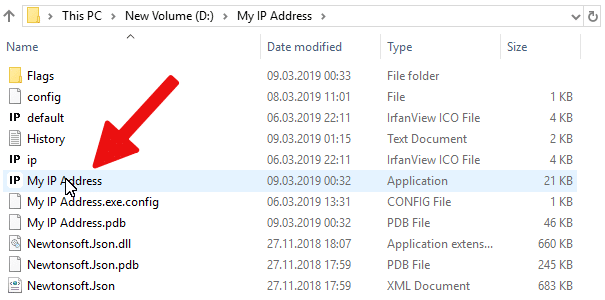 and the new icon with your current country location pops up on the menu. After about 10 seconds, the tracker page should have automatically updated and is currently displaying the IP address that has been detected by the torrent as well. The easiest way to see the detailed IP address to hover over the flag:

Additionally, it is also possible to find out the IP address and historic changes by right-clicking on the icon and choosing "view history"

Here's how the historic changes from now on will display:

That's it. Now you have an active system to check your torrent IP address.
When using a proxy instead of a VPN
For security purposes, it is vital to make sure that you're using a "SOCKS5 proxy", and you are also using a torrent client that effectively supports proxy peer connections. It is important to note that if you decide to use an HTTP(S) proxy, the peers will still connect to your real IP address. This is because the HTTP proxies cannot carry torrent data packets. The following are the results you should get:
Your torrent IP address being displayed should be different than your web browser's IP

Once you turn off the proxy, your torrent IP should change immediately.
The explanation for these observations is simple. Your torrent IP doesn't correspond to your web browser's IP address, because your web browser's traffic isn't being channeled through the proxy server. It is only the torrent's traffic that is being channeled through the proxy server. If a case occurs where both the IP's match, this is an indication that something is wrong. It means that the proxy isn't working correctly.
This is what happens if you're using a proxy together with the VPN
If you are using a proxy and VPN simultaneously inside your preferred torrent client, this is what you can expect:
The

torrent IP will be different from the browser IP

.

If you disconnect from the VPN, torrent's IP should not change.

Your browser's IP is supposed to change once you get disconnected from the VPN.
It is vital to make it a habit of starting your VPN and also switch on the kill-switch for extra security before opening your browser to connect to your torrent client. The reason for this is that you can avoid getting a connection error from the proxy when the connection changes to the VPN. A connection error could cause it to freeze or timeout.