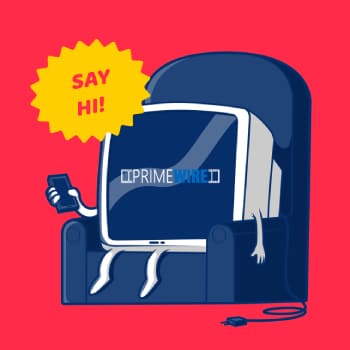 Are you a couch potato who loves binging the latest TV shows and movies? Maybe you're someone who says "just one more episode" as you realize the sun is starting to rise. You can't help it. There is so much amazing content out there and so little time to consume it all.
But one of the biggest problems is that there are too many streaming services. Subscribing to all of them can cost a fortune, and there are some that aren't even available in the country you live in. These issues cause consumers to look for other means of viewing their favorite shows.
One of these alternatives is PrimeWire. It hosts thousands of hours of content that you can access for free. While it's much more convenient to have all of your TV shows and movies in one place, not everything on PrimeWire is perfect. If you've got primewire.li, primeware.ag, primewire.mn, or primarewire.li saved to your bookmarks, there are some essential things you should know before you hit play on the next episode of your favorite TV series.
What is PrimeWire?
PrimeWire streams movies and TV shows in high definition without requiring you to sign up, register, or pay a subscription fee. It features content from around the world and doesn't block you no matter what country you call home.
However, for all of the perks, there are some downsides to using PrimeWire. For starters, it features way too many ads. Not just generic ads you'd see on TV, but a lot of adult-related content.
There's also a risk of clicking on parts of the site that contain malicious content. It's not just malware. There is a chance you can download data that leads to hackers accessing your computer for a ransomware attack or worse.
So while there are several advantages of using PrimeWire, there's also plenty of disadvantages you need to consider if you want to make this your home for streaming.
How Do You Access PrimeWire?
Due to PrimeWire hosting licensed content it doesn't own or have the right to stream, there are some places around the world that do block your access to the site from your browser even though the use is legal. However, there are some steps you can take to get around this if you want to stream your favorite TV series and movies on PrimeWire.
The first piece of software you'll want is an antivirus program. It needs to contain the latest database of trojans, malware, and viruses, just in case you click on something that could cause damage to your device.
You'll also need a VPN to access PrimeWire if your country has blocked access to the site. Simply select a server in another country, and your browser will think you're a resident of that location. Now you'll be able to access PrimeWire and have access to thousands of TV shows and movies to watch online.
Is it Legal to Use PrimeWire?
While PrimeWire has access to a large catalog of content to stream, it doesn't have the legal permission to broadcast everything on its site. Many countries frown upon anyone streaming or downloading copyrighted content and will persecute users who are caught doing so.
In the US, authorities can fine you hundreds of thousands of dollars for streaming illegal content, and in extreme cases, you can serve jail time. Other countries feature similar penalties, while some simply block access to PrimeWire entirely, so you're not able to access it from your browser.
If you want to continue using PrimeWire, then your best protection from accidental wrongdoing is using a VPN to keep your data safe from your internet service provider.
What Are Some PrimeWire Alternatives?
There is plenty to be concerned about when it comes to using PrimeWire to stream TV shows and movies. From viruses and malware to an abundance of porn ads, it's easy to be put off using the service to view content.
Fortunately, there are several other alternatives to PrimeWire that are less risky and don't try to hack your device when you're binging your shows. While you should still have an antivirus program on standby and access these sites with a VPN for legal reasons, you'll find just much content on these PrimeWire alternatives.
Popcornflix
This site has been around since 2011 and has grown to become one of the best alternatives to PrimeWire. Not only can you access it on your laptop, but it will also work on most streaming devices and game consoles.
There are some independent productions and web-series on offer, but the highlight is the long list of movies and TV shows they provide. It's simple to find your favorites as everything is categorized and accessible from easy to navigate menus.
The only downside is that you'll need to sit through a few ads before you watch something. However, they're nothing like the commercials you'll get on PrimeWire.
123Movie
After multiple streaming sites got shut down, more and more users started migrating to 123Movie to watch movies instead of returning to PrimeWire. The site has a modern feel to it and offers not only an incredible catalog of content but also superior media player support compared to other places like PrimeWire. There's also plenty of mirror sites to choose from so that you'll never get frustrated when trying to access your series.
There are ads on the site, but the owners are upfront about why they're a necessary evil. You can be assured that if you do click on something that interests you that you're not going to regret it due to a virus or hacking.
PutLocker
Even though its design is a little outdated compared to PrimeWire and some of the other entries on the list, one thing that's up to date is its catalog of content. You'll find new release movies, TV Shows, and a range of classic items from years past.
You'll even find videos that are much harder to find on other streaming services like PrimeWire. There is a large volume of anime movies and TV series as well as live-action Asian shows. This type of content would normally need to get accessed by subscribing to a service in that country, but PutLocker makes it a lot easier for you for free.
SolarMovie
The team behind SolarMovie believes in providing its users with quality content. That doesn't just mean a long list of movies and TV shows to choose from, but also high-definition videos for the items you want to watch. Instead of watching films from the back of a cinema via a camera as you might on PrimeWire, you'll be streaming Blu-Ray quality movies.
It also displays IMDb rankings for all of its catalog. This way, you're not going to get fooled by a visually appealing poster and end up sitting through a three-hour snooze-fest.
Vumoo
While it's not as user-friendly as other PrimeWire alternatives, there is an extensive collection of TV series and movies to watch on Vumoo. The media just isn't categorized into genres or when it's released to the public.
Thankfully, the search engine is just as good as Google, and you'll quickly find what you're looking for. It's also identical to PrimeWire in that you don't need to create an account or register your information to access the media library that's available.
GoMovies
You might think that GoMovies only hosts the latest and greatest from the silver screen, but they also provide an abundance of TV shows to binge at your disposal, just like PrimeWire. You can easily find something to watch courtesy of its search bar, or you can scroll through their categories in the navigation menu.
The site is broken down into movies, TV shows, and news channels. After you've made a selection, you'll get presented with multiple categories such as action, adventure, biography, and animation.
YesMovies
Like GoMovies and PrimeWire, YesMovies is more than just a streaming service for films. It also provides access to the latest TV shows and entertaining documentaries. It makes for a great alternative to PrimeWire as there are a lot fewer ads on display here.
YesMovies even helps you out when you're not sure what you want to watch. There is a "What's Hot" menu option that hosts all of the TV shows and movies that the internet is buzzing about at the moment. If you want to be part of the conversation, then you'll want to make sure you visit this area of the site.
CoolMovieZone
For the latest new releases that you can't find on PrimeWire, you should visit CoolMovieZone. All of the films here are categorized by the year of release and the genre. But there's an entirely separate section dedicated to the latest movies hitting cinemas and other streaming services.
If you're a fan of foreign films, you'll also find movies from Bollywood and Telugu. There's a vast collection of videos from these genres that are hard to view on PrimeWire or anywhere else. Plus, they also feature new ones as they're released in their respective countries.
Niter
The team at Niter knows that your time is precious. That's why instead of navigating through multiple menus to watching a film or TV show, all you need to do is click on the poster and press the play button.
You can even share your thoughts on what you just watched with the rest of the Niter community. There is a comments section that allows you to connect with other viewers to discuss your thoughts feelings on movies and TV shows. Just make sure not to leave any spoilers.
Where Else Can You Watch Movies and TV Shows Online?
If you're concerned about the legalities of sites like PrimeWire and alternative streaming services similar to it, then there are other options available. Of course, you can always register to Netflix, Amazon Prime, Hulu, and one of the dozens of other services. However, you're going to need to hand over all of your details and pay a subscription fee to access their content.
The reason why many people turn to PrimeWire is that it's free and doesn't require any registration. Thankfully, there are some legal alternatives to PrimeWire that are available to you, and while they might not feature the same extensive catalog, they offer plenty of content you can access for free without the need to hand over your personal information.
Tubi TV
If you're into independent films or like to watch low-budget B-grade movies that will never get the level of attention that a Marvel movie gets, then Tubi TV is likely to have it. There is an app for the service that's available on TVs, mobile devices, and even your phone.
You can choose to signup, which is free, and also syncs your watch history across your devices. So if you start watching a movie on the couch and then want to finish it in bed, then it's simple to make the switch. That's something that PrimeWire can't match.
Crackle
You might already be familiar with Crackle. It's owned by Sony and features an extensive collection of classic films and TV shows you can watch free. Something you wouldn't expect from a major corporation.
The service even produces its own series like Netflix, and regions around the world have different libraries. So if you use a VPN to access Crackle, then you can see unique content from other countries. The only downside is that it does require you to signup to access the library, but it's completely free and doesn't require you to provide any credit card information.
Peacock TV
Created by the broadcasting company, NBC Universal, Peacock TV is new to the streaming world compared to sites like PrimeWire. Everything the company shows on TV is available, and there is also content that's exclusive to the platform.
Sadly, unlike PrimeWire, not all of their videos are available as part of the free service. You'll need to pay a subscription to access some of the premium content and get your hands on full episodes of new release shows. However, there is plenty of free content available that might be enough to steer you away from PrimeWire.
YouTube
Even though there are plenty of cat videos and makeup tutorials on YouTube, it also offers a full library of TV shows and films that are available to stream for free, just like PrimeWire.
There are some independent films and public domain movies that have been uploaded by users, but there are also multiple other videos that are available for you to watch for free. It's even worth following the YouTube channels of your favorite movies and shows to see exclusive clips and trailers that you won't see anywhere else, including PrimeWire.
Vudu
If you visit PrimeWire because you're a movie buff, then you need to check out Vudu. It features an extensive collection of vintage movies and some modern-day classics. The best part is that they're all available for free. However, you might need to watch an ad or two. But it's nothing like the ads you'll see on PrimeWire.
Vudu also features some classic sitcoms from the golden age of television. There is also some paid content, but it's easy to distinguish what you need to pay for and what you can stream immediately without spending any money.
IMDb TV
Most people visit IMDb to let the community what they think of the latest TV shows and movies. However, it also hosts one of the best streaming alternatives to PrimeWire. While there are a few ads, you'll find a great selection of videos available at your fingertips.
Besides being free like PrimeWire, the site's best feature is that all of its content is in high definition. So no matter how old the video is that you're choosing to watch, it will be upscaled and look clearer than it ever has. Then once the credits roll, you can jump into the forums and join in on the discussion.
Pluto TV
Pluto TV is a little different from sites like PrimeWire and other streaming platforms. Rather than browse a catalog of movies and TV shows, you'll scroll through a selection of channels just like on your TV.
There's a vast assortment of content that will whet your viewing appetite. There's original programming from IGN, World Poker Tour, and CNET, as well as documentaries, web series, news shows, and more. Much like PrimeWire, there's no shortage of content to choose from and something for every member of the family.
Vimeo
You might have come across Vimeo during your internet browsing sessions. It's like YouTube in that it hosts user-created content. But it's similar to PrimeWire in that it also hosts in high definition for free.
Many are made by independent filmmakers, but there are also some older movies available and hard-to-find foreign films. There isn't a large selection of TV shows available. However, there are plenty of movies to keep you occupied for a few hours at a time.
Archive.org
This site is one of the largest homes to stock footage, images, websites, and videos. Almost all of its content gets uploaded by the community once it becomes public domain. So while you won't find the latest episode of The Walking Dead on here as you would on PrimeWire, you'll discover thousands of classic films and TV series.
There's no need to register your details, and like PrimeWire, you won't pay a cent to watch anything in the catalog. You can take a trip back in time to the 1930s and 1940s and watch vintage comedies, horrors, and romances that don't feature any of the movie magic you're used to today.
What is the Best VPN for Movies and TV Shows?
The reason why many people use PrimeWire is to get easy access to the latest TV shows and movies without having to sign up for multiple subscription services. However, while the price is right, there are other disadvantages that come with using PrimeWire. There are several intrusive ads, with some featuring adult content, and there's also a risk of your device getting infected with malware or a virus.
There are some other alternatives online that are identical to PrimeWire and even some legal alternatives that offer an extensive catalog of videos for you to binge on. But, no matter what platform you end up on, you should always ensure that you have an antivirus program installed with the latest database and a VPN turned on.
You can't just pick any VPN to use to watch PrimeWire. Each one has its pros and cons, and some aren't suitable for accessing streaming services. Our personal favorite for sreaming is NordVPN. Read NordVPN review and learn more about the pros and cons. Before you turn on your virtual private network, let VPN Testing make sure there'll be no interruptions while you're watching your favorite movie or TV show on PrimeWire.