Betternet review: drop it in the bin immediately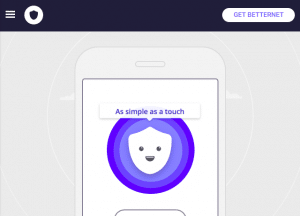 Pango GmBH, formerly known as Anchorfree Inc It sells your data, leaks DNS, and offers shady encryption protocols – What else do we know? Read Betternet review.
Price: 2.99
Price Currency: $
Operating System: Windows
Application Category: Utility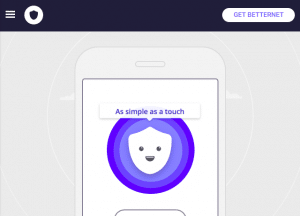 Shady service – stay away!
First things first. The screenshot you see on the right is NOT Betternet. It has Betternet name, hip new-age look, a domain name, and a friendly logo, but underneath its HotSpotShield.
Back in 2015 when I heard about the product being launched, I was excited to have make a Betternet review.
Why?
13 years ago Anchorfree released its first product – HotSpotShield VPN. Evolution obviously expects that new and better things are ahead. Just like with wine… You leave it in the basement for 5 years and after opening the bottle you expect it to be great. Yet it tastes the same. Probably even worse.
The same happens when VPN services try to make a quick buck. They start off by thinking about how to serve themselves rather than focusing on the customer. Hey, blockheads. I just want a goofproof privacy tool. No fancy UI layouts, or photos of smiling stingrays, please. Keep it simple.
Take a look at HotSpotShield. It got a few things right: No DNS leaks, nice side features like kill-switch and double-hop and super-fast server speeds.
Yet there's no substitute to the fact that… how to say this… You don't hear Schneier recommending it. Krebs doesn't have it on his PC. HotSpotShield is not an engineering miracle. Vice versa. It's as good in terms of security as a plastic bicycle lock.
That's why I was excited about writing the Betternet review. The logic would have been to take HotSpotShield architecture, tweak it with 10 years worth of knowledge, offer something the world hasn't seen before, which I thought would turn an egg into a chocolate cake.
Let's see what happened.
Overall Rating: 2.4/10
Betternet VPN synopsis
| | |
| --- | --- |
| Ranking: | 51#/52 |
| Parent company: | Anchorfree Inc -> Pango GmBH |
| Jurisdiction: | Switzerland/the United States |
| Locations: | 10+ countries/10+ servers |
| Overall test result: | UNSAFE (Data logging) |
| Torrenting: | PASSED (Torrent allowed) |
| Netflix: | FAILED (0/3) |
| Encryption/protocols: | Catapult Hydra |
| Support: | UNRESPONSIVE |
| Cost: | $2.99/mo |
| Official site: | www.betternet.com |
☒

Encryption & security
Hmm. The problem with Betternet and its marketing team is the way the product is built. Offering an industry-standard SSL-encryption is much more than turning on a TV, watching the Matrix and dreaming to be Keanu Reeves. Just like old movies, Betternet and their encryption is like a misty fantasy.
Even though a free service may be a great choice for Netflix and torrenting purposes (we'll come back to it later). The fact that proxy is advertised as a VPN is just not right.
Speaking of advertising, this is where things get creepy. You see, AnchorFree has it's own model for surviving. The definition of VPN literally says it's a private, and you wouldn't even come across the idea of a VPN service selling your data, but this is what Betternet probably does:

What do they mean by "we may share your location, IMEI, MAC and access your IP while not connected to Betternet"?
Controversially, the same page says the opposite:

"Your IP address log is deleted after you disconnect the VPN".
Our conclusion is that even though they may delete the log, the privacy policy doesn't speak behalf 3rd party advertisers.
But why you should even care if it doesn't put you under any obligations. After all, you could probably go and use your office devices. I am sure your boss would be amused due to the fact that you want to hide your company's trade secrets with modern cybersecurity technology like VPN.
If it would only pass even the most basic security test… antivirus scan:
☑

Easy setup
Okay, we agree on one thing. This U.S company called AnchorFree, Inc is a heavyweight. They dominate some of the most searched keywords in the space. Just like a gorilla, an alpha in terms of being big and public. The primitive website is as minimal as it can get, and absolutely, it's "as simple as touch". It took 6 clicks and 2 minutes to set it up. This is something every software company could learn from …
And this is what it's set different compared to its ancestor. After downloading HotSpotShield, it starts the most annoying trial agreement that subscription services love to use. Instead of letting the user get a sense of software environment, it has built a Berlin wall between the user and free trial. I don't have anything against entering credit card details, but hey, let's get to know each other before getting too personal, okay?
☒ Only 17 locations for premium users
I've spent more time than usual discussing security because it's the essence of a private network. The main reason you would buy it is to get safe connections between different servers. But what if you only had 10 country destinations to choose from?
Betternet can fly you to the U.S, northern central Europe and a few Asian countries like Japan and Hong Kong. There will be people who call me greedy, a villain from Ian Flemings' novels, but let's view it from another angle.
The market average is 40 countries and even though it sounds a lot, it leaves a question – Has Netflix already blocked all of the servers? According to Statista, streaming is the number one reason VPNs exist and to be fairly honest, there's not much more a proxy like Betternet could do for you.
… Even the Goldfinger would have given up to the idea of breaking into Fort Knox if he would have known the outcome. And you, the freeloaders, you will be left with 1 location, which brings us to Netflix – Does Betternet work with Netflix?
☒ Not streaming Netflix and not working abroad
Netflix is a wildly popular streaming service. It's full of movies and therefore remarkably fun, yet they tend to block certain VPN servers. Does Betternet work with Netflix?
I took a shot with premium servers and it was like hitting my head against the wall… 3 times.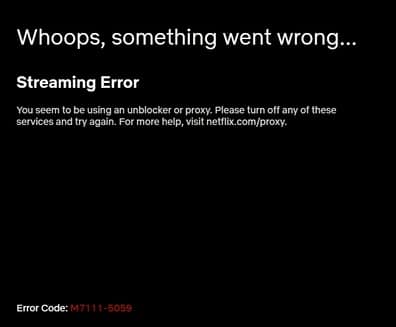 I felt like a fool. What was I thinking?
At that point, even though we knew Betternet didn't have any cards left on the table.. we tried to still understand it's functionality, how it could be put in use? The China test was next and we were falsely hopeful.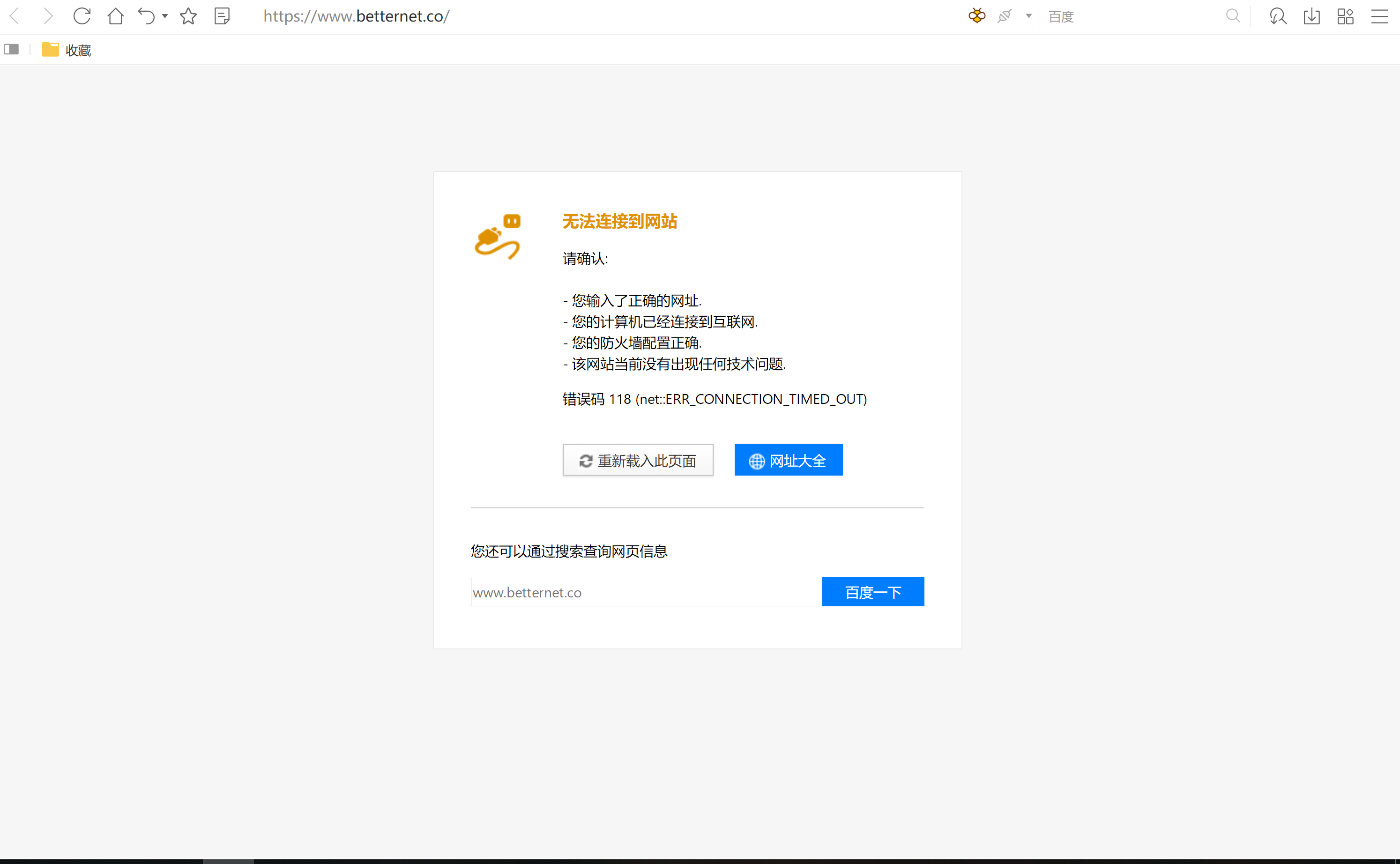 Their site is not accessible through China Unicom ISP and didn't give any signs of surviving the Great Firewall ban.
The only thing that seemed to work was torrenting, so we gave Betternet one more chance to prove it's existence.
☒ Speed and pricing
If Betternet would have the speed of bolt lightning, there might be some sun left after all. We picked up 3 world continents and ran server tests on all of them at once. This is what was found:
| | | | |
| --- | --- | --- | --- |
| | Ping | Upload | Download |
| U.S | 1123.81% | -20.55% | -20.88% |
| U.K | 471.43% | -39.73% | 8.98% |
| Hong Kong | 1352.38% | -23.29% | -10.44% |
Okay, I was surprised. During speed tests, Betternet did very well around the globe. I was certainly sure it will fail this miserably, like a sinking ship, seconds after crashing into the iceberg. Yet for some odd mystery of life, it actually succeeded and got a few more minutes more of our attention.
Yet, speaking of expenses. I'm afraid the news is not good. Because Betternet is only free for limited users and for the premium you have to pay high subscription fee:
1 Month $11.99 total – Display: $11.99 / month
6 Months – $23.99 total – Display: $3.99 / month. Saves 65%
12 Months – $35.99 total – Display: $2.99 / month. Saves 75%.
There are some things you wouldn't even want for free. Like those haunted mansions on sale for $1, you will get it for free, but the restoration costs would put you in bankruptcy.
Service conclusion
Even when I wanted to contact Anchorfree by e-mail and ask about their advertising policies, I never got an answer.. not even an automatic reply. There's no phone number or a live chat. So here I was.. like a cat waiting for a bus in the middle of the Amazonian rainforest.
… Help?
Betternet definitely has potential. The router compatibility, fast server speeds, and the universality to use it simultaneously on 5 devices including Windows, Mac, Android, and iOS. What makes us feel cold and prickly, however, is that it simply isn't anything like it's older brother.. not even close.
Test Betternet with our VPN tester tool and share your results.
Write your Betternet review