For starters, let's dig into the meaning of DNS – Domain Name Service.
According to Stanford University DNS is the network service that maps Internet domain names to numerical IP addresses.
Seems easy, right?  To put it in an analogy, it serves as a phone book for the Internet by translating human-friendly computer hostnames into IP addresses. For example, www.example.com translates into the addresses 93.184.216.34 (IPv4) and 2606:2800:220:1:248:1893:25c8:1946 (IPv6).
In the past Stanford Research Institute (now SRI International) handled the database of all the simplified domain names manually. To request a hostname and an address and add a computer to the master file users had to contact the SRI. Could you imagine that now? The Internet grew so rapidly that they couldn't keep up with it. So they automated it. Now we have organizations which do that for every website. For example:
Google Cloud DNS
EasyDNS
Amazon Route 53
Interesting, right?
Now let's come back to DNS leaks. How do they happen and why should you care?
DNS Leak
Every time you connect to a website your signal goes through a process. Users don't usually communicate directly with DNS resolvers. We need client programs for that – your web browser.
Your web browser sees the IP address (a fingerprint) that your device will use and requests DNS search through your ISP (Internet Service Provider). With a VPN your device asks the VPN server for DNS service instead. To sum it up, when VPN is not stable or fails to work due to technical errors, your machine with real IP will ask your ISP for DNS and this unwanted situation is called DNS leak.
Which VPNs Leak DNS? (Case study with 53 VPNs)
To answer this question we subscribed to and installed 53 most popular VPNs on our lab laptop. We tested them with 5 leak detecting services and recorded the results and the results were quite stunning.
Slightly less than half of the service providers leak your data!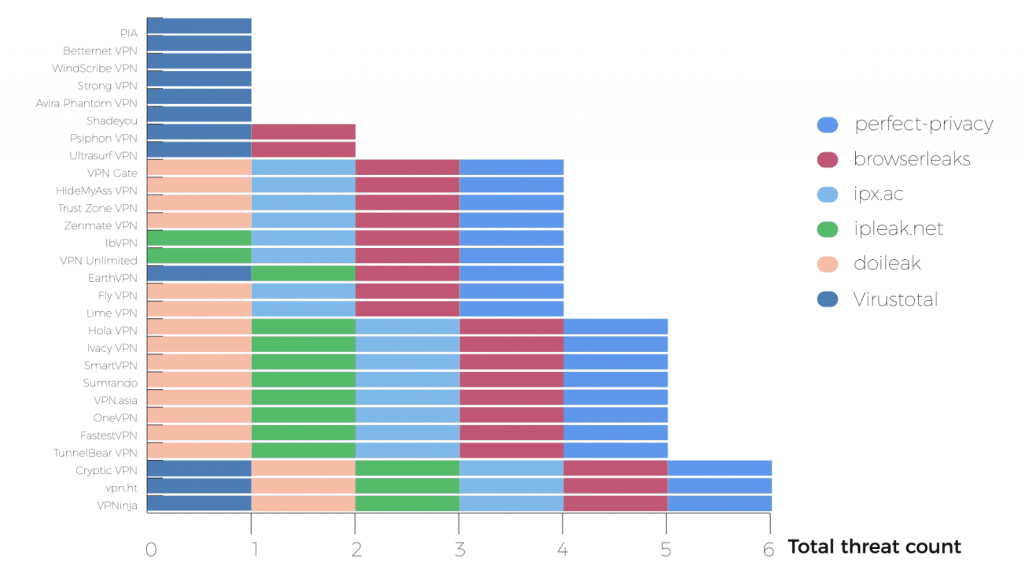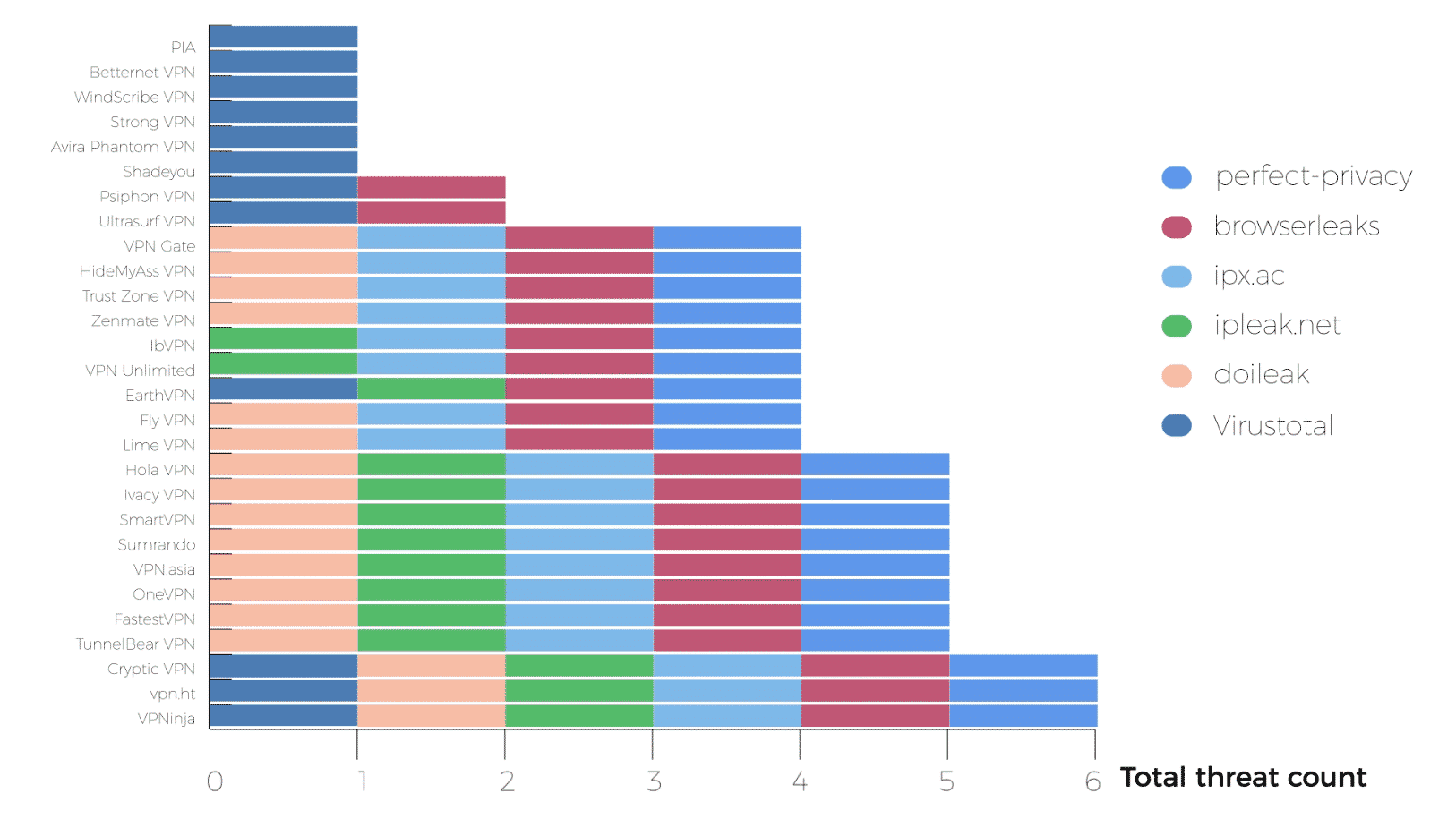 So which VPNs leak?
List of tested VPNs (A-Z):
AirVPN (0)

Astrill VPN (0)

Avast Secureline (0)

Avira Phantom VPN (0)

Betternet VPN (0)

Browsec VPN (0)

Buffered VPN (0)

Cryptic VPN (5)

CyberGhost VPN (0)

EarthVPN (4)

ExpressVPN (0)

FastestVPN (5)

Fly VPN (4)

Freedome VPN (0)

Ghostpath VPN (0)

Hide.me (0)

HideMyAss VPN (4)

Hola VPN (5)

HotSpotShield (0)

IbVPN (4)

IPVanish VPN (0)

Ivacy VPN (5)

Le VPN (0)

Lime VPN (4)

NordVPN (0)

Norton VPN (0)

OneVPN (5)

Overplay VPN (0)

Perfect-Privacy (0)

PIA (0)

ProtonVPN (0)

Psiphon VPN (1)

Pure VPN (0)

Seed4.me (0)

Shadeyou (0)

SmartVPN (5)

Steganos VPN (0)

Strong VPN (0)

Sumrando (5)

Zenmate VPN (4)

Tiger VPN (0)

TorGuard (0)

Trust Zone VPN (4)

TunnelBear VPN (5)

Ultrasurf VPN (1)

WindScribe VPN (0)

VPN Gate (4)

VPN Unlimited (4)

VPN.asia (5)

vpn.ht (5)

VPNinja (5)

VPNSecure Me (0)

VyprVPN (0)
(The number indicates how many leak sites it failed)
Is your VPN not listed? Not a problem. You can do your own tests.
Test your VPN for DNS leaks:
https//www.doileak.com
https://www.ipleak.net
https://www.ipx.ac
https://www.browserleaks.com
https//www.perfect-privacy.com
DNS leak is not the only threat
Remember when Edward Snowden shocked the world by commenting smartphone backdoors?
Even VPNs might have it!
A good way to start is to check for viruses. You can do this easily with online tools – https://www.virustotal.com
6 tips to protect yourself from DNS leaks
The good news is that there are safety measures to protect you from DNS leaks.
How?
Here is a list of things to do:
Use a good VPN.
Test the VPN before using it. Check the tools above.
Use VPNs with kill-switch and turn the switch on.
Use Tor.
Change your default DNS server.
Disable Teredo (using Windows, go to command prompt and type in "netsh interface teredo set state disabled".