Which VPN Service Works Best With Google Chrome in 2023?
Keeping your personal information secure is of utmost importance, and using a Virtual Private Network (VPN) is the best way to achieve this. When looking for a VPN, two important factors to consider are encryption of personal data and search history, as well as having a hidden IP address.
It's important to avoid VPNs that lack essential features such as encryption of personal data and search history, hidden IP address, encrypted internet traffic, split tunneling feature, and dark web monitor. By selecting a VPN with these features, you'll be able to ensure your online security and privacy are protected.
Our List of the Top 5 Google Chrome VPNs

Best Chrome VPNs
1. ExpressVPN (Best Google Chrome VPN for Encryption)
Rank: 1 | Servers: 3,000+ | Speed: Download: 87 Mbps | Countries: 90+ | Encryption Type: L2TP/IPsec, OpenVPN (TCP), OpenVPN (UDP), PPTP, IPsec, and IKEv2 | Max devices:5 simultaneous, but unlimited installations | 24/7 support: ✅| Free trial:✅ | Money-back guarantee: ✅ | Apps & Devices: Win~Mac~Android~iOS~Router~LGTV~Samsung TV~Amazon Sticks~Xbox | Jurisdiction: British Virgin Islands (BVI) |
There are a lot of ways through which someone can access your personal data when you are online. Thus, it is always important to not only encrypt your data but to do it in such a way that no one else can get to it. Most VPNs have some protocol they use to encrypt their clientele's data, but certain VPNs are head and shoulders above the rest when it comes to encrypting, and ExpressVPN is one of them.
Uses Safe Protocols
ExpressVPN is based in the British Virgin Islands (BVI), and a VPN based in the British Virgin Islands can offer strong privacy protection for its users.

Apart from its location, we regard ExpressVPN as one of the best VPNs for safety on Google Chrome because of its no-log policy.
When it comes to encryption, the more protocols a VPN has, the safer it is. This is because the VPN will automatically switch from one protocol to another in order to make sure that your information remains safe.
Some of the encryption options ExpressVPN offers include L2TP/IPsec, OpenVPN (TCP), OpenVPN (UDP), PPTP, IPsec, and IKEv2. However, not all countries have all these options, and thus you will first have to check the options available in the country where you reside. Moreover, some protocols only work with certain operating systems.

Features
ExpressVPN does offer streaming for some of the more popular streaming services. It works with Amazon Prime, Netflix, Disney+, Kodi, and many other sites. A VPN will help you obscure the location of your IP so you can enjoy your favorite content without worrying about geo-restrictions.

ExpressVPN has a huge collection of server locations. With over 3000 servers in 94 countries and 160 different server locations, you are spoiled for choice.
ExpressVPN lacks an ad blocker, which is considered an industry standard for many VPNs.
They also don't offer a multi-hop connection or the option to use the Tor anonymization network. This network allows your traffic requests to bounce through multiple volunteer intermediaries before reaching the final destination, thereby increasing your privacy.
Premium Pricing
The pricing for ExpressVPN varies based on the chosen subscription plan. The monthly plan without a subscription is priced at $12.95 per month. Alternatively, the six-month subscription is priced at $59.95, which works out to be $9.99 per month, while the annual subscription costs $99.95, equivalent to $8.32 per month. Thus, depending on the subscription plan selected, the price range for ExpressVPN falls between $8.32 to $12.95 per month.
Read our full ExpressVPN review.
2. NordVPN (Best VPN for Chrome Overall)
Rank: 2 | Servers: 5,000+ | Speed: XXX+ Mbps | Countries: 50+ | Encryption Type: AES 256-bit, OpenVPN | Max devices: 6 | 24/7 support: ✅| Free trial: ❌| Money-back guarantee: ✅ | Apps & Devices: Win~MacOS~Android~iOS~Router~LGTV~Samsung TV~Amazon Sticks~Xbox | Jurisdiction: Panama |
NordVPN is owned by a company called Tefincom S.A, which is registered in Panama. Essentially, this means that NordVPN is under Panamanian authority. The country is not part of any agreements to share information with other countries, such as the Fourteen Eyes alliance. NordVPN has one of the best browser extensions in the market, and that is why we found it to be the best VPN for Chrome overall (it's also ranking as the best VPN in general)
Superb Encryption
Encryption is essential when it comes to online information. As long as your VPN is on, all your traffic will be passing through it, meaning that it will be able to access all your data and information. Without a VPN, any hacker worth their salt will be able to simply hack your Chrome and access all your traffic.
NordVPN, we found, has put a myriad of measures in place to make sure that all your traffic is safe, and it has done so by using two military-grade encryption protocols. The first is OpenVPN, which is more or less the industry standard. This in itself should assure you that you are safe and sound. However, NordVPN has also put in place a second protocol, Ikev2/IPsec, to ensure that you get all the security you deserve. Depending on the website you are on, NordVPN will switch between the two protocols for maximum efficiency and safety.
The CyberSec AdBlock Feature
With NordVPN, you will also be getting an ad blocker, therefore ensuring that you will not have to deal with annoying ads on your Chrome browser. NordVPN also comes with a kill switch that will ensure that traffic is automatically cut off if you lose connection with your VPN servers.
It's important to be cautious when using Chrome to browse websites as your device can easily become vulnerable to ransomware, malware, and other security threats. Fortunately, NordVPN has a powerful solution called CyberSec (now upgraded to Threat Protection), which is built-in to their service. This feature will safeguard your device by blocking unwanted ads, malware, trackers, ensuring secure access to connections. By using NordVPN with Threat Protection, you can browse the web with confidence and peace of mind.
Supports P2P
NordVPN fully supports P2P activity and is compatible with popular torrent clients such as Vuze, Deluge, uTorrent, BitTorrent, and qBitTorrent12. With over 5,000 secure servers and exceptional P2P support, NordVPN is a reliable choice for torrenting. Plus, NordVPN is available for download on various devices and operating systems, including Android, Windows, macOS, iOS/iPhone/iPad, Android TV, Linux, Roku, Kodi, and FireStick.
Low-Cost Pricing
NordVPN has three subscription plans available. The monthly plan is priced at $12.00 – $15.69 billed monthly. The one-year subscription costs between $4.59 – &7.29 per month. The two-year subscription is priced at $3.29 – 5.99 per month.
There is no free trial, but there is a 30-day money-back guarantee.

3. Surfshark (Best Budget VPN for Chrome)
Rank: 3 | Servers: 3,200 | Speed: 80.08 Mbps | Countries: 100 | Encryption Type: AES-256 GCM, OpenVPN, IKEv2 | Max devices: Unlimited | 24/7 support: ✅| Free trial: ❌| Money-back guarantee: ✅ | Apps & Devices: Win~Mac~Android~iOS~Router~LGTV~Samsung TV~Amazon Sticks~Xbox~ PlayStation | Jurisdiction: Netherlands |
Surfshark is one of the best budget VPNs in the market. Even though it has some very low prices, it does not acquiesce to low-quality services, and you are still guaranteed that you are getting an effective and efficient VPN for your Chrome browser.
Secure and Private
Surfshark is based in the Netherlands.
The Netherlands has some advantages that make it a good location for VPN providers. For starters, it has strong privacy laws, protecting your personal data and privacy. Plus, as a member of the European Union, VPN providers operating in the Netherlands must comply with strict data protection laws.
Another benefit of choosing a VPN based in the Netherlands is the high level of internet freedom, meaning VPN providers can operate without restrictions. This translates to fast connection speeds and low latency, making it ideal for streaming and gaming.
However, it's important to note that the Netherlands is part of the Nine Eyes alliance, a group of countries that includes the United States, the United Kingdom, Canada, Australia, New Zealand, Denmark, France, Norway, and of course, the Netherlands. While the alliance has been known to share intelligence data among its members, the specifics of their operations are classified, leaving us uncertain about what information they share.
Lots of Interesting Features
SurfsharkVPN has an extensive list of features, all of which work in tandem to make your Chrome browser efficient and effective. Some of them include;
This is an ad and tracker blocker which comes with SurfsharkVPN.
HackLock ensures all your emails and personal information are safe and cannot leak online. The feature can be bought together with BlindSearch for an extra $0.99 per month.
This feature disguises your IP address so that your internet service provider cannot tell that you are using VPN.
The number of servers a VPN has is a measure of what options you will have for surfing. SurfsharkVPN has over 3,200 servers in 100 different locations. Though it isn't the largest network on this list, it is still more than enough.
Low Pricing for Long-Term Users
As mentioned earlier, we have found that Surfshark is the best budget VPN for Chrome. It will cost you $12.95 dollars if billed monthly. The annual subscription is substantially cheaper at $3.99 dollars a month, billed yearly. The cheapest option is the 24-month subscription, which only costs $2.39 dollars a month, billed bi-yearly. Surfshark also has a 30-day money-back guarantee on all subscriptions.
Read our full Surfshark review.
4. ProtonVPN (Best Chrome VPN for Free)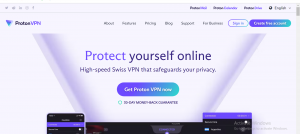 Rank: 4 | Servers: 1,900+ | Speed: 84.15 Mbps | Countries: 67+ | Encryption Type: AES-256-GCM, IKEv2/IPsec, OpenVPN, and WireGuard | Max devices: 10 | 24/7 support: ❌| Free trial: ✅| Money-back guarantee: ✅ | Apps & Devices: Win~Mac~Android~ Linux~iOS~Router~LGTV~Samsung TV~Amazon Sticks~Xbox | Jurisdiction: Switzerland |
The best things in life are free, goes the adage. ProtonVPN is a quintessence of this. The VPN is based in Switzerland, a country with no information-sharing affiliates, as with 5-eyes, 9-Eyes, or 14-Eyes surveillance countries. Hence, you are assured of a high level of security and privacy.
Free and Private
ProtonVPN is a no-logging VPN. It does not log any of your traffic, discriminate against Any Internet Enabled Device, or throttle your internet speed or connection. All this is explicitly stipulated in the company's no-logs privacy policy.
ProtonVPN uses strong protocols like OpenVPN and IKEv2/IPSec, AES-256 level encryption to keep your Google Chrome connection safe.
Supports Netflix and P2P
ProtonVPN has a lot of servers that will make it possible for you to torrent all the media you need, as well as stream from all your favorite streaming platforms. We found that ProtonVPN offers above-average streaming and torrenting speeds with little to no buffering.
ProtonVPN has over 1900 servers in 67 countries. This is fewer than some of its competitors, but more than others, leaving you with a comfortable number of options but nothing overly impressive.
In addition, ProtonVPN's customer support does not have a live chat, and thus it may prove a bit of an onerous task to try and get any issues resolved. They have a support page split into several sections, and all you have to do is go to the section in which your query falls, and you will find the solution there.
Limited version
According to their website, ProtonVPN can offer a free tier because the free service is subsidized by paying customers. This begs the question; if the number of paying customers reduces, or there are no paying customers, will ProtonVPN still offer the free VPN?
The main reason why ProtonVPN is on this list is because of its free option. ProtonVPN offers unlimited free VPN access. However, the free tier comes with lower speed, and it is only limited to 3 specific servers. That being said, it is still head and shoulders above the rest in terms of the free package offered.
Read our full ProtonVPN review.
5. CyberGhost (Best Chrome VPN for Netflix)
Rank: 5 | Servers: 9,200+ | Speed: 83.4 Mbps | Countries: 90+ | Encryption Type: 256-bit AES, OpenVPN protocol, IKEv2, WireGuard | Max devices: 7 | 24/7 support: ✅| Free trial: ❌| Money-back guarantee: ✅ | Apps & Devices: Win~Mac~Android~iOS~Router~Linux~Samsung TV~Amazon Sticks~Xbox | Jurisdiction: Romania
CyberGhost is fairly new to the market, though it has proven that it can rumble with the big boys.  Founded in 2011, it is based in Romania. Romania does not belong to the 14-eyes jurisdiction and does not require companies to log their clientele.
CyberGhost was recently acquired by an Israeli company called Kape Technologies, which also owns ExpressVPN. It has 9,200 servers that have been strategically placed in over 90 counties, which is why it has high streaming speeds, especially concerning Netflix.
No-log VPN
We went through CyberGhostVPN's privacy policy, and it clearly states that the servers will not keep logs that will interfere with your data content or your IP address. The only data they will keep is your payment subscription, and thus no third party will have any form of access to you or yours.
CyberGhost includes a pre-protection package. When you subscribe to and CyberGhost VPN, you will also get a website, browser, and virus protection, as well as an ad-blocker. You will also get data compression, which will save you a lot regarding mobile data usage. CyberGhost is also able to remove website content that contains trackers.
Numerous features
CyberGhost is very responsive, and we found that within a minute of posting your inquiry, you will get the feedback you need. The customer support center is on 24/7, thus assuring you that you can get help any time on any day.
We found that the email section of the customer support system takes a bit more time to respond but is generally better than most of the other VPNs we tested. This delay is because the email you will get will give you a better and more in-depth answer to your issue.
When we looked into server speed, we saw that CyberGhost's ping speed is quite good and consistent, and it seems they have achieved this is by compressing your files. This ensures that you have some of the fastest speeds and that you save on data costs while streaming on Netflix.
Things we don't like
It does not have a double-hopping feature.
The double-hop feature on a VPN makes it possible to use two servers at once instead of one. This will be able to give you more security and privacy. CyberGhost does not have this.
Server auto-selection. We found that we logged out and then back into the VPN every time we were tunneled to a different server than we had set the last time. You can change the server you want to use, but it is still a bit annoying.
It is a bit expensive.
We found that the pricing for CyberGhost subscriptions is a bit higher than other VPNs with similar features. You will pay 12.99 dollars for the monthly subscription, and you will have a 14-day money-back guarantee. The rest of the plans come with a 45-day money-back guarantee. The 6-month plan comes in at $6.85 dollars per month.
The two-year plan is by far the cheapest at $2.14 monthly, and two additional months free.

Read our full CyberGhost review.
Why do you need a VPN for Chrome?
Protecting your data and ensuring that it remains secure is crucial. It's important to prevent unauthorized access to your information, which is why using a reliable VPN is essential. Without a trustworthy VPN, it's difficult to know who or what has access to your data and how it's being used.
The VPNs we've listed prioritize your privacy and have strict no-logging policies in place. We've gone through each VPN in detail, so you don't have to in order to make sure that your data is in good hands.
Jurisdiction
We first looked at the privacy and security parameters that the VPNs have to ensure that your data is safe. First, we looked at the countries where the companies were based, as this would give us information on the jurisdiction in which they fell in and if the said countries were part of any alliance to share information, such as the 14-eyes alliance.
Also, we had to go through the countries' laws about data breaches in terms of jurisdiction. In terms of privacy and security of data, the law should work to your advantage, and anyone who breaches the said laws should be punished accordingly. If the country did not have any data safety and security laws, or they did have them, but they didn't meet our standard, the VPN was automatically eliminated.
History
We also took a look at the history of the VPN companies. History does not repeat itself, but it often rhymes, and an in-depth look at how the companies were founded, their structure, and how they functioned and function was enough to eliminate a host of VPNs, which we did not see fit to make a list.
We also put the culture of the VPN companies under a microscope to make sure that they value the needs of their clientele above everything and everyone else.
Speed
In terms of speed, we had to consider three factors: downloading speed, uploading speed, and ping speed. When you use a VPN, the download and upload speeds are bound to decrease since all your traffic flows through a virtual private network of servers and not directly to and from your internet service provider. Thus, the fastest VPNs are those that have the least amount of speed decrease.
In ping, latency is bound to develop when the VPN is switched on as the traffic flows through an additional channel. Latency is measured in milliseconds. The lower the increase in ping or latency, the faster the VPN.
To come up with the speeds for the various VPNs, we first measured the speed of the Chrome browser without switching on the VPN. We then switched on the VPN and then measured the speed at which the traffic was moving. After this, we compared the two speeds, measured the decrease, and put it as a percentage.
| | | | |
| --- | --- | --- | --- |
| VPN | Ping | Download | Upload |
| NordVPN | 655.00% | -4.67% | -10.39% |
| Surfshark | 770.00% | -3.70% | -1.28% |
| ExpressVPN | 600.00% | -8.84% | -6.06% |
| ProtonVPN | 1094.12% | -59.72% | -15.91% |
| CyberGhost | 823.53% | -9.28% | -10.89% |
From the table, you can discern that ExpressVPN is the fastest ping, as it has the lowest increase in latency. For both upload and download speeds, Surfshark takes the day, as it has the lowest decrease in speed. However, Surfshark has a high increase in latency when compared to NordVPN.
NordVPN has a perfect balance; low pin increase and low download and upload speeds decrease, which is why we found it to be the best VPN for Chrome.
User experience
The best way to know if a VPN is worth its salt is through referrals and testimonials from people who have used it, and thus we had to consider user experience when coming up with this list. For this, we used highly trustworthy sources such as the ratings and comments on Google Play Store and Apple Store. We also conducted a couple of physical surveys using people who have used and frequently use VPNs.
Customer Support
All of these VPNs have accessible customer support, most of them with a live chat option.

Pricing
All VPNs have an official website, where they list all the features they have, as well as the pricing. Through this, we were able to get the pricing metrics and identify the VPNs that had free trials and free versions.
FAQ
What is the best VPN for Chrome?
We found that NordVPN is the best VPN to use with Chrome, as it has the perfect balance between fast speeds, privacy, security, and pricing.
What is the best free VPN to use for Chrome?
ProtonVPN has the best free subscription feature to use with Chrome, and you do not have to sacrifice quality when using their free version.
Why is Chrome VPN not working?
The chances are that you may not have turned it on yet, as some VPNs require to be manually turned on. If you have ascertained that it is on and it is still not working, do not hesitate to contact customer support, either through live chat or through any other channel.
Does Chrome have a built-in VPN?
No, it does not. To get a 'Chrome VPN,' so to speak, you have first to get yourself a VPN that has a Chrome extension, install it, and then enable the Chrome extension.