Best Japan VPN
Introduction
Would you like a VPN to access geo-blocked video content or streaming services? In this article, we will walk you through the best VPNs for Japan, with a focus on security and speed in addition to being compatible with popular streaming services.
An encrypted virtual private network (VPN) is a privacy tool that can make users' online activities anonymous and untraceable. Using VPN servers that provide a new IP address, users can unblock geo-restricted content on their favorite streaming platforms, and avoid censorship from internet service providers (ISPs), malicious third parties, and government agencies.
Quick Guide to Choosing a VPN for Japan

Japan has one of the highest levels of internet connectivity globally, with 91 percent of its citizens online. Local and foreign tourists alike turn to VPN services to stay connected during their travels.
Japan has a constitution that guarantees freedom of speech and low government surveillance and internet censorship levels. Among many countries assessed as free of internet restrictions, Japan is one of the most open.
When choosing a VPN for Japan, two important factors to consider are:
Server locations in Japan. Look for a VPN that offers multiple server locations within the country to ensure the best performance and access to Japanese content.
Strong encryption and privacy features. Be sure that your VPN provider prioritizes security with robust encryption protocols and a strict no-logs policy.
It is important to avoid VPNs that have a history of data breaches or unreliable connection speeds.
An Overview of Japan
For newcomers or non-natives with a lack of knowledge about Japanese data laws, here is some information to help you comply with the law.
This information is particularly valuable if you choose a VPN provider with a local presence in Japan.
Jurisdiction Characteristics

Political culture

Democracy

Main IT hub location

Tokyo

Data protection registration

Not required

Data protection officers appointment

Not required

Data transfer to 3rd party disclosure

Consent needed

Unlawful disclosure of sensitive information

10% of the company's annual domestic turnover

VPN allowance

Should be reported

Downloading copyrighted content

Not allowed. For uploading the punishment is up to ten-years imprisonment, and up to two years for downloading.
Detailed Overview of the Best VPN for Japan
There are several things to consider when choosing a VPN for Japan. Are privacy and security necessary across all your devices, or only your phone or PC? Is streaming international content a priority for you? Do you need a lot of additional features, or is a basic VPN enough? Will you be traveling and using WiFi hotspots at the airport, hotels, or cafes?
If streaming is a priority, you'll want to choose a VPN like ExpressVPN with a large number of servers, and that can reliably unblock Netflix Japan, as well as many other Netflix libraries and other streaming services. If data protection is of utmost importance, then NordVPN is a good choice with its many features.
It's a good idea to avoid most free VPNs as they can be full of problems. Most of the VPNs on this list have 30-day money-back guarantees, so you can try them before you buy.
When you are clear on what you require, have a look at these VPN products we found to be the best.
1. ExpressVPN (Best Premium VPN for Japan)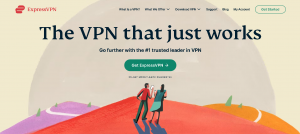 Rank: 1 | Servers: 3,000+ | Speed: Download: 87 Mbps | Countries: 90+ | Encryption Type: L2TP/IPsec, OpenVPN (TCP), OpenVPN (UDP), PPTP, IPsec, and IKEv2, Lightway | Max devices:5 simultaneous, but unlimited installations | 24/7 support: ✅| Free trial:❌ | Money-back guarantee: ✅ | Apps & Devices: Win~Mac~Android~iOS ~Linux ~ Routers~ Smart TVs~ Samsung TV~Amazon Sticks~Xbox | Jurisdiction: British Virgin Islands (BVI)|Works in China – ✅ |Ease of Use:  1  (super easy) Kill switch:  ✅| Fast tunneling protocols: ✅| No Logs:  ✅ |
Unblocks: Netflix US | BBC iPlayer | Amazon Prime Video | Hulu | FuboTV | Disney+ | Apple TV+ | TV Tokyo|HBO Max | Fuji TV
Best:
Easily unblocks Japanese streaming services, as well as international streaming services while in Japan.
Worst:
ExpressVPN only allows a limited number of devices to be connected at once.
| | |
| --- | --- |
| Strengths | Weaknesses |
| +A great selection of Japanese servers | -You can only connect to five different devices at once |
| + Fast connection speeds | -A little pricey compared to the other VPNs on this list |
| +Privacy protection at a high level | |
| +Streaming services are easy to unblock | |
| +No-log policy | |
| +24/7 Live chat customer support | |
| | |
Whether you are after access to geo-blocked Japan-exclusive TV, or looking for protection and security when you're online, ExpressVPN is your best option.
Express is usually the fastest VPN, and with three different server locations available in Japan, you can guarantee fast speeds there too, as well as consistent streaming.
In terms of privacy features, ExpressVPN offers 256-AES encryption, numerous protocols, and security features, so you can tailor your experience to meet your specific needs. It has both a kill switch and Perfect Forward Secrecy also known as PFS, which creates a unique session key for each internet transaction, reducing the risk of your data being compromised and ensuring your online privacy.
That said, the most striking feature for most users will be the simplicity of the apps. Despite providing powerful configuration options and comprehensive features, the user-friendly interface means you can protect yourself with one click if you're a newbie. We really appreciate Express's commitment to user experience, which is the hallmark of their product.
You'll also be able to access exclusive streaming services like TV Tokyo and Fuji TV – although non-residents of Japan may have to sign up again, even if they are already members.
ExpressVPN's offers three subscription options, beginning with a monthly plan that costs $12.95 per month. The six-month plan costs $9.99 per month, and the yearly plan costs $8.32. This makes it one of the more expensive VPNs out there, but it is worth it for its reliability and features.
ExpressVPN also offers a 30-day money-back guarantee, so you can try it out risk-free.
Having so many features in one super-easy package is why ExpressVPN tops our list as the best Japan VPN.
Read our full ExpressVPN review here.
2. Surfshark (Best All-in-One VPN for Japan)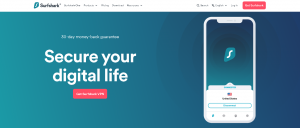 Rank: 2 | Servers: 3,200 | Speed: 80.08 Mbps | Countries: 100 | Encryption Type: AES-256 GCM, OpenVPN, IKEv2 | Max devices: Unlimited | 24/7 support: ✅| Free trial: ❌| Money-back guarantee: ✅ | Apps & Devices: Win~Mac~Android~iOS~Linux~Router~Smart TVs~Samsung TV~Amazon Sticks~Xbox~ PlayStation | Jurisdiction: Netherlands |Works in China – ✅ |Ease of Use:  1  (super easy) Kill switch:  ✅| Fast tunneling protocols: ✅| No Logs:  ✅ |
Unblocks: Netflix US | BBC iPlayer | Amazon Prime Video | Hulu | Disney+ | Apple TV+ | HBO Max |Fuji TV|TV Tokyo | Showtime| Wowwow TV
Best:
Good speeds for streaming, and unblocks many streaming sites at home or abroad.
Worst:
Not yet as established as NordVPN or ExpressVPN.
| | |
| --- | --- |
| Strengths | Weaknesses |
| +Streaming and downloading at high speeds abroad | -Some servers might be slow |
| +Simultaneous connections are unlimited | -It is a less established brand than NordVPN or ExpressVPN |
| +Unblocks the majority of streaming sites | |
| +No-log policy | |
| +Protection against threats | |
| +Low price | |
In our full Surfshark review, we said this reliable VPN impressed us with its blend of power and value as the best all-in-one VPN for Japan. Compared to ExpressVPN, it's not as in-depth, but for its low price, it's a great choice. Viewers can watch Fuji TV, TV Tokyo, HBO, Wowow TV, Prime Video, Showtime, and Netflix, among other channels. With 56 servers in Japan, as well as server locations across the globe, Surfshark is great whether you're looking to stream anime or Japanese content from outside Japan, or looking to access international streaming sites from within the country.
Also, Surfshark's user-friendly interface is designed to make it easy for anyone to start using it. It has protocol switching and a kill switch under the surface, but anyone can use these apps.
This VPN offers unlimited bandwidth, and unlimited simultaneous connections, so you can also connect it on as many devices as you'd like.
Surfshark's main selling point is its low price: only $2.49 a month despite its great features if you choose the two-year plan and pay it all in advance. The yearly plan is only a little more expensive, at $4.18 per month, paid for the year in advance. The monthly plan comes in at $12.95. As a result, it is the best cheap VPN on the market and costs half as much as some of its more expensive competitors.
Surfshark might be the right choice for you if you are looking for the best Japan VPN at the lowest possible price.
Read our full Surfshark review here.
3. NordVPN (Best Android VPN for Japan)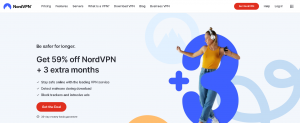 Rank: 3 | Servers: 5,500+ | Speed: 71.1 Mbps | Countries: 60+ | Encryption Type: AES 256-bit, OpenVPN | Max devices: 6 | 24/7 Support: ✅| Free Trial: ❌| | Money-Back Guarantee: ✅ | Apps & Devices: Linux~Win~MacOS~Android~iOS~Router~LGTV~Smart TVs~Samsung TV~Amazon Sticks~Xbox | Jurisdiction: Panama |Works in China – ✅ |Ease of Use:  1  (super easy) Kill switch:  ✅| Fast tunneling protocols: ✅| No Logs:  ✅ |
Unblocks: Netflix US | BBC iPlayer | Amazon Prime Video | Hulu | FuboTV | Disney+ | Apple TV+ | HBO Max
Best:
A very large number of servers in Japan.
Worst:
Does not have a split tunneling feature, so you can't choose what goes through the VPN and what doesn't.
| | |
| --- | --- |
| Pros | Cons |
| +Access to Netflix on multiple servers | -macOS app has some bugs |
| +Great mobile apps (perfect for travelers) | -Static IP Addresses |
| +6 simultaneous connections allowed | -No split-tunneling |
| +More than 150 servers in Japan | |
NordVPN is an extraordinarily popular VPN and a great choice for nearly any internet user in any country. Users in Japan will be happy to know that NordVPN is not subject to any of the three international surveillance bodies (Five Eyes, Nine Eyes, and 14 Eyes), so they'll never have to worry about the company handing over their data to authorities. Add to that their excellent encryption protocols, malware protection to keep you safe, even on public WiFi, a kill switch feature, and DNS leak protection, and you see why people love NordVPN.
NordVPN also offers obfuscation technology that can help you bypass firewalls or the geo-restrictions on streaming platforms like Netflix or Hulu. It also has excellent download speeds on both Mac and Windows.  Although it works reasonably well with MacOS, if you're looking for a VPN that caters to Mac users, check out our best VPN for Mac page.
NordVPN's ratings on the Apple App Store and Google Play store are some of the highest in the lot of VPNs we've reviewed. With 4.6 out of five and 4.2 out of five, respectively, NordVPN perfectly positions itself to be a favorite among travelers using iPhones or Android devices.
While traveling in Japan, users might be disappointed to miss out on geo-restricted shows and movies overseas. Thanks to NordVPN, many of their servers allow access to international Netflix libraries while in Japan, as well as the ability to access Japanese Netflix while outside the country.
NordVPN is known for its commitment to user security. NordVPN doesn't log or collect information such as websites visited, web browsing history, or files downloaded. As a provider of a reliable, secure, and trusted VPN, NordVPN consistently excels.
Read our full NordVPN review here.
4. IPVanish (Best Windows VPN for Japan)
Rank: 4 | Servers: 2,200+ | Speed: 64.4 Mbps | Countries: 54 | Encryption Type: AES-256  | Max devices: 1 on the free version | 24/7 support: ✅| Free trial: ❌| Money-back guarantee: ✅ | Apps & Devices: Win~Mac~Android~iOS~Smart TVs~Amazon TV Stick~Xbox | Jurisdiction: United States|Works in China – ❌ |Ease of Use:  1  (super easy) Kill switch:  ✅| Fast tunneling protocols: ✅| No Logs:  ✅ |
Unblocks: Netflix US, UK, India | BBC iPlayer | Amazon Prime Video | Hulu |  Disney+ | Apple TV+ | HBO Max
Best:
Excellent security, and several servers in Japan.
Worst:
Doesn't have that many servers overall.
| | |
| --- | --- |
| Strengths | Weaknesses |
| +It offers 20 fast Japan servers | -Relatively small server network |
| +Security is a top priority | -Some people may be frustrated by the complexity |
| +Supports torrenting | |
| +No-logs policy | |
| +Unique interface | |
| +An unlimited number of simultaneous connections | |
As soon as you open IPVanish, you'll see why this is among our top choices. It's totally different from its competitors, and we appreciate its ability to be stereotypically 'techy.'
IPVanish has 20 servers in Tokyo, which makes it a solid option for accessing Japanese Netflix from abroad.
IPVanish allows unlimited simultaneous connections, something that is uncommon, and that we really appreciate.
Read our full IPVanish review here.
Why Use a VPN for Japan?
A VPN is a service that encrypts your connection, making it seem like you're browsing from a different location. This enhances anonymity and enables access to restricted content.
Using a VPN in Japan offers several advantages. Firstly, it encrypts your online traffic, protecting your browsing privacy. Secondly, it allows access to international streaming content unavailable in Japan. Thirdly, it defeats ISP throttling, ensuring faster internet speeds. Fourthly, it enhances safety while torrenting by making your activity untraceable. Lastly, it helps access English-language websites for non-Japanese speakers.
Choosing a suitable VPN for Japan can be challenging. Look for servers in Japan, fast and reliable connections, and compatibility with various devices. Strong security features like encryption and a no-logs policy are crucial. Avoid VPNs with weak security, slow speeds, or a history of data breaches, as well as those that fail to unblock streaming services.
How to Get Started Using a VPN for Japan
To install ExpressVPN for Japan, follow these steps:
1. Sign up for an ExpressVPN account and select a subscription plan.
2. Log in to your ExpressVPN account through the account dashboard.
3. Click on the "Download" button to obtain the ExpressVPN app compatible with your operating system.
4. Keep the browser window open as you will require the activation code during the setup.
5. Install the ExpressVPN app by following the setup instructions provided for your specific device.
6. When prompted, enter the activation code from the previous step.
7. Connect to a server located in Japan if you wish to access Japanese content. Alternatively, choose a server in another country for international content.
8. Enjoy fast and secure internet browsing with ExpressVPN.
Wrapping Up
When choosing a VPN, security, and streaming are the top priorities for most people. We want to be able to stream our favorite shows on Hulu or Japanese Netflix without lag, and we also want to ensure that our data and online activities remain private and protected. All of the VPNs on this list performed well in speed tests so they won't cause buffering while you are trying to watch your favorite shows.
VPNs hide your online activity from prying eyes, and it's worthwhile to pay special attention to addressing vulnerabilities like WebRTC leaks and potential DNS compromises. Strong encryption methods, such as OpenVPN, WireGuard, and AES-256, are essential for maximum security. Dynamic IP addressing and a VPN kill switch further enhance privacy and prevent tracking. Also, consider the VPN provider's data logging policy and location to avoid issues in countries with strict privacy laws. Transparent pricing, good VPN apps, and reliable customer support are also important factors in selecting a VPN.
Frequently Asked Questions (FAQs)

Is it legal to use a VPN in Japan?
In Japan, using a VPN is generally legal and individuals as well as businesses have the freedom to utilize VPNs for various purposes, such as safeguarding online privacy, ensuring secure online transactions, and accessing restricted websites. However, using a VPN to bypass copyright laws is illegal in the country.
Which is the best VPN to use with Japanese VPN servers?
ExpressVPN, NordVPN, Surfshark, and IPVanish are the top VPN choices for accessing Japanese servers. Here's why:
ExpressVPN has fast speeds, strong encryption, and great streaming capabilities.
NordVPN has a wide server network with servers in Japan and 60 other countries, as well as advanced security features like Double VPN.
Surfshark is a budget-friendly option with fast speeds and strong security features with unlimited simultaneous connections.
IPVanish has 20 VPN servers in Tokyo, Japan, as well as unlimited simultaneous connections, and personalizable security features like a kill switch and multiple VPN protocols.
Any of these would be a good choice, and it all comes down to your personal needs.
How do I get a Japanese IP address?
To get a Japanese IP address, using a Virtual Private Network (VPN) is the simplest and most dependable method. A VPN encrypts your internet traffic and directs it through a server in Japan, giving the impression that you're browsing from within the country. Several good VPN options provide servers in Japan, including all of the ones mentioned on this list.
How to watch Japanese TV in Japan?
To watch Japanese TV online from Japan, you can utilize a VPN to access streaming services that might have geographical restrictions. Follow these steps:
Sign up for one of the VPN services on this list – all of them have servers in Japan.
Download and install the VPN app on your device.
Launch the VPN app and connect to a server located in Japan to acquire a Japanese IP address.
Once connected, visit your preferred Japanese streaming service and begin binging!
Latest posts by Mindy Born
(see all)