IPVanish Review Finds Decent Security Features, But Are There Privacy Issues?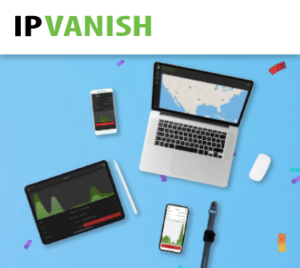 More on the IPVanish review below.
Price: 3.25
Price Currency: $
Operating System: Windows
Application Category: Utility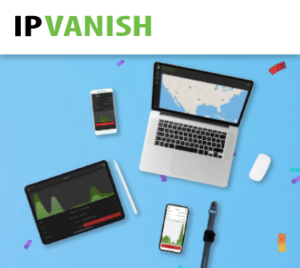 The "IP stain remover"
IPVanish is a controversial VPN based in the US.
It's a VPN with a seemingly safe no-logging policy, average server speeds, and a handy security feature called kill-switch. It packs most of what an average consumer seeks for – Possibility for torrenting, Netflix, wide-range of servers and quick service response.
.. Yet just like the name refers to washing your IP stains, so does it wash away DNS leaks as well?
The lack of double-hop, anonymous payment methods, and location in 5 eyes jurisdiction make us raise our eyebrows. And, if this isn't ambiguous enough, a court case in 2018 when IPVanish handed over information about their customer to the Department of Homeland Security should keep you on your toes as well.
More on the IPVanish review below.
IPVanish synopsis
| | |
| --- | --- |
| VPN rank: | 24#/52 |
| Parent company: | Mudhook Media Inc <- Highwinds Network Group <- Stackpath <- Ziff Davis <- J2 Cloud Services LLC |
| Jurisdiction: | Florida, the United States |
| Locations: | 50+ countries/1300+ servers |
| Overall test result: | UNSAFE (Likely logging data) |
| Torrenting: | PASSED (Torrent allowed) |
| Netflix: | PASSED (Unblocks Netflix 1/3) |
| Encryption/protocols: | AES-256/L2TP/IPsec/IKEv2/OpenVPN UDP & TCP |
| Support: | E-mail response ~13h/Live Chat (24/7) |
| Cost: | $3.25/mo |
| Official site: | www.ipvanish.com |
Company history
The company dates back to the year 2012 – the time when Facebook, the privacy-intrusive giant had it's IPO.
IPVanish is founded by Mudhook Media, Inc, the subsidiary of Highwinds Network Group in Orlando, Florida.
In 2017, the company was acquired by another party – Stackpath, LLC, a Content Delivery Network (CDN) in Dallas.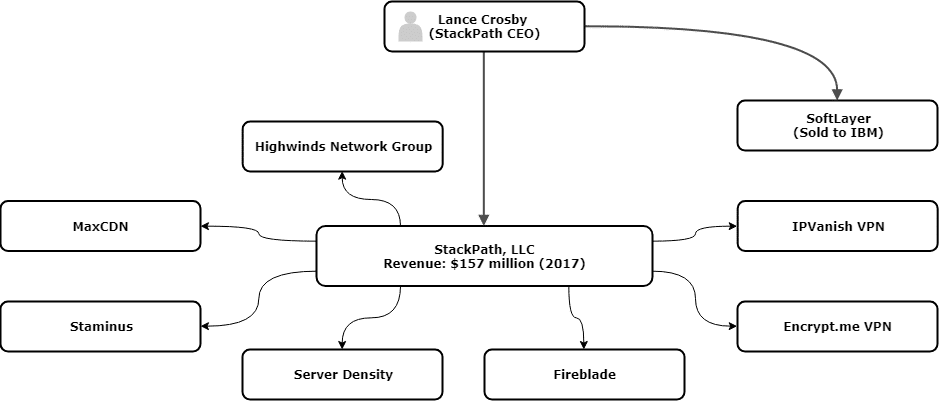 StackPath owns another VPN company as well – Encrypt.me.
☑

Strong AES encryption and protocols
Encryption is all packets of data you send or receive over the Internet in unreadable code. Think of it as a shredding machine, it will shred and mix up the content yet if carefully glued together, it would become readable again.
IPVanish provides Advanced Encryption Standard 256-bit, which currently is the industry-standard encryption for commercial services.
Great. What else?
Protocols
Protocols apply cryptographic methods and describe how algorithms should be used. They are like manuals for devices on how to send and receive data.
IPVanish offers 3 types of protocols – IKEv2, OpenVPN (UDP/TCP), and L2TP/IPsec. All of these are built to be secure, yet they differ on speed and reliability.
IKEv2 stands for Internet Key Exchange version 2. It's fast and doesn't consume much of your device CPU – Great option for mobile users
OpenVPN – the most popular protocol available. It's considered incredibly reliable and fast when used with TCP and slightly faster, but less reliable with UDP.
L2TP/IPsec – Layer 2 Tunneling Protocol standardized in RFC 3193. Secure, yet developed by Microsoft and Cisco, which makes us cautious. Due to double-encapsulates it may be slower than IKEv2 or OpenVPN
☒ Claiming no-logging is questionable…
IPVanish claims no logs are kept. However, even though "no personally identifiable information" isn't required, you will have to use an e-mail and payment method to buy the subscription.
Theoretically, you could use an unidentifiable e-mail account, but paying without leaving a trace by credit cards or PayPal is tricky, and probably disallowed by the merchants. No cryptocurrencies are accepted.

According to an article by TorrentFreak, IPVanish handed over personal information about their client to the Department of Homeland Security.
Their client was suspected to be a user in IRC who shared underage explicit material. Handed information included client name, e-mail address, real IP address and connection timestamps with IRC network server.
Even though we agree that VPNs should only be used legally, the court case raises questions about IPVanish honesty.
☑

No DNS leaks were found
DNS is Domain Name Service, a naming system for resources connected to the Network. Simply said: "it converts IP addresses into domain names. DNS leaks means your internet traffic is leaking outside the secure VPN tunnel.
DNS leaks can be tested by using their service with various web tools, and that's what we did.
Testing was done with 5 tools:
Doileak
IPleaks.net
IPx.ac
Browserleaks
Perfect-Privacy
The good news is that no leaks were found.
Here's a screenshot of one test.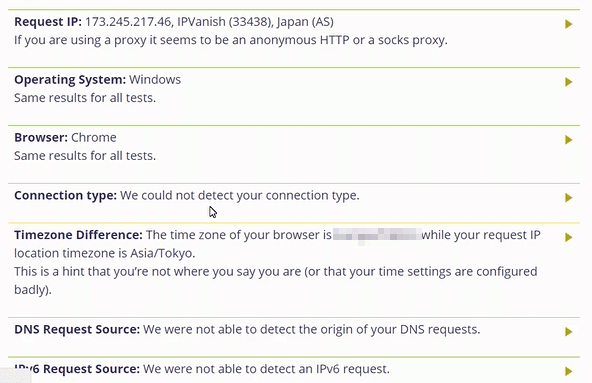 IPVanish is also equipped with kill-switch, a feature that will disconnect the user from the Internet if there are any connection issues. This is handy when the Internet connectivity varies and overall a good security feature that makes browsing "foolproof".
☑

Successfully passed Virustotal test
Virustotal is a web tool that detects suspicious engines in files. To be sure you get a clean executable we ran a test with the Windows setup file: IPVanish-setup.exe

Did you know?
IPVanish parent company CEO Lance Crosby sold his first company Softlayer to IBM for $2 billion
Crosby holds a Ph.D. in Information Technology (Tarleton State University)
IPVanish doesn't work in China
☑

1300+servers in 50+ countries
A large number of servers spread across the world increases the average connection speed of service. This is due to geographical distances between the user and host and the length of the Network cabling.
In comparison to other reviewed services, IPVanish stands slightly over the average in terms of connectable countries. More than 50 locations are mostly enough for everyday virtual teleportation.
☑

Universal software for wide-range of devices
IPVanish subscription comes with maximum 10 simultaneous connections – it's economical to put it all in use. Let's see what devices are supported.
Desktop standalone clients
Windows
Mac
Linux
Chromebook
Mobile
Android permissions (No-intrusive permissions found)
ACCESS_NETWORK_STATE
ACCESS_WIFI_STATE
INTERNET
RECEIVE_BOOT_COMPLETED
WAKE_LOCK
External devices
Routers (DD-WRT firmware)
Fire TV
☑

Streaming service works like a charm
IPVanish claims it works well with Kodi Windows, Mac, Android, and MXQ Pro Android TV box.
Netflix streaming service is beloved by many. Yet do they match with IPVanish?
Let's do two tests to find out.
Take one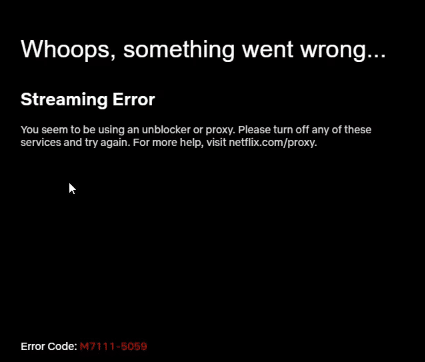 Take two (Dallas Server)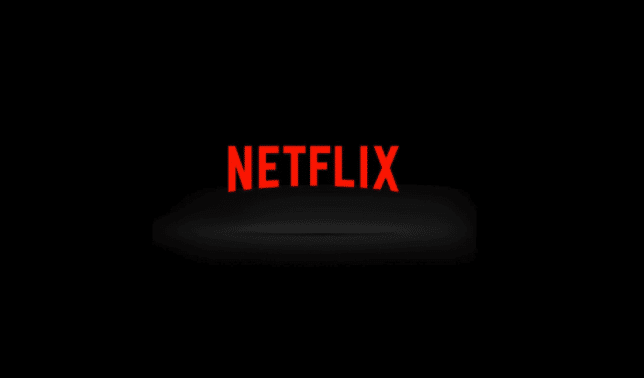 One server worked, the other one didn't. It seems their relationship is rather "complicated".
Torrenting is P2P technology to transmit files from one device to another. IPVanish claims their VPN is the fastest for torrenting..
.. IPVanish ranks at 33th out of 51 in our speed tests. According to our own research, we can confidently say it's not the fastest one. Yet let's see if torrenting works at all.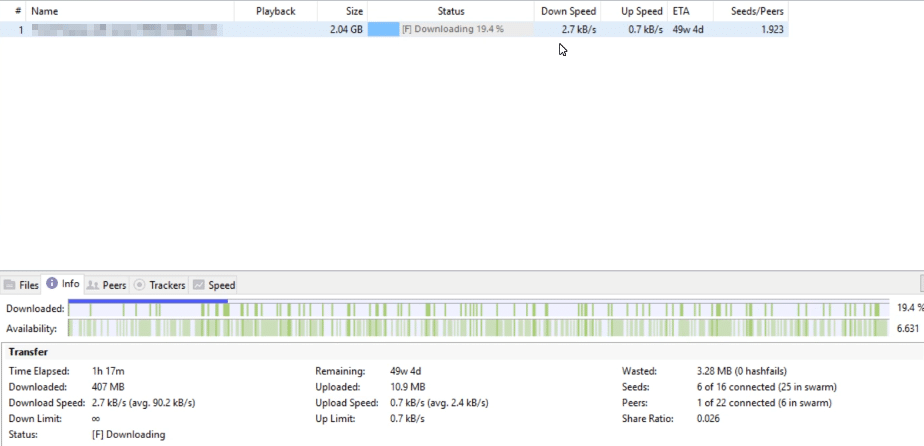 They got this one right. It works!
☑

Fair pricing
According to statistics, users prefer easy-to-use interfaces and low pricing. Real user feedback is surprisingly good, but IPVanish comes with a heavy price tag.
Paying monthly, you get the subscription for $5. Increase the investment and the subscription period extends. The 3-month deal is available for $4.50 and saves you 10%. If you are a real miser, use the yearly subscription for $3.25 per month and save 35%.
Although you can ask for a refund within 7-days, it's still expensive.
☑

Average speeds
Speeds are tested with a web tool called Speedtest.net in 3 locations – United States, United Kingdom, and Asia.

The United States (New York)
Network ping increases by 793.75%. It's not too bad.
Download decreases by -4.35%.
Upload decreases by -9.45%.

The United Kingdom (London)
Network ping increases by 462.50%. Much better!
Download decreases by -58.04%.. That's no good..
Upload speed increases by 2.08%, possibly due to bandwidth throttling.

Asia is far from the original location, therefore, ping increases around 1962.50%.
Download and upload speed both decrease noticeably -51.78% and -42.34%.

Keep in mind that the server speeds are most certainly different from yours, depending on your geographical location.
☒ IPVanish reliability abroad
Laws are different in every country. Most of the countries allow VPN use and some countries strictly disallow them – North Korea, Russia, Belarus.. and some just have them partially restricted.
China, a country where you most likely will travel at least once in life has its own regulations – an only government-approved VPNs could be used. However, as there is no list of working VPNs, we decided to do research of our own.
Our partner in China tested access to the IPVanish website and service using China Unicom Backbone ISP.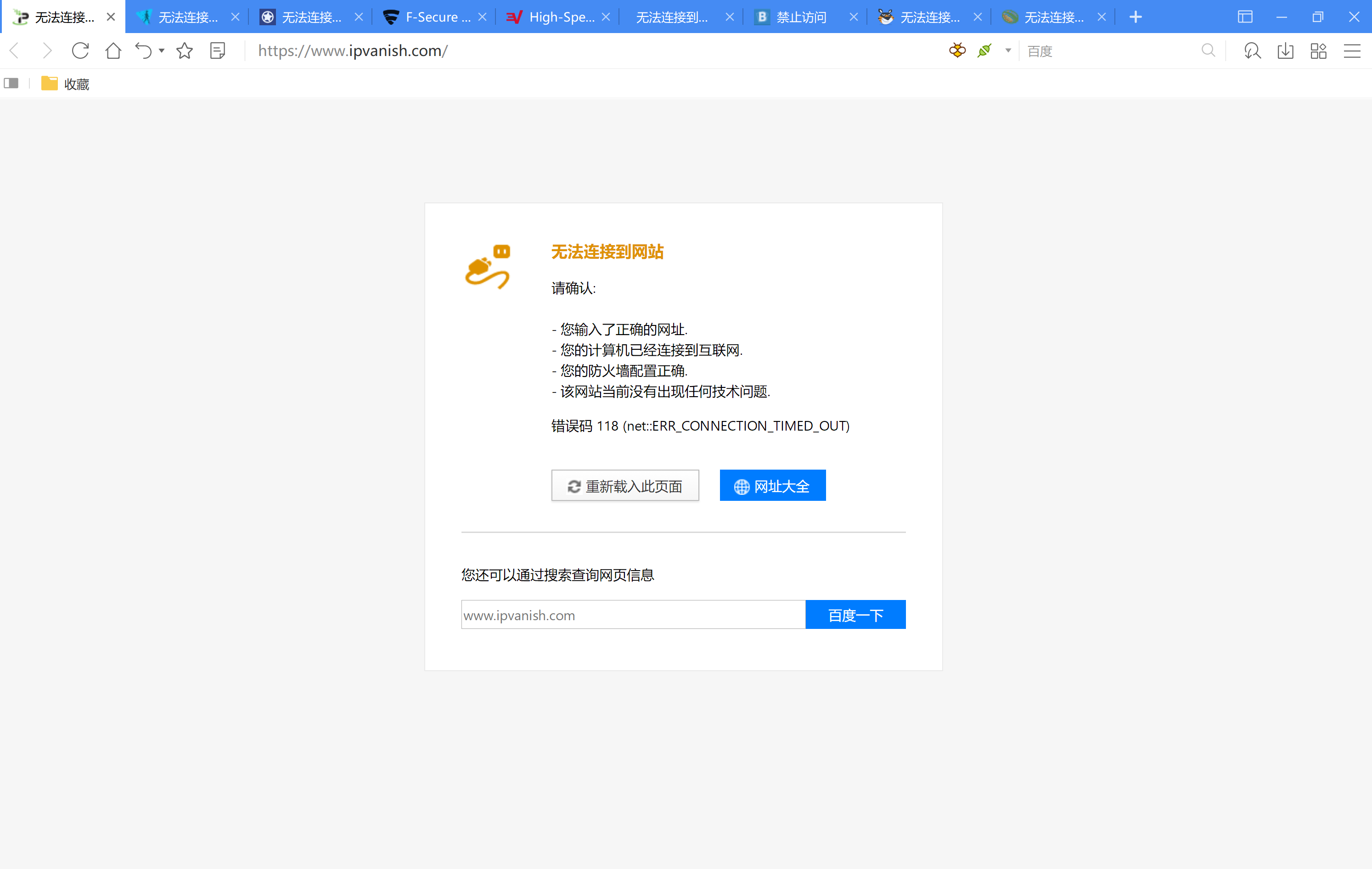 Unfortunately, IPVanish website isn't accessible inside China.
Some VPN services still work if you already have the software in your device before entering the country. What about IPVanish, is it a good option for a tourist?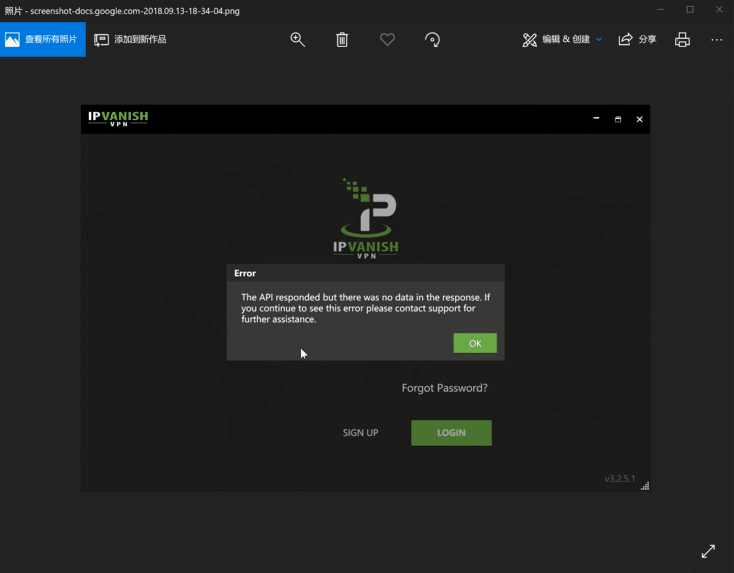 Unfortunately, the software doesn't even start in China. Most likely, it won't work.
☑

Quick live chat support
IPVanish offers support in 3 typical ways – self-service manuals, e-mail, and live chat. The FAQ page is a bit hard to find yet on the other side of the rainbow, there's a golden pot filled with knowledge.
More than 100+ how-to guides, troubleshooting instructional articles are freely available on IPVanish subdomain support.ipvanish.com.
Sounds good, right!
Every service treats their clients differently. In our test, we focused on service responsiveness and quality. By responsiveness, we denote the time it takes to respond to our e-mail. We simply send them an e-mail and wait… The same method was used with every other service we have reviewed, this helps to determine where IPVanish stands compared to other services.
The total time for the e-mail response was 802 minutes (approx. 13 hours).
If you are in a hurry, live chat helps you out. The average response time was only 30-60 seconds.
Conclusion
IPVanish is certainly a considerable VPN. It has decent security features and technical support, a great option for the everyday user who isn't picky about security and just wants to access geo-restricted websites ..or travel with discounts. If you seriously care about privacy, it's another story… It's just not good.
Feel free to contribute by conducting a VPN test and writing about your own experiences with IPVanish.
Write your IPVanish review