ProtonVPN Review: Swiss Privacy + Great Prices: What's Not To Like?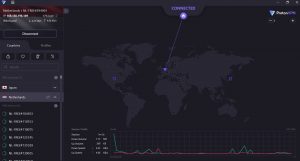 ProtonVPN Technologies AG in Switzerland deems an ideal jurisdiction for a privacy company. Built by scientists from CERN and MIT. Read full ProtonVPN review.
Price: 4.08
Price Currency: $
Operating System: Windows
Application Category: Utility


ProtonVPN Introduction
ProtonVPN is not the cheapest VPN service out there. Yet it's one of our favorite VPNs and this ProtonVPN review will show you why.
ProtonVPN was built by "scientists, engineers, and developers from CERN and MIT". They had initially built the highly successful ProtonMail which is a secure email service offering end-to-end encryption. So, it's safe to assume that the makers of ProtonVPN know a thing or two about online security issues and how to protect users.
Oh, and did we mention that it is also one of the few VPN services that also offers a lifetime free version?
Let's take a deep dive to find out more.
ProtonVPN Company History
ProtonVPN operates within the Proton AG company, based in Geneva, Switzerland, the same company behind the renowned, end-to-end encrypted Proton Mail.
Proton AG was initially crowdfunded and launched Proton Mail in 2014, and later, ProtonVPN in 2017. Proton AG is supported by the Fondation Genevoise pour l'Innovation Technologique (FONGIT) and the European Commission.
ProtonVPN's source code was released to the public in 2020 as open-source, allowing independent audits and security testing.
ProtonVPN Pros & Cons
| | |
| --- | --- |
| Pros | Cons |
| Good server coverage | No dedicated IP address options |
| Fast open-source WireGuard VPN protocol | No RAM-only servers |
| Free version | No live support for free users |
| Split tunneling support (Windows / Android) | |
| Secure Core Servers | |
ProtonVPN Overview
| | |
| --- | --- |
| Countries | 67 |
| Servers and Locations | 1949 servers in the Americas, Europe, Asia Pacific, Africa, and Middle East regions |
| Customer Support | E-mail/live chat for paid versions |
| Log Policy | No-logs policy |
| Encryption Protocols | AES-256/IKEv2/OpenVPN/WireGuard |
| Supported Platforms | MacOS, Windows, iOS, Android, Linux |
| Routers Supported | All routers with OpenVPN support |
| Simultaneous Connections | 10 |
| Split Tunneling | Yes, app-based split tunneling is supported in Windows and Android apps. |
| Kill Switch | Yes, kill switch, and permanent kill switch |
| Torrenting (P2P File Sharing) | Allowed with paid version |
| Country of Registration | Switzerland |
| Dedicated IP | No |
| Smart DNS | No |
| Multihop | Yes – only paid version |
| Price | Free plan, paid plans from $4.99/mo up to $11.99/mo |
| Free trial/money-back guarantee | Free version and a 30-day money-back guarantee for paid versions |
Streaming Movies and TV Shows With ProtonVPN
Let's check if you can stream your favorite content using this VPN. ProtonVPN only guarantees high-quality streaming for its paid plan users. Free plan users can access a limited number of free servers in the US, Japan, and the Netherlands, and those servers often get blocked by streaming platforms. We tried Netflix with the free ProtonVPN, and it actually worked. When we tried it later, we were not so lucky. Paid ProtonVPN users can stream from the following platforms:
Using Streaming Devices With ProtonVPN
The good news for streaming nerds is that the VPN provider is also compatible with a large number of streaming devices including the following:
Apple TV
MacOS
Xiaomi Mi box
Amazon Fire TV
Chromecast
Android TV
You can also use ProtonVPN with your router to support all other devices on your wi-fi network. This will add convenience if you are using streaming services as it will no longer be necessary to to install ProtonVPN on each individual device around your home (which can really become cumbersome if there are a lot).
ProtonVPN Features
VPN Protocols
ProtonVPN uses OpenVPN, IKEv2, and WireGuard protocols for its apps. These protocols are considered to be the most secure VPN protocols available on the market. WireGuard is the new lightweight open-source VPN protocol. WireGuard uses ChaCha20 encryption and is much faster than other traditional VPN protocols.
The company refuses to offer any VPN connections using PPTP or L2TP/IPSec because their security does not meet ProtonVPN's standards.ProtonVPN offers a Smart Protocol feature that intelligently seeks the best VPN protocol configuration required for optimal performance or bypass censorship. This anti-censorship feature is available on Windows, macOS, Android, and iOS/iPadOS apps.
Operating Systems
ProtonVPN is compatible with wide variety of operating systems and browsers. These include Windows, MacOS, Linux, iOS, and Android, Fire TV Stick, Android TV, and Chromebook. ProtonVPN also works with popular internet browsers such as Mozilla Firefox, Apple Safari, Brave, and Google Chrome through the company's browser extension.
Split tunneling
ProtonVPN supports app-based split tunneling in its Windows and Android apps. You can exclude or include desired applications or IP addresses from the VPN tunnel. For example, users could potentially choose to exclude their web browser from the VPN tunnel while still using the VPN for other apps. ProtonVPN has also launched its official Linux Command Line Interface (CLI), however this does not yet support split tunneling. In a dsiappointing twist for Mac / iPhone users, ProtonVPN does not currently offer split tunneling through its native Mac and iOS applications.
Secure Core Servers
The Secure Core feature passes your VPN traffic through ProtonVPN's network of Secure Core Servers, before routing it to its final destination. The idea behind the feature is designed to provide an additional layer of security and privacy to your VPN connection. Basically, it means that even if someone were able to intercept your traffic, they would only see that it was going to a ProtonVPN server and not the final destination where it was due to end up. Secure Core servers is located in high-security data centers in countries with strong privacy laws – Switzerland, Iceland, and Sweden. These servers are owned by ProtonVPN and are available to customers on all paid plans.
Simultaneous connections
ProtonVPN allows up to ten simultaneous connections for users of all paid plans. Free plan users can only connect a single device at a time. If you need to connect more devices, you can use ProtonVPN on your router and secure all devices on your wi-fi network. This means that you can protect your privacy on every device you own, including your desktop computer, smartphone, smart Tv or anything else. To give an example of how that stacks up against other VPN operators – ProtonVPN supports up to 10 simultaneous connections, while ExpressVPN supports 6, and Secure VPN only 5 connections.
DNS Leak Protection
All ProtonVPN apps include DNS leak protection designed to prevent websites and the like that you visit on the internet from identifying your real DNS address. This is achieved by running their own DNS servers and routing all DNS queries through the VPN tunnel to be resolved on their servers. Alongside this, ProtonVPN does not log DNS queries and by Swiss law cannot be forced to start logging them. They also offer IPv6 leak prevention which blocks all IPv6 traffic by default and routes any potential IPv6 traffic to a black hole (null route) to ensure your device cannot make connections over IPv6.
VPN Accelerator
ProtonVPN's VPN Accelerator feature is designed to counteract the speed loss often associated with VPN usage. To do this they have re-engineered the OpenVPN protocol and claim to offer speed increases of up to 400% when compared with a traditional VPN experience.
The technology works by boosting VPN traffic speeds using multithreading, advanced network TCP flow control algorithms, and high bandwidth internal networking.
ProtonVPN claims cross-network bandwidth of over 1.000 Gbps, boosting VPN traffic speed up to 400%. The VPN Accelerator is a set of enhancements unique to ProtonVPN. It works by splitting the path between the VPN server and the destination into shorter paths, reducing latency and network congestion. VPN Accelerator is enabled by default for all users across all ProtonVPN apps. It can be enabled or disabled in each app's Settings or Preferences menu.
ProtonVPN Plans and Pricing
ProtonVPN does have a lifetime free option as well as paid monthly, 12-month, and 24-month subscriptions.
ProtonVPN free option
Compared to other free VPN services on offer, ProtonVPN's free tier is basic with low speeds and countries limited to US, Japan, and Netherlands. It does not support peer-to-peer (P2P) torrenting traffic and will, therefore, log you out of the VPN service if you try to access any.
But, given that some free VPNs are freemiums (aka they limit access based on use) or that free unlimited VPNs tend to collect user data, ProtonVPN is a good option for a quality free VPN service. They are able to do this since, according to their site, their free service is subsidized by their paying customers.
In all, the ProtonVPN free plan gives quite a lot of bang for your non-existent buck and is a good idea if you want to try out the service without investing too much.
ProtonVPN paid plans
Paid VPN plans come in two flavors: the midrange VPN Plus or the premium Proton Unlimited.
ProtonVPN Plus plan includes full access to all countries and servers, P2P torrenting support, multihop, high-speed streaming, Tor, Ad-blocker and malware protection, live chat priority support, and you can connect up to ten devices simultaneously. This plan will cost you $9.99 per month, $71.88 for 12 months ($5.99 per month), or $119.76 per 24 months ($4.99 per month).
Proton unlimited adds their secure cloud services: Proton Mail, Proton Calendar, and Proton Drive with 500 GB of encrypted storage. This plan will cost you $11.99 per month, $119.88 for 12 months ($9.99 per month), or $191.76 per 24 months ($7.99 per month).
‌ProtonVPN offers different pricing plans, and they *sometimes* offer coupons or discounts on their subscription prices, and this is definitely something to keep an eye out for. During Black Friday 2022, they offered a 50% discount on their ProtonVPN Plus plan with a 24-month subscription plus six months free.
Visionary Plan
Visionary plan was a special plan for early supporters of Proton's mission. It is no longer available to new users, but existing users with a Visionary plan will keep their special account with all the same benefits as before.
30-day money-back guarantee
A 30-day money-back guarantee is included which allows you to try the product out, safe in the knowledge that you can get your money back if you're not happy.
In order to claim the 30-day money-back guarantee you must cancel the service and request a refund within 30 days of starting the service. There are some terms to note, however:
1. Refunds can only be requested once per user.
2. They will be given in the original currency of payment and to the original payment method.
3. Payments made by cash or bank transfers are not refundable.
4. This refund option is only applicable to users who have subscribed to Proton VPN or Proton Unlimited directly through Proton's official channels. If you have subscribed to Proton VPN or Proton Unlimited through the intermediary of a third-party, you will need to refer to their respective refund policy.
Payment methods
ProtonVPN accepts payment via PayPal, credit cards, and bitcoin. On the main pricing page, you will only see the options for PayPal and credit cards.
To pay by Bitcoin, you should currently have a ProtonVPN account, or you will need to email them directly for support in paying in cryptocurrency.
You can pay by Bitcoin if you already have a ProtonVPN account by going to your Dashboard and selecting the plan you want to purchase. The option for Bitcoin will be there. This process includes having a free account and wanting to upgrade.
If you don't have a ProtonVPN account and wish to buy one of their paid plans using Bitcoin, you will have to message them, and then they'll facilitate the transaction. Additionally, you can also pay by cash or bank transfers.
ProtonVPN's Privacy and Security Features
As you'll see when you first visit their homepage, they are proud to announce that they offer a "High-speed Swiss VPN that safeguards your privacy". That means all disputes fall under the applicable laws of Switzerland which ProtonVPN Technologies AG deems an ideal jurisdiction for enforcing strong privacy laws.
Their website states the following:
[quote]Applicable law
This Agreement shall he governed in all respects by the substantive laws of Switzerland.Any controversy, claim, or dispute arising out of or relating to the Privacy Policy shall be subject to the jurisdiction of the competent courts of the Canton of Geneva. The jurisdiction of the Swiss Federal Court being expressly reserved. [/quote]
The beauty of a VPN service based in Switzerland is that the country enjoys strict data privacy laws although it should be noted that it does have some laws on the matter, which in many cases mirror (or are similar to) EU laws.
However, it should be noted that ProtonVPN not a part of 5 Eyes, 9 Eyes, or 14 Eyes alliances which are groupings of country that share information about private internet usage with eachother. ProtonVPN also operates outside of EU or US law.
In all, if you want a higher level of security and privacy, then a service provider such as ProtonVPN which is based in Switzerland would be ideal. However, while the company is based in Switzerland, it has a decent number of servers based in 60+ countries.
The number of countries and servers may be considered low by some standards with providers such as ExpressVPN offering many more server options. However, none of those countries are of any exotic locations outside the norm. And, in addition to their regular servers, they offer what they call Secure Core Servers located in privacy-friendly countries such as Iceland and their home base of Switzerland. (More on secure core servers in a bit).
ProtonVPN Netshield
One of the most notable features available ProtonVPN offers is the Netshield functionality. The core functionality of Netshield is to protect your devices and speed up your browsing experience by blocking unwanted ads, trackers, malware, and other internet garbage. Netshield is available to every ProtonVPN user with a paid plan.
To use it, you simply pop over to the ProtonVPN support page and from there you can select from two levels of protection: Basic and Advanced.
The basic level gets rid of invasive adverts that may make your internet experience less than optimal , meanwhile the advanced level also combats malware.
Meanwhile, Netshield also offers an extra layer of protection by routing traffic through multiple servers. This can help to stop network-based attacks, for instance.
Netshield is also useful in the fact that it prevents DNS leaks, which can unfortunately reveal a user's true identity. To stop this, Netshield routes DNS queries through an encrypted tunnel so that your browsing activity cannot be exposed.
In all, Netshield is very capable of blocking trackers, malware, ads, and other internet nasties whenever you open a page and ultimately makes your internet browsing experience faster, and more more secure at the same time.
Perfect Forward Secrecy (PFS)
Another feature that sets ProtonVPN ahead of the competition is their use of Perfect Forward Secrecy (PFS). Basically this means that ProtonVPN users need not worry about their browsing info falling into the wrong hands now or in the future. This is achieved by generating a temporary security key and deleting it once that particular session ends. ProtonVPN insists on only uses encryption ciphers and VPN protocols that support Perfect Forward Secrecy (PFS), so you can always can always count on the fact that your information will remain private.
Authentication
ProtonVPN also provides users an array of authentication features in order to enhance the security of your internet experience. For instance, they use two-factor authentication (2FA) to add additional security to your acount. ProtonVPN also has solutions for OpenVPN authentication failure, should the issue arise. ProtonVPN uses HMAC SHA-384 as its VPN authentication method to ensure message safety between devices and their VPN servers.
ProtonVPN server network
No-logs policy
ProtonVPN markets itself as a no-logs VPN service. That means it doesn't store information about your connections, the websites you visit, where you signed in from, or how long you are logged in.
The company's policy states that they don't do any of the following:
• Log users' traffic or the content of any communications
• Discriminate against devices, protocols, or applications
• Throttle your Internet connection
However, they do have to monitor timestamps for unsuccessful login attempts but this doesn't include details such as your IP address and each timestamp is overwritten following a successful login.
Secure Core
The secure core is one of the features that ProtonVPN actively markets and which is always highlighted in a ProtonVPN Review.
The secure core feature is only available on two of the three paid plans that they offer (we'll get into the pricing a bit more). It is essentially a double-hop feature that's routed through two to three countries that are considered to be secure. You can choose one of ten double-hop/multi-hop configurations created to make the process of selecting these countries easier.
So this is how it works…
You select the exit server country that you want to use as your VPN server location.
When you select to use a Secure Core (see user Interface above), ProtonVPN will then route your connection through one of its secure core servers before connecting to your preferred exit server location.
Now, some may argue that it's better if you create your own multi-hop configuration. But, for us, the beauty of this set-up is that it will always be going through a secure server in a country with great privacy laws. Plus, the servers are actively configured to address security concerns as stated by ProtonVPN.
So, the 1-click multi-hop is a great feature though there are limited countries that support secure core exits.
Server Security
Like all VPNs, ProtonVPN advises that it cannot control the servers located in other countries, especially those governed under the cooperative rules of the 14-eyes countries and their partners. This is true for any VPN that has a server in those countries and in any other country that has agreements to share digital data.
Now, there are concerns regarding the location of one of its main core servers in Sweden which is one of the 14-eyes countries. But, ProtonVPN has declared that based on its server configurations in all countries – including those that closely monitor digital data – their servers are not able to log any data.
Their primary servers are also located underground, in a former military base, and in other high-security locations.
ProtonVPN Technical Details
ProtonVPN app is available on Android, iOS, Linux, MacOS, and Windows. The user interface on all devices is quite intuitive even though the tests we will reference here are primarily conducted on the desktop version of the app.
When you log in to your ProtonVPN dashboard, you'll see a map of the world highlighting the countries in which the company has servers (the green triangles you see in the picture below). The map is interactive, and you can click on any one of the triangles to see where servers are located.
If you don't like the map feature, you can collapse it, and you're left with only the list of countries with servers available. You can scroll down the list of countries and choose the server country location you want to use.
Or, just use the Quick Connect feature and ProtonVPN will choose the fastest server for you based on the location you're connecting from.
Then, there is the option to use servers that support their secure core feature (which we discuss below).
The user interface clearly shows when you're connected or not to the service. The interface also displays the download speed and upload speed of the server you connect to.
The interface is uncluttered – which we appreciate – and extremely user-friendly. So, even if you're a newbie to VPNs, you should find it easy to connect and go with ProtonVPN. In all, it is quite easy to download, install, and start using this VPN service.
DNS Leak Detection
In our tests on anonymity, we did not come across any leaks. So, the claim of offering leakage-proof tunneling seems to hold true. They follow strong protocols using WireGuard, IKEv2, and OpenVPN. With AES-256 level encryption, ProtonVPN is ensuring that if you get hacked, it's not because of their service. Plus, none of their servers supports PPTP and L2TP/IPSec VPN protocols which are cheaper to operate but less secure and quite old.
Below is the result of our test on leakages when using the VPN. When set to the UK, all the data that comes back is for the UK server, not the server of the country that we were actually in.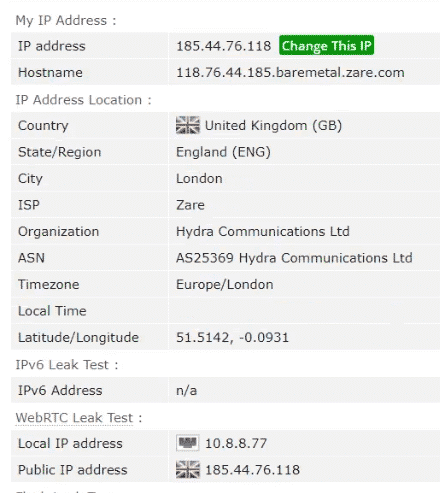 Kill switch and Always-On
ProtonVPN has a kill switch feature that is supposed to disconnect you from the internet if the VPN connection drops. This is an important feature as connection drops can happen at any time.
So, if you have a VPN service that doesn't offer a kill switch feature, it's time to upgrade to one that does.
When combined with the always-on feature, the service offers a good backup if you lose connection to the server. The kill switch will block all network traffic until the always-on feature quickly re-establishes a connection. These two features work together to prevent any unintentional leaks of your true IP address.
Router compatibility
The good news is that ProtonVPN is also compatible with routers that support OpenVPN or IKEv2. You can install ProtonVPN on your router as long as it features a built-in VPN client and you are tech-savvy enough to follow the guides on the ProtonVPN website. There are a number of really good reasons to set up a VPN on your router including protecting devices that don't support VPNs and automatically securing all your internet traffic. It also means that you can protect your entire household with one device and eliminates the need to set up a VPN on each device. But please be careful, as It's important to note that setting up a VPN connection on your router can be a white knuckle ride that could result in bricked hardware. As such, we only recommend it for advanced users.
Tor support
Another interesting feature employed by ProtonVPN is the fact that they support Tor over VPN for paid users. With a paid ProtonVPN plan, users can access the Tor network with one click using the Tor over VPN feature. This allows users to route their internet traffic through the Tor network without using the Tor browser. Using Tor over VPN gives users access to onion sites. It also encrypts internet traffic all the way through the Tor network and hides the user's true IP address from their Internet service provider.
ProtonVPN also has servers that facilitate torrenting. But as you can see, the speeds weren't quite as high as some of the others we tested when we ran our tests. (we should clarify that this was on the ProtonVPN free version).
But, as you'll see as you read further, they do indicate that free VPN has slower servers which would account for the speed test shown.
But, generally speaking, ProtonVPN does offer high streaming speed and little to no buffering on video with a minimum of 1 Gbps server links up to 10Gbps beating out most of the VPNs for speed. Just remember that speed can be impacted by your internet connection speeds, location, and user traffic in your location.
ProtonVPN Customer Support
ProtonVPN does not offer live chat support for the free version. If you need assistance, you can look up the answers in the 5 categories they provide on their Support Page:
Account

Download and Setup

General Information

Access Content

Troubleshooting
(hint: that's how we found out how to set up our DD-WRT routers on ProtonVPN).
If you can't find your answer there, you'll need to log a support ticket and await a response from the team.
ProtonVPN offers a variety of customer support options, including an online support form, email support, and through Twitter. There is also a live chat service available for customers on paid plans.
Paid versions of ProtonVPN get high-priority support and live chat but we found the free support to be adequate. Overall, the customer support team at ProtonVPN were helpful, friendly and able to solve queries when needed.
How Does ProtonVPN Stack Up to ExpressVPN and SecureVPN?
ProtonVPN is certainly one of the better known VPN providers on the market. However, you might be left wondering how well they compare to other well known providers such as ExpressVPN and SecureVPN. Of course, every VPN provider is different, each with their strengths and weaknesses. For instance, ExpressVPN is known for their wide variety of servers and SecureVPN offers 24/7 customer support. Which one you choose is up to you and will depend on your individual priorities.
ProtonVPN Review Wrapping Up
We will agree, however, that while the free VPN is OK, you'll get the most value out of a paid subscription to ProtonVPN.
The main drawback is the price of the service, which has come down over the years. Overall, however, we find that ProtonVPN offers good value for money and all the benefits make it a strong contender for your preferred VPN service.
Overall, ProtonVPN is solid performer with many extra bells and whistles added – particularly on the paid plans. If you truly care about your privacy then you should certainly consider giving ProtonVPN a try.
VPN test and let us know about your experience with ProtonVPN. We are curious!
You can also read one of the best-performing low-cost services – NordVPN review to see how it compares to ProtonVPN.
Frequently Asked Questions (FAQs)
Is ProtonVPN trustworthy?
ProtonVPN is a trustworthy VPN service that can be used to protect your privacy and security online. The company is based in Switzerland, which has some of the world's most robust privacy laws. Before there was ProtonVPN, there was Proton Mail, which was created by the same team and is used by journalists, activists, and millions of people worldwide every day.
What is the difference between ProtonVPN and NordVPN?
Both ProtonVPN and NordVPN are respected VPN providers that over a wide array of privacy and security benefits. ProtonVPN has many features that NordVPN doesn't – such as Stealth Core and Perfect Forward Secrecy (PFS). However, NordVPN has a larger server network. Meanwhile, ProtonVPN has a limited free plan that is quite good for many vpn users, especially considering the cost.
Is ProtonVPN really free?
Thankfully, ProtonVPN offers a free VPN service that has no data limit, no advertisements, and a no-logs guarantee. The free plan encrypts your internet activity and protects your privacy. ProtonVPN claims to be the only free VPN that doesn't limit bandwidth, spy on users, show privacy-invading ads or sell user data. ProtonVPN's free plan provides access to VPN servers in the United States, Netherlands, and Japan. Upgrading to a paid account provides access to advanced features such as faster browsing speeds, and advanced security features.ProtonVPN does not block streaming sites if you're on the free plan but can only guarantee streaming services if you're on a paid plan.
How ProtonVPN free work?
ProtonVPN Free actually works. Unlike other free services, the free version of ProtonVPN really does offer an unlimited service with no data or speed limits. The free ProtonVPN service is safe to use and doesn't serve ads and there is no evidence that they secretly sell browsing history. It is also different from other free VPN services in that it does not log user activity. Obviously, the paid version is packed with features – but for a lot of people the free version may give them what they need for their day-to-day browsing needs.
Write your ProtonVPN review