Best Free VPN for Torrenting Introduction
Torrenting is an excellent way to transfer large files quickly and easily. It has a number of benefits including the ability to download quickly from multiple sources and the ability to resume downloads in the event of the connection dropping.
Torrenting has become ever more popular in recent years – but what if you want to protect you privacy online while downloading or uploading torrents.
The good news is that there are free VPNs out there designed specifically for this purpose. We will look at some of the best free torrenting VPNs available today so you can enjoy an anonymous surfing experience.
We will also discuss some of the distinctive features that make each of these VPNs unique, their strengths, and their weaknesses; to help you make informed choices when it comes to selecting the best VPNs for torrenting.
Let's take a deep dive and see what we find!
Quick Guide to Choosing a Free VPN for Torrenting
When choosing a free VPN to download torrents there are a number of factors to keep in mind.
Firstly, you need to find a VPN that supports P2P file transfers. This is important because otherwise you won't be able to torrent using your VPN.
Secondly, you should choose a VPN provider that has a no-logs policy in order to protect your privacy online.
However, there are some caveats, you should read the privacy policy of your chosen VPN provider in order to ensure that your data isn't being sold on. This is particularly important when it comes to choosing a free VPN provider.
The Best Free VPNs for Torrenting in 2023
ExpressVPN
| Servers: 3,000+ | Speed: ? | Countries: 90+ | Encryption Type: L2TP/IPsec, OpenVPN (TCP), OpenVPN (UDP), PPTP, IPsec, and IKEv2, Lightway | Max devices:5 simultaneous, but unlimited installations | 24/7 support: ✅| Free trial: ❌ | Money-back guarantee: ✅ | Apps & Devices: Win~Mac~Android~iOS~Router~LGTV~Samsung TV~Amazon Sticks~Xbox | Jurisdiction: British Virgin Islands (BVI)
Best & Worst:
Best: Servers in 94 countries around the world

Worst: No dedicated IP feature
| Pros | Cons |
| --- | --- |
| High-speed servers in 94 countries | Limited port forwarding |
| Unblocks Netflix, great for P2P and gaming | No dedicated IP |
| Rock-solid security and privacy | |
| Works with iOS (iPhone & iPad), Android, Windows, Mac, browser extensions, and more | |
| Supports split tunneling | |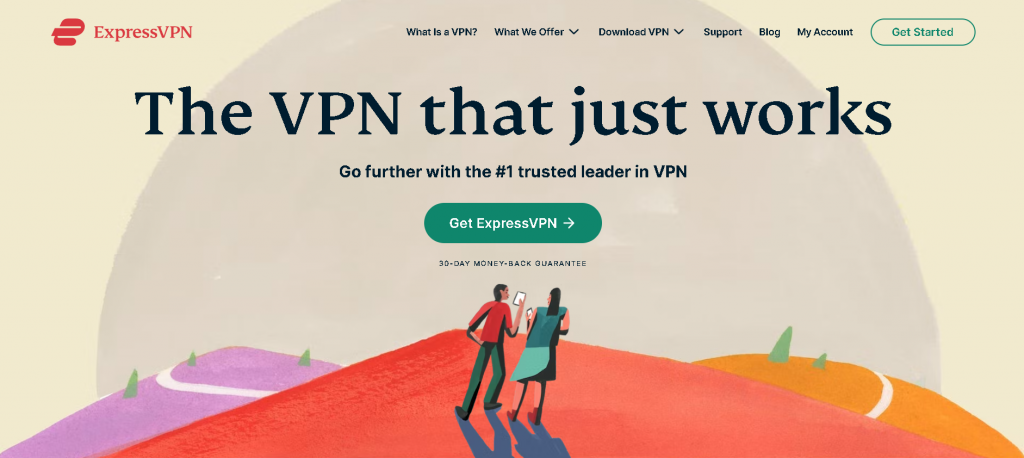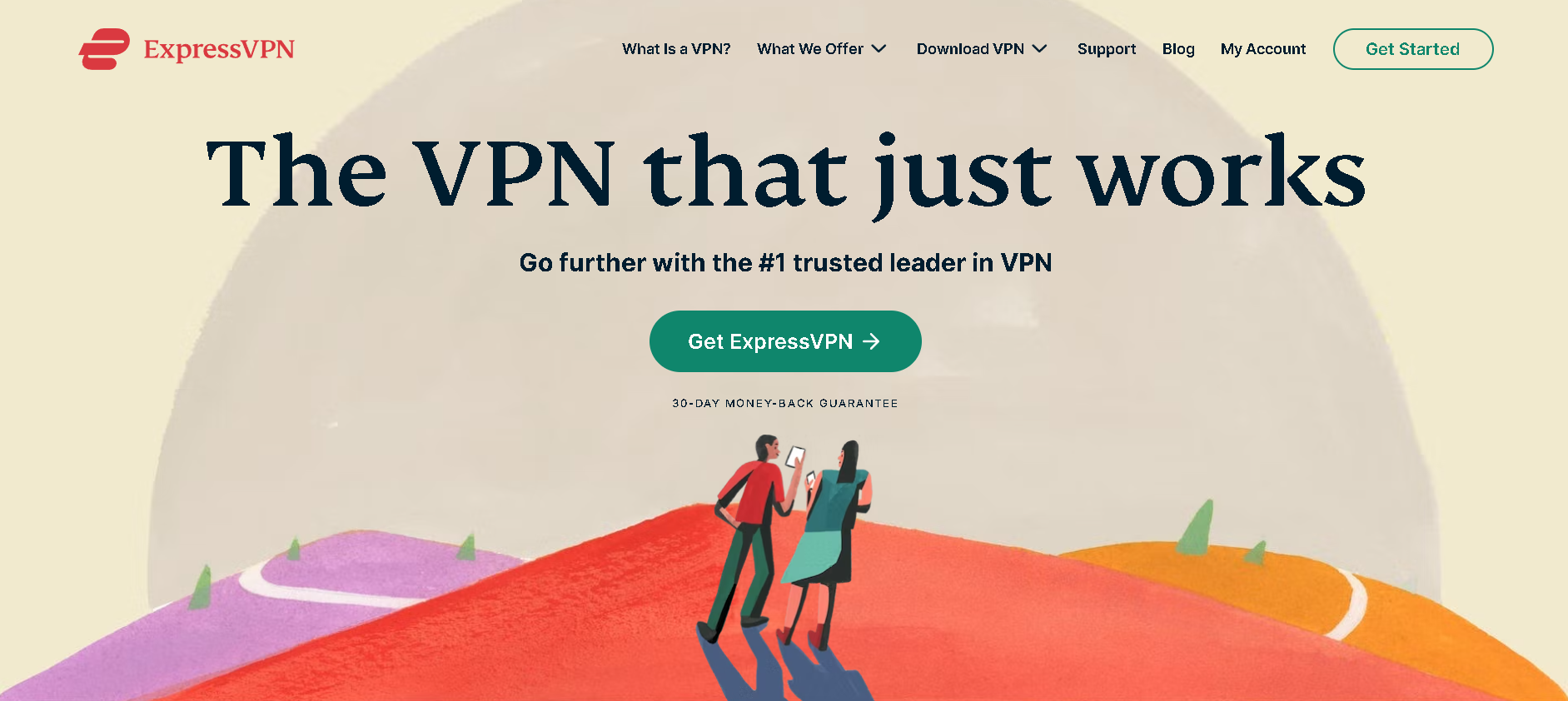 Although it isn't free, ExpressVPN is a good premium option for beginners and advanced users alike. It offers a great service that supports multiple torrenting clients, boasts fast speeds, and provides excellent security. With over 3,000 servers with P2P support, ExpressVPN is a great choice for torrenting.
The company has its headquarters in the British Virgin Islands (BVI), which is a well-known location for confidentiality of information, which is protected by the country's company and trust legislation.
The encryption software that is used as the foundation of any VPN service. It was good to note that ExpressVPN uses one of the favorite encryption protocols for confidential information and also is used by agencies to encrypt data. They use AES (Advanced Encryption Standard) with 256-bit keys — also known as AES-256 bit encryption.
There are different types of encryption that you can use. They are UDP, TCP, L2TP/IPsec, IPsec, IKEv2, and PPTP. Sometimes you can only get one type of encryption on your device. You need to check which country has which type of encryption by visiting the ExpressVPN server page.
ExpressVPN also does not keep any information about what you do on the internet. They have a strict no-log policy that says they will not keep your browsing history or what you download from the internet.
Read our full ExpressVPN review.
ProtonVPN

| Servers: 1,900+ | Speed: ?| Countries: 67+ | Encryption Type: AES-256-GCM, IKEv2/IPsec, OpenVPN, and WireGuard | Max devices: 10 | 24/7 support: ❌| Free trial: ✅| Money-back guarantee: ✅ | Apps & Devices: Win~Mac~Android~ Linux~iOS~Router~LGTV~Samsung TV~Amazon Sticks~Xbox | Jurisdiction: Switzerland
Best & Worst Features:
Strict privacy rules, no data cap, and a no-logs policy

Free users can only access a limited number of servers
| | |
| --- | --- |
| Pros | Cons |
| No-logs policy | Limited server locations for free users |
| AES-256 encryption | No P2P access on the free plan |
| No monthly data usage limit | |
| | |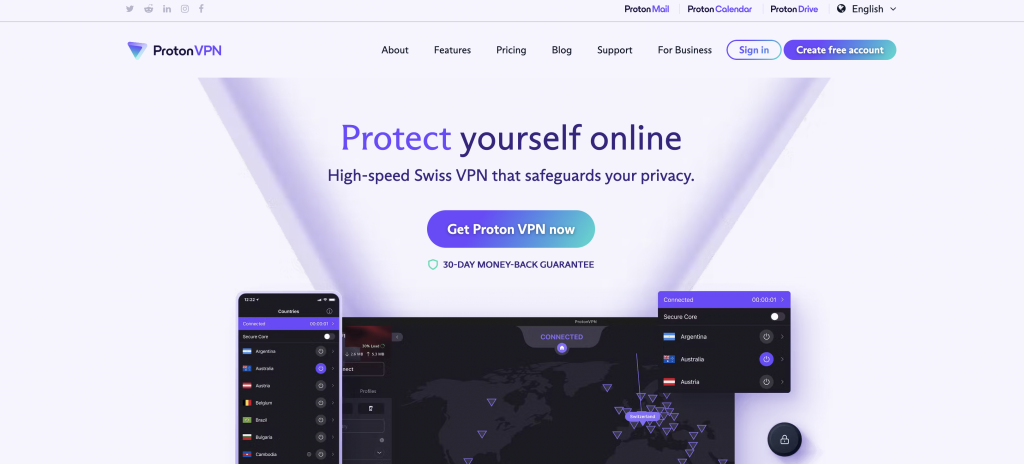 Based in Switzerland, ProtonVPN is a great option for anyone who wants security and privacy. Developed by some of the same people that founded ProtonMail, their VPN service is based on OpenVPN and provides users with advanced security features like Tor over VPN. They also boast great download speeds across all servers and no data limit.
It has strong, military-grade AES 256-bit encryption that ensures your data will remain private at all times. They also have an ad blocker called NetShield that blocks ads, trackers, and malicious websites.
They allow torrenting on their VPN trial accounts for you to use their service before making your final decision. Their free servers protect your data with Swiss privacy laws.
Being amongst the best free VPNs for torrenting, ProtonVPN offers you the following features:
You can choose from OpenVPN (AES 256-bit), IKEv²/IPSec, and PPTP protocols. Depending on your preferences, you can opt for a protocol that is the most suitable in terms of security and connection speeds.
ProtonVPN allows P²P activity to keep your torrent downloads safe from copyright infringement notices as well as government surveillance! The service also offers optimized servers for this task – including Switzerland which is great for torrenting.
Unlike other free VPNs which may contain malware and limit you to a certain amount of data per month, ProtonVPN allows you unlimited bandwidth on all their servers so you can download files without worrying about a data allowance. You can also access other streaming services like Hulu and Amazon Prime from anywhere in the world.
You can use their VPN service without having to worry about any data being logged by the provider. They also have a clear policy regarding user logs which ensures that your information is not shared with anyone.
As an added bonus, ProtonVPN offers a TOR over VPN feature. Instead of connecting you directly to the internet, their servers create an encrypted tunnel between your device and their secure gateway. By doing so, they can offer you much better security, protecting your torrent traffic and anonymity online.
You can enjoy the service on all your devices, including iOS/Android apps, macOS / Windows / Linux applications, as well as Chrome & Firefox browser extensions.
ProtonVPN offers a Kill Switch feature. It protects you from getting your real IP address exposed to authorities and hackers when using P²P torrenting or BitTorrent clients.
Read our full ProtonVPN review.
Hide.me

| Servers: 1,800+ | Speed: ? | Countries: 49+ | Encryption Type: AES-256/ IKEv2 IPsec, WireGuard, OpenVPN, SSTP, and SoftEther | Max devices: 10 | 24/7 support: ✅ | Free version: ✅ | | Money-back guarantee: ✅ | | Apps & Devices: Win~Mac~Android~ Linux~iOS~Router~LGTV~Samsung TV~Amazon Sticks~Xbox | Jurisdiction: Malaysia|
Best & Worst Features:
24-7 support available

Free version only allows one simultaneous connection
| | |
| --- | --- |
| Pros | Cons |
| No-logs policy | Only one simultaneous connection |
| AES-256 encryption | Only five worldwide locations in free version |
| Kill Switch | |
| | |
When torrenting, whether on a paid or free VPN, speed is one of the most important factors to consider.
The free version of this VPN server also comes with a fair share of its downsides like the limited number of servers it covers, and the lack of advanced security features. Despite this, Hide.me is still a decent VPN for torrenting on macOS or iOS devices because it offers torrent-friendly VPN servers, in locations including the US, Canada, and the Netherlands.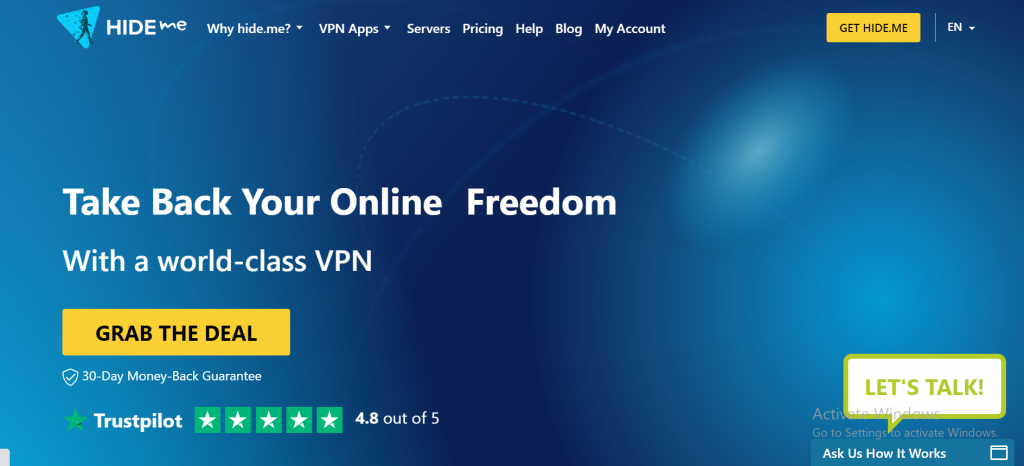 Hide.me allows P²P activity to keep your torrent downloads safe and the service also offers servers optimized for this task.
You can also protect yourself against unexpected data leaks with their Kill Switch feature which will immediately keep your online activities private by disconnecting you from the Internet if your VPN connection drops.
Meanwhile, you can enjoy their service on all of your devices, including iOS/Android apps as well as browser extensions for Chrome and Firefox. Hide.me allows you to download torrent files through uTorrent, BitTorrent and others.
It also comes with a 30-day money-back guarantee so that you can test out the services first before committing to anything.
Surfshark

Surfshark offers some seriously good service for its users.
The best part about this provider is the ability to connect with unlimited devices at once, which makes it the perfect package for those who want to protect all of their gadgets. Surfshark offers unlimited bandwidth and servers so you can protect all of your gadgets without having to worry about data caps.
Additionally, they offer more than 800+ servers in 50 countries which means that they have one of the largest networks for torrenting. This makes it perfect.
But it's not just their security features that make them stand out; they are also one of the few services that offer dedicated IP addresses. They have a large server network, strong encryption, and offer unlimited data so you won't have to worry about your data caps either.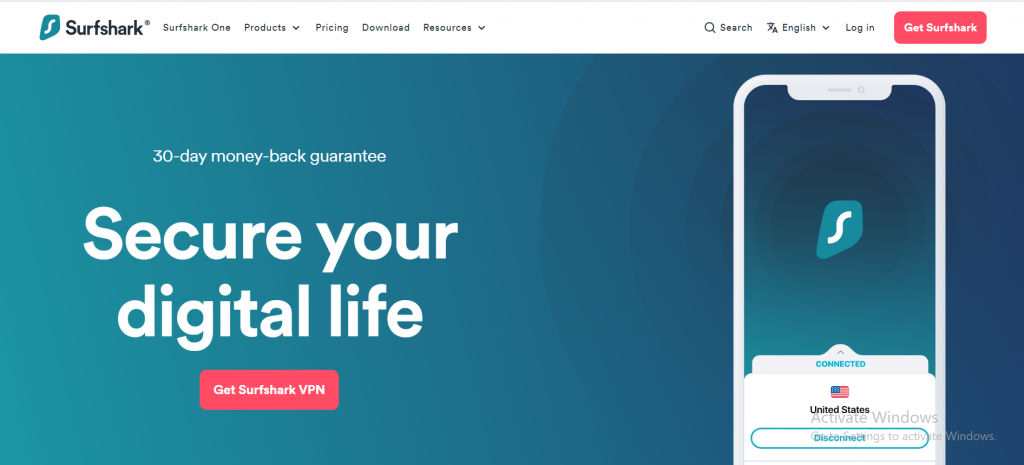 Surfshark is a zero-logs service, which means that they don't even keep any logs of your data traffic at all. This makes it one of the most secure services for torrenting as well since you can use them without having to worry about your data being sold or monitored.
Surfshark is compatible with most platforms – including Windows, macOS, Linux (Ubuntu/Debian), Android, and iOS! You will also be able to install it on routers if you want all of the devices in your home to be protected.
Surfshark is a great choice for those who want to unblock popular streaming services such as Netflix, Hulu, and BBC iPlayer from all over the world. This makes it perfect for both entertainment purposes and also for protecting your privacy when you are trying to access different websites.
Surfshark is equipped with AES-256 encryption, multiple protocols (OpenVPN/SSTP/LTP/IPsec), perfect forward secrecy, a kill switch feature, and dedicated IP addresses.
They offer 24/7 customer support which means that you can always ask those questions or get help if something goes wrong.
Surfshark offers a free trial, which means that you can try it out and see if the service is worth your money before actually paying for anything.
Read our full Surfshark review.
Why use a VPN for Torrenting?
Everyone loves torrenting right? But we all know that it can be dangerous if you don't do it the right way. If privacy and anonymity are important to you, then a secure VPN for torrenting will help protect your internet activity from prying eyes as well as hiding your location.
There are many reasons why you might use a VPN for torrenting.
First off, let's look at what a VPN is – A VPN, or Virtual Private Network, essentially creates a secure tunnel between your device and the internet. It encrypts your data, protecting it from hackers, internet service providers (ISPs), and other prying eyes.
It will protect your privacy and keep your data and torrenting activity secure on the internet. Torrent trackers can monitor everything that happens on their platform – including every user's IP address which is linked to their real identity.
Another advantage of using a VPN for torrenting is that it will allow you to get around ISP throttling.
Choosing a VPN for torrenting can be challenging because not all VPNs support torrenting. Some have policies against P2P file sharing but it is important to remember that not all do and you should also keep server locations in mind as that will impact your download and upload speeds.
How to Get Started Using a Free VPN
Thankfully, it is easy to set up our top free VPN pick. Here are step-by-step instructions for how to setup ProtonVPN:
1. Visit the Proton VPN website
2. Click the "Download Proton VPN" button to download the installation file.
3. Once the file has downloaded, double-click it to start the installation process.
4. Follow the on-screen instructions.
5. Once the installation is complete, launch the Proton VPN app.
6. Log in to your Proton VPN account or create a new one if you don't have an account yet.
7. Choose a server location and click "Connect" to start using Proton VPN.
However, if you'd to invest in your online security by signing up for ExpressVPN for 30-days risk free then simply follow the steps below:
1. Click here to visit the ExpressVPN website and get your hands on our exclusive offer
2. Choose a subscription plan and make the payment.
3. Download the ExpressVPN app for your device from the website.
4. Install the app and log in with your ExpressVPN account credentials.
5. Connect to a server location of your choice.
6. Verify that you are connected to the VPN by checking your IP address.
Methodology
How did we come to these conclusions concerning the subject at hand? When it comes to free VPNs, there are a lot of them in the market today! We hand-picked the most used VPNs by the public, and checked for VPNs with the most reviews.
We went ahead and conducted tests on each of the VPNs to see which one offered the best speeds, security, and support. We've also compared their prices with other competitors in this list so you can choose wisely when deciding on a free Android VPN service!
For speed, we used various tests including speedtest.net, Google Maps, and Netflix streaming to see which VPNs were the fastest. We also checked for leaks using websites like what is my IP address?
For security, we looked at factors such as encryption levels offered by each service (OpenVPN or IKEv), protocols supported (LTE/PPTP/OpenVPN), and the general theme of their privacy policies. We also checked to see which ones offered free VPN trials or money-back guarantees in case something went wrong!
For pricing, we considered monthly and yearly subscriptions. This is because some VPNs have no free plan but offer steep discounts for annual plans – which means you'll be spending more if your commitment isn't long enough.
Wrapping Up
There are many free VPNs on the market, however, if you truly value your torrenting experience then you really should invest in a paid VPN option. After all, can you really put a price on your privacy? Our pick of ProtonVPN is certainly the best of the free options but if you truly value your privacy then we would recommend choosing one of their paid plans. Alternatively, you should try ExpressVPN if you need more servers depending on your location. In all, a free VPN really isn't the best choice if you are serious about torrenting.
Frequently Asked Questions (F.A.Q.)
What is the best 100% free VPN?
There are several good options when it comes to free VPNs for torrenting. However, in our opinion, the best one is ProtonVPN. However, if you are serious about your privacy then we suggest that you go for one of their paid plans or choose a paid provider such as ExpressVPN.
Which VPN is the best for torrenting?
Not all VPNs are created equally and this is especially true when it comes to torrenting. According to our research, the best options tend to be paid plans from either ProtonVPN, ExpressVPN, Hide.me or Surfshark.
How do free VPNs protect your privacy?
Free VPN services are cost effective but not all of them are safe. Some of the risks associated with free VPNs may include a chance that your data will end up in the hands of hackers or that they might sell your data on to the highest bidder. It is always better to choose a paid plan from a provider such as ProtonVPN or ExpressVPN.