ExpressVPN Review: Why It's the Best VPN You Can Get [Complete Analysis + Test]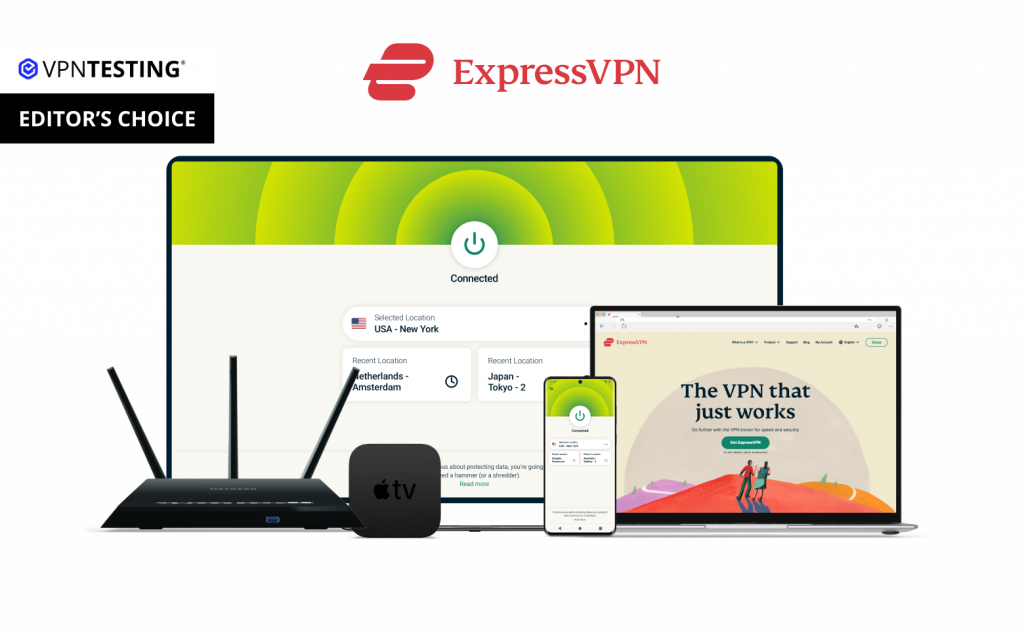 A company owned by Kape Technologies PLC, a United Kingdom-based cybersecurity software company. Read the ExpressVPN review.
Price: 6.69
Price Currency: $
Operating System: Windows
Application Category: Utility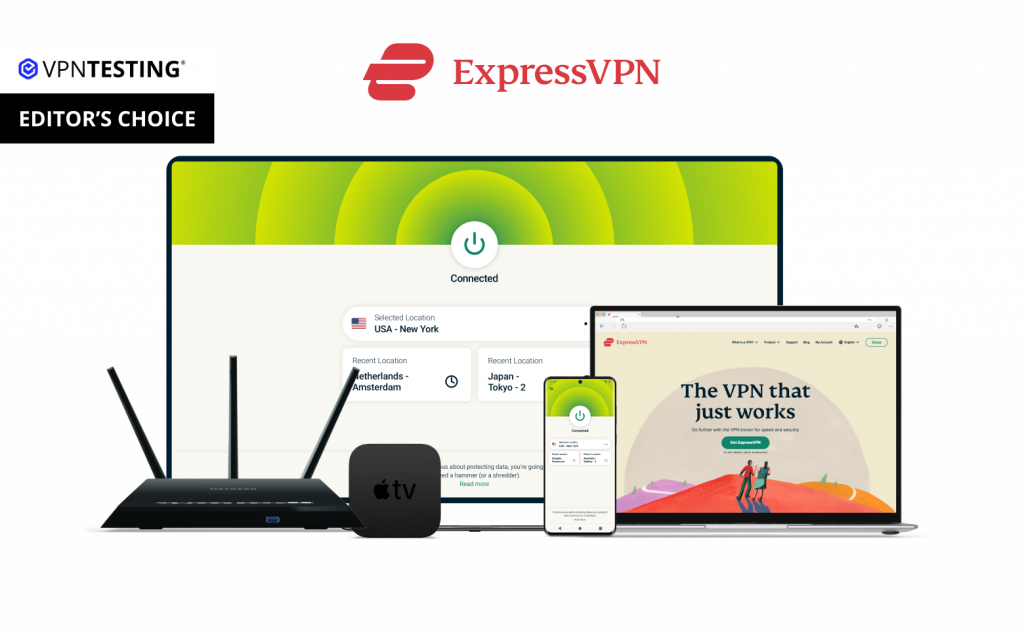 Verdict:
ExpressVPN is our number one premium VPN. It's a high-quality, fast VPN and a favorite of ours and many other users.
Pros & Cons
| Pros | Cons |
| --- | --- |
| High-speed servers in 94 countries | Limited port forwarding |
| Unblocks Netflix, great for P2P and gaming | No dedicated IP options |
| Rock-solid security and privacy | |
| Works on iOS (iPhone & iPad), Android, Windows, Mac, and more | |
| Supports split tunneling | |
You can get 3 extra months free with a 12-month ExpressVPN subscription. What's more, it comes with a 30-day money-back guarantee. Click the link below to get your 3 extra free months now!

This ExpressVPN review will highlight how we came to rank ExpressVPN amongst the best and why you will enjoy using this VPN service too. We'll be looking at their safety features, encryption, logging policies, speed testing, torrenting, and P2P support, unblocking geo-restricted content, and more.
Let's take a deep dive into how ExpressVPN works to protect your browsing activity and why users love it.
ExpressVPN Overview
Countries
94
Servers and Locations
10Gbps servers in the Americas, Europe, Asia Pacific, Africa, and Middle East regions
Customer Support
E-mail/Live Chat (24/7)
Log Policy
No connection or activity logs
Encryption Protocols
AES-256/IKEv2/OpenVPN UDP & TCP/Lightway
Supported Platforms
MacOS, Windows, iOS, Android, Linux
Routers Supported

ExpressVPN Aircove
Custom firmware for select routers from Asus, Linksys
and Netgea­r
Manual configuration on routers with support for OpenVPN

Simultaneous Connections
5, unlimited with router
Split Tunneling
Yes
Kill Switch
Yes
Torrenting (P2P File Sharing)
Supported
Country of Registration
British Virgin Islands
Dedicated IP
No
Smart DNS
Yes, known as MediaStreamer
Multihop
No
Price
From $6.67/mo.
Get 3 extra months FREE today with 12-month subscription.
Free trial/money-back guarantee
30-day money-back guarantee
Company History
Our first worry with any VPN provider is its country of registration and the jurisdiction it falls under. As far as we can see, there is nothing to concern us about these issues with ExpressVPN.
ExpressVPN is registered in the British Virgin Islands (BVI), an overseas territory of the UK outside the jurisdiction of the nine-eyes/14-eyes alliances. The BVI has strict laws on information disclosures. This means you won't need to worry about intrusive legislation and agreements, protecting your privacy and data.
ExpressVPN does not collect personally identifiable data from its users' online activities outside of what is necessary to establish their paid account and deliver the service.
But who really owns ExpressVPN?
ExpressVPN International Ltd was founded in 2009 by Peter Burchhardt and Dan Pomerantz.
In September 2021, ExpressVPN was purchased by Kape Technologies PLC, a United Kingdom-based cybersecurity software company.
Streaming Movies and TV Shows With ExpressVPN
We tested how ExpressVPN deals with different streaming services. Netflix is well-known for geo-restricting its content, but using ExpressVPN we were able to unblock Netflix and check out the US content from our location in Europe. Besides Netflix, ExpressVPN works with many other streaming services, like:
You can use the included MediaStreamer smart DNS for devices not supported by the ExpressVPN app. You can also use ExpressVPN on your Wi-Fi router to get the full benefits of a VPN on all your devices. Whichever method you choose, ExpressVPN works with:
Apple TV
PlayStation
LG Smart TV
Nintendo Switch
Samsung Smart TV
Amazon Fire TV
Roku TV
Chromecast
Android TV
Thanks to ExpressVPN's high speed and bandwidth, we did not experience any issues with buffering during streaming. Of course, these issues also depend on the speed of your internet connection and ISP.

ExpressVPN Features
Now we'll go into a little more detail on ExpressVPN's features.
VPN Protocols
Available VPN protocols include Lightway, OpenVPN (UDP), OpenVPN (TCP), L2TP/IPsec, IPsec, IKEv2, and PPTP. Lightway protocol is ExpressVPN's next-generation, open-source VPN protocol, in fact, it is their answer to the open-source WireGuard protocol.
However, only select countries have all protocol options available, and some encryption options like IKEv2 are only available on iOS devices. You can check protocol availability in different countries on the ExpressVPN server page.
You can opt to let ExpressVPN select an automatic protocol or select your preferred protocol from the list of options.
Split Tunneling
Being a top-of-the-range VPN solution, ExpressVPN supports both app-based split tunneling and inverse split tunneling. Be aware that split tunneling is supported only in ExpressVPN apps for Windows, Mac, and Android, and in ExpressVPN router firmware.
TrustedServer Security
ExpressVPN uses TrustedServer security in its VPN server infrastructure. Essentially, this approach uses diskless servers, running in RAM memory only. Nothing is written to the hard drive, so nothing is permanently stored.
Simultaneous Connections
ExpressVPN allows up to five simultaneous connections for a single subscription. If you need to connect more devices, you can purchase additional subscriptions, or use ExpressVPN on your router and secure all devices on your wi-fi network.
Plans and Pricing
ExpressVPN is at an above-average price point and is one of the pricier virtual private network services on the market. However, while we've classified it as the best premium VPN service available, it doesn't mean that they are unaffordable, or that the service doesn't deliver what you pay for.
For a single month, the price is currently $12.95. A 6-month plan at $9.99 per month and a 1-year plan at $6.67 per month. That's a huge 49% that you're saving. Not only that, the 1-year plan comes with 3 extra months completely free. And there's a 30-day money-back guarantee on all plans. Just remember that these longer plans are billed every 6 and 12 months respectively.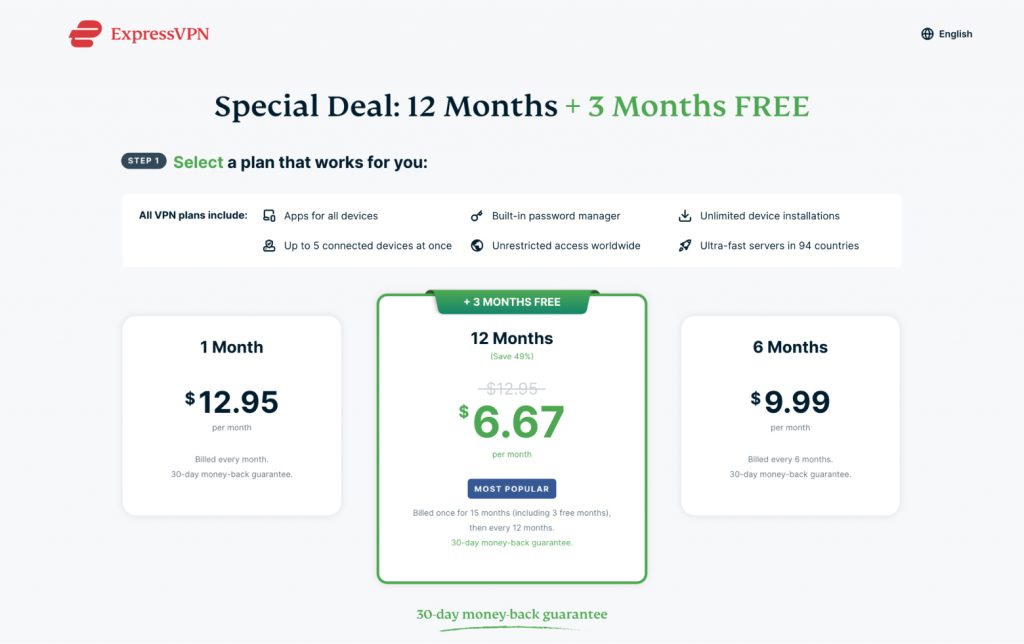 With the 30-day money-back guarantee, you can access all of the features on all devices.
Payment Options
ExpressVPN offers a variety of ways to pay, from popular options like PayPal and credit cards to other options like GiroPay and WebMoney. ExpressVPN also accepts payments in Bitcoin.
Canceling a Subscription Purchased With a Credit Card or PayPal
First, sign in to your ExpressVPN account. On the left menu select My subscription, then Edit subscription settings. On the Automatic Renewal Settings page, select Turn off automatic renewal, then follow the prompts until you see "Your subscription has been canceled."
Canceling a Subscription Purchased via Apple App Store or Google Play Store
You have to cancel at least 24 hours before the end of the free trial or the next billing date. Open the App Store or Play Store app. Open your list of subscriptions by clicking on the profile icon at the top right. Select Payment & subscriptions, then subscriptions. Find and click ExpressVPN and follow the instructions to cancel.
User Reviews
Now, what about how others feel about the service? Overall, ExpressVPN users rate the service as above average to excellent. For example, the Google Play Store stands at a 4.3 rating from nearly 1,383,754 reviews.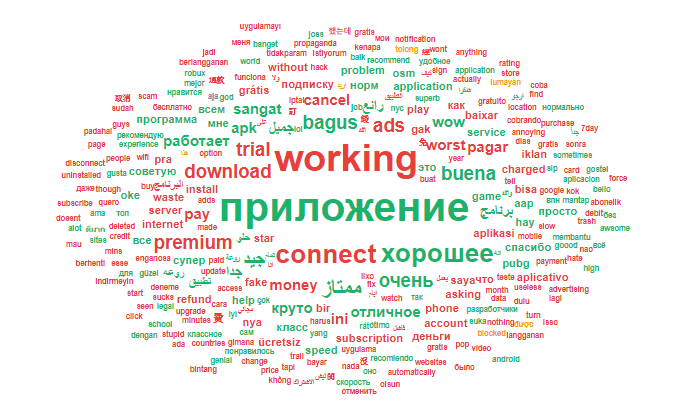 ExpressVPN's Privacy and Security Features
Encryption is the bedrock of any quality VPN service. So, it is good to know that ExpressVPN uses one of the industry-standard encryption protocols for confidential information, AES-256 – Advanced Encryption Standard with 256-bit keys.
DNS leaks – Not a Problem for ExpressVPN
ExpressVPN offers its own DNS leak testing to show users whether there are any leaks. We connected to the service and ran the test which showed that there are no leaks. We tried it without any VPNs connected, and it showed that we were not connected to a VPN server and that there is potential leakage.
We also tested leaks with third-party DNS leak detection services. They all implied no leaks.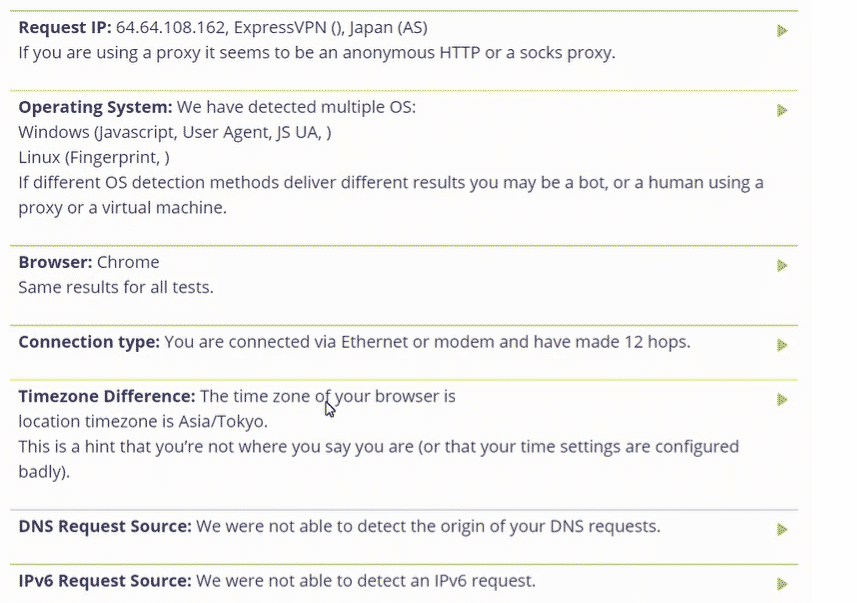 With its DNS leak protection, ExpressVPN makes sure other entities cannot track your online activities. This includes entities like your internet service provider or your DNS service.
One issue we did find was in switching to a new server. Whenever we attempted to switch, the app gave us a message indicating that "internet traffic may be unsecured during reconnection". On the one hand, this notice was an excellent reminder that if we didn't want anything to leak from our activities, we should cease before switching.
The good thing is that ExpressVPN's Network Lock is automatically enabled and it stops all internet traffic if the VPN connection drops unexpectedly.
ExpressVPN Doesn't Log Data
We love ExpressVPN for its no-logging policy. While there are VPNs out there with questionable logging activities, ExpressVPN does not log data such as your browsing history, data content, or traffic destination as they have outlined in their Terms of Service and shown in the image below.

Their comprehensive policy on their access to and collection of data is outlined in their Privacy Policy. They collect information such as:
The app version in use

Dates that you connect to the VPN

Your server choice

MB of data transferred per day
None of this data can be considered personally identifiable information which should help to keep your online activities private from your VPN service provider and online.
In December 2017 ExpressVPN came into the spotlight in relation to the investigation of the incident in Turkey. Turkish investigators seized an ExpressVPN server, but were unable to find any logs to aid their investigation, which the company said verified its claim that it did not store user activity or connection logs, adding:
"while it's unfortunate that security tools like VPNs can be abused for illicit purposes, they are critical for our safety and the preservation of our right to privacy online. ExpressVPN is fundamentally opposed to any efforts to install 'backdoors' or to otherwise undermine such technologies."
This is one example of why ExpressVPN is highly respected.

Privacy Policy & Terms of Service
ExpressVPN's privacy policy is pretty well written and accurate. It's clear and complies with the minimum standards for privacy policy disclosure. You can read their full Privacy Policy here.
When it comes to a VPN company's terms of service, we use a list of necessary sections for terms of service agreements and privacy policies to determine whether all the necessary components of the policy were present. In this case, we found everything in ExpressVPN's disclosures except for the Last Updated section.
Generally, all agreements must have a date that tells a user when the privacy policy and terms of service agreement were last updated. ExpressVPN does not. We've reached out to ExpressVPN to correct this minor error.
You should also be aware of a few other inconsistencies:
Section 8 – Language and Translation of Content 
This section puts the liability for mistranslations from English into any other language of the VPN software on the consumer. While not unethical, it was an odd addition owing to how easy it is to update software and remedy language errors.
Section 14 – Arbitration 
The arbitration clause has a few inconsistencies. First, it imposes a 1-year Statute of Limitations on claims against ExpressVPN. Limitation periods in the British Virgin Islands are: "BVI Limitation Act 1961: Contract and tort claims: six years from the date on which the cause of action accrued." 
There are also some contradictory terms. For example, they offer a single remedy for arbitration in one paragraph (i.e. payment in full for services), and then offer alternative remedies in the next paragraph (i.e. attorney fees, damages). Generally, the rules in the British Virgin Islands will apply.
We've marked up the terms of service so you can read the entire version with our comments.
ExpressVPN Setup: Process, Usability, and Server Availability
The setup and use of the service are pretty straightforward. Once you sign up for your ExpressVPN service, you'll get a welcome email that outlines the VPN setup details. Compared to some of the other VPNs we tested, we found it had just one extra step – you have to put in your activation code.
The app display is basic in that it provides only what you need to connect and no fancy add-ons like maps. The click-to-connect button is prominent, and everything about the app is user-friendly and very intuitive.
You can click to connect to the server displayed or choose a different server. In selecting another option, you'll be presented with the recommended servers. Or, you can search the list for your preferred server location.
There are 3000 servers in 160 locations across 94 countries. While not as abundant a number of servers as some of the other VPNs, it does offer the relevant locations in which having a server is useful.
Another useful tool they offer is browser extensions. When we were testing the service, we didn't initially think about directly adding the browser extension. But, we hadn't connected to ExpressVPN (you can set it to automatically connect each time you start your computer or to connect manually) and there was a message enticing me to try out the browser extension.
So, we tried it.
It immediately opened a new window in our preferred browser and was already set to the browser extension version, in our case the Chrome extension. All we had to do was click to start the installation process.
One of the even more exciting features of the browser extension lies within the Chrome version. The Chrome extension now has HTTPS Everywhere with EFF's secure browsing technology. So, now when you browse HTTP-only websites, your ExpressVPN Chrome extension will automatically encrypt your communication with that site. HTTPS Everywhere in the ExpressVPN Chrome extension is enabled by default, so your communication online is automatically secured when you visit these sites. So, go ahead and browse comfortably and safely with ExpressVPN and its Chrome extension.
Streaming and P2P networks
ExpressVPN supports various streaming services, like Amazon Prime access, Kodi, Netflix, and others that you may want to unblock to access certain content.
P2P networks are supported by ExpressVPN, without the need to connect to dedicated P2P servers. Torrenting is not an issue with ExpressVPN.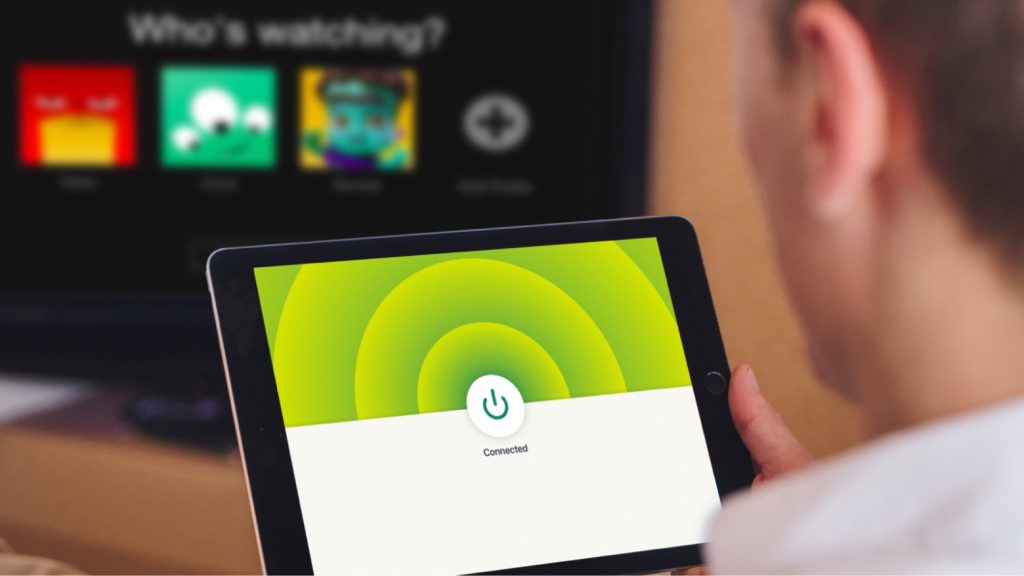 Speed Test
ExpressVPN is marketed as one of the fastest VPNs available. You need fast upload and download speeds, not a VPN service that will throttle your speeds. ExpressVPN has its own inbuilt speed test though it's not always available as we found out when connected to a server in Canada.
To access the in-built speed test, simply go to the App menu and select a speed test. It then measures the speed according to their popular server locations.

Keep in mind that running a speed test does come with its limitations such as the computer being used or the internet connection and where you're located. So, when you run a speed test for ExpressVPN, remember to keep these in mind. However, when compared to all the others we've tested, ExpressVPN is a clear leader in the speed Olympics of VPN services.
Independently testing the VPN speed with Ookla speedtest.net below. There is a slight decrease when using the UK server but compared to 51 other VPN services their speed ranks the third best.

The United States server ping went up by 600%. Download decreased by -8.84% and upload by -6.06%.

The United Kingdom server ping went up by 268.18%. Download decreased by -22.53% and upload by -4.55%.

Tokyo server ping went up by 1290.91%. Download decreased by -9.68% and upload by -15.15%.

Customer Support
If you need help with any issue with ExpressVPN or have questions, you have multiple options to contact support. They offer a 24/7 live chat option that is visible no matter which page of the site you land on.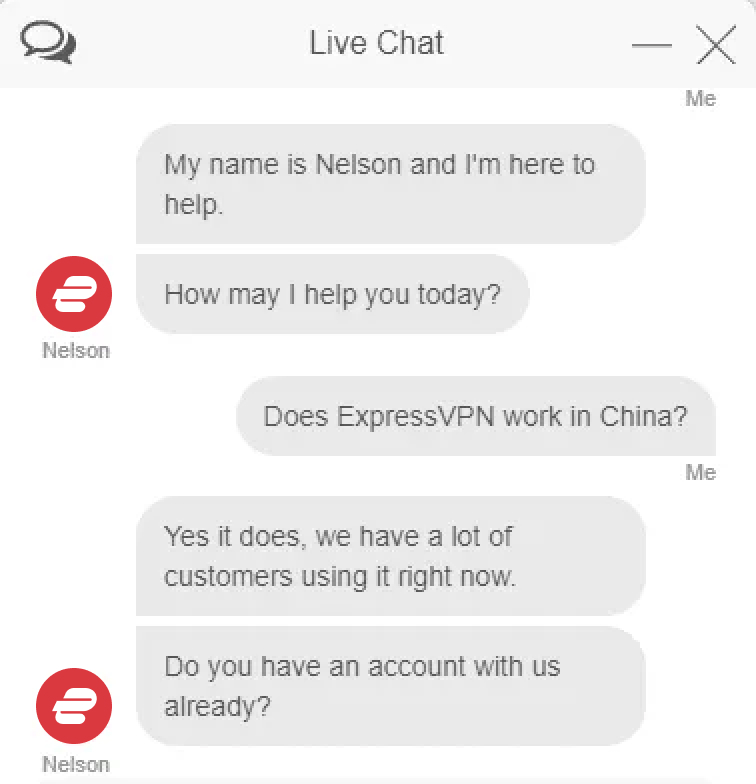 If you're not ready to speak with someone, you can review their extensive troubleshooting guides or get setup instructions in the support section of their website.
How Does ExpressVPN Stack Up to CyberGhost and IPVanish?
Let's put all VPN features and speed measurements aside, and focus on the track record of these vendors.
ExpressVPN has managed to successfully avoid security issues and different data logging or leaking controversies so far. On the contrary, ExpressVPN even got positive publicity when one of its servers was seized during the investigation of the assassination of the Russian ambassador in Turkey in 2016. The investigators were unable to find any data or user logs on the server. ExpressVPN also passed many external security audits with flying colors.
On the other hand, CyberGhost was called out in 2016 when its free version phone app tested positive for malware. IPVanish also got news coverage in 2018, when they provided user logs to the authorities in spite of their no-logging claims and policies.
Out of these vendors, ExpressVPN seems to be the most trustworthy option for your private internet access.
In Conclusion: Is ExpressVPN Worth the Money?
Final Verdict:
Yes! ExpressVPN offers everything you need in a VPN: enhanced anonymity, a fast and reliable connection, and a whole lot more.
It doesn't log your data outside of what is necessary to deliver you the service, it supports torrents, and it unblocks Netflix and other geo-blocked content. But most of all, it is easy to set up and use.
| Pros | Cons |
| --- | --- |
| High-speed servers in 94 countries | Limited port forwarding |
| Unblocks Netflix, great for P2P and gaming | No dedicated IP options |
| Rock-solid security and privacy | |
| Works on iOS (iPhone & iPad), Android, Windows, Mac, and more | |
| Supports split tunneling | |
FAQ
Is ExpressVPN compatible with Mac and Android?
Yes, ExpressVPN provides dedicated Mac and Android apps for these devices. Android versions 13, 12L, 12, 11, 10, Pie, Oreo, Nougat, Marshmallow & Lollipop are all supported.
Is ExpressVPN owned by China?
Express VPN is not owned by China. UK-based Kape Technologies PLC owns ExpressVPN and operates it from the British Virgin Islands.
How does ExpressVPN compare with NordVPN?
ExpressVPN and NordVPN are both popular VPN services, but there are some differences between them. NordVPN has a larger network with around 5,000 servers in 60 countries while ExpressVPN has servers in more countries. NordVPN is cheaper than ExpressVPN, with prices starting from $3.49/month and it allows six simultaneous connections compared to five for ExpressVPN.
Is ExpressVPN compatible with Linux?
Yes, ExpressVPN works with Linux. It supports 64-bit and 32-bit versions of the Ubuntu, Debian, and Fedora operating systems. There is a Linux version of the ExpressVPN app available on their website.
Does ExpressVPN utilise browser extensions?
Yes, ExpressVPN provides browser extension for a number of popular browsers including Google Chrome and Mozilla Firefox.
Can I use ExpressVPN on multiple devices?
With a single subscription, You can install ExpressVPN on an unlimited number of devices, but only five of them can be used simultaneously.
Does ExpressVPN work with Netflix?
Yes, ExpressVPN provides fast Netflix streaming no matter where you are.