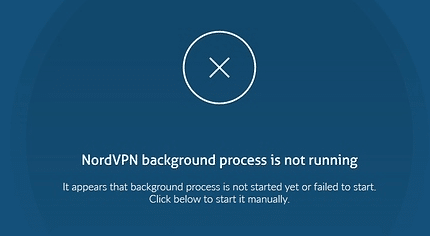 NordVPN is known to be one of the best VPN apps that you can get for Android, iOS, or Windows.
According to the NordVPN review and our previous experience of using the product, its main pros are high speed, kill switch, and affordable price. It allows you to get access to Netflix no matter where you live, torrent and, the reason why we all use VPNs, protect your data. 
However, no product is perfect, and even amazing VPNs like NordVPN may have some flaws. It does not mean that minor problems are a reason to not use the app. They can be usually fixed pretty easily.
Once you get over them, you will be able to enjoy the experience of using fast and reliable NordVPN!
In this article, we are going to take a closer look at the problem: "NordVPN background process is not running". – It is one of the most common issues that users face.
It mainly comes up when the new update is out. New versions do need some time to get tested and the team of NordVPN dutifully fixes the flaws if there are any.
So, what to do about it?
Scroll down and find out!
Step by step fix to "NordVPN background process is not running" 
There is good news: the issue "NordVPN Background Process is not Running" is quite easy to fix! You do not need a degree in IT to make things work. Also, you do not need to wait until the team releases a new update with fixed bugs. 
First things first, try to click the button "start the process". Some users report that it works after the first click, some need to repeat the action a couple of times.

What do I do if I clicked the button many times and it still will not work?
#2 Reinstall the NordVPN app
The easiest and most helpful way to get the problem out of the way is to reinstall the VPN software. Uninstall the app and install it back again and all troubles are gone.
#3 Clear the cache of the app
Yet, sometimes you have to do a tad bit more. If the previous solution did not make things better, our suggestion is to clear the cache of the NordVPN application. It has more instructions than reinstalling so let's take it step-by-step.
#4 Close the app by using the Task Manager
Use the keys Ctrl+Alt+Del at the same time and it will get your task manager opened. 
Then go to the process section. We are looking for nordvpn-service.exe and NordVPN.exe. The processes are listed in the alphabetical so you will not have to hurt your eyes by reading every process running on your computer (sometimes there are just too many of them). Just find processes that start with N and you will be fine.
Right-click on the process. From the list that you are seeing, choose "End task"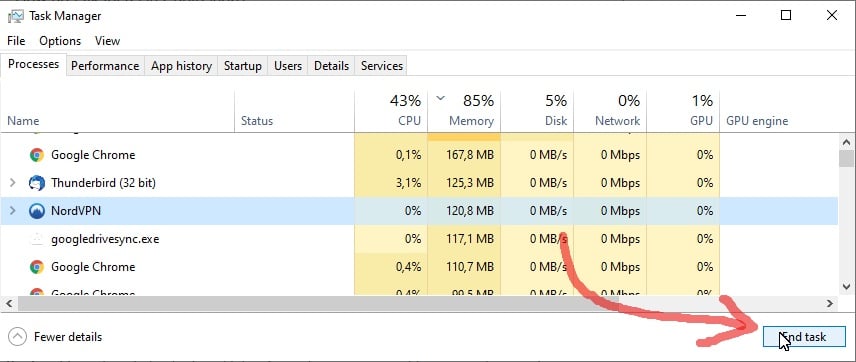 Please, remember that you have to repeat that action for both processes: nordvpn-service.exe and NordVPN.exe.
We do not need the Task Manager anymore, so you can close it down.
Now, press keys "Windows"(Start) and R at the same time. Next to the Open, you will see a box. You should type %localappdata% in it and press the OK button. Consequently, you will get another long list with numerous folders. Those are all the apps that you have installed on your device.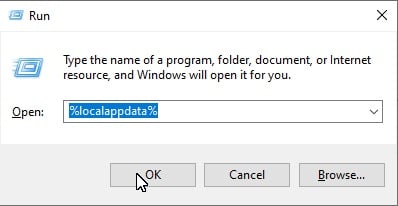 The long list we have got after step 2 is also alphabetical so you will have to just scroll down to the section again. After you have found the Appdata->local->NordVPN folder,  delete it.
Sounds pretty scary but no worries, it is just a cache. The cache is additional data that the app creates. If you delete that temporary, nothing bad will happen to the app. No important information is being deleted.
Conclusion
Just three steps are needed to solve the issue "NordVPN Background Process is not Running". After that, you can use your Internet safely, with data being protected.
However, in some extremely rare cases, it does not work either, NordVPN has an amazing support team who are kind and are always quick to help. You can reach them over email or a live chat. Both options are available, just choose what you like the best.
The team is available for you 24/7 so you will not need to wait hours to get a response. After you get through the chatbot, their support will help you out: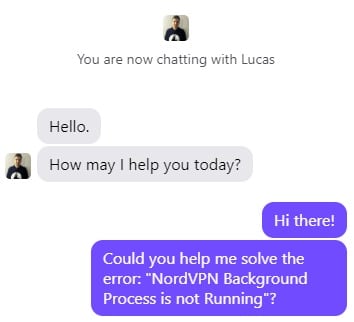 Do not hesitate to reach for help if you are experiencing issues with using NordVPN. The team members do not bite! They are friendly, they know how to fix things and they will be there for you no matter which device or operating system you currently use. Responses are usually quick and support quality is top-notch.
Their suggestion to the request was the following: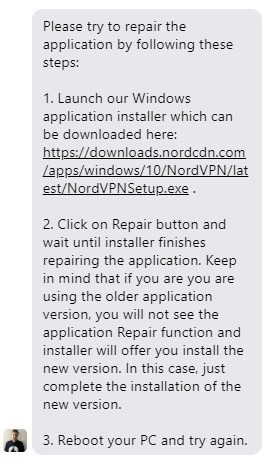 Overall, there is no issue that can not be fixed. Most of the time you can do it by yourself!
Either way, in the end, you are getting a VPN app that allows you to choose the location, protects your data, and costs almost nothing. We believe that it is worth the small battle you are going through while fixing the common issue "NordVPN Background Process is not Running". 
Enjoy the protection!
Ran into another common problem? Check NordVPN failed to connect.