Private Internet Access review: not as good as expected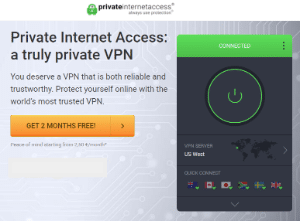 This US-based service was previously owned by London Trust Media. Kape technologies acquired PIA (Cyberghost owner) in 2019. Read Private Internet Access review
Price: 2.91
Price Currency: $
Operating System: Windows
Application Category: Utility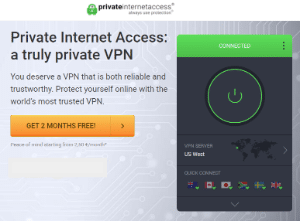 Not as good as expected
Private Internet Access (or PIA) labels itself as the most trusted VPN out there − and for a good reason.
PIA may just be the most popular VPN for most Internet users and consistently receives top-notch reviews. In fact, some publishers claimed earlier in 2018 that PIA was "still the one to beat".
The wide range of features of PIA is what makes it one of the best VPN services out there. These include, but are not limited to:
An above-average number of servers
Ad blocking
P2P file sharing support
Multiplatform and device support
Strong encryption
Servers in nearly 30 countries
A great stance on keeping customer information private.
Simple user interface
Yet customers report slow speed performance across multiple devices − and so do our tests.
Some potential drawbacks to watch for include the fact that PIA is based in the US, just like VyprVPN hence have limited flexibility for the specialization of usernames and reloads more than usual.
More below.
Private Internet Access synopsis
| | |
| --- | --- |
| Ranking: | 30#/52 |
| Parent company: | London Trust Media Inc <- Kape Technologies |
| Jurisdiction: | Indiana, the United States |
| Locations: | 33+ countries/3270+ servers |
| Overall test result: | SAFE |
| Torrenting: | PASSED (Torrent allowed) |
| Netflix: | PASSED (Unblocks Netflix) |
| Encryption/protocols: | AES-256/PPTP/L2TP/IPsec/OpenVPN UDP & TCP |
| Support: | E-mail response ~6h/Live Chat (24/7) |
| Cost: | $2.49/mo |
| Official site: | www.privateinternetaccess.com |
Company profile
It is brought to you by London Trust Media Inc. – a company founded in 2010 and located in Indiana, United States. In 2019, Kape technologies acquired Private Internet Access (the same company that owns Cyberghost).
Here comes the first disadvantage.
It is located in the 14 eyes jurisdiction, making it vulnerable to governmental pressures.  However, this is only one drawback. There are tons of positive aspects. Scroll down to learn more.
No browser usage logs, no leaks
PIA belongs to the no logging VPN club. Some of the VPNs actually do log data even though they claim that they do not, PIA doesn't.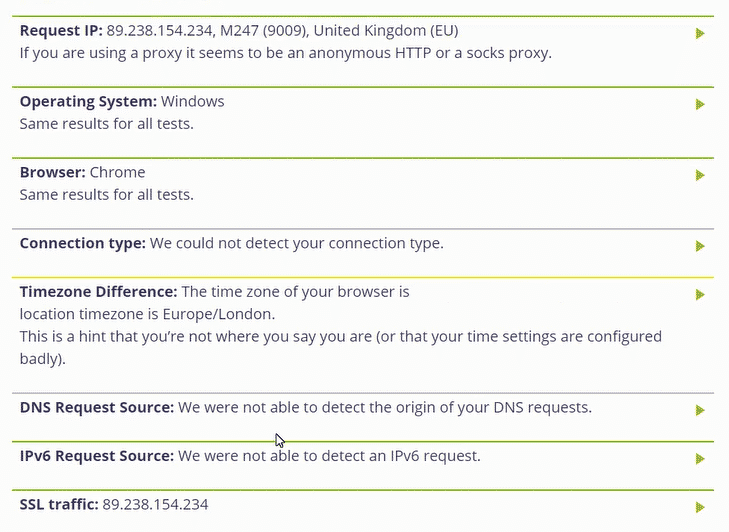 They passed all our security tests and had no DNS leaks or logs, which gives us a reason to believe that PIA is worth considering.

Their AES-256 Encryption supported these protocols:
Location in the 14 eyes jurisdiction
PIA is located in the United States of America. The location is the first con of their service.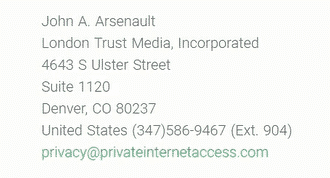 They are part of the 5 Eyes jurisdiction.
What is "Five Eyes"?
FVEY is an intelligence alliance between the United States, Canada, Australia, New Zealand, and the United Kingdom.
Simply put, each member can ask for information from any alliance country observations.
Privacy policy and TOS
(Reviewed by a professional lawyer)
The privacy policy operates under EU law.

The policy was last updated on May 2018, likely to reflect the recent changes in data security law in the EU and its member states.

It has some style and spelling errors, but nothing that would require immediate corrections.
Full version including comments: download
While PrivateInternetAccess.com is compliant in so far as they have a privacy policy and terms of service agreement, both agreements operate using a different version of the law. The privacy policy applies the standard practices of the EU to data protection and the terms of service claim that the law of Indiana, a state in the United States, applies directly to litigation/arbitration.

Another note:  these terms designate Hamilton County, Indiana, as the venue for litigation. Chances are that unless the plaintiff was located in the same county any litigation would be immediately moved to federal court and federal law would apply.
The Hamilton County line would likely only apply to small claims made by individual consumers, but still not likely to be useful at all, as a plaintiff would rather sue in federal court.

Spelling and grammar were not an issue in the terms of service agreement. It is well written and usefully provides notes examining the purpose of each paragraph of the agreement.
Full version: download
Available on various devices and platforms
You can connect up to 5 devices simultaneously, which makes it a great choice for a small family. The application is available for devices listed below.
Operating systems:
Windows 10, 8.1, 8, 7, phone
Mac High Sierra, 10.13, 10.12, 10.11, 10.10, 10.9, 10,8
Linux Crunchbang, Fedora, Mint, Command Line Interface, Ubuntu
Phones and tablets:
Routers:
You can connect up to 3270+ servers in 33 countries.
Easy to use UI
The application has to be understandable for rookies.
PIA has done it right.
Even though there are a lot of options, if you are new to VPNs, you can't go wrong with the default settings and auto-location.
Kill-switch
Kill-switch is valuable for repeat users.
This feature enables you to permanently have a VPN connection every time you connect to the Internet.
How does it work?
Kill-switch allows internet connection only if the VPN is on. Yes, they do have a kill-switch and it works great.
The same feature is also on their iOS and Android app. SOCKS5 Proxy is included.
Average server speeds
Speed decreases when you use the VPN.
This is the case of all services. However, some are faster than others. PIA has above-average speed compared to other service providers.


The United States server ping went up by 788.24%. Download decreased by -34.05% and upload by -62.58%.

The United Kingdom server ping went up by 291.18%. Download decreased by -85.61% and upload by -96.32%.

Japan's server ping went up by 211.76%. Download decreased by -42.63% and upload by -6.37%.
Wide range of payment methods
There are 9 ways to purchase the subscription.
PayPal
Credit card
BitPay
Bitcoin cash
Bitcoin
ShapeShift
MINT
Gift cards
Low price and 7-day money-back guarantee

Private Internet Access review verdict
PIA is a great service for home users.
London Media Trust is a reputable company with a good record of keeping private data. They have a large user base with tons of supporters. The service is finely tuned, responsive, and smooth. It's cheap and the money-back guarantee removes the risk of disappointment.
We believe it's worth a try, test VPN and check out other top-notch services before your decision.
Add your opinion on Private Internet Access as well.
Write your Private Internet Access review