Private Internet Access (PIA) VPN: Cheap and Secure, But Is It Too Slow?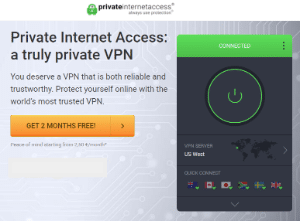 This US-based service was previously owned by London Trust Media. Kape technologies acquired PIA (Cyberghost owner) in 2019. Read Private Internet Access review
Price: 2.91
Price Currency: $
Operating System: Windows
Application Category: Utility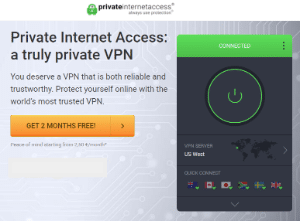 Private Internet Access (PIA) VPN is a high-speed, low-cost option with a range of secure features and benefits.
Using 100% open-source apps and RAM-only servers, with an independently verified no-logs policy and a semi-annual transparency report, PIA has worked hard to prove its committment to being a trustworthy VPN provider.
However, following its purchase by a controversial cybersecurity company, and with its headquarters based in a Five Eyes country, is it really a practical VPN?
We examined its features, pricing, performance, and, most importantly, its privacy policy, to determine whether a PIA VPN is worth considering by those seeking a secure and private browsing experience.
Private Internet Access was founded in 2010 under parent company London Trust Media Inc., located in the United States. In 2019, it was acquired by Kape technologies, a UK-based digital security software provider that also owns Cyberghost and Intego. As part of its committment to transparency, PIA operates under a strict no-logs policy and releases a transparency report twice a year. Its range of apps are all 100% open source, utilising a global network of 100% RAM-only servers across 84 countries.
Pros & Cons
Pros
100% open-source VPN apps
Fast network speeds of 10 Gbps
100% RAM-only servers in all 50 US states
Built-in ad blocking
Dedicated IP address (available as an add-on)
Cons
Based in a Five Eyes country
Complicated manual installation for routers
Additional cost for antivirus features
Private Internet Access (PIA) VPN Overview
Countries:

84

Servers & Locations:

120 locations

across Americas, Europe, Asia Pacific, Middle East, Africa, & Central Asia

Customer Support:
24/7 live chat and email

Log policy:
No logs
Encryption Protocols:
OpenVPN and WireGuard, plus IPsec on iOS, with 128-bit or 256-bit AES encryption ciphers

Supported Platforms:
Windows, Linus, MacOS, iOS, Android, Chrome, Firefox, Opera, FireTV, Apple TV, smart TVs

Routers Supported:
FlashRouter with PIA pre-installed, most retail routers, including ASUSWRT and MERLIN, and DD-WRTDevices, plus devices that can install custom router ROM/firmware.
Simultaneous Connections:

10

Split Tunneling:

Yes

Kill Switch:

Yes

P2P File Sharing (Torrenting):

Yes

Country of Registration:
The United States
Dedicated IP:
Yes

Smart DNS:
Yes

Multihop:

Yes

Price

From $2.03/month

Free Trial or Money-Back Guarantee?
30-day money-back guarantee, and a 7-day free trial for mobile apps

Streaming Movies and TV Shows with Private Internet Access VPN
Private Internet Access says it's dedicated to providing full access to well-known streaming services.
It can sometimes be difficult to access streaming sites via a VPN, as they are often blocked. However, PIA has dedicated server locations designed exclusively to bypass these blocks, so you can stream while continuing to use a VPN for privacy and security.
And with speeds well over the 15Mbps that Netflix recommends for 4K streaming, you should experience streamless streaming with no buffering.
Compatible Devices and Services
Private Internet Access works with the most popular streaming services, including:
Netflix US
BBC iPlayer
Hulu + Live TV
FuboTV
Sling TV
Disney+
Apple TV
HBO Max
YouTube TV US
Crunchyroll
Eurosport
DIRECTV STREAM
Peacock
MLB.TV
Buffering
Private Internet Access has 'next-generation' VPN servers that have been optimized for 10Gbps connection speeds. To put this in perspective, it's generally accepted that you'll need around 0.025Gbps speeds for HD streaming – so PIA offers 400 times that!
VPNs can sometimes slow down your internet connection because they're encrypting your data and rerouting your traffic through another server. But PIA offers a Smart DNS setting so your speed won't be affected, and you receive buffer-free streaming.
In addition, PIA offers Wireguard as an encryption protocol. As one of the newest available, Wireguard is believed to be one of the fastest.
Bandwith
Private Internet Access offers unlimited bandwith with no data restrictions. This means you can stream as much as you like without any reduction in speed.
PIA also mitigates against bandwith throttling. This is when some internet service providers (ISPs) slow down activities like streaming to encourage users to upgrade to higher-paid plans. But by hiding your activity with a VPN encryption, PIA ensures its users continue to receive high-speed streaming and download speeds.
Mobile and Desktop Apps
Private Internet Access has apps for almost every platform.
For desktop computers:
Windows 8.1, 10, or 11
MacOS High Sierra, Mojave, Catalina, Big Sur, or Monterey (64-bit only)
Linux Ubuntu 18.04+ (LTS), Mint, Debian, Fedora, or Arch
For phones and tablets:
Android 5.1 (Lollipop) and higher
iOS 12.1 and higher
For browser extensions:
Chrome (v48 or newer)
Firefox (v57 or newer)
Opera (v52 or newer)
Ease of Use
Once you have a Private Internet Access subscription, you can access its VPN services via an app, regardless of what platform or device you're using. The app is simple to use, with a clear interface, and easy-to-access options.
The apps are also very similar to each other, so you should be able to easily switch devices without having to relearn PIA's settings.
And if you want to use Private Internet Access's advanced features and settings, it has a comprehensive guide on its website support pages which walks you through them all.
Using Streaming Devices with Private Internet Access VPN
Smart TVs and Amazon Fire TV
Private Internet Access doesn't have dedicated apps for smart TVs. Instead, PIA has a Smart DNS feature that can be used for smart TVs and other devices that might be incompatible with VPN apps.
Smart DNS is a VPN alternative that lets you change your virtual location directly through your TV, without rerouting your traffic or encrypting your data, so your connection speed is unaffected.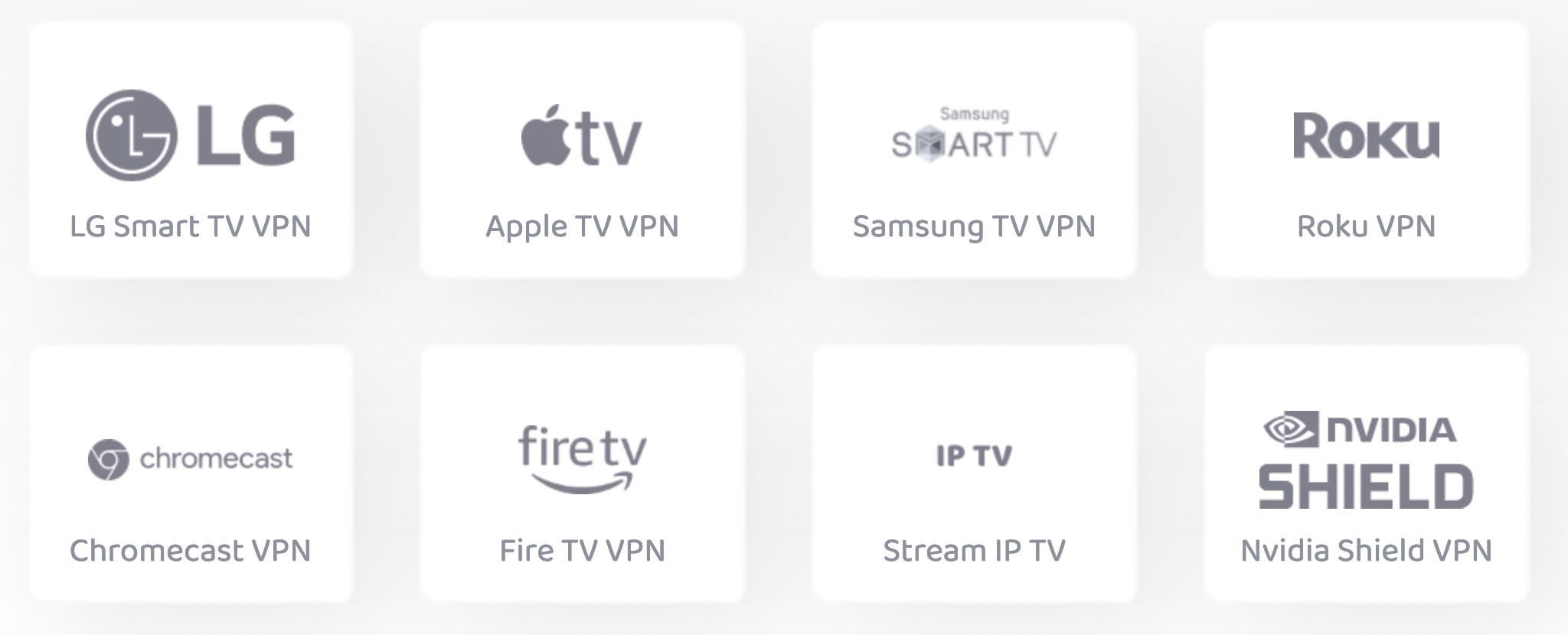 Smart DNS can be used on most smart TVs and devices, including Apple TV, LG Smart TV, Samsung TV, and Roku TV.
It can also be used on the following Amazon Fire TV devices:
Fire TV
Fire TV Stick
Fire TV Stick lite
Fire TV Stick 4K
Fire TV Stick 4K Max
Gaming Consoles
Using a VPN while gaming creates a secure and private connection between your gaming device and the internet.
This prevents other players from being able to hit you with DDoS attacks (when someone purposefully overloads your server to disrupt or crash your game). It also stops your internet service provider from restricting your bandwith when it sees you connecting to gaming sites.

PIA doesn't have a dedicated app for individual gaming consoles. You'll need to install PIA on your router, and then any connected consoles (even via wi-fi) will automatically be protected. This includes:
Features
Having been around since 2010, Private Internet Access has amassed and developed an extensive collection of features, all of which you'd expect from a high-performing VPN provider (plus a few extra). These include:
Open-Source VPN apps
PIA offers 100% open-source VPN apps, which means its code is publicly available – anyone can analyze or scrutinize it to verify PIA is acting as it says.
An open-sourced code also reduces the risk of vulnerabilities, making PIA safer.
Split tunneling
Some programs or websites won't work well with VPNs.
To get around this, PIA has a feature called split tunneling. This allows you to choose which information uses the VPN connection (and is therefore encrypted) and which can be transmitted via the standard internet.
PIA's split tunneling is easy to use on its app. You simply add applications or websites to a list that you want to bypass the VPN, like music providers (to make them faster) or banking sites (if they need to verify your real location), while everything else remains protected.
Dedicated IP address
When using a VPN, your IP address will change, resulting in some sites thinking you're bot, or triggering security warnings and account restrictions. To prevent this, PIA gives you the option of a dedicated IP address that only you have access to.
A dedicated IP address is unique and anonymous – no one else can access or associate you as the owner of the IP, but it enables a more consistent web browsing experience with fewer interruptions.
PIA's dedicated IP address is a premium add-on though, with an additional cost.
Port forwarding
Port forwarding lets you decide which online channel your internet traffic should use. This can help your traffic move more efficiently (meaning you experience less lag while gaming or streaming). You can also use it to set up your own gaming servers to play with friends.
PIA has a setting to configure port forwarding in its desktop and mobile apps.
Simultaneous connections
PIA allows up to 10 devices to connect to the VPN at the same time with just one subscription, making it a great choice for families.
Kill switch
If your VPN connection unexpectedly disconnects, PIA will automatically cut you off from the internet to prevent any information from being leaked. This can be turned on and off in the app's settings.
Multi-Hop
Using this setting will route your VPN connection through an additional server location, to further obscure the origin of your connection. PIA provides either Shadowsocks or SOCKS5 proxy servers for this, which you can choose in settings.
Built-in ad Blocking
PIA blocks ads, trackers, and malicious websites with its included "MACE" feature. This helps:
get rid of pop-ups
prevent advetisers and cybercriminals from tracking you
block sites containing malware or phishing scams
improve battery life (as ads and trackers take up system resources)
browse faster while using less data (as ads and trackers take up bandwith)
No-logs policy
PIA never collects or stores your data. It maintains a strict no-logs policy, which has been reviewed in an independent audit and proven twice in court.

It's privacy policy states the only information it collects for its VPN users is:
an email address, for account management and protection from abuse
payment data as required by our third-party payment processors (but PIA notes it doesn't know or save your full credit card details)
state or territory and zip code for tax analysis.
PIA will also collect non-personal data needed for product delivery and optimization (server uptime, global number of users, bandwidth capacity, etc.), but this is not associated with or linked to any personal data and does not allow for the identification of any individual person.
Transparency report
PIA releases a twice-yearly report summarizing recent requests made to its legal department. However, PIA states it "has nothing to share in response to these inquiries thanks to our ironclad no-logs policy."
How much does PIA VPN cost?
Private Internet Access offers three different subscription lengths:
1 month – $11.95/month
3 year plan – $2.19/month, billed instantly at $79 per three years
1 year plan – $3.33/month, billed instantly at $39.95 per year
All PIA subscription lengths provide the same feature, regardless of which you choose. This includes up to 10 simultaneous connections and PIA's in-built ad blocker.

For additional fees, you can choose to add PIA's antivirus and/or a dedicated IP address as extras. The price of these are also dependent on how long you choose to suscribe for (and this can be a different length to the VPN plan you choose).
Antivirus by PIA:
1 month – $4.50/month
1 year – $2.00/month, billed instantly at $24.00
3 years – $1.00/month, billed instantly at $36.00
Dedicated IP:
1 month – $5.00/month
1 year – $4.25/month, billed instantly at $51.00
3 years – $2.50/month, billed instantly at $90.00
Free trial
PIA offers a free seven-day trial for iphones and Android phones through their respective mobile and iOS apps.
You will need to download the relevant app for your device, from either the Apple App Store or Google Play Store.
Money-Back Guarantee
PIA offers a 30-day money-back guarantee for all its subscriptions (within the first 30 days of the last payment). This has to be done by submitting a support ticket on PIA's website or by email to
[email protected]
.
You will need to provide both:
the email address you entered during account registration
the PIA Order number (found in your payment confirmation email).
Payment options
There are seven payment options to purchase a PIA VPN subscription:
PayPal
Credit card
Amazon
Google Play (through Android app only)
Apple/iTunes
BitPay
Paygarden (supported US gift cards)
BitPay allows you to use cryptocurrency, which is a completely anonymous way to buy a VPN, particularly useful if you reside in a country where the use of VPNs is banned.
Paying via BitPay or Paygarden are non-recurring payment methods. A special link will be sent via email when renewal is due. If no action is taken, the account will be terminated 11 days after the due date.
How to Cancel Private Internet Access VPN
All PIA subscriptions will automatically renew at the end of your chosen subscription plan (except for BitPay and Paygarden payments). This can be turned off in your Client Control Panel (CCP), found on the 'My Account' page of PIA's website.
Turning off automatic renewal effectively cancels your subscription. You will still be able to use PIA VPN features until the end of your paid term, at which time you will be sent a subscription reminder asking if you'd like to renew.
Private Internet Access VPN's Privacy and Security Features
Encryption
VPNs maintain your privacy by hiding your activities, data, and identity through encryption – which, simply put, is the practice of turning normal text into a ciphertext no one can read. Private Internet Access offers its users the choice of 128-bit or 256-bit AES as encryption ciphers.
Both are two of the most secure encryption algorithms in the world, used by other big-name VPN providers like Surfshark and NordVPN. AES-256 is more secure than AES-128, but it requires higher performance requirements and more system resources, so it'll likely be slower.
PIA also offers three kinds of protocols: Wireguard and OpenVPN, plus IPsec on iOS. Protocols determine how data will be moved and encrypted over a VPN.
Wireguard and OpenVPN are both open-source protocols, which means anyone can view, audit, and enhance them, making them more secure. Wireguard is newer and lighter, so should be faster, while OpenVPN has a trusted reputation from years of secure performance.
For an even greater level of security, PIA will let you route your VPN connection through another, additional server location. These are known as proxy servers, with PIA providing either Shadowsocks or SOCKS5 connections – both secure and popular choices.
By default, PIA will automatically select the best encrpytion settings to secure your data, so you don't need to worry about it. But if you do want to, all of these options can be changed to your prefered choice through the app.
Servers
Private Internet Access has servers in 84 countries across six continents. It is optimized for use in the US, with servers located in all 50 states.
All of PIA's servers are 100% RAM only. RAM-only servers are more secure as no information can physically be taken from them (should any malicious third-party gain access to them), and all of your session data is deleted on every reboot.
The PIA VPN app will automatically connect you to the fastest server, which is likely to be the one closest to you. This is why it's important for VPN providers to have servers in many locations. However, you can switch to any server you'd like by simply choosing it in the app.
Regardless of which one  you choose, all of PIA's servers are equipped for 10 Gbps connection speeds and offer unlimited bandwith. This is more than enough for the most speed-dependent online activities, such as streaming and gaming.
Defence Against Malware
Malware is software (like a program or file) that is harmful to your computer and could be used by scammers to steal your data. It's most commonly acquired by accidentally clicking on infected links or files.
Private Internet Access's in-built ad blocker (called "MACE") finds and blocks malicious websites could infect your device with malware at a DNS level. While VPNs can't always help against malware (as they can't prevent you from opening links or making downloads), DNS-level blocking prevents you from even being able to access sites where this could occur.
For added protection, you can also add "Antivirus by PIA" for an extra cost. This provides additional security features that scan and protect your device from online attacks 24/7, fix any vulnerabilities on your system, and isolate dangerous files to prevent them from spreading.
Controversies
Over the last few years, concerns have been raised about Private Internet Access's security and trustworthiness.
Based in a Five Eyes Country
To begin with, PIA is located in the US, which is a member of the Five Eyes jurisdiction. This means it is subject to mass surveillance and intelligence-sharing agreements between all Five Eyes members (US, UK, Australia, New Zealand, and Canada). Citizens within these countries have their online activities monitored, tracked, and shared to help protect national security.
PIA (and other VPN providers based within the Five Eyes) argue that their stringent practices, like a strict no-logs policy, means they have no data to hand over. However, history has shown that Five Eyes governments and intelligence agencies have considerable power in pressing companies to record and provide data.
Due to this, users looking for the best VPN are often advised to choose a provider based outside of the Five Eyes.
Kape Technologies
PIA was bought by Kape Technologies in 2019. Kape Technologies is a UK-based company that was originally called Crossrider, which produced malware and adware software, and was founded by an ex-Israeli surveillance agent and a billionaire previously convicted of insider trading.
Crossrider's transition to Kape signified the company's change into cybersecurity, though it continued to use products with questionable reputations and uses (such as Reimage).
PIA maintains it's a trustworthy service, and demonstrates this with its semi-annual transparency reports, open-source protocols, and RAM-only servers. In 2022, an independent audit by third-party Deloitte found PIA's no-logs policy to be true, and that PIA's servers were not designed to identify users or pinpoint their activities.

Technical Details
How Do I Install Private Internet Access?
Once you've purchased a Private Internet Access VPN subscription, PIA's website has individual download pages for each platform it's available on. All you need to do is select your device or software, click 'download', and the installer will take it from there.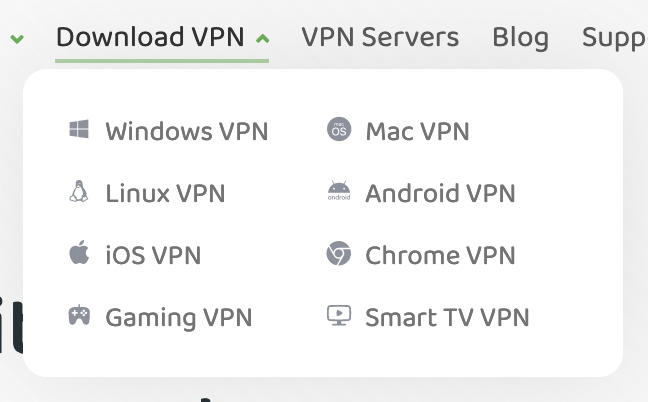 For gaming consoles and smart TVs, PIA has to be installed on your router. This is a little more complicated, as you'll have to manually download the file and configure the router to support the VPN. PIA's Support Portal has a walkthrough guide on how to do this.
Alternatively, you can purchase a FlashRouter that has Private Internet Access already preconfigured – you can just plug and play.
How Fast Is Private Internet Access?
Internet speeds usually decrease when using a VPN, since your traffic is having to be directed through a secure server in another location. Generally, the closer you are to the server location, the less the decrease in speed is likely to be, since your data has less of a distance to travel.
PIA has servers across 84 countries, and in every US state. This means you should never be too far away from one.
By default, the PIA VPN app will connect you to the fastest server available for you.


The United States server ping went up by 788.24%. Download decreased by -34.05% and upload by -62.58%.

The United Kingdom server ping went up by 291.18%. Download decreased by -85.61% and upload by -96.32%.

Japan's server ping went up by 211.76%. Download decreased by -42.63% and upload by -6.37%.
Does Private Internet Access Work In Other Countries?
Private Internet Access has servers across six continents, so it should work all over the world. A list of its server locations are available on its website.
This includes:
Canada
Japan
China
Germany
Australia
United Kingdom
It should be noted, while PIA does work in China, it warns that censored regions aggressively block or restrict VPN activity without warning. As a result, you might not be able to connect to PIA 100% of the time when in those areas.
PIA does offer some solutions for this, such as switching to the Wireguard protocol, trying OpenVPN Connect (free software for setting up OpenVPN connections), or generating a configuration file. Further details are on PIA's help pages.
Customer Support
Private Internet Access provides 24/7 support via live chat, or you can submit a help ticket via email and one of PIA's agents will respond as soon as possible.
If you don't want to speak to someone at PIA, the website has a Support Portal, containing step-by-step guides, a comprehensive knowledgebase (FAQs), and a community forum where users can make requests and suggestions. There's also a news section where any service announcements are made.
While some other VPN providers update their help pages more regularly, most of the information on PIA's Support Portal had been checked within the last year.
How Does Private Internet Access Stack Up to ExpressVPN?
Private Internet Access and ExpressVPN are each well-established, leading VPN providers, having both been founded around the same time more than a decade ago.
Offering a choice of industry-standard encryption protocols, fast connection speeds, and in-built malware protection, either is a solid choice if you're looking to browse the web or stream content more securely. Their servers span a similar number of countries (PIA covers 84, while ExpressVPN is spread across 94), though PIA claims it's better optimized for US users, with server locations in every state.
All of PIA's servers are developed for 10 Gbps connection speeds, meaning you're unlikely to have any issues with buffering or lagging. On the other hand, ExpressVPN has developed its own VPN protocol, Lightway, designed to increase a user's connection speed and stability when using a VPN, and requiring less battery and maintenance.
While neither provider will restrict your bandwith, both have a limit on the number of devices you can connect simultaneously. PIA allows up to ten, while ExpressVPN permits up to five. This can be increased if you install either VPN on your router though, as any device connected to the router will also be protected.
If this is something you'll likely need, ExpressVPN provides an easy-to-install app for routers. PIA is a little more complicated, requiring you to manually configure your router settings or purchase a preconfigured FlashRouter at an additional cost.
Without the added purchase of a PIA-compatible router, PIA's VPN plan works out cheaper than ExpressVPN's. However, if you're concerned about malware, you'll need to pay extra for PIA's Antivirus add-on, whereas ExpressVPN offers its Threat Manager (which blocks apps and sites from communicating with trackers and other malicious third parties) as part of its standard package.
Both providers offer 24/7 support and a 30-day money-back guarantee, so you can try either risk free.
Private Internet Access

Review

Summary
Private Internet Access's low-cost plan and 10 Gbps connection speeds across a range of platforms makes it a great choice for streamers and gamers on a budget.
Allowing up to ten devices to be connected simultenously, it's more than likely enough for small families – and if you need to increase this, PIA offers one of the easiest ways to get a VPN onto your router, by enabling you to purchase a router already pre-installed with it.
FAQs
Is Private Internet Access a good VPN?
Yes. Private Internet Access uses some of the fastest and most secure encryption protocols for online privacy, has 100% RAM-only servers across six continents, and lightning fast network speeds of 10 Gbps. It also has a strict no-logs policy that has been independently verified, plus DNS-level malware blockers to protect your device. It works on almost every platform available, using 100% open-source apps, and can support up to ten connections simultaneously.
Is PIA VPN free?
No, PIA is not free. It does offer a seven-day free trial for its mobile apps (iOS and Android) and has a 30-day money-back guarantee for all of its plans, so you can download and try it out risk free.
Free VPN apps are usually untrustworthy and unreliable. They often have to use inadequate system infrastructures that will likely provide slow speeds and can leave you vulnerable to cyber attacks.
What does PIA VPN do?
PIA VPN is a downloadable service that allows users to securely connect to the internet through an encrypted tunnel. This provides users with anonymity and privacy by masking their IP addresses and encrypting their online activity, making it difficult for anyone, such as advertisers or hackers, to track and monitor their data or browser traffic. PIA also offers additional features such as ad-blocking, malware protection, and the ability to bypass geo-restrictions.
How do I use Private Internet Access (PIA) VPN?
To use Private Internet Access VPN, you simply need to download the app for your device from PIA's website. Once installed, all you need to do is log in and click connect, and the app will automatically find the fastest server available for you.
When the VPN is active, your IP address and online activity is encrypted, meaning you're completely anonymous and can't be tracked online.
What is the difference between PIA VPN and a proxy?
Both a VPN and a proxy will mask your identity by rerouting your online traffic through a remote server, but a VPN tunnel also encrypts user data to make it more secure. This means that, while a proxy will hide your internet activity, it's still open to being attacked and your private data being stolen.
PIA VPN will let you use proxy servers like Shadowsocks and SOCKS5 as additional privacy protection, by routing your VPN connection through another server location to further obscure the origin of your connection.
What are the benefits of Private Internet Access?
Private Internet Access offers a low-cost plan for industry-standard encryption protocols, a strict no-logs policy, fast connection speeds, 100% RAM-only servers, an in-built ad tracker, and the option to have a dedicated IP address. Its easy-to-use app and compatability on almost all platforms, with the ability to connect up to ten devices at a time, and you can buy a router pre-configured with PIA VPN so you don't have to manually install it.
What is PIA VPN best for?
PIA VPN is best for online activities like streaming and gaming – actions that require fast connection speeds and protection, but don't involve highly sensitive data. It's also ideal for users based in the US who don't need to bypass geo-restrictions, as PIA's network is optimized for use in the US by having servers in every state.