CyberGhost Review: Is This the Perfect Blend of Usability and Security?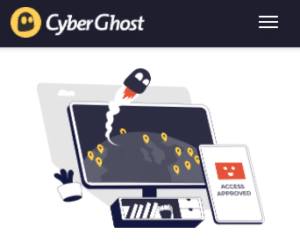 CyberGhost VPN was founded back in 2011. The company was acquired by Kape Technologies, the same company that owns ZenMate VPN. Read CyberGhost VPN review.
Price: 2.75
Price Currency: $
Operating System: https://vpntesting.com/reviews/betternet
Application Category: Utility
CyberGhost is one of the top VPN services available today, with millions of users and thousands of servers around the globe. However, is it the right choice for you? Our CyberGhost VPN review should help you decide.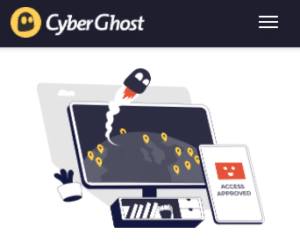 CyberGhostVPN was founded in 2011 and was originally based in Romania. In recent years, the company was acquired by Israeli company Kape Technologies (listed on the London Stock Exchange), previously known as Crossrider. Kape Technologies is the same company that owns ZenMate VPN, ExpressVPN, and Private Internet Access.
Yet despite this change of ownership, CyberGhost VPN has maintained its original policies and branding. Currently, the service boasts over 38 million global subscribers around the globe. Meanwhile, its VPN service is available through an impressive 9,000+ VPN servers in 90+ countries and server locations (all staffed by 70 IT professionals based in Germany and Romania who keep it all ticking over.)
CyberGhost routinely ranks as one of the best VPNs on the market and its server network is more extensive than NordVPN's. Our review will cover its pros and cons, key features, performance, pricing, and more.
CyberGhost VPN Pros and Cons
CyberGhost offers a lot of genuinely useful features including specialized servers, a wide array of server locations, and simultaneous connection alongside plenty of settings to configure your software further. However, it does have some disadvantages. Let's take a closer look at the pros and cons of CyberGhost.
| | |
| --- | --- |
| Pros | Cons |
| Supports 7 simultaneous connections | No double-hop available |
| Number of servers and server locations | Limited Payment Options (No Crypto) |
| Router Support | |
| The 45-day money-back guarantee is great | |
| Specialized servers for streaming, gaming, torrenting | |
CyberGhost VPN Overview
As we mentioned earlier, CyberGhost is one of the most popular VPN services on the market, with an impressive server network and millions of users.
| | |
| --- | --- |
| Countries | 91 |
| Servers and Locations | 9110 servers in 116 locations globally |
| Customer Support | E-mail response ~14h/Live Chat (24/7) |
| Log Policy | no logging |
| Encryption Protocols | AES-256/IPsec/L2TP/PPTP/OpenVPN UDP & TCP |
| Supported Platforms | MacOS, Windows, iOS, Android, Linux |
| Routers Supported | Routers with OpenVPN support. CyberGhost recommends the following: Netgear R6400V2 AC1750 DD-WRT FlashRouter, Linksys WRT3200ACM AC3200 DD-WRT FlashRouter, and Asus RT-AC5300 AC5300 DD-WRT FlashRouter |
| Simultaneous Connections | 7 |
| Split Tunneling | yes |
| Kill Switch | yes, internet kill switch |
| Torrenting (P2P File Sharing) | PASSED (P2P torrent allowed) |
| Country of Registration | Romania |
| Dedicated IP | yes, optional |
| Smart DNS | yes |
| Multihop | yes |
| Price | from $2.19/mo up to $12.99/mo |
| Free trial/money-back guarantee | 45-day money-back guarantee |
Streaming Movies and TV Shows With CyberGhost
CyberGhost works well with Netflix despite Netflix's policy of blocking VPNs. It can also handle BBC iPlayer and other popular streaming services. CyberGhost even offers servers dedicated to streaming, so it should be a good choice if your primary VPN use case is streaming your favorite shows while you're halfway around the world.
Compatible Devices and Services
CyberGhost supports a range of streaming devices and popular hardware platforms, including:
Windows
MacOS
Linux
Android
Routers (DD-WRT, TomatoUSB)
Apple TV
Roku TV
Android TV
Amazon Fire TV
LG SmartTV (webOS)
Samsung SmartTV (Tizen OS)
Sony, Nintendo, and Microsoft gaming consoles (via Smart DNS)
Supported Streaming Services
CyberGhost supports all major streaming services. We tested it out on US-based servers with the following services:
Netflix (Working)
BBC iPlayer (Working)
Amazon Prime Video (Working)
Hulu + Live TV (Working)
Sling TV (Working)
Fubo TV (Working)
HBO Max (Working)
Disney+ (Working)
YouTube TV (Working)
Apple TV (Working)
Buffering
VPNs tend to have an impact on connection speeds and bandwidth, which can lead to buffering issues while streaming video. We did not experience such issues with CyberGhost during our testing. In case you do, CyberGhost provides a troubleshooting guide for multiple platforms that should help you mitigate or eliminate buffering.
Bandwidth and Connection Speed
Ample bandwidth is a prerequisite for a good user experience and buffering-free streaming. Although many VPNs may reduce connection speeds, we had no trouble streaming content using CyberGhost. We will cover performance in greater detail later in our review, but for now, let's just say CyberGhost should deliver enough bandwidth for your streaming needs.
Some caveats do apply, e.g. the speed you get will very much depend on the quality of your internet bandwidth. So please keep that in mind.
CyberGhost Desktop and Mobile Apps
CyberGhost's apps are user-friendly and easy to understand, regardless of platform. The user interface is intuitive and easy to use when running the software for the first time. We really like it when hovering over the tile with a mouse provides an explanation for what each tile does. Thanks for the hints CyberGhost; novice users will appreciate them!
The other user-friendly aspect of their UI is the one-click connection. When you connect to your browser, CyberGhost automatically logs in, keeping you protected at all times.
The visual interface sets it apart from other VPN providers, making the apps easy to understand, even if you've never used VPN apps before.
Don't let the simple, user-friendly UI fool you. The apps cater to power users as well, and CyberGhost apps allow users to manually configure an extensive range of settings.
Browser Extensions
CyberGhost browser extensions are available for Chrome and Firefox. Microsoft Edge users can activate it without an extension. Ad-blocking is effective too, although it affects the speed somewhat. There's also a cookie cleaner add-on for Chrome and Firefox.
Ease of Use
As we mentioned earlier, CyberGhost apps feature a minimalist UI design and should be easy to use if you are new to VPNs. The same is true of browser extensions. Installing and setting them up should be straightforward.
In case you need to access more settings and customization options, you should have no trouble finding and tweaking them, though most users probably won't need to bother. Naturally, setting up a router or NAS could take a bit more technical know-how, but this is nothing out of the ordinary.
Torrenting Support
As far as torrenting is concerned, everything seems to be fine as well. Downloading a copyright-free collection of Charlie Chaplin's short films went as expected.

Using Streaming Devices
CyberGhost supports several streaming devices, including Amazon's Fire TV and Fire Stick devices. It offers a detailed guide on how to set them up.  You can also use it on LG's and Samsung's smart TV platforms (webOS and Tizen OS), Android TVs, Apple TV devices, Raspberry Pi, and Synology NAS devices.
Gaming consoles are supported as well, via Smart DNS. This includes Sony's PlayStation 3 and PlayStation 4 consoles, Microsoft's Xbox One and Xbox 360, as well as Nintendo's Wii, Wii U, and Switch consoles.‌
‌
Servers
One of the key benefits of CyberGhost is the fact they have over 9000 servers dotted around the globe. This means you have the ultimate flexibility whether you want to protect your privacy and security or simply catch up on your favorite shows from back home. The company boasts over 9000 servers dotted across more than 90 countries. CyberGhost's servers are self-owned and operated so you don't need to worry about your privacy being breached. They are also optimized for streaming, gaming, torrenting, and multi-purpose connections.
Here are just some of the countries where they have servers:
Australia
Germany
Canada
France
Romania
Australia
If you come from a land downunder and happen to find yourself feeling homesick while living abroad, then fear not, CyberGhost is looking out for you. They have servers dotting the country, meaning you can check out your favorite local TV shows from SBS and other providers.
Germany
Meanwhile, if you're German (or wannabe German) you certainly won't be left wanting when it comes to German server coverage with CyberGhost. In fact, CyberGhost hosts 1272 servers across three cities in Germany. So whether you want to catch up on TV from back home or sample German privacy and security, CyberGhost has got you covered.
Canada
If you're a Canadian living abroad then you'll be pleased to know that CyberGhost also hosts 484 servers in three cities across the Maple Leaf country. This means that you can check out all of your favorite Canadian TV and streaming action from wherever you may find yourself in the world.
France
CyberGhost can be used to access French TV channels and streaming services securely and anonymously. So if you want to kick back and watch your favorite French shows, movies, and live sports when traveling abroad, CyberGhost is for you.
Romania
It is certainly no secret that CyberGhost is based in Romania. The country has some of the best privacy laws in the world and also offers a level of protection as part of the European Union. Besides having their base in Bucharest, CyberGhost also hosts a number of servers in the eastern european country, meaning that anyone can benefit from Romania privacy, or just catch up on their favorite Romanian TV or streaming services.
China
Generally speaking, when people want to know if a VPN is usable in China its for one reason only and that is because they want to get around the Chinese government's restrictions on internet usage. CyberGhost is currently usable for this purpose provided that you have already downloaded their app before arriving. The Chinese government is embroiled in a cat and mouse game with VPN providers as they try to make it ever more difficult to circumvent the country's restrictions. Meanwhile, CyberGhost also allows users to access servers from within China, making it perfect for Chinese expats and Sinophiles to check out georestricted content from inside the country while living abroad.
USA
Let's face it – the USA is seen by many as offering the creme de la creme when it comes to streaming content globally. With so many services and a huge variety of content, it is easy to see why the USA leaves many foreigners green with envy. For instance, Netflix offers one of their largest catalogs to US customers, and that is before we even start to look at services like Hulu and Sling TV. However, all is not lost CyberGhost offers a huge array of servers from coast to coast so that everyone can tune in and taste a bit of the American dream.
CyberGhost Features
We have already touched on some of CyberGhost's key features, including its streaming abilities, supported hardware platforms, and operating systems, but there is more to unpack.
Cross-platform support and the availability of CyberGhost apps and extensions for various platforms cannot be overstated. Capable of supporting seven simultaneous connections (and many more if you connect a router), CyberGhost can easily cater to the needs of more than a single user. Whether it's a family home with multiple iOS and Android devices, Samsung TVs and Sony consoles, or a small business using MacOS and Windows workstations connected to NAS, CyberGhost will be able to do its magic.
Smart rules were introduced in 2019, allowing users to automate certain aspects of CyberGhost's operation, such as setting up a specific location or server after reboot, or automatically opening certain apps when CyberGhost is launched.
CyberGhost also features an ad blocker, data compression, specialized servers for streaming and downloading, one-click connection, WireGuard, an optional dedicated IP feature, split tunneling, and many more security features.
Protocols
CyberGhost uses a wide variety of VPN protocols in order to allows users maximum flexibility in line with their security and usage requirements.
CyberGhost utilizes the following protocols:
Wireguard protocol (it is modern protocol that prioritizes speed alongside security)
OpenVPN (TCP and UDP)
IKEv2
Layer to Tunneling Protocol (L2TP)
IPSec
Each of these protocols has specific advantages and disadvantages and it is best to experiement and find out which one is best for you.
Ad blocker
 Enabling this will block domains used for ads, trackers and malware.
Specialized servers for streaming and downloading
As you may know, most streaming sites are against VPN usage and actively block the IP addresses of VPN servers; for this reason most of the regular servers might not work with a desired channel.
In the "For streaming" category, you will find the servers that are constantly tested by us to work with the popular sites that are listed.
Dedicated IP feature
dedicated IP is an IP address that's exclusively yours. VPN users typically all share the IP address of the VPN server they connect to. CyberGhost VPN lets you choose a dedicated IP address as well. It's unique and stays the same every time you connect to the internet. That means you get all the VPN benefits with a single IP that only you own.
Split tunneling
CyberGhost provides a basic split tunneling feature in both of its desktop apps (Windows and macOS). This allows you to pick which websites (but not apps) you want to exclude from the VPN tunnel. On Android, the split tunneling feature is a bit more sophisticated.
Plans and Pricing
CyberGhost VPN offers a variety of pricing plans, so you should be able to find something that meets your needs and doesn't break your budget.
The pricing plan is the following:
A one-month plan will cost $12.99 per month, with a 14-day money-back guarantee.
The 6-month plan offers considerable savings at $6.99 per month which translates to $83.88 per year. The money-back-guarantee is extended to 45 days.
The 2-year (+2 months) plan will cost you $2.19 per month with an additional two months free of charge and a 45-day money-back guarantee. Many users may be reluctant to enter a 26-month obligation, which is why we appreciate the 45-day guarantee offered by CyberGhost.
On top of the money-back guarantee, CyberGhost also offers a free 24-hour trial for Windows and MacOS that doesn't require your credit card number. Android app users get a 3-day free trial, while iOS app users get a 7-day free trial. Many VPN services have stopped offering free plans altogether, as they offer a money-back guarantee, so we comment CyberGhost for offering a free trial along with an industry-leading money-back guarantee.
For an additional $5 per month, you can get a dedicated IP address. This is tied into your existing subscription, and you will be billed the corresponding amount. CyberGhost offers a 7-day free trial period. You can also get the CyberGhost Security Suite, which includes an antivirus solution (CyberGhost suite for an extra $1.65 per month) and a security updater.
The company accepts all the major credit cards such as Visa, American Express, Discover, and MasterCard. Online payment platforms such as PayPal are supported as well. For the highest possible degree of privacy, CyberGhost also accepts Bitcoin payments.
Should you decide to cancel your plan, CyberGhost's FAQ section explains the process in great detail, so you should have no trouble ending your subscription.
How to Cancel CyberGhost
CyberGhost can be cancelled manually by contacting [email protected] or [email protected] and telling them that you wish to discontinue your renewal.
CyberGhost's Privacy and Security Features
256-Bit encryption security
Thanks to IKEv2 encryption, CyberGhost offers a secure connection on a wide range of devices, ranging from your Raspberry PI running a lightweight Linux distro to high-end Windows and MacOS workstations, as well as iOS and Android mobile devices. With 256-bit AES military-grade encryption, CyberGhost should serve you well regardless of your platform, offering a reliable and secure VPN connection. Furthermore, CyberGhost offers DNS leak protection and an automatic kill switch to ensure a foolproof system.
Strict no-logs policy
Although keeping logs is a common thing, it is a feature that developers can choose to implement or not. CyberGhost VPN clearly states in its privacy policy that its servers keep no logs that interfere with your IP address or data.
Based on publicly available information, CyberGhost VPN does not appear to track your activity over the Internet. Although your data is captured when making a payment subscription, CyberGhost says that third parties do not have access to your name, your IP address, or other information that could potentially reveal your identity and online activity.
According to the company's Privacy Policy, the data collected by CyberGhost will not be shared or sold, and the logs are not stored once payment has been verified.
No DNS leaks
Leakage-proof tunneling is a must for modern VPNs, as any DNS leak may pose a serious security risk.
Just to double-check their claims, we did our own test, and the results were great. There's not much more to add other than to conclude that the VPN connection worked as advertised.

Simultaneous Connections
A single subscription CyberGhost protects up to 7 devices at the same time. CyberGhost VPN apps are available for all popular devices and platforms: Windows, MacOS, Linux, iOS, and Android.
CyberGhost supports protocols like OpenVPN, IPSec, L2TP, and PPTP on MacOS X, iOS, Windows, Linux, and Android.
Kill switch
A VPN kill switch is designed to prevent your connection from accidental exposure after unsuspected disconnection from the VPN. CyberGhost's automatic VPN kill switch is a feature that automatically shuts off your internet connection whenever your VPN gets disconnected. Having an automated kill switch is consistent with CyberGhost's philosophy of protecting user data and online activity in every scenario.
Unique pre-protection features
CyberGhost elevates your privacy features to the next level by providing AdBlocker as well as website and virus protection. The CyberGhost app removes ads from web pages, blocks unwelcome apps (e.g. malware), as well as malicious content and harmful websites. It also forces HTTPS protocols for websites when supported.
BONUS FEATURE: Data compression, which saves your mobile data costs. This is worth mentioning as a unique feature as well — CyberGhost VPN removes page content that contains trackers. These premium features are not standard for most VPNs today. They can come in handy if you are a frequent traveler and want to use your iOS and Android for sensitive communication and payment services while you're on the road, especially while roaming.
Privacy Guard
One of the features that sets CyberGhost apart from other VPN providers is the fact that they offer a Privacy Guard feature. This feature allows you to block some of the intrusive tracking features that are often present in modern operating systems such as Windows 10 / 11. This functionality allows you to protect your privacy and stops your operating system from 'phoning home' with information about you and your activities.
CyberGhost ID Guard
Another interesting feature offered by CyberGhost is 'Identity Guard' – the Identity Guard feature is designed to protect your information from getting leaked online by hackers. CyberGhost will periodically scan the Dark Web to see if the email address associated with your account has been leaked on the Dark Web or exposed in a data breach. If this has happened then they will send you a notification.]
NoSpy servers
CyberGhost offers 'NoSpy' servers – these are premium, in-house servers that only the company's staff can physically access and control. They are also housed in Romania, a privacy-friendly jurisdiction that allows the company to stick to their 'no logs' policy. These servers offer protection for activists and dissidents.The servers are also good for streaming, gaming, and torrenting due to their extended bandwidth.
Transparency report
Cyberghost claims to have been the first VPN provider to launch a transparency report all the way back in 2011. The idea was to provide public details on the number of requests for data they receive from various authorities (read: police). All these years later they still publish quarterly and yearly transparency reports for all to see. These now provide information on DMCA complaints, malicious activity flags, and police requests and ensure that everyone stays in the loop about what is happening.
Technical Details
Is CyberGhost Easy to Install?
As we mentioned earlier, CyberGhost is user-friendly and should be straightforward to install and set up even for inexperienced users, while power users will be able to fully leverage more advanced settings available in CyberGhost apps. Installation on all major operating systems tends to be a hassle-free affair, and everything is well documented on the official site.
Speed Test: How fast is CyberGhost?
Download speed and upload speed are probably the most relevant performance indicators on VPNs. That doesn't mean upload speeds don't matter, especially if you are using cloud services to back up your photos, making video calls, or doing some remote work.
As seen in the image below, our original connection speed was 41.35mbps / 28.99 mbps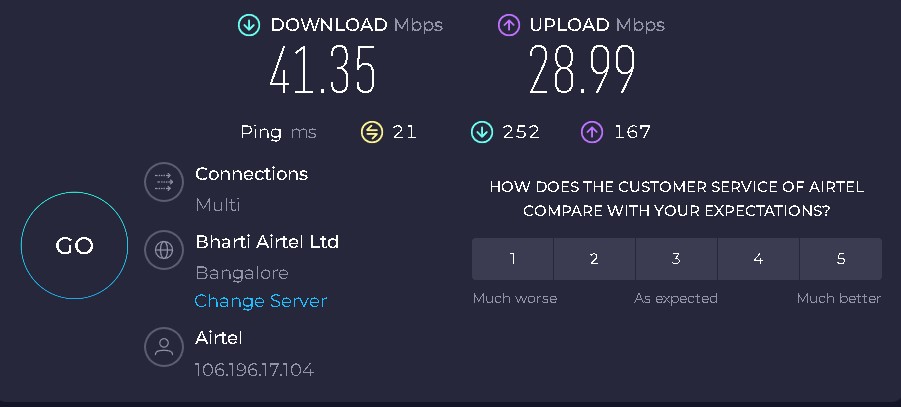 Ookla Speed Test Without VPN
While connected to the United Kingdom server, the download speed decreased to 36.85 Mbps, and the upload to 11.94 Mbps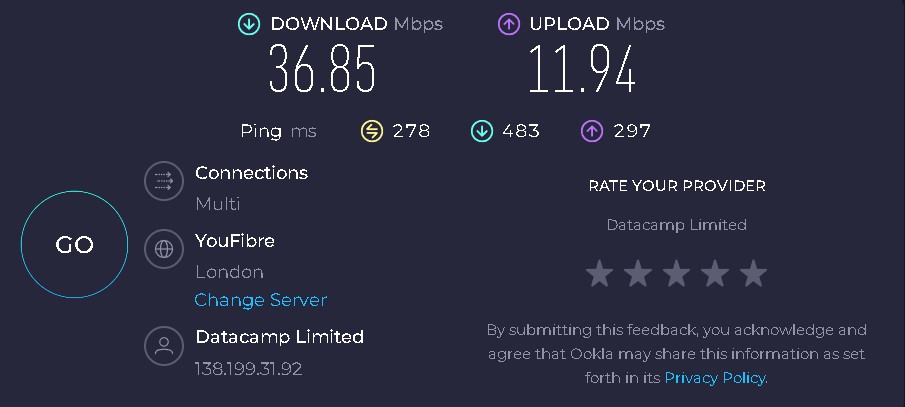 Meanwhile, the download speeds when connected to the US server were 36.85 Mbps, with 11.94Mbps as the upload.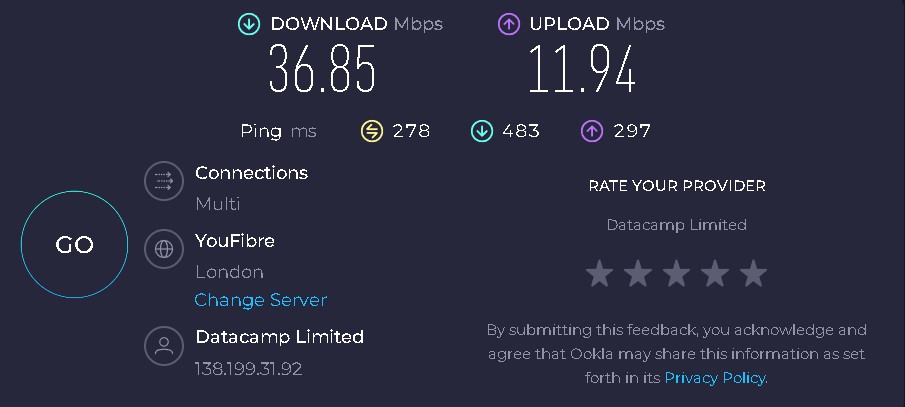 Everything is decreasing. It must be a really bad VPN, right? Not really.
Even though the connection speed is impacted, this is totally normal for any VPN service, regardless of how extensive its server network is. In fact, the decrease is on par with most competing VPNs, so it's nothing to worry about.
The ping speed is affected but not as much on some competing services, and is superior to many VPNs.
Customer Support
The CyberGhost website features a useful "Help" page with detailed guides for Windows, MacOS, iOS, Android, Linux, Amazon Fire OS, and Kodi Media Centers, Game Consoles, and other devices they support and protect. The Help page also provides a useful guide on Native protocol usage, and how to stream YouTube Red, Netflix, Disney, Hulu, etc. The FAQs can prove helpful as well.
The company's support team, can be contacted by hitting "Submitting a Request" on the "Help" Page. You can create a ticket and get an e-mail response to more detailed questions. The response takes longer (we got a reply to a test inquiry in 812 min) but will give you a better and in-depth answer than live chat.
CyberGhost Conclusion
To sum up our CyberGhost review, we can say it's one of the top VPN services on the market today. It works well with the most popular streaming services, users can easily unblock and stream HD videos from Netflix, even if they're in a different region. CyberGhost offers above-average security features not found in many VPNs. The CyberGhost app interface is intuitive and user-friendly. In spite of its technical prowess, you really don't have to be technically advanced to install and use CyberGhost. If you're entirely new to the world of VPNs, it's still a great choice.
Although the price for a single-month subscription is high, longer plans offer great value for money. In terms of tech and infrastructure, 9,000+ CyberGhost servers are capable of handling a lot of bandwidth, along with strong encryption, split tunneling, DNS leak protection, ad blocking, antivirus features, and a range of privacy settings that should enable you to protect your personal data on any device, at home or abroad. Meanwhile, the use of advanced and modern protocols such as the Wireguard protocol mean that you'll be able to use a VPN without suffering as much of a speed downgrade as once might've been the case.
We can easily recommend CyberGhost VPN thanks to its features and good value for money. The availability of a free trial and the company's 45-day money-back guarantee help, too.
In all, Cyberghost is a solid choice and a decent all-rounder in the world of VPNs. It is well worth checking out whether you are new to the world of VPNs or simply looking for a change from your current provider.
VPN test and let us know about your experience with Cyberghost VPN.
FAQs (Frequently Asked Questions)
Can CyberGhost be trusted?
Yes. CyberGhost has a good track record, millions of users, and usually ranks as one of the top VPNs on the market. The company is incorporated in Romania, an EU member state. It has an extensive server network and uses industry-standard security and encryption protocols. It is a solid performer and has been around since 2011.
Is CyberGhost better than NordVPN?
The answer largely depends on your priorities. NordVPN tends to provide higher speeds in most regions and additional security features such as RAM-disk servers, so it has the upper hand in terms of performance and security. However, CyberGhost is substantially cheaper than NordVPN and offers better value for money.
Is CyberGhost a Russian company?
No, CyberGhost is not a Russian company. It is owned by UK-based Kape Technologies and incorporated in Romania, which is an EU and NATO member. CyberGhost servers are located in 90+ countries.
Who is CyberGhost owned by?
CyberGhost is owned by Kape Technologies, a UK-based security software company listed on the London Stock Exchange. Kape Technologies also owns ExpressVPN, Private Internet Access, and ZenMate.
How does CyberGhost compare with Surfshark?
CyberGhost and Surfshark both offer many of the same benefits for users seeking privacy online. Both companies claim to have a no logs policy. Meanwhile, CyberGhost employs RAM-only servers that have never been hacked. Surfshark also offers some additional features including ad-blocking and multi hop connections. Both VPN providers offer apps for various operating systems that are easy-to-use out of the box.‌
Can I use CyberGhost in China?
CyberGhost is a solid option if your objective is to bypass Chinese censorship (The Great Firewall of China) and to stay anonymous online while living or working in the country. However, it should be noted that it may be best to download the CyberGhost app before travelling to China as the Chinese government often blocks the websites of VPN providers in order to stop customers using their services to beat government restrictions. Additionally, CyberGhost is a good choice for Chinese expats abroad or those with a particular interest in Chinese TV or events. Unlike other providers, CyberGhost has 12 servers located in China (and more than 9000 worldwide), which means that you can access georestricted content from China worldwide.
What are the pros and cons of CyberGhost?
The biggest CyberGhost pros are competitive pricing, a 45-day money-back guarantee, support for seven simultaneous connections, and availability on a wide range of platforms. The cons are a lack of double-hop support and the lack of a free version.
How much does CyberGhost cost?
Pricing starts at $2.19 on the company's two-year plan, with two months added for free. Under the six-month plan, CyberGhost costs $6.99. If you want to use it for a single month, you will pay $12.99.
Does Cyberghost log user timestamps?
Cyberghost claims to maintain a strict 'no logs' policy. This means that they do not collect any user information such as your browsing history, traffic destinations, IP address, session duration or timestamps. The company guarantees total anonymity and does not even know what you're doing when you're connected to their servers.
Write Your CyberGhost VPN Review