StrongVPN Review: Why We Don't Recommend This Somewhat Unknown VPN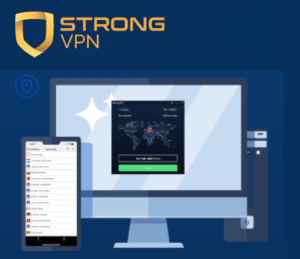 Strong Technology LLC was founded in 2015 – not many have heard about it. Is it a golden goose or just another service in the sea of VPNs? Read StrongVPN review
Price: 5.83
Price Currency: $
Operating System: Windows
Application Category: Utility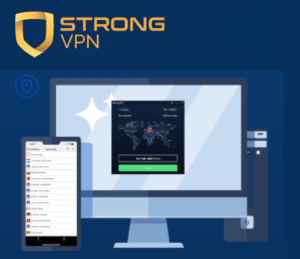 StrongVPN is a no-log VPN service that's been around since 2005.
With standard features you'd expect from a premium VPN, like a kill switch and smart DNS, it also maintains a large server network and utilizes the fastest and most secure encryption algorithms and protocols available.
But SmartVPN was founded in the US (a Five Eyes member), where it continues to operate today, leaving many wondering: can it really be as secure and private as it claims?
According to its website, StrongVPN began in 1994 as a small company in California selling computers. This grew to offering dial-up internet and providing dedicated servers, with its VPN service launching in 2005. It now has a network of more than 950 servers throughout 30 countries around the globe.
StrongVPN is owned by Strong Technology, LLC, a Ziff Davis company, all of which are based in the US.
Pros and Cons
Pros
12 simultaneous connections
Smart DNS included
Kill switch
No-logs policy
Offers Wireguard for fast connection speeds
Cons
Based in the US (a Five Eyes member)
Server locations only cover around 30 countries
No multihop
StrongVPN Overview
Countries:

30+

Servers & Locations:

950+ servers

across Europe, Americas, Asia, and Middle East

Customer Support:

24/7 via email and live chat

Log policy:
No logs
Encryption Protocols:

Wireguard, IKEv2,OpenVPN (TCP, UDP, Scramble), and IPsec with

AES-256

Supported Platforms:
Windows, Linux, MacOS, iOS, Android, Chrome OS, FireTV
Routers Supported:
Sabai OS VPN, GLiNet, or Asus, plus those with Asuswrt-Merlin, DD-WRT, or Tomato firmware.
Simultaneous Connections:
12

Split Tunneling:
Yes – Android app only

Kill Switch:
Yes – Windows and macOS only

P2P File Sharing (Torrenting):

Yes

Country of Registration:
The United States
Dedicated IP:

No

Smart DNS:

Yes

Multihop:

No

Price
From $3.66/month the first year

Free Trial or Money-Back Guarantee?
30-day money-back guarantee (annual plan only)

Streaming Movies and TV Shows With StrongVPN
There are several reasons you might want to use a VPN while streaming online. For example, if you're out and want to watch something over public wi-fi but don't want to open yourself up to hackers, if you're concerned about your internet provider tracking your activity, or if you want to access something with geo-location restrictions.
StrongVPN will make any public hotspot secure, with lightning-quick connections that shouldn't disrupt your speed. And it should work with the most popular streaming services, such as Netflix, but it doesn't guarantee it.
Compatible Services and Devices
The streaming services StrongVPN does claim to work with includes:
ABC
Channel 4
Crunchyroll
Fire TV
ITV
Kodi
IPTV
SkyGO
Spotify
StrongVPN works on most major platforms and devices including:
Windows
Android
macOS
iOS
Linux
Fire TV
Chrome OS
Playstation
Wii/Wii U
Nvidia Shield
Google Stadia
You can also use StrongVPN with Sabai OS VPN, GLiNet, or Asus routers, or any other that allows you to use Asuswrt-Merlin, DD-WRT, or Tomato firmware. Any device then connected to that router will automatically be protected by the VPN.
Buffering and Bandwidth
StrongVPN claims to have the fastest VPN speeds in the industry, though it doesn't provide any information on its server speeds. However, it does support Wireguard, which is the newest, fastest encryption protocol currently available.
It also has over 950 servers, so as long as you're in one of the countries covered by StrongVPN's network, you should be able to find one relatively close to you (and the closer you are to the server, the faster your speed is likely to be). StrongVPN also offers features like StrongDNS and split tunelling (Android only), both of which avoid encrypting your data which, as a result, should speed your connection speed and mitigate any buffering.
StrongVPN has a speed test on its website to help you find the fastest server, and provides suggestions to improve your speed should you need them.
Mobile and Desktop Apps
StrongVPN has apps for major platforms, including:
Windows
Android
macOS
iOS
Fire TV
Chrome OS
These are easy to download from the relevant app store for each platform (e.g., Apple App Store or Google Play Store). StrongVPN also links to each download page from its website.
Browser Extensions
Currently, StrongVPN only has one browser extension available, for Google Chrome via the Chrome Web Store. You simply need to download while using a Chrome browser and log in.
Ease of use
Since StrongVPN has apps for most of its platforms, it's relatively easy to set up.
Once you've downloaded the app for your device and logged into your StrongVPN account, the user interface is easy and simple to use. The app will automatically connect you to the closest server, but you can choose from any available location straight from the home screen.
All additional settings can then be found in a top-right menu, with everything clearly marked and easy to change.
Using Streaming Devices With StrongVPN
Amazon Fire TV
There's a StrongVPN app for Amazon Fire TV and Fire TV sticks, making it easy to download and use. Simply navigate to apps on your Fire TV, search StrongVPN and download. You can then log in and begin using the VPN.
The App will allow you to choose your location and either connect or disconnect from the service.
StrongVPN's app should work on all Amazon Fire TV and stick models, with the exception of the first-generation Fire TV stick.
Smart TVs
StrongVPN doesn't have an app for smart TVs. However, you can still use StrongVPN with your smart TV if you install the VPN on the router your smart TV connects to.
You can also use StrongVPN's 'StrongDNS' feature (see "Features" below) on a smart TV if you only need to change your virtual location and aren't worried about changing your IP address.
Gaming Consoles
StrongVPN will work on Xbox (One and 360), PlayStation (3/4), Nintendo Wii/Wii U, Nvidia Shield, and Google Stadia.
You'll need to set up the VPN on your router first, which StrongVPN provides instructions for on its website. Then, when you connect your game console to the router like you usually would, your device is protected by the VPN.
Features
StrongDNS
StrongDNS is StrongVPN's version of smart DNS. This feature is a VPN alternative that lets you change your virtual location, without changing your IP address or encrypting your data, so your connection speed is unaffected.
StrongDNS is included as standard with a StrongVPN plan, and is supported on virtually every device, including smart TVs, media boxes, and gaming systems.
Kill Switch
If your VPN connection unexpectedly disconnects, a kill switch will automatically cut you off from the internet to prevent any information from being leaked.
StrongVPN has a kill switch mechanism in its Windows and macOS apps, which can be turned on and off in settings.
Split Tunneling
When connected to a VPN, all your internet traffic and data is routed through an encrypted tunnel. However, there may be times when you want sites to bypass this tunnel so data can be routed through your standard internet provider (for example, to increase connection speeds, confirm your location, or access a site that has blocked VPNs).
StrongVPN's split tunnel feature lets you choose which sites bypass the VPN encryption tunnel, and which remain secure inside of it.
Unfortunately, this is currently only available on StrongVPN's Android app.
12 Simultaneous Connections
StrongVPN allows 12 devices to be connected to its service at any one time, across most major platforms and devices.
If you need more, this number can be extended by installing StrongVPN onto your router, as you can then connect as many devices to the router as you'd like.
No-Logs Policy
The main privacy concern among VPNs is logging (when the service records your data, known as "logs"). The best ones do not log any of your data, not even timestamps.
The latest update (January 10, 2023) on StrongVPN's Privacy Policy states:
It is a zero-logging VPN service, so does not track or store your data while connected to its VPN service.
The only personal information is collects is used for account setup (such as an email address and payment information).
Your personal information is not sold to third parties.
Cookies on StrongVPN's site are used to provide basic functionality, and any activity is aggregated – you can disable cookies at any time.

StrongVPN's Privacy Police page sets out how to disable cookies from different sources, and lists the third parties it uses to analyze site data (which it says is not personally identifiable to users).
Plans and Pricing
StrongVPN offers two subscription length options: monthly or annually:
Monthly – $10.99/month
Annually – $3.66/month, billed immediately at $43.99 for the first year, and $79.99 per year thereafter

Both include the same features, such as access to all servers and the Wireguard protocol, no-logging, and StrongDNS.
Free Trial
StrongVPN doesn't offer a free trial for any of its platforms or apps.
It does offer a 30-day money-back guarantee though if you purchase the annual plan, so you can try it out and request a full refund within 30 days if you decide you don't want it.
Money-Back Guarantee
The annual plan comes with a 30-day money-back guarantee.
To request a refund, you must contact StrongVPN's customer service team within 30 days from the date of original purchase. Payment should typically be returned between 24 and 48 hours.
It should be noted, StrongVPN's terms of service state that subscriptions purchased via the App Store are subject to Apple's refund policies.
Payment Options
StrongVPN offers four payment methods:
Credit and debit cards (Visa, MasterCard, AmericanExpress, and Discover)
PayPal
Alipay (China's version of PayPal)
Apple Pay
It also says it will let you pay with a prepaid card, which is useful if you want to pay anonymously, but it notes that StrongVPN may not be able to refund gift cards.
How to Cancel StrongVPN
To cancel a StrongVPN subscription, you need to log into your 'Customer Area' online, select 'VPN accounts', and then choose 'Cancel Request Form'.
The site will then let you choose whether you want to cancel immediately (only available for annual subscriptions purchased less than 30 days ago) or on your renewal date.
If you purchased via Apple Pay, StrongVPN warns you must also cancel your subscription with the App Store, which can be done through your Apple ID subscription settings.
StrongVPN's Privacy and Security Features
Encryption
Encryption is a method of coding information. It consists of two elements: algorithms and a key. The key is a cipher that indicates which algorithms should be used to unlock the code. Physically, you would imagine a key to be made out of metal, in the virtual world, it's a string of long numbers.
StrongVPN uses AES-256 encryption, which is the industry standard and most effective one available.
In addition there are protocols. Protocols are a set of rules on how the data should be communicated. They dictate how algorithms have to be used to keep the communication secure.
StrongVPN offers four types of protocols:
Wireguard
IKEv2
OpenVPN (TCP, UDP, Scramble)
IPsec
Each has their own advantages and disadvantages. For example, not all are available on every platform.
When you connect to StrongVPN, it will automatically choose the best option for you, but you can change this manually within the VPN's app.
Servers
StrongVPN has more than 950 servers located in over 30 countries.
The nearer a server is to your physical geographical location, the faster your connection speed should be (as the data has less distance to travel).
Speed
How fast are StrongVPN servers?
A test was taken using three server locations across the world: the United States, the United Kingdom, and Hong Kong.
The original speed:
The United States (Atlanta)

The United Kingdom (London)


Here's the result summary:
| | | | |
| --- | --- | --- | --- |
| | Ping | Download | Upload |
| U.S | 533.33% | -4.92% | -4.18% |
| U.K | 244.44% | -3.91% | -15.27% |
| Hong Kong | 1203.70% | -24.23% | -68.00% |
Based on these results, anyone looking for a fast connection speed can consider StrongVPN.
Customer Support
There are three options if you need support from StrongVPN:
E-mail support
Live chat
StrongVPN's support hub, which includes tutorials, guides, FAQs, and help articles
StrongVPN says it offers 24/7 support, and someone will reply as soon as possible if you contact its help team directly.
The articles in its support hub seem to be actively maintained, with many guides updated within the last three months. Conversely, there are also several outdated pages which haven't been updated for at least three years.
StrongVPN Review Summary
StrongVPN is a quality VPN service provider. It has the basic features you'd expect, though there are other VPN services that offer even more for a similar price.
However, it does have a strict no-log policy and offers the best encryption protocols, including the latest Wireguard. It also boasts a large number of servers, so you might find you get faster connection speeds than with other VPNs, depending on your location.