StrongVPN review: an imp inside your device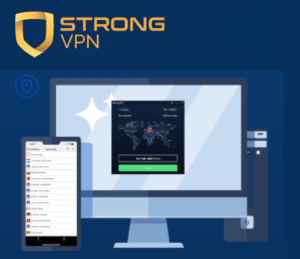 Strong Technology LLC was founded in 2015 – not many have heard about it. Is it a golden goose or just another service in the sea of VPNs? Read StrongVPN review
Price: 5.83
Price Currency: $
Operating System: Windows
Application Category: Utility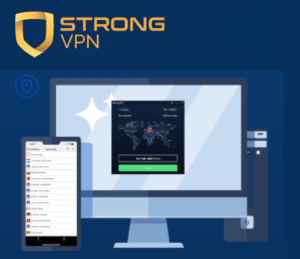 An imp inside your device
StrongVPN is a relatively unknown VPN on the block. Even though Strong Technology LLC was founded in 2015, not many have heard about it.
Is it a golden goose or just another service in the sea of VPNs?
I was compelled to have a closer look, turn it upside down and shake a little bit, but first let's ask them a few questions.
Here's what we learned by writing a StrongVPN review.
StrongVPN synopsis
| | |
| --- | --- |
| Ranking: | 22#/52 |
| Parent company: | Strong Technology LLC <- Stackpath <- Ziff Davis <- J2 Global |
| Jurisdiction: | California, The United States |
| Locations: | 26+ countries/650+ servers |
| Overall test result: | SUSPICIOUS .EXE FILES (Virus positive) |
| Torrenting: | PASSED (Torrent allowed) |
| Netflix: | PASSED (Unblocks Netflix 3/3) |
| Encryption/protocols: | AES-256/IKEv2/IPsec/L2TP/SSTP/OpenVPN UDP & TCP & Scramble |
| Support: | E-mail response ~4h/Live Chat (24/7) |
| Cost: | $5.83/mo |
| Official site: | www.strongvpn.com |
☑

Support response time is ok!
There are 3 options to get support from them. Either manually skim their FAQ article base, e-mail them or use their live chat feature. We decided to ask them a few questions by e-mail and analyze their support quality.
Does StrongVPN support Tor browser, routers, and OpenVPN?
Is it equipped with kill-switch?
How many servers do you operate?
Does StrongVPN accept cryptocurrencies?
Rafie, the member of the support team was nice enough to forward my ticket to Walter, the sales representative.

Thanks, Walter!
So what did we learn? The initial response arrived after 3.5 hours prior to my contact. That's not too bad considering that some don't have any manners (like totally unresponsive HolaVPN)…
Yet what if you are in a real hurry? Let's say you have planned a Netflix & Chill date featuring romantic Spanish movies together with your girlfriend, but VPN suddenly crashes and won't start…
Thankfully, StrongVPN has live chat support. This might be your lifeline.
☑

Company history and profile
The company was founded in 2015 by Strong Technology, LLC. It's possible that StrongVPN and two other VPN services – Overplay and IPVanish are all owned by StackPath, which is owned by Ziff Davis (the same company that has Mashable, IGN other media publications). And that's not it! Ziff Davis is owned by J2 Global.
Here's an interesting Network to explore about StackPath CEO Lance Crosby:

When StrongVPN started as a company in 1994 in South Lake Tahoe, back then its main business was selling PC computers.
Currently, they are based in Dallas, Texas, and therefore included in 5 eyes jurisdiction. This is bad news for true cybersecurity fanatics, as 5 eyes jurisdiction companies tend to hand over data logs in case of court orders.
☑

Easy to set-up, simple UI
Like most of the consumer software, StrongVPN was easy to set-up. It took around 5 minutes to register the account, download the setup files and start our first server connection hosted by StrongVPN.
Although one particular thing made us extremely cautious..
StrongVPN-latest.exe contains suspicious engines!
Suspicious GENF47V0806

Adware.OnlineGuard

Backdoor.SpyGate.Win32.3495

This was a surprise. It's like StrongVPN is shooting his own leg if not head..
However, it isn't anything new. VPN services have had potential backdoors in the past and will place them there in the future.
☑

No-logs policy
The main privacy concern among VPNs is logging. The best ones do not log any of your data, not even timestamps. What about StrongVPN?
The latest update on their privacy policy was made on 24. may, 2018. Here it is:

No personal data is logged. Still, to subscribe, they'll need some basic information about you: your e-mail address, and payment details.

☑

AES 256-Bit encryption
Encryption is a method to code information. It consists of two elements: algorithms and a key. The key is a cipher that indicates which algorithms should be used to unlock the code. Physically you would imagine a key to be made out of metal, in the virtual world, it's a string of long numbers..
StrongVPN uses Advanced Encryption Standard 256-Bit, which is the industry standard. Most of the governments, agencies and cybersecurity firms use it. It's strong.
In addition there are protocols. Protocols are a set of rules on how the data should be communicated. They dictate how algorithms have to be used to keep the communication secure.
Main protocols are: LLTP, OpenVPN, IPsec, IKEv2, L2TP, SSTP. StrongVPN settings menu lets' you customized and use 5 of them.
IKEv2 
OpenVPN (UDP, TCP, Scramble)
SSTP
IPsec
L2TP
All of them are useful for certain purposes. Yet our favorite is OpenVPN with TCP port. This one is the most secure, although may be slightly slower than UDP.
☑

Zero DNS leaks found
DNS stands for Domain Name Service. According to Cloudflare, one of the leading content delivery networks, "DNS is the phonebook of the Internet". Humans use domain names like google.com, but web browsers interact through IP addresses. Simply said, DNS translates domains to Internet Protocol addresses.
DNS leaks happen in case of VPN tunnel failure. These tunnel cracks can be discovered.
We'll use web tools like Doileak, Perfect-Privacy, Browserleaks, IPx.ac and IPleak.net to test how strong their VPN really is.
This was the result (same with all 5 tools):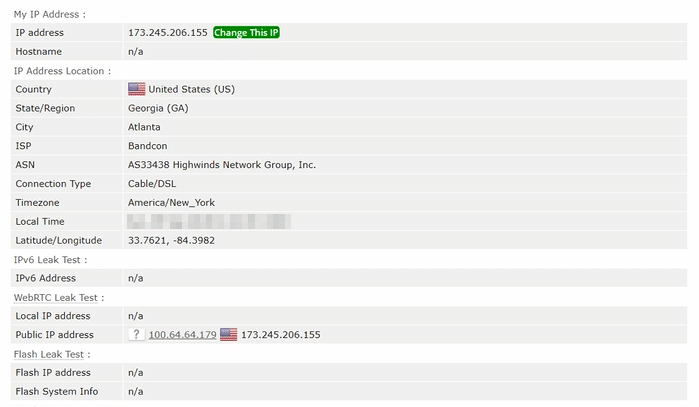 No IPv4, IPv6, WebRTC leaks were found.
According to our research, 22 out of 53 services do leak your DNS, and thankfully StrongVPN is not one of them.
☑

650+ servers operate in 26 countries
Servers are useful for fast speed. The nearer the server to your geographical location, the faster the connection speed. StrongVPN operates 650+ servers, which is quite diverse for a small company considering a massive giant like Freedome VPN has only 20+.
There are 195 countries in the world yet StrongVPN users only has access to 26. It may not be a big deal, but it's way below the market average. The average number of countries of the most popular (51) services is 42.
☑

12 Simultaneous connections
Simultaneous connections limit how many numbers of devices can be connected at the same time. This is a great option for a student or anyone who wants to spare his wallet from costly service.
StrongVPN offers a maximum of 12 simultaneous connections for 6+ different types of devices – Windows, Mac, Linux, Android, iOS, routers, and many more.
Some of the set-up manuals on their website include:
Synology NAS
Kodi
Amazon Kindle
Chromium OS
+ Various legacy devices
Unfortunately, most popular streaming devices and consoles like SmartTV, Xbox, PS, Wii, Google TV, Apple TV are not supported..
☑

Netflix works like a charm
Although smart TVs don't work well with StrongVPN, Netflix might…
Netflix is a popular online streaming service based in Los Gatos, California. Over 130+ million membership subscriptions and yearly revenue of 15 billion makes it an attractive option for many.
We tried to use Netflix while connected to a random StrongVPN server: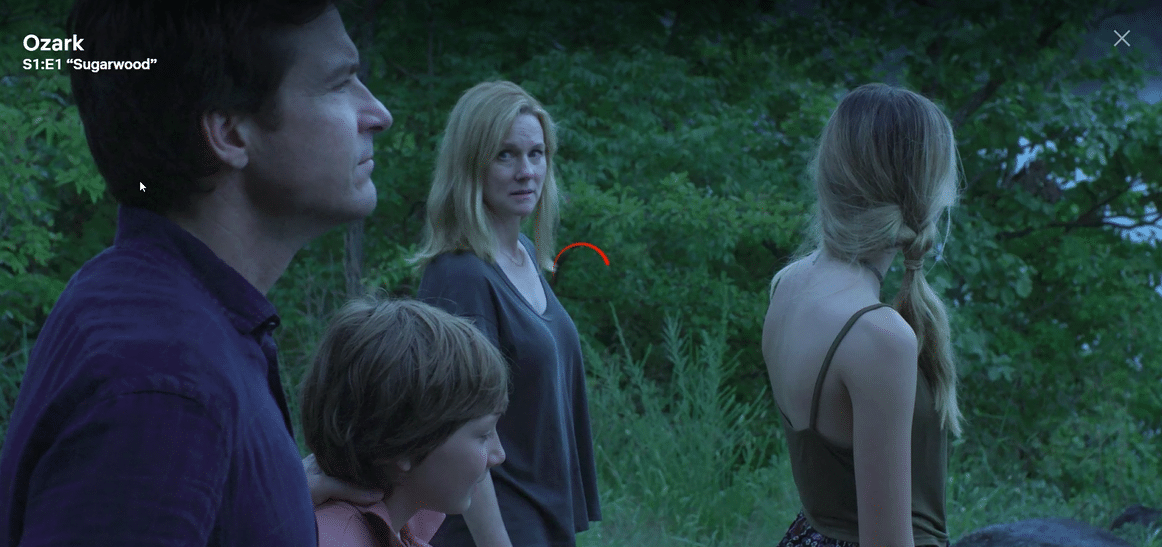 And it worked fine!
If you are not that lucky, try a few servers more before giving up, it will probably work.
☑

P2P filesharing is a breeze
P2P is a peer to peer file sharing technology that lets users share files between two or more devices. It's great for downloading uncopyrighted material.
Does it work?


Great news to all torrenting fans, it does!
☑

Ranking 10th in speed tests
You might still remember the x,z, and boing. boing sounds of dial-up modems back in the 90s. Every time the network crashes it brings back nostalgic memories…
Speed is something we all crave, be it 1-day Amazon Prime delivery or a VPN, everything must get faster. So how fast are StrongVPN servers?
A test was taken using 3 server locations across the world – The United States, The United Kingdom, and Hong Kong.
The original speed:
The United States (Atlanta)

The United Kingdom (London)


Here's the result summary:
| | | | |
| --- | --- | --- | --- |
| | Ping | Download | Upload |
| U.S | 533.33% | -4.92% | -4.18% |
| U.K | 244.44% | -3.91% | -15.27% |
| Hong Kong | 1203.70% | -24.23% | -68.00% |
Well done! Anyone looking for a fast speed can consider StrongVPN.
☑

Average pricing plans and 30-day money-back
StrongVPN offers two basic options: either pay monthly with a higher rate or take a yearly subscription with almost 50% cheaper.
The option is quite a good deal. If however, you don't like their craft, just use the 30-day money-back guarantee policy and ask for a refund.
1 Monthly plan – $10
12 Months – $69.99/year – $5.83/mo 
Both come along with a free feature called StrongDNS. This one is useful for unblocking geo-restrictions and streaming services.
The payment options are narrowed down to three – Credit cards, PayPal, or Alipay.
StrongVPN review conclusion – do we recommend it?
Short answer: No.
Long answer: It depends. StrongVPN doesn't perform as we hoped. It has a potential backdoor, lacks double-hop and various connection locations. One of the biggest turndowns is that its headquarters is located 14 eyes jurisdiction. Even though it might be a good option for someone, it doesn't really have anything special about it. We'll pass this time.
Test VPN and contribute your experience with StrongVPN.S
Write your StrongVPN review