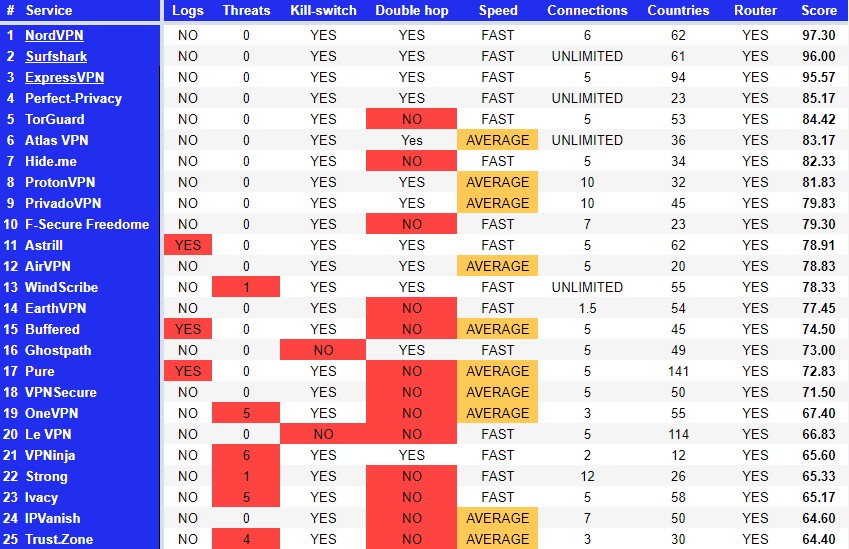 Best VPNs in-depth overview
VPN services give you the privacy you need for browsing at a reasonable price − sometimes even for free.
In this post, we will dive into the most secure VPN services to consider if you're looking for private browsing or a way to protect yourself from hackers.
Ready? Let's so let's jump right into it.
Read below!

Trusted source for 94+ news sites
                                                       
The Best VPN Services
Detailed Overview of the Best VPNs
ExpressVPN (Best Fast VPN)
Strengths
Weaknesses
+

Impeccable history & AES 256-bit encryption

–

Premium price

+

Fast internet speeds

+

94 countries / 2000+ servers

+

30-days money-back guarantee

+

Works in China
ExpressVPN is a well-established service operating for nearly a decade.
Labelling itself as 'high speed, ultra-secure, and easy to use, it is generally regarded as one of the highest quality VPNs overall. In fact, TechRadar named ExpressVPN the best VPN software in 2018.
ExpressVPN stands out for its speed, privacy, and unblocking capabilities.
Privacy
ExpressVPN Ltd's privacy policy states that they do not log any traffic or session data and that they also do not store connection time stamps, used bandwidth, or IP addresses. They are registered in the British Virgin Islands, meaning they have no legal obligation to keep data for a certain period of time.
ExpressVPN will only request information from you that is necessary to operate their VPN. This will include your name, email address, and payment details. They may request personal information from you though if you contact customer support.
To pay for your subscription, you can use a credit card or PayPal. The service also accepts Bitcoin and various other payment methods that are more difficult to track, if you are more curious about this option they have a page on their site specifying how they handle Bitcoins.
Just like most VPN services, ExpressVPN uses shared IPs. They also offer a connection on port 443 which is encrypted, most likely to get around firewalls and third-party restrictions since the port is normally only used for HTTPS connections.
In 2017 Turkish government seized an ExpressVPN server, which held no useful information for the authorities verifying their no-log policy.
Edward Snowden doesn't approve of Kape Technologies now owning the ExpressVPN – "If you're an ExpressVPN customer, you shouldn't be,", however, we still believe ExpressVPN is a great service compared to alternatives.
Servers
With 148 server locations and more than 2,000 servers, the service offers a fast connection in nearly 100 countries. It's one of the few providers that offers locations in every continent except for Antarctica.
The main benefits include higher speeds, a wide range of server locations, and compatibility with both desktop and mobile devices.
Features
The only major drawback is that the service is limited to 3 devices with 1 account and of course, the best fast VPN connection on the market is sure to come with a higher price tag.
ExpressVPN pricing is around $12.99/month, but users can get a discount by signing up for many months at once. For example, you can pay for 12 months at once for $99.95 (or less than $9 per month).
While ExpressVPN does not offer a free plan or a free trial, they do offer a 30-day refund with no questions asked. Many users find the monthly fee well worth for reliable service.
Users have also noted that the company has great customer service 24/7.
Read our full ExpressVPN review.
NordVPN (Best Overall VPN) 
Strengths
Weaknesses
+

Editors' choice

–

6 simultaneous connections instead of unlimited

+

Secure and no-log policy

+

5000+ servers in 62 countries

+ Works with nearly every Netflix server
+

Low-cost pricing
Tefincom S.A. aka NordVPN features everything mentioned above including a handy kill switch that automatically connect/disconnect from the Internet if the service goes offline. This protects users against retaliation from their browsing.
NordVPN is a relatively inexpensive service, considering the overall market offerings.
Privacy
If you are looking for a VPN company that respects your privacy, that's NordVPN. It's based in Panama – known privacy and tax haven for many offshore companies.
Do they keep logs? They don't store any information about their users or users' activities on their hardware.
Are the no-logs claims valid? This is a reasonable question since there are many top VPN companies that actually store logs and claim they don't. NordVPN has been audited three times by a 3rd party company PricewaterhouseCoopers AG Switzerland (PwC Switzerland) – once in 2012, in 2015, and 2020, which all found no-logging policies to be true.
NordPVN Protocols include PPTP, L2TP/IPsec, SSTP and OpenVPN (configuration files).
Servers
NordVPN operates a strong global infrastructure of servers. NordVPN offers over 5000 servers in 60+ countries and has its own proprietary network of gigabit-capable servers (every server is physically situated on leased lines and every virtual machine is designed for optimal bandwidth).
How many devices can be used? The quality of the user experience depends on the number of simultaneous users (in terms of server load) and content consumption habits.
It is worth mentioning that this top VPN provider has dedicated servers for video streaming (Netflix, Amazon Prime Video, BBC iPlayer) and gaming. These are not only physical machines but also virtual ones with enhanced performance (AMD CPUs and SSDs). A user can connect to one of these without a problem.
Features
The paid version starts at $2.75/month, provided that you sign up for 36 months at once ($99 total). By opting for a 1-year contract the price jumps down to $6.99 – still relatively reasonable considering the competition.
Supported devices: Windows, macOS, Android, iOS.
If you're still not sure whether NordVPN is right for you, the provider also offers a short free VPN trial of 3 days and a 30-day money-back guarantee.
Surfshark (Best Budget VPN) 
Strengths
Weaknesses
+

Unlimited devices with 1 account

–

Relatively new provider

+

Fast speeds

+

No logging or DNS leaks

+

Low pricing

+

30-days money-back guarantee
Surfshark is currently the best VPN client on the market for a low price. The app is highly secure and providing you with one of the fastest service speeds out of 50+ tested providers. The 2-year package runs $1.99/month depending on the discount they are currently offering. This is most likely the best value you can find on the market.
Privacy
Surfshark Ltd. is based out of the British Virgin Islands, which is out of the '14-Eyes' country. '14 Eyes' is a spying alliance between 14 countries that share all their surveillance data with each other. So, if you're particularly concerned with privacy, it's probably best to stay away from providers based in countries like the US, Canada, and the UK (to name but a few).
Surfshark offers double VPN encryption and an internet kill switch which is extremely important in case if your VPN connection drops.
While some may have difficulty getting used to their not well-known brand, many customers note that they feel good about service providers with clean 'vulnerability free service' history records and love the fact that there are no traffic logs (therefore they have more privacy).
It has also been audited by a Germany-based independent security company Cure53 that confirmed they do not keep any logs.
Servers
The BVI-based top VPN offers over 1,040 server locations in 61+ countries, supports torrenting, and can accommodate an unlimited server switching per account.
Features
"Users tend to like how easy Surfshark is to use on their mobile devices − and how secure they feel when using it." – Google Play
Surfshark Alert: the new alert system has been introduced in the latest version. The best part is that you don't need to enable push notifications for this feature to work as it automatically detects dangerous Wi-Fi networks and warns you when you are connected.
This will help protect users from evil hackers who can easily hack your devices through open connections.
In addition, it detects e-mail, credit card, and ID breaches, which really makes Surfshark stand out.
An unlikeable trait is their settings default collecting user-IDs. Thankfully it's not a big deal as IDs don't contain any personal information and you can always opt-out. However, it would be better with an opt-out option by default instead.
Surfshark has one of the lowest prices compared to its competitors, with a month-to-month plan and the option of paying years in advance.
Read our full Surfshark review.
Perfect Privacy (Best VPN for Unlimited Connections)
Strengths
Weaknesses
+

Fast speeds

–

Premium price

+

No-logs policy

+

Unlimited devices with 1 account

+

Supports routers
Perfect-Privacy (Vectura Data Management Limited) is a high-end top VPN provider based in Switzerland. Not only for the quality service they offer but also because they keep their customers anonymous online and secure from the prying eyes, as they cannot force Swiss businesses to give out data or even hand over hard drives like it has happened in past with some other providers.
Their servers are located in 25+ countries and offer high-end features like split tunnelling, Tor over VPN, encrypted connection, secure proxy extensions when using Chrome VPN/Firefox. They have their own DNS server, and of course an unlimited number of simultaneous connections.
Privacy
Perfect-Privacy uses 256-AES (Advanced Encryption Standard) including Perfect Forward Secrecy using Diffie Hellman Ephemeral (DHE) keys which makes it one of the safest VPN companies' in the world.
The VPN software provides its customers with a secure connection between their computer and their servers: OpenVPN protocol, as well as SOCKS5 and PPTP proxies. There is also an allowance for IPSEC and SSH simultaneous connections.
Servers
Perfect Privacy is a high-end VPN provider and can be quite expensive if you pay per month, but their price/service ratio is very good compared to other top VPN providers even though they have only 50+ servers in different countries.
Like all top-notch VPN providers, Perfect Privacy offers one of the fastest speeds according to our speed tests, which makes it perfect for streaming (Netflix, Hulu), downloading, and P2P (torrenting).
Features
Perfect Privacy offers different plans that come with different features. The cheapest plan is their 24-month plan ($8.89 per month) that includes access to all servers in the Perfect Privacy network as well as SOCKS5. If it's a too high price to pay, you can always keep eye on the best VPN coupons and deals.
You can pay anonymously by paying with Bitcoin. (in order to get a refund, however, a different payment method is required).
Their cheapest plan includes access to their 25 locations in Australia, Canada, China, Denmark, France,  Germany, Italy, Israel, Japan, Latvia, Luxembourg, Netherlands, Norway, Romania, Russia, Serbia, Singapore, Spain, Switzerland, Turkey, United Kingdom.
Read our full Perfect Privacy VPN review.
TorGuard VPN (Best VPN for Torrenting)
Strengths
Weaknesses
+

Supports P2P

–

Slow customer support

+

Fast upload speeds

–

Doesn't work in China

+

No-log policy

–

Based in 14-eyes country

+

Great customer support with live chat
TorGuard offers great VPN services for torrenting file-sharing.
The company is incorporated under VPNetworks LLC, located in Florida, the United States.
Includes AES-256 encryption, multi-hop cascading, Tor through VPN, anonymous mail forwarding, and SOCKS5 web proxy access. TorGuard advertises itself as the "World's most advanced VPN." – Is it?
Privacy
TorGuard uses OpenVPN as a default protocol for all its servers. This is open-source software and is considered one of the most secure options available in the market right now.
TorGuard also allows its users to choose from three additional protocols, namely IKEv2/IPsec/L2TP/PPTP/OpenVPN and SSTP.
All servers are protected with strong 256-bit encryption, and you can choose whether to connect via UDP or TCP.
They have a no-log policy and didn't fail our DNS leak tests. However, because they are based in the US, they are legally bound to disclose information about their users to authorities if requested, so they could be forced to share this data with the NSA or another government body.
Servers
TorGuard boasts over 3000 servers in 55 countries
TorGuard offers secure VPN servers spread across the US, UK, Netherlands, Switzerland, Sweden, and Romania. Just like many of the top VPN services, TorGuard is blocked in China as well.
Even though these are fewer server locations than some other top competitors offer (like ExpressVPN which has over 1000 servers in 100+ locations), TorGuard covers all the important countries with its network. If you want to bypass this geo-restriction, you have to try other services like ExpressVPN or Astrill VPN.
Content Filtering System: TorGuard has a dedicated setup of locations that are used only for content filtering. This ensures that their customers have faster speeds and better performance while browsing the internet.
Features
We like the fact that you can use Torguard with multiple devices: Windows, Mac, Android, and iPhone. It's also worth noting that it offers a seven-day money-back satisfaction guarantee so you can test out its features for yourself before committing to a longer-term plan.
Torguard offers all the VPN basics like kill switch, DDoS protection, and strong OpenVPN encryption. It's a great VPN for beginners since it doesn't have any steep learning curve. However, there are a few advanced features that might come in handy later when you're more comfortable using them.
These include DoubleVPN (connects you to two servers for double encryption), Onion Over VPN (connects you to Tor through the VPN tunnel), and Multi-hop (connects you to three different locations).
Multi-Hop, DoubleVPN, and Onion over VPN are all great features that unfortunately not many other services provide.
Read our full TorGuard VPN review.
Atlas VPN (Best VPN for Streaming)
Strengths
Weaknesses
+

Unlimited devices

–

No browser extension

+

Free version doesn't require payment details

–

Free version doesn't work for streaming

+

Affordable pricing

+

Data leak monitoring
Atlas VPN is the best streaming VPN option for TV sites while hiding your identity at the same time. It's one of the leading VPNs that has been in business since 2019. Atlas offers a decent location diversity – more than 750 servers are located in 36 countries around the globe.
Privacy
Atlas VPN is owned by Nord Security, the company behind NordVPN. However, it is registered under Peakstar Technologies Inc, in the U.S.
Atlas VPN provides a transparent no-log policy stating that their servers never interfere with your IP or data content.
They provide 256-AES military-grade encryption and automatically disconnect your internet connection if it detects a leak via the Kill Switch feature. This guarantees that your system is entirely secure.
Servers
Atlas VPN is available in 36 countries with more than 750 servers. This ensures good overall coverage from Europe to Asia and the US.
Atlas VPN also works very well with torrenting – it's also one of the potential new candidates for the top providers for Disney+.
Features
Atlas is a virtual private network (VPN) service with a lot of great features that you might need in order to: split tunnelling, WebRTC and IPv6 leak blocking, seems to work in China and of course MultiHop+, which is basically a double VPN that encrypts traffic twice. Atlas lacks port forwarding at this moment.
The software is easy to use with a convenient system tray widget that users can access at all times. The application also includes an internet Kill Switch to prevent data leakages when downloading torrents via P2P.
The company currently offers three plan options with prices starting at $1.99 per month for a 36-month plan, going up to $3.29 for a 1-year plan, and finally $10.99 when paid monthly. All of these plans include the highest encryption on the market, DNS leak protection, and a range of different protocols to maximize connection speed.
Read our full AtlasVPN review.
Hide.me VPN (Best VPN for Router)
Strengths
Weaknesses
+

Free 2 GB per month version available

–

Average network speeds

+

No-logs policy

+

P2P and streaming supported

+

Excluded from the 14 eyes alliance
Hide.me VPN is a Malaysia-based company that launched its services back in 2012. It has been growing ever since and according to the service's own words it now serves over 1,000,000 users around the world. A free version is also available that provides access to 3 server locations only, which are Canada, Netherlands, and Singapore. Paid plans allow users to access a number of servers in 34+ countries.
The website provides a clear explanation of how the service works and also includes clear installation guides for DD-WRT and other routers. Easy setup and free option makes it the perfect VPN for routers.
Privacy
Hide.me is transparent about their logging policy. While the company keeps minimal connection times logs for all of its users, Hide.me says that they do not maintain any activity or connection logs. They also say that user bandwidth isn't logged at all, which avoids some of the pesky bandwidth problems that often plague VPN providers.
Hide.me has a variety of top VPN protocols available. These include /IKEv2/IPsec/L2TP/PPTP/SSTP/SoftEther/OpenVPN UDP & TCP which is great for those who have specific needs or want to use a different protocol with intention.
The OpenVPN protocol is a tried-and-true protocol that you can trust to keep your data secure when using any network in general. OpenVPN is open-source software that anyone can view code for. This allows the community to contribute in terms of making it better and stronger. OpenVPN is one of the most trustworthy protocols in the market.
Servers
Hide.me has a variety of servers available ranging from countries in Europe, North America, Asia. The company has them located in countries where censorship rules are not as strict. Faster servers are also available which provide decent speeds across the internet, this is great for watching videos or downloading content.
Hide.me has 1400+ servers, with a majority of them located in Europe. This top VPN is not as great for users who are looking to connect to a server that's further from their location as the speeds are rather average.
The connection speeds on the Hide.me VPN was found to have no significant drops in speed when connecting to nearby tunnels.
Features
In addition to Windows and macOS, Hide.me does have an app that can be downloaded on various devices including iPhones/iPads/Mac/Android, and of course routers.
Why is hide me VPN the best choice for routers?
Hide.me has a custom VPN apps for routers that can be easily configured with any router equipped with an external IP addresses feature (a minimum of v2 firmware).
The router app is available for all Hide.me VPN servers in the US, UK, and Singapore.
For other providers, it is often required to configure port forwarding which can be a tedious task for non-tech geeks.
What makes it the best choice? There are many features that make it one of the best to use on your home devices, Hide.me does not log anything, has a kill switch for your internet connection, bearable download speeds, and of course free option in order to first get comfortable with the VPN service provider.
ProtonVPN (Best VPN for Zoom)
Strengths
Weaknesses
+

Fast speeds

–

No browser support

+

No-log policy

 –

Customer support only via tickets

+

Free limited option available

+

400+ servers based in 30+ countries
ProtonVPN is a VPN established by Proton Technologies AG. It was created by the makers of ProtonMail, an encrypted email service established in 2013. ProtonVPN is aimed at advanced users who are looking for a secure, reliable connection, especially for video chats such as Zoom.
Privacy
It is based in Switzerland, a country with strict privacy laws. In addition, ProtonVPN only logs the user's name, email address, IP address, timestamp, and billing information. No browsing history is kept. ProtonVPN uses OpenVPN protocol to encrypt internet traffic, which makes it fully secure. Furthermore, this service supports advanced features – Tor over VPN protects you so that no websites can track your device. ProtonVPN connects you automatically when you are using an insecure Wi-Fi network.
VPN encryption is enabled automatically, and a kill switch is included. It allows the user to choose between UDP or TCP connections. ProtonVPN comes with 256-bit encryption by default.
Servers
The service offers a number of servers in 30 countries so far including Canada, the Czech Republic, France, Germany, Japan, Luxembourg, Netherlands, Norway, Romania, Spain, Sweden, Switzerland, and the United States.
According to their website, ProtonVPN has over 400+ servers in total.
Features
ProtonVPN is compatible with Android, iPad, and iPhone VPN app/, Windows, macOS, Linux, Chromebook, and Android TV.
Downloading/uploading speeds are probably the most important factor in choosing a VPN, unfortunately, speeds weren't quite as high as some of the others we've tested – if you can't stream videos or download files quickly while connected to a foreign server, you may just need to change it to a closer location.
One-month plan of this service is $5 (Basic), while the yearly plan will set you back $48/12 = $4/month (note that yearly plans are currently only 20% discounted, but according to current competition in the VPN market, we can expect an extending discount in the future.
ProtonVPN offers a free option as well with 23 servers in 3 countries. And if you want to test out the plus or visionary plan you can always ask for a refund for any unused portion of the service period within 30 days.
This top VPN has no live chat support, however, you can write an email or use "Protonmail" on IRC channel #protonvpn at irc.freenode.net to get instant support from the developers and other users.
Read our full ProtonVPN review.
PrivadoVPN (Best VPN for Free)
Strengths
Weaknesses
+

Free with no ads or speed limits

– Email and Live Chat support only
+

No-logs policy

+

Streaming service support

+

P2P support
PrivadoVPN is a zero-log VPN offering excellent speeds at an affordable price. They don't keep logs and ensure all of their connections are encrypted using the latest VPN protocols. PrivadoVPN operates its own IP backbone network and server infrastructure that has extremely fast speeds, making them ideal for streaming in HD, torrenting, or gaming if that is your thing.
They are based in Switzerland so your information is protected by Swiss privacy laws which are strong and well respected throughout the world. They also offer a free VPN option to all users that gives you 10GB of free high-speed access every month. This free option is also the only no-cost available that supports both streaming and P2P traffic with no ads and no speed limits.
Privacy
PrivadoVPN is packed with 256-bit encryption and includes OpenVPN (UDP)/Open VPN(TCP/IKEv2/IPsec) protocols which are available for Windows, macOS, Linux, and FireTV. They also have mobile apps for iOS, Android, Windows, Mac, and Fire TV. They have a clear privacy policy that states they don't keep logs of your activity, your connection, your IP, or the sites you visit. However, they do collect data you share with them regarding support issues to help with any technical issues you report.
This level of encryption provides fast speeds without sacrificing security too much however it is recommended that users who wish to have the fastest speeds should try IKEv2/IPsec, which is one of the fastest protocols around. For torrent-heavy users, SOCKS5 proxy servers are also available for faster P2P speeds while still maintaining privacy and security.
Servers
The servers are located in large metropolitan areas in over 45 countries where users are likely to find high speeds regardless of their origin. These include server locations in the US, UK, Netherlands, Germany, Canada, and Australia, meaning you can gain access to content from almost anywhere in the world.
PrivadoVPN also offers a free VPN package that gets you 10GB of access with unlimited speeds every month. . This package is limited to 12 server locations though; it provides access to all servers plus unlimited data usage with the paid version.
Features
They provide 24/7 support via tickets as well as live customer support chat. If you opt for a support ticket, the typical response time is about 1h. This is usually the case with VPNs. If there are any issues like connection problems or server outages you will need to wait until around 1h to get their support. 
They also offer generic knowledgebase and troubleshooting guides which is fortunate as sometimes it can be faster and easier to find an answer to your question without waiting for support to reply. Their site does provide a good amount of information regarding their product and how it works.
The website is very professional and gives a lot of information regarding their product as well, however, they could provide more wide-range of information about smaller technical details before making the purchase like other VPNs do. They also offer a money-back guarantee which means if you experience any issues during your subscription or simply don't like their service you can request a refund which is great.
PrivadoVPN uses a three-tier pricing system that starts at $0 a month for the free version, or you can pay $7.99 on a monthly basis and finally come to an end with their yearly plan being charged at $59.88. This makes them the cheapest service on the market, however, it is still an excellent service with fast speeds and reliable connections.
The VPN allows users to pay for their service with all major credit cards and PayPal, which is a great option unless you are not overly paranoid and look for cryptocurrencies. 
Read our full PrivadoVPN review.
F-Secure VPN (Best VPN for Small Business)
Strengths
Weaknesses
+

Secure AES encryption

–

Operated by large corporation 

+

No-logs policy

–

Few servers

+

P2p support

–

Small choice of protocols

+

Streaming support
F-Secure FREEDOME is a VPN by F-Secure, which is Finnish computer security and privacy company. Most likely the best VPN in Finland!
F-Secure VPN allows users to surf the Internet anonymously, securely, and freely. With F-Secure, users can bypass firewalls and censors, prevent hackers from stealing their private information, enjoy secure online shopping, browse the Web anonymously at home or office or on public Wi-Fi, and more.
Privacy
F-Secure FREEDOME VPN encrypts all data that travels between computers and F-Secure's servers using military-grade encryption, making it very difficult for anyone else to intercept this information. As there are only a few VPNs that have been audited by an independent party, F-Secure has also given hints that they might soon release full security audits.  This is good news for the whole VPN industry.
In addition to 'standard' VPN protocols such as OpenVPN and IPSec, F-Secure VPN doesn't offer any other. In fact, F-Secure VPN is one of the very few providers that offer such a small number of protocols! While this might be considered a disadvantage by those looking for compatibility with older devices or systems, OpenVPN is the safest option of them all.
Thankfully, F-Secure VPN is located outside of a 14-eyes country, and this doesn't require them to hand over user data in the case another alliance country's government asks for it.
Servers
F-Secure VPN has a small number of servers located in Central and North America, Europe, and Asia. However, the number of available servers is fairly poor – 16 in Europe, 3 in Asia, and 3 in Central and North America, which makes in total around 20+ servers.
At least F-Secure VPN locations are widely spread in those continents. Server locations are in 23 different countries, allowing users to securely browse the Internet in places where they might be vulnerable or restricted.
Features
F-Secure VPN is available for mobile devices running Windows or Mac OS. For mobile apps, both Android and iOS Windows Phone. Keep in mind that you cannot use FREEDOME on gaming consoles as VPN for Xbox or PlayStation.
Tests and reviews of F-Secure VPN have shown that the service offers decent performance, which is "as almost as good as a typical broadband connection."
Performance tests were conducted from different server locations around the world. Our tests and research have shown that the service is easy to install and set up.
F-Secure is a subscription VPN that comes in three different options: $4.49 / month for 7 devices for 2-year plan, for 3 devices $7.39 (1 year), and 7 devices $6.89 per month (1 year)
Payment options are credit card or PayPal account, they don't support cryptocurrencies at the moment.
F-Secure is an excellent VPN with good performance, privacy, and security features. The company, which has been in business since 1988, is also well-known for its anti-virus software. However, it lags behind other top VPN services in terms of pricing options and the number of server locations available to customers. It's a good fit for small or mid-size business use similar to Norton Secure VPN.
Read our full F-Secure VPN review.
Frequently Asked Questions
What is a VPN? Do VPNs keep you secure?
VPNs aka Virtual Private Networks connect your device network via an encrypted tunnel (providing private internet access). One of the most common uses for this technology is to mask the location of the user so they can access geo-restricted content or avoid censorship.
To get started, you simply download special software onto your machine. The VPN provider manages the specific number of servers you use to connect with certain sites. The connection is anonymous so no one can intercept what you are doing over the internet – not even your Internet Service Provider (ISP).
It doesn't just stop there. VPNs are often used in the workplace when an employee is working remotely, or when connecting with sensitive company information. It is also useful for people who travel a lot – especially when they are using open Wi-Fi hotspot shield that isn't secure.
Some users even opt to encrypt all of their traffic, which can slow down your connection speeds if you don't have the unlimited bandwidth to handle it. In case you were using a satellite internet provider in African rural areas, this could be problematic. To avoid this, many people only encrypt certain data being transmitted over the network. Optimizing the number of simultaneous connections gives you the advantage of secure browsing while still allowing you to use high-bandwidth activities like streaming videos and downloading large files without any lags or disruptions.
There are many different VPNs and they offer a variety of benefits like:
Anonymous browsing and torrenting
Basic security and privacy online
Extra protection from hackers or prying eyes on open Wi-Fi hotspots (essential for frequent travelers)
A full suite of security and privacy software (for large companies or professionals who need the extra features)
It is possible to use a VPN for torrenting or even free VPNs for torrenting, however, it isn't recommended to use an unsafe VPN not in this list (such as Hola or Hotspot Shield) because otherwise your ISP and others could still see your browsing history. VPNs that lack proper security measures are only good for masking your location on a surface so you can access geo-restricted content. For better security and privacy, you should always use a proper VPN when browsing the internet.
As with most things in life, using a VPN can also come with potential downsides:
They can sometimes be slow if your bandwidth isn't high enough to support them (5 Mbps or higher is recommended for decent streaming speeds)
They can be a little confusing for first-time users who don't understand how they work
Some no-cost VPNs have been known to sell user information, or log your activities and cut off your connection when you reach a certain data limit. This defeats the purpose of using a VPN altogether.
Benefits of using a VPN in most cases overweight the minor disadvantages.
Is VPN legal?
VPN is legal even in countries with strict internet laws. People use VPNs to access blocked sites like Facebook, YouTube, and Google, yet also to protect their identity online by hiding their IP addresses. It is important to keep in mind that using a VPN is illegal (with exceptions) in some countries as well, most notably China, Russia, and Egypt.
In China, the best VPN option is ExpressVPN or Astrill if you want to use it for torrenting as well. China allows only government-approved VPNs.
In Russia, the best VPN option is NordVPN which allows also torrenting. However, we would not recommend the use of P2P at all in this country.
VPN can be used in locations where authorities have imposed censorship or simply to give someone the ability to appear in a different location. For example, if you live outside of the United States and want access to American content (Netflix), a proxy server located in US territory can be used to access the content.
How many people use VPNs?
According to Go Globe, the VPN market is estimated to be $31B in 2021 and $35B in 2022. A survey conducted by Global Web Index states that more than 26% of all internet users rely on VPN services in total.
Around 35% of VPN users vary between the ages of 16 of 24 and 33% of users are aged 25 to 34.
Statista found that males led the way with VPN usage. Around 62% of all users were male, compared to around 38% of female users.
VPNs surged during the Pandemic. NordVPN research team found that in 2020 users connected to their VPN for several more hours per day during the pandemic.
Where do people use VPNs?
There are three types of VPN services: Personal VPN, Business VPN, and Proxy/Anonymizer. Personal is for private use, business is for companies or corporations that have employees traveling abroad on business trips all the time, and the proxy (such as Hotspot Shield) is mostly used by internet surfers who want access to geo-restrictions or quick anonymity while surfing.
A survey reveals that the Asia Pacific has the highest percentage of users (30%) and Latin America has the 2nd-highest percent of users at 23%.
The countries with the lowest VPN usage are Germany with 6%, the USA and UK with 5%, and Australia with 4%.
As you can imagine the most popular use of VPN is streaming. More than 29% of all VPN users access Netflix every month (Global Web Index).
Other countries with wide usage of VPNs:
Countries such as China, Russia, Belarus, Turkmenistan, Turkey, and Saudi Arabia, have strict anti-VPN laws. You can learn more detailed information about each one of them from our 'Best VPN by country' section.
Can a VPN track you online?
Best VPN services enable you for private internet access and send your data through physical servers on an encrypted split tunnelling with no log policy so that they can't know what you're surfing online.
The best VPNs companies are located in privacy havens with no data retention laws, meaning they won't keep track of users or sell their information to third parties.
Some sketchy VPN providers can collect information such as your browsing history and sell it to 3rd parties and this is why it's best to not trust every no-cost.
Why do you need a VPN?
Whistleblowers, journalists, and dissidents in countries with authoritarian governments may be forced to use VPN services to access the internet freely. In countries where the internet traffic is censored, VPNs are used to bypass questionable restrictions.
For daily use, VPN can protect from hackers, protect users from data sniffing, and access sites that would otherwise be blocked.
Who needs a VPN?
VPNs best benefit people living in countries with censorship issues (China, Russia, Saudi Arabia) or those who need to unblock geo-restricted content (Netflix, Hulu, Spotify, ESPN Plus). The latter is especially useful to know since many places don't provide access to such sites.
The following is a list of the 5 most common uses for VPNs:
1) Access geo-restricted content
This includes streaming websites such as Netflix and Hulu, as well as music streaming services such as Spotify. Many countries either have no access to these sites or only have very limited access, so using a VPN will allow you full access.
2) Unblocking websites and bypass censorship
For example, China has quite a strict internet censorship and many websites are blocked. Using a VPN would unblock all of these sites, which is vital for foreign travelers.
3) Privacy and security
The best VPNs enable proper encrypt your online data and traffic, making it more secure. This is especially important for people whose data might be targeted (journalists, activists), or those using public Wi-Fi spots (which can easily be penetrated via fake hotspot shield). People concerned about their privacy should consider VPNs.
4) Appear to be in another country
This is called 'geo-spoofing' and some people use it to access different prices of goods based on location. For example, someone living outside of America could appear to be American and access the full Netflix library that way (content is not always available worldwide) or buy cheaper flight tickets or even a cheap VPN service from another country, as sometimes online prices vary by country in order to be suitable for the local consumer.
How to get a VPN?
Unless you decide to set up your own VPN through another computer, the most common way for a daily consumer is to get a reliable full solution VPN software from our list.
However, for the tech-savvy who wish to create their own VPN, the following is required:
Private server (with minimal 2GB RAM)
A public IP address for this server (that doesn't belong to any of the existing subnets or ranges that are used by your home or work networks – these should be blocked in iptables)
Ability to set up at least one iptables rule (if you can't do this, ask a savvy friend)
Quick instruction on how to set up your own VPN:
1) Install IPtables and OpenVPN on your server (and make sure their services are running)
2) Create a file (and change the IP address and/or port as needed)
3) Make them executable and connect with OpenVPN (use chmod)
4) Finally, make all of these files run at startup.
Can you trust your VPN service?
There are many steps to take when looking at if a service is trustworthy with regards to its claims of being secure/private/anonymous.
1) Has the company been hacked before? If so, how did they handle it, and is the service still running?
2) Does your VPN log user activity or metadata?
3) Is it possible to use a VPN/proxy whilst torrenting, or can you only run one at a time?
4) How does the company handle law enforcement requests for information about its users? Do they keep logs of users' browsing history, connection times, and IP addresses? Do they maintain physical security over a number of servers with sensitive data (and where)? Are they known to collaborate with 3rd party companies to provide access to personal information about their customers (i.e. by turning over customer data if served with a warrant)? Some more reputable services will claim they will not cooperate with 3rd party companies, however, the issue is that if a law enforcement agency claims there's an immediate risk to life and limb then there's nothing a company can do to stop them legally.
5) How long does it take your VPN to provide access? Some services take much longer than others, especially if you want to use a server in a different country that isn't nearby. This may be because those servers are often overloaded or under-capacity. So always check how long it takes for connection times as well as bandwidth speeds (the amount of data you can transfer per second).
6) Are all their server locations secure and encrypted? For example, some services have been to make 'optimizations' such as reducing the security of their encryption protocols. They also often have exit servers in countries with poor records on privacy and anonymity such as China, Russia, and Turkey.
7) Can they be trusted to provide a service that won't log your location/IP address? Do they explain how their service works and what data is logged (if any)? If you want to use a VPN for privacy reasons then make sure the company has good knowledge about how VPNs work and isn't logging or monitoring users' activity.
8) Is it easy to get support from the company? Does it take more than 24 hours for support requests to get answered?
9) How long has the company been operating? Has it received complaints?
10) What payment options are available? How do you pay for the service (credit card, Bitcoin, or cash)? Are there any additional charges? Do they run promotions like free trials or discounts regularly?
11) Does your VPN shows login details/passwords in plain text on the device(s) you're using to access it? If so this can be a sign of suspicious ownership.
12) Is there a good range of security protocols supported by your service that aren't open-source (so 3rd parties can't see what's going on inside them)? Most providers now support L2TP over IPsec which isn't totally secure since it relies on pre-shared keys, OpenVPN is better because it's open-source and the security can be inspected (and modified if needed) by anyone.
And of course test, test, test. To sum it up, the best option is to start by reading reviews and make your own conclusion based on research data already available.
What is our VPN Testing methodology?
VPN reviews come from all directions, but nothing makes us happier than finding a leakproof provider who has made an effort for its customers and of course the hidden gems – services that are truly undervalued.
It all starts with a list of companies that have a ready-to-use product and could be considered trustworthy. Trust is the core element when conducting research on VPNs.
We search their court case history, logging, location, whether they have separate companies for payment processing, who are the owners, reputation, and more. We sometimes even use lawyers to take a look at their documents.
Company profiles usually give us an overview of the companies' business practices. Privacy policy and terms of service are the first to look into:
Leak tests are done once we're connected to the provider's service (random server). We use 4 main web tools to detect DNS leaks – our very own VPN Testing platform and a few others for additional information: IPx, IPleak.net, BrowserLeaks, Perfect-Privacy DNS Leak Test.
We do one test without VPN and right after that try 3 countries from their server list. The countries include the USA, UK, and Asia, such as China or Japan, depending on the availability of the number of servers on particular providers.
This gives a good overview of server speeds on3 continents. However, note that the speed varies by ISP and location. The speed tests are mainly done to get an overall comparison of every VPN.
Performance and usability
We will tune every knob and checkbox and see which of them gives errors. Setting up the software is part of the user experience and it's important to take note of the time spent on configuring the client. Not all VPNs have a standalone program. If the configuration files have to be integrated with VPN implementing software like OpenVPN, we note it as a drawback.
If the provider offers service on iOS or Android devices, we also do a simple usability test to see how navigation through the application feels for the users.
At least 3 servers will be tested for Netflix and torrenting as well. If a connection is established the first time when torrenting with the server, we don't repeat the process. However, if it fails, we will try 2 more random servers.
We also test from an international user perspective. So how does a VPN work abroad such as in China? Travelling to China is expensive, however, when one of our teammates visits mainland China, tests will be updated. Yet most of the time, we'll use the help of our local partners.
We ask them a wide range of questions to see how they interact with customers. There have been cases when a provider had a live chat feature, yet the operators never reacted to the initiated conversation.
Sometimes it takes a lot of back-and-forths.
Some companies have flawless support. The agents are personal and interested in making the customer feel at ease. Yet, some have enormously strict rules about responses, which makes us feel like we're talking to robots.
Did you know?: Out of 91 contacted VPN services Cloak VPN took the longest time to respond to our e-mail – 11,841 minutes (Nonetheless, there are companies that never respond at all!).
Will Netflix block VPNs?
Netflix tries to block VPNs just like any VPNs for Hulu, BBC iPlayer, and other streaming services.
Websites that provide TV shows or movies often ask you to prove your location so they can show you the content available in your country. If you try to access content from another country by changing your IP address through a VPN, the website blocks it because it knows you are outside of your home network.
This is exactly why a few best VPNs employ customized technology for Netflix – special servers that are dedicated to unblocking Netflix make unblocking the service with much higher accuracy. Some providers such as the NordVPN Smart algorithm automatically switch between different locations every few seconds searching for an open server (they offer over 5000+ around the world).
If a server is not working for Netflix, it automatically tries another one and updates the list in real-time according to availability.
How to use a VPN with desktop devices?
Mac: Download your best VPN for business use (Tunnelblick, Forticlient) or for personal use (OpenVPN or any recommended commercial VPN).
Windows 10: Download standalone software or go to 'Network and Sharing Center' and then click on "Connect to a work network". If you don't see the "Connect to a work network" option, click on "change adapter options".
Linux: Download standalone software or open terminal. Use "sudo su", "apt-get install openvpn unzip" to install the necessary basic components.
Once you've downloaded and installed OpenVPN, click on the network icon located in the system tray in order to select a VPN server from a dropdown list. If it is not already there, add the network "OpenVPN (TCP)", and click on the network icon once again in order to activate it.
To connect, just click on the "NetworkManager Applet" network, enter your login/password credentials when prompted, and have fun.
Once you've downloaded and installed the proper client (make sure that you select "Use default gateway on remote network"). Enter your login/password credentials and click on the "connect" button.
Chrome: Use a browser extension.
How to use a mobile VPN?
In order to use a VPN on mobile, you have two options: either use the all-in-one software app or set it up using OpenVPN Connect, which are both freely available in Google Play and other mobile app stores.
OpenVPN and the best VPNs mentioned above are all available on major mobile operating systems, including iOS, Windows Mobile/CE, and Android.
Free vs. paid VPN?
No-cost VPNs often sacrifice resources for better service. With no cost software, you risk giving personal information to third parties and may not be as safe as the paid ones. Paid VPNs can provide a higher quality of service (and often do). Ultimately, both paid and no-cost are comparable services that offer different pros and cons.
The best VPNs usually cost more but have many benefits over their free counterparts: no ads, better security, more locations, faster speeds, and more features such as split tunnelling, 'stealth' in China or mobile apps for Mac/Android, etc, which you won't find on most no cost providers – who prioritize making quick buck over offering a decent service.
For example, if you take ProtonVPN vs Betternet (same company as Hotspot Shield) – ProtonVPN has no limits on bandwidth and speed limits and it offers 'no-log' policy (a feature which isn't usually available on free VPNs for Windows), whereas Betternet (Hotspot Shield) does log your data and may sell it to 3rd party.
And while yes, there are many no-cost VPN services out there – the general rule of thumb is that if they're free, you probably won't get the best quality of service from them… but for basic browsing, they can work in some cases, even for devices like Firestick – here is a list of best free VPNs for Firestick.
Best VPNs (paid) include ExpressVPN, NordVPN, , Surfshark, and more. Best VPNs (free) include ProtonVPN, Hide Me, and PrivadoVPN.
What's the fastest VPN?
You may have heard that a certain VPN is the "fastest," and you want to know what to look for in a fast VPN. Here we take an objective look at some of the most important factors that contribute to speed.
Fast speeds are not all created equal In order to evaluate which VPNs offer the best speed, it's necessary to compare them with each other. One way is by testing real-world speeds via Speedtest.net. The test measures latency, download speeds, and upload speeds from your phone or PC through a number of servers spread across different locations around the world. However, there are many variables involved in these kinds of tests—and every provider will perform differently based on server and congestion during the time of use.
The main parameter to keep in mind when searching for VPN is download speed, as this is most commonly used by most consumers.
The fastest VPNs according to our speed tests are ExpressVPN, Surfshark, NordVPN, VPN Unlimited, , AirVPN, and Perfect-Privacy. One of the slowest softwares are Hotspot Shield and Hola.
Is VPN safe for torrenting?
Torrenting is one of the most popular methods used to share files these days, but not everybody shares legal files. It turns out that there are a number of VPN services that are more than willing to turn a blind eye to the illegal activities of their users, and this is becoming an increasing concern for copyright holders.
While torrenting via the best VPN does offer an extra layer of protection from prying eyes, some of them don't necessarily stop your ISP from knowing that you're doing it. In fact, VPNs that do keep logs could be used by copyright holders to track down pirates.
In a nutshell: If you want total anonymity while torrenting then not every VPN isn't going to protect you because your ISP could still collect information about you through loopholes.
What are the risks of using a VPN?
The short answer: There aren't any significant risks of using a VPN.
However, there are other considerations to take into account.
The first major consideration is whether your VPN provider keeps logs and what it does with those logs. For example, if your VPN service has made public statements that it does not keep logs (and follows this statement), then it is safer than providers that do. The second consideration is whether or not you trust your VPN service: if you don't, then why are you using it?
With this in mind, we can say there aren't any significant risks to using a VPN but bear in mind the considerations mentioned above and make an informed decision based on your own research.
Is a VPN safe for banking?
Best VPNs provide enhanced security by encrypting data sent over the Internet, preventing anyone from seeing your personal information, such as passwords or financial transactions. Data encryption makes sure that all of your communications remain secure and confidential while surfing the internet, making it safe to conduct banking activities.
VPN users can also make sure that no one can trace their identity or location. So you are safe to conduct online business even if it is through your mobile phone, tablet, or laptop. Yes, great VPNs are perfectly safe for banking and cryptocurrencies.
Can you be tracked if you use a VPN?
There are several ways to track somebody. One is by using the IP address of the computer to find out where it is located because different countries and locations have their own unique IP addresses. Another method governments can use is collecting metadata about devices that users connect to, or just even just using spyware installed on computers that reports back what the user does online.
All these methods pose a risk when one accesses public Wi-Fi hotspot shield without protection.
When you connect your device (laptop/phone/tablet) to an unsecured wireless network, anybody nearby can see all traffic passing through it, and view anything sent over non-secure HTTP connections, so only HTTPS should be used for sensitive data since this encrypts everything exchanged. HTTPS can be in theory used on any open or public network as it has authentication, meaning the router will only reply to devices that 'prove' they are allowed to access the network; this is what you normally see in a browser when you first connect and accept terms and conditions (the padlock symbol with no red cross).
However, obstacles like firewalls and NAT (Network Address Translation) help secure home networks without encryption. But if someone wanted to spy on your Wi-Fi usage there exists tools like Wireshark which can easily be downloaded off the internet. They basically capture all packets that go through their Wi-Fi routers and display them very neatly for the user to view at their own leisure. This tool also works great for people running a business because they can see how their employees are using the company's Wi-Fi.
But what is stopping someone from monitoring your activity over a public network? If you are concerned about privacy, this list of VPNs may be for you. They use encryption protocols to scramble your data before it leaves your local network so that nobody nearby can intercept them and spy on your internet usage.
VPNs are useful if you have kids since they have an internet filter built-in, yet make sure it supports HTTPS out of the box since some kids are smart enough to get around filters. For all the lucky parents whose kids attend school, you might even want to have a look on a separate list of VPNs for school.
Can a VPN help with ISP throttling?
Yes. Virtual Private Networks are the best solution to the problem of ISP throttling. When a person uses a VPN, they are able to encrypt their data and send it through a proxy server before going out onto the internet. This means that the ISP can no longer see what websites a person is visiting and, since the website does not know who you are (due to the encryption), the ISP cannot throttle your speeds based on the websites you are visiting.
However, even when a person is using a VPN, ISPs can still see how much data you are using, just not what websites you are visiting. This is because the ISP controls the proxy server that is being used to encrypt your data. In order to prevent ISPs from counting how much data you are using, a person should connect to the VPN through an HTTPS connection whenever possible. This is an encrypted connection that works like a proxy server, but it does not pass along data to the ISP making it very difficult (if not impossible) for the ISP to know how much data a person is using.
How many unique IP addresses can a VPN offer?
The amount of unique IP addresses and locations a server can offer differs between providers. Some VPN providers only offer locations in one or two geographic locations while some others can offer up to thousands of distinct ones.
It's worth noting that some VPNs even out of our 'best VPN' list like HideMyAss, have a huge number of different locations – 900+ servers in more than 190+ countries, which is likely the result of being a subsidiary of a Czech antivirus mammoth Avast.
What to consider when choosing a provider?
There are a number of factors to consider when looking for the best VPN to use for secure browsing:
Some VPN services are free, but utilize your consumer info; others come at a premium, but offer better privacy.
Any provider may slow down your Internet. Some do more than others.
Server network. Some allow users to choose their geo-shifted locations while others are random or fixed.
User reviews and popularity are a great way to gauge how well the software will work for you.
Some VPN services are tailored to mobile users, others not so much.
Your use. Depending on the why of your usage, the right option may take different forms.
The idea of this 'best VPN' list is to give you a range of options as you look for the best VPN for your needs. To meet that goal we have included here the highest quality, most popular options based on our own research results.
The bottom line: it's all about your needs
Finding the best VPN service for your needs is all about you.
If all you're looking for is a simple screen so that you can browse streaming services more freely, a free and basic tool may do the trick.
Many Internet users have high standards and therefore require more complex services. Advanced users may look for specific encryption, a kill switch, or zero bandwidth capping for P2P file sharing.
Some beginner users will be looking for the easiest to use (and cheapest!) one out there. Others may be searching for the best VPN with free trials, a monthly payment plan instead of a lifetime license, or a 100% refund. Some features to look for include:
Safety features and no DNS leaks
Top-notch customer support
A proven speed test in action
A straightforward UX for use with streaming services
Compatibility with mobile devices
Low-cost or high-performing provider.
All of these are factors that may impact what the best VPN service is for you…
The bottom line is that it can either create private internet access or let you browse sites otherwise not available in your geographic location.
If you already have a VPN and consider changing it, just take a VPN test to how the best VPN works for you.
Take your time doing your research, reading through our in-depth reviews and capabilities of each of the top services outlined above to make the best decision.
Quick VPN FAQ
What are the best VPNs?
The best VPN according to our research is NordVPN. Other services in 'best VPN' list include ExpressVPN, Surfshark, Perfect-Privacy, Atlas VPN, ProtonVPN, Hide me, TorGuard, PrivadoVPN, and F-Secure Freedome.
Do I need A VPN at home?
Yes. In order to have a secure connection also from your VPN at home, you need to use a VPN.
Is there a totally free VPN service?
Yes. There are fully no-cost, however, good VPN providers are limited to data consumption. It's important to keep in mind that no-cost without limitations usually have poor security or log user data in order to sell it to 3rd parties.
Is it worth paying for a VPN?
Yes. A good VPN is worth the money as you can be sure your data is properly protected.