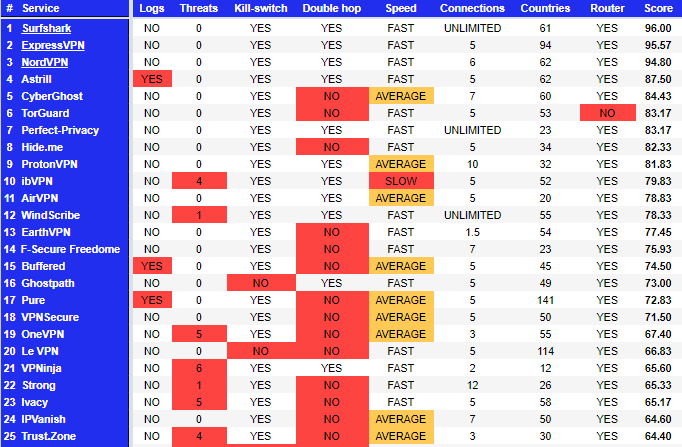 A short summary of the most secure VPNs out of 52+ reviewed services
VPN services give you the privacy you need for browsing at a reasonable price − sometimes even for free...
In this post, we will dive into the best secure VPN services to consider if you're looking for private browsing or a way to protect yourself from hackers. 
Our methodology is described here. However, you might want to get down to business RIGHT now.

Read below!

Trusted source for 94+ news sites
                                    

Surfshark is currently the best budget VPN service on the market. The app is highly secure and providing you with one of the fastest service speeds out of 50+ tested providers. 
The BVI-based VPN service offers over 1,040 server locations in 61+ countries, supports torrenting, and can accommodate an unlimited amount of users per account. While some may have difficulty getting used to their not well-known brand, many customers note that they feel good about service providers with clean "vulnerability-free" history records and love the fact that there are no traffic logs (therefore they have more privacy).
"Users tend to like how easy Surfshark is to use on their mobile devices − and how secure they feel when using it." – Google Play
Surfshark has one of the lowest prices compared to its competitors, with a month-to-month plan and the option of paying a year in advance.
The 2-year package runs $1.99/month depending on the discount they are currently offering. This is most likely the best value for Surfshark.
An unlikeable trait is their settings default collecting user-IDs. Thankfully it's not a big deal as IDs don't contain any personal information and you can always opt-out. However, it would be better with an opt-in option by default instead.

ExpressVPN is a well-established service operating for nearly a decade.
Labeling itself as "high speed, ultra-secure, and easy to use", it is generally regarded as one of the highest quality VPNs overall. In fact, TechRadar named ExpressVPN the best VPN software in 2018.
ExpressVPN stands out for its speed, privacy, and unblocking capabilities.
With 148 server locations and more than 2,000 servers, the service offers a fast connection in nearly 100 countries. Some of the benefits include higher speeds, a wide range of server locations, and compatibility with both desktop and mobile devices. Users have also noted that the company has great customer service 24/7.
The only major drawback is that the service is limited to 3 devices at a time and of course, the best VPN out there is sure to come with a higher price tag.
ExpressVPN pricing is around $12.99/month,  but users can get a discount by signing up for many months at once. For example, you can pay for 12 months at once for $99.95 (or less than $9 per month).
While ExpressVPN does not offer a free plan or a free trial, they do offer a 30-day refund with no questions asked. Many users find the monthly fee well worth it for a reliable service.