VPNsecure review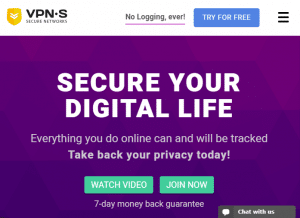 The Australian company VPNSecure Pty Ltd was founded in 2010. Located in Brisbane, Queensland, an area known for hemp farms and kangaroos. Read VPNSecure review
Price: 6.66
Price Currency: $
Operating System: Windows
Application Category: Utility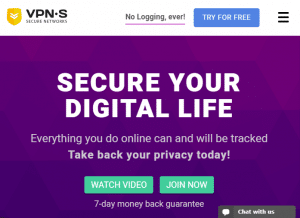 Compact.  Leak-free. Soulless – VPN for an average Joe
WHEN PREPARING to write a review, I usually search for unusual ques: court cases, potential leaks, and so on. These bullet points help to understand the heart of service – why it has been created, by who, and for what.
Just like a retail salesperson wakes up early every morning to gather information about their prospects, I will start my day by digging into VPNs background.
Today, I face my biggest challenge so far, because I want to write a 1500-word analysis on VPNSecure.me which has a logging policy, a kill-switch, and live chat support – That's it. Except that isn't it. I have a lot more space to fill.
So let's better get started.
VPNsecure synopsis
| | |
| --- | --- |
| Ranking: | 18#/52 |
| Parent company: | VPNsecure Pty Ltd. |
| Jurisdiction: | Australia |
| Locations: | 48+ countries/70+ servers |
| Overall test result: | SAFE |
| Torrenting: | PASSED (Torrent allowed) |
| Netflix: | FAILED (Doesn't unblock Netflix 0/3) |
| Encryption/protocols: | AES-256/HTTP Proxy/Smart DNS/SSH SOCKS/OpenVPN UDP & TCP |
| Support: | E-mail response ~16 min/Live Chat (24/7) |
| Cost: | $2.99/mo |
| Official site: | www.vpnsecure.me |
☒ Company profile and its 5 eyes jurisdiction
The Australian company VPNSecure Pty Ltd. was founded in 2010. Its headquarters are located somewhere in Brisbane, Queensland, area known for hemp farms and kangaroos. The owner is unfortunately unknown… even though we did deep research on it. (If you know the owner details, let us know in the comments).
Australia is a member of Five Eyes, an alliance compromising 5 countries – Australia, Canada, New Zealand, the United States, and The UK. Documents have shown that they have intentionally spied on one another's citizens and sharing the data with each other. Some notable people under FVEY surveillance have been:
Charlie Chaplin (alleged ties with communism)
John Lennon (activism in the United States to protest against the Vietnam War)
Nelson Mandela (denounced as a terrorist)
For a Joe, it's not a big deal though. You have probably no plans to be on this list.
☒ No Netflix streaming
But speaking of Charlie Chaplin…
The movies have become only a few clicks away and nearly free of cost. Thanks to Netflix combined with a VPN you can enjoy American, English or Italian classical movies wherever you are.
Here's a problem with it. I am afraid Netflix doesn't grind along with VPNSecure servers… Here's what happened during our "Try 3 times if Netflix works" tests:

The upside is that there's a way to do it. By using P2P torrenting. Torrenting works with VPNSecure and you could download Charlie Chaplin's copyright-free material easily, just like I did:

If you haven't already started setting up the VPN, bear with me.
☑ 

Setting up VPNSecure was easy
When I think of setting up software, I want it to be a simple process. Just like the old times the way I used to download and install Winamp 10.
A click on a BIG button – Twice. And it's done.
It's whole different today with products like Adobe Acrobat. You are faced with a huge setup file, which includes another setup and so on… similar to a Russian matryoshka doll. Finally, it takes half a day to start using it.
Thankfully, VPNSecure is like Winamp – It just requires registration and payment as well. Other than that, it's easy and intuitively no-brainer for Joe.
☑

Platforms and 5 simultaneous connections
With a maximum of 5 simultaneous connections, you could do a lot: share the account with your brother, your mother, and… Well, okay. Not that much. Yet VPNSecure is supporting operating systems that even your ancestors still use:
Windows XP, 7, 8 and 10
Mac
iOS
Be careful with the Android app:
According to Android Developer documentation, their application 'Free VPNSecure OpenVPN' asks for dangerous permission:
android.permission.WRITE_EXTERNAL_STORAGE | Writing to external storage
☑

Average pricing
Cybersecurity shouldn't be a pricey thing. Nowadays it's easy to get attacked by a criminal and lose years worth of savings, if not being careful. But slipping is even easier on the Internet than it is on an icy walking street.
…And that, I hoped was where VPNSecure could help.
Their prices are not bad, so skip the gym once a month and you are covered:
1 month – $9.95/mo
6 months – $8.32/mo
12 months – $6.66/mo
But what if you just want to give it a try? – No obligations or risk involved.
Well… Free-trial is somewhat like visiting a supermarket and stumbling upon a food tasting stall. You will give it a go but almost never buy that stuff.
There's a different approach software companies take to handle the "I will think about it" types – By offering a money-back guarantee.
And so does VPNSecure.
A 7-day money-back guarantee is included no matter which payment methods you use, be it PayPal, credit card or Bitcoin, you are good to go.
☑

Strong AES-256 encryption
VPNSecure has the security of NASA or any other governmental facility. Not that it has hundreds of people working to protect its databases but because they use the same encryption methods.
If you ever come across the acronym AES-256, you know it's good. AES indicates to Advanced Encryption Standard, which is currently used by nearly all VPN services. It's nothing special to VPNSecure, but still good to know! Oh yes, and you can change the cipher to 64 bits, which speeds up the server and transforms it to a proxy.
Protocols, therefore work as manuals for the encrypted data. It refers to how algorithms should be used to transform the data between two devices.  Does protocol like OpenVPN rings a bell?
VPNSecure supports the following: OpenVPN, HTTP Proxy, Smart DNS, Obfuscation & SSH SOCKS, which all are for different purposes in terms of speed, security and more… but not necessarily important for you. You may want to just stick with the industry, which is OpenVPN.
☑ 

No DNS leaks found according to 5 tools
I once read an article about a chemical spill in Northern Ireland. A cracked pipe in a water treatment works caused a chemical leak that killed 1,600 fishes within a weekend. The pipe was later fixed within days, but the damage couldn't be undone.
Every once in a while, we find VPNs that leak. DNS leak is like a cracked chemical pipe. You will have two options – Either replace it or live with.
We tested the VPNSecure leaking and the results are the following: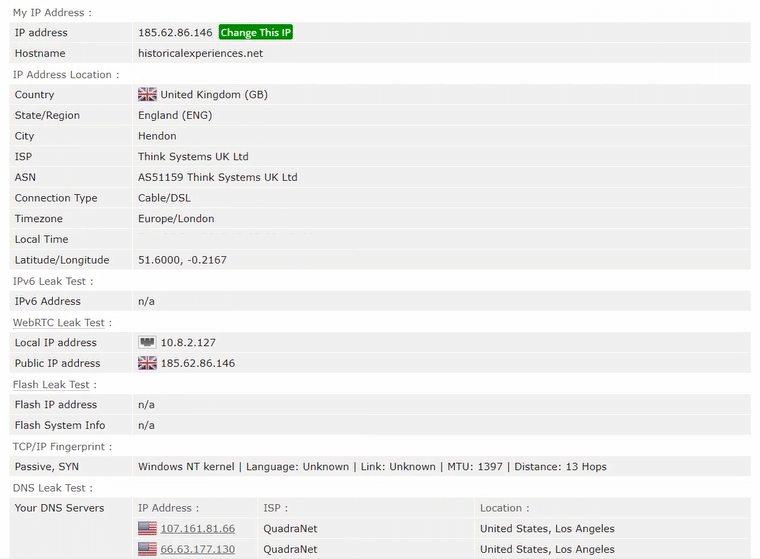 No leaks were detected and this was not the only web-based tool we used. There were 5 of these, which sometimes show different results, yet they all agreed that VPNsecure is as solid as a rock.
☒ VPNsecure versus The Great Firewall
Speaking of rocks. There's an endless virtual wall in China that separates western and Chinese internet.
Although before VPN ban in 2018, it was fairly easy to use a tool like Google Scholar in China. In a matter of a few clicks and server response time, you were in. Now private networks are faced with a challenge – the regulation. The only option for the users is to play by the rules and stick with government approved VPN.
But there's no list. How to figure out if your VPN works?
That's why did our own tests with VPN services in China, including VPNSecure.
However, the news is not good… Firstly, entering VPNSecure.me website is like running against a brick wall. This is what happens: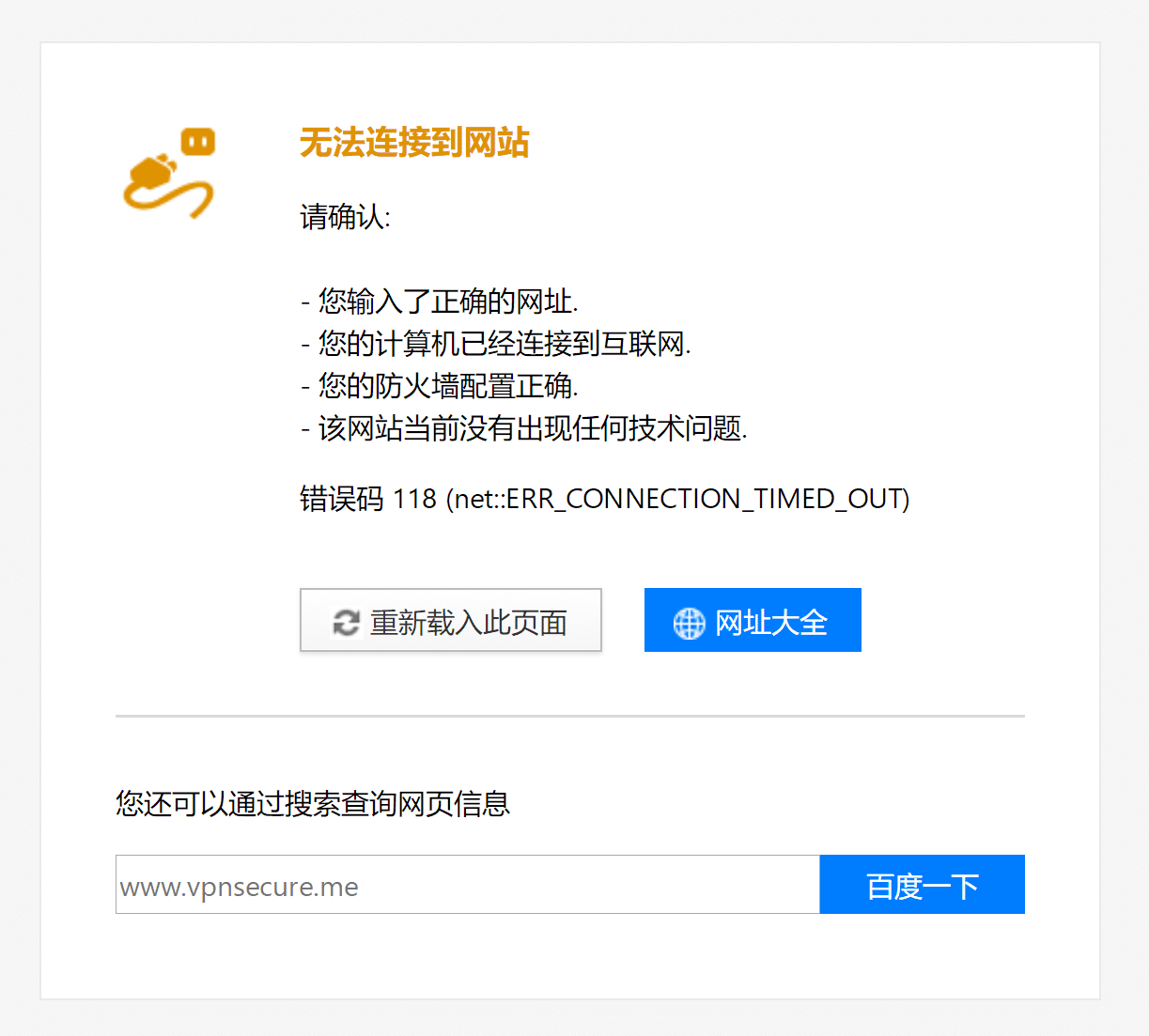 Secondly, even if you are equipped with VPNSecure before visiting the country, it doesn't work: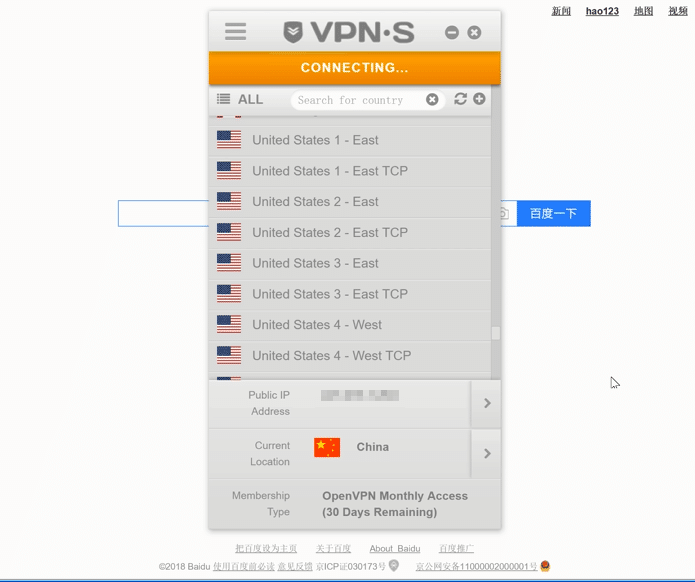 The VPN keeps loading and never connects.
This isn't a surprise. Actually, more than 86% of VPNs are "unapproved".
☒ Not so great speeds
VPNSecure ranks as 42th out of 51 by speed. Its upload speeds are brilliant but downloads lagging incredibly bad. The combination turns it into an average service speed. The other way around would suit us much better…
Download speeds are more important for streaming and page response, that's why it's the first thing to look at.
The speed tests were done independently with 3 servers – the US, the UK, and Hong Kong. You can expect it to be different on your side due to the geographical peculiarities, however, the overall rank is as accurate as a cable network can be:
| | | | |
| --- | --- | --- | --- |
| | Ping | Upload | Download |
| US | 818.75% | -92.09% | -70.42% |
| UK | 437.50% | -73.00% | -43.68% |
| Hong Kong | 2231.25% | -80.24% | +4.85% |
☑

Fairly decent customer support
VPNSecure isn't a replacement for a secure VPN like ExpressVPN. Nor is it a replacement for a budget-cost Netflix VPN like NordVPN.
But with VPNSecure, even the most annoying customer gets a quick reply in case of a technical emergency. This is where big boys like Norton get it all wrong – Instead of taking the time to read and reply to an e-mail within a few days, they fully ignore you (Our experience was even worse due to the fact that we were already paying customers). You wouldn't expect it from a reputable company…
But VPNSecure does things differently. Their support answers any e-mail faster than you could boil an egg.
After we slipped a virtual envelope under their door, the answer arrived within 16 minutes. And it wasn't an automatic answering machine named Gary, it was a real human being with professional, handcrafted solutions.
If a problem is already in the boiling phase, the live support comes in handy. It seems like you are their only customer… and I like the feeling!
For the shy ones: Browse through FAQ pages, it's filled with useful articles and manuals on every topic you can imagine.
VPNSecure review final thoughts
I have recently been thinking about the rating system used in these reviews. VPNSecure is a great VPN. It's not logging your data, doesn't leak, supports all the main OS platforms. It's filled with useful features like kill-switch. Everything you would expect. Good value for the price.
And yet, it isn't even a 4 star VPN, because it has as much as unique value proposition as an empty beer bottle. The competition is just too tight for the average. But these are the ones who would probably be the best clients.
Let us know your opinion about VPNsecure.
Write your VPNsecure review