ZenMate VPN Introduction
ZenMate has now joined forces with CyberGhost – one of the best VPN services available today, combining millions of users with thousands of servers around the globe. Is it the best VPN for you? We decided to take a deep dive and find out.
ZenMate VPN Company History
ZenMate VPN was founded in 2013 by German entrepreneurs Simon Specka and Markus Hänel, who decided to set up the company after they struggled to connect to non-local websites while using unsecured WiFi. The service was originally based in Germany. Their business gained a following with users in many countries around the world thanks to affordable pricing and good speeds. However, some users criticized the company over a lack of transparency and audit reports.
ZenMate VPN / CyberGhost Partnership
In March 2023, ZenMate VPN partnered with Romania-based VPN provider CyberGhost VPN. Initially, there was a transition period between the two companies with ZenMate VPN users still using the company's app, however, as of May 1 2023 – all ZenMate users, new and old alike will access the service through the CyberGhost VPN app.
In essence, ZenMate VPN users will now get an improved service and receive (nearly) all of the functionality that CyberGhost VPN users get. However, the company is careful to point out that there are some differences, for instance ZenMate VPN customer support will still be provided by ZenMate VPN rather than CyberGhost and they also state that they are unable to offer some CyberGhost VPN features to ZenMate subscribers, including Smart DNS and account add-ons.
ZenMate VPN Pros and Cons
After merging with CyberGhost VPN, ZenMate now offers useful features and benefits including optimized servers, a wider selection of server locations, and up to seven simultaneous connections. However, it does have some disadvantages. Let's take a closer look at the pros and cons:
Pros

Cons

Supports 7 simultaneous connections

No double-hop available

Number of servers and server locations

No Free VPN option

Router Support

 

The 45-day money-back guarantee is great

 

Specialized servers for streaming,

gaming

, torrenting

 
ZenMate VPN Overview
ZenMate has now teamed up with one of the most popular VPN services on the market, and between them they support a wide server network with compatibility with devices including Windows Mac, iOS, Android, Linux, and some pretty fast speeds.
Let's take a look at what they offer:
| | |
| --- | --- |
| Countries | 91 |
| Servers and Locations | 9,110 servers in 116 locations globally |
| Customer Support | Email / website FAQ |
| Log Policy | No Logs Policy |
| Encryption Protocols | Wireguard, AES-256/IPsec/L2TP/PPTP/OpenVPN UDP & TCP |
| Supported Platforms | MacOS, Windows, iOS, Android, Linux |
| Routers Supported | Supports routers with OpenVPN support |
| Simultaneous Connections | 7 |
| Split Tunneling | Yes |
| Kill Switch | Yes |
| Torrenting (P2P File Sharing) | Yes |
| Country of Registration | Romania |
| Dedicated IP | Yes |
| Smart DNS | No |
| Multihop | Yes |
| Price | from $2.19/mo up to $12.99/mo |
| Free trial/money-back guarantee | 45-day money-back guarantee (as opposed to former 30-day money-back guarantee) |
Streaming Movies and TV Shows With ZenMate VPN
After merging with CyberGhost, one of the features that ZenMate has taken onboard is the company's optimized servers. These servers are specifically designed to work with popular services such as streaming platforms.
ZenMate now works with Netflix, BBC iPlayer, Amazon Prime Video, and other popular streaming services. The specially optimized servers make ZenMate a good choice if you're into streaming anywhere in the world from Saudi Arabia to Seoul.
Compatible Devices and Services
After merging with CyberGhost VPN, ZenMate now supports a host of streaming devices and operating systems including:
Windows

MacOS

Linux




Android

Routers (DD-WRT, TomatoUSB)

Apple TV

Roku TV

Android TV

Amazon Fire TV

LG SmartTV (webOS)

Samsung SmartTV (Tizen OS)
Using Streaming Devices with ZenMate VPN
ZenMate now supports Amazon's Fire TV and Fire Stick devices. You can use it on just about anything that you can find in your home whether it is an LG, Samsung's smart TV platforms, Android TV, Apple TV devices or even a Raspberry Pi.
Supported Streaming Services
Following the CyberGhost VPN partnership, ZenMate currently supports all major streaming services. We tested it out on US-based servers through our ISP with the following services and here is what we found:
Netflix (Working)

BBC iPlayer (Working)

Amazon Prime

Video (Working)

Hulu

+ Live TV (Working)

Sling TV (Working)

Fubo TV (Working)

HBO Max (Working)

Disney+ (Working)
YouTube

TV (Working)

Apple TV (Working)
Bandwidth and Connection Speed
If you want to have a good user experience and buffering-free streaming then you need ample bandwidth. The good news is that following the merger with CyberGhost, ZenMate VPN now offers users 10 Gbps servers with unlimited bandwidth – an impressive upgrade by anyone's measure.
We had no trouble streaming content using ZenMate VPN and faced no issues with buffering or any other performance issues.
Some caveats do apply. E.g. the speed you get will very much depend on the quality of your internet bandwidth. 
ZenMate VPN Desktop and Mobile Apps
As of May 1, 2023, all current ZenMate VPN users are required to sign in with their username and password through the CyberGhost app rather than through ZenMate VPN's own application.
Thankfully the CyberGhost app is user-friendly, easy to understand and supports multiple platforms. The user interface is intuitive and easy to use and the bright colors make for a positive, non-daunting experience all round. The visual interface sets it apart from other VPN providers, making the apps easy to understand, even if you've never used VPN apps before.
The application offers nifty features such as one-click connection, which is designed to get you up and running as quickly as possible.
ZenMate VPN Browser Extensions
After merging with CyberGhost VPN,  ZenMate now offers browser extensions which are available for Chrome and Firefox. The Chrome extensions are also cross-compatible with other Chrome-based browers such as Microsoft Edge and Opera.
Ease of Use
As we mentioned earlier, the CyberGhost app really stands out from the competition when it comes to offering a user-friendly approach witha minimalist UI design. The same is true of browser extensions. Installing and setting them up is straightforward.
ZenMate VPN Features
‌
Since merging with CyberGhost, ZenMate VPN users have been treated to an array of new features that they didn't previously have access to, including more server locations, servers that are optimized for streaming (and consistently tested to work with popular services), split tunneling, and more encryption protocols (hello, WireGuard).
In this section we will take a look at some of those features.
Malware Blocking Feature
The ZenMate Malware Blocking feature is designed to provide paying ZenMate users with protection against harmful code and snippets. It does an excellent job of blocking access to malicious websites and works particularly well with shady sites that host malware. While the ZenMate Malware Blocking feature is highly effective, there are also other online services available that offer reliable malware and spyware blocking capabilities.
ZenMate VPN Server Locations
One of the key benefits of the shiny new ZenMate VPN / CyberGhost partnership is the fact that they now have over 9110 servers in 91 countries across the globe. This gives you quite a few options whether you want to protect your privacy and security or check out the latest TV hit from back home. CyberGhost's (and thus now ZenMate VPN's) servers are self-owned and operated so you don't need to worry about your privacy being breached. They are also optimized for streaming, gaming, torrenting, and multi-purpose connections.
Here are just some of the countries where they have servers:
Australia

Germany

Canada

France

Romania
Australia
If you come from Australia and happen to find yourself traveling or living abroad, then fear not, ZenMate VPN has got you covered if you want to unblock TV from back home. They have servers located across the country, meaning you can check out your favorite local TV shows from SBS and other providers.
Germany
If you're German you certainly won't be left struggling when it comes to server coverage with ZenMate VPN. They now host 1,272 servers across three cities in Germany. So whether TV is your focus or you're a fan of German privacy and security, ZenMate VPN has got you covered.
Canada
If you're a Canadian living abroad then you'll be pleased to know that ZenMate VPN now has 484 servers in three cities in Canada. This means that you can check out all of your favorite Canadian TV and streaming action from anywhere.
France
ZenMate VPN can be used to access French TV channels and streaming services securely and anonymously. So if you want to kick back and watch your favorite French shows, movies, and live sports when traveling abroad, ZenMate VPN makes it possible.
Romania
One of the key differences between ZenMate VPN pre and post CyberGhost merger is the fact that the company's servers will now be based in Romania. The country has some of the best privacy laws in the world and also offers a level of protection as part of the European Union.
China
Generally speaking, when people want to know if a VPN is usable in China it's for one reason only and that is because they want to get around the Chinese government's restrictions on internet usage. ZenMate VPN is currently usable for this purpose provided that you have already downloaded the CyberGhost app before arriving. The Chinese government is forever caught in a cat and mouse game with VPN providers as they try to make it ever more difficult to get around restrictions on Chinese soil.
USA
Let's face it – the USA is seen by many as offering the creme de la creme when it comes to streaming content globally. With so many services and a huge variety of content, it is easy to see why the USA tops the game on this one. Netflix offers one of their largest catalogs in the US, and the likes of Hulu and Sling TV also provide a wide array of entertainment.
Specialized servers for streaming and downloading
Let's be real here, most streaming sites aren't the biggest fans of VPN usage and actively block the IP addresses of VPN servers. However, ZenMate VPN / CyberGhost have gotten around this by providing servers that are regularly tested for the major streaming providers. These can be found through the "For streaming" category within the CyberGhost app. There are other providers like ExpressVPN and NordVPN that focus on streaming services but CyberGhost stands out from the pack when compared to most VPN providers.
NoSpy Servers
After merging with CyberGhost VPN, ZenMate VPN will also benefit from the company's NoSpy servers. Basically these are Cyberghost's premium, in-house servers that only the company's staff can physically access and control. They are also housed in Romania, which allows the company to stick to their no-logs policy.
ZenMate VPN Protocols
After merging with CyberGhost VPN, ZenMate now uses a wide variety of VPN protocols in order to allow users plenty of flexibility in line with their security and usage requirements.
ZenMate now utilizes the following protocols:
Wireguard protocol (it is modern protocol that prioritizes speed alongside security)

OpenVPN (TCP and UDP)

IKEv2

Layer to Tunneling Protocol (L2TP)

IPSec
Each of these protocols has specific advantages and disadvantages and it is best to experiment and find out which one is best for you.
The most notable of these protocols is WireGuard – it is a VPN protocol that is designed to allow for internet security without harming your speeds too much.
Dedicated IP Feature
In simple terms, dedicated IP is an IP address that's exclusively yours. VPN users typically all share the IP address of the VPN server they connect to. ZenMate VPN lets you have the opportunity to have a dedicated IP address as well. This means it will stay exactly the same every time that you connect – it really is all yours.
Split Tunneling
Split tunneling generally allows you to pick which websites you want to exclude from the VPN tunnel. However, on the CyberGhost  Android app, the split tunneling feature is a bit more sophisticated and allows you to stop individual apps from using the VPN and instead have them access the internet directly through your ISP.
ZenMate VPN Plans and Pricing
Through CyberGhost, ZenMate VPN now offers a variety of pricing plans, so you should be able to find something that meets your needs and doesn't break your budget.
The CyberGhost pricing plans are as follows (ZenMate VPN is directing new users to them):
A one-month plan

will cost

$12.99 per month,

with a 14-day money-back guarantee.

The 6-month plan

offers considerable savings at

$6.99 per month

which translates to $83.88 per year. The money-back-guarantee is extended to 45 days. (as opposed to ZenMate's former 30-day-money-back guarantee)

The 2-year (+2 months) plan

will cost you $2.19 per month with an additional two months free of charge and a 45-day money-back guarantee. Many users may be reluctant to enter a 26-month obligation, which is why we appreciate the 45-day guarantee offered by After merging with CyberGhost VPN, ZenMate.
However, it should be noted that ZenMate VPN is also offering a CyberGhost offer for customers whereby they receive 1 Year + 3 Months (15 months total)  at just $1.99 per month. This effectively means $29.85  for the first 15 months and then $64.85 every 12 months after that.
They also offer a free 24-hour trial for Windows and MacOS that doesn't require your credit card number. Android app users get a 3-day free trial, while iOS app users get a 7-day free trial.
ZenMate VPN Payment Methods
The company accepts all the major credit cards such as Visa, American Express, Discover, and MasterCard. Online payment platforms such as PayPal are supported as well. Privacy nerds will be pleased to know that after merging with CyberGhost VPN, ZenMate also accepts cryptocurrencies.
ZenMate VPN's Privacy and Security Features
256-Bit encryption security
With 256-bit AES military-grade encryption, ZenMate will ensure your online security regardless of which platform you use by offering a reliable and secure VPN connection. Furthermore, ZenMate VPN now offers DNS leak protection and an automatic kill switch to ensure a foolproof system.
No-logs policy
We mentioned earlier in the review that ZenMate VPN had some issues previously around transparency – however, as the company will now be operating under the CyberGhost policy, any previous concerns can be quickly forgotten.
CyberGhost clearly states in its privacy policy that its servers keep no logs that interfere with your IP address or data.
Although your data is captured when making a payment subscription, After merging with CyberGhost says that third parties do not have access to your name, your IP address, or other information that could potentially reveal your identity and online activity.
Simultaneous Connections
The good news is that ZenMate VPN can now also protect up to 7 devices at the same time. ZenMate VPN (CyberGhost) apps are available for all popular devices and platforms including Windows, MacOS, Linux, iOS, and Android, so you'll never be stuck when you want to stay safe online.
ZenMate VPN also supports protocols like OpenVPN, IPSec, L2TP, and PPTP on MacOS X, iOS, Windows, Linux, and Android.
Kill Switch
As ZenMate VPN users will now be using the CyberGhost VPN app they will also benefit from the company's 'kill switch' feature. Basically, this is designed to stop your connection from being accidentally exposed in the event that your VPN disconnects. In this event, the 'kill switch'  automatically shuts off your internet connection.
Zenmate VPN DNS leak Tests
In these modern times, any DNS leak may pose a serious security risk. Zenmate VPN / Cyberghost both supposedly aim to stop DNS leaks that might expose your real identity online.
We decided to put their claims to the test, and  honestly the results were great as you can see in the screenshot below.

Zenmate VPN Speed Tests
Download speed and upload speed are pretty darn important when it comes to selecting a VPNs to meet your needs.
We decided to run some speed tests (thanks to our friends at Speedtest.net) and put  Zenmate VPN through its paces.
As seen in the image below, our original connection speed was 41.35mbps / 28.99 mbps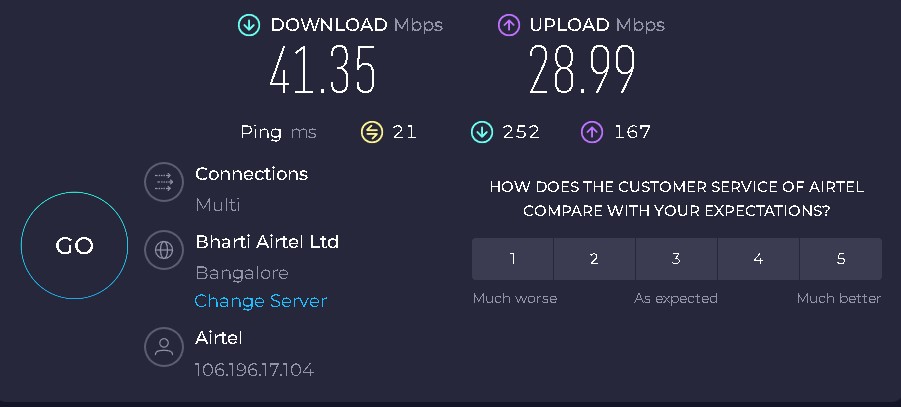 While connected to the United Kingdom server, the download speed decreased to 36.85 Mbps, and the upload to 11.94 Mbps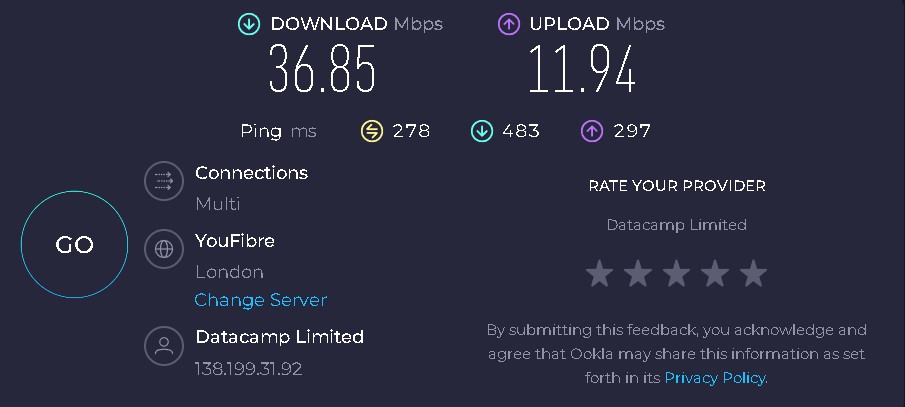 Meanwhile, the download speeds when connected to the US server were 36.85 Mbps, with 11.94Mbps as the upload.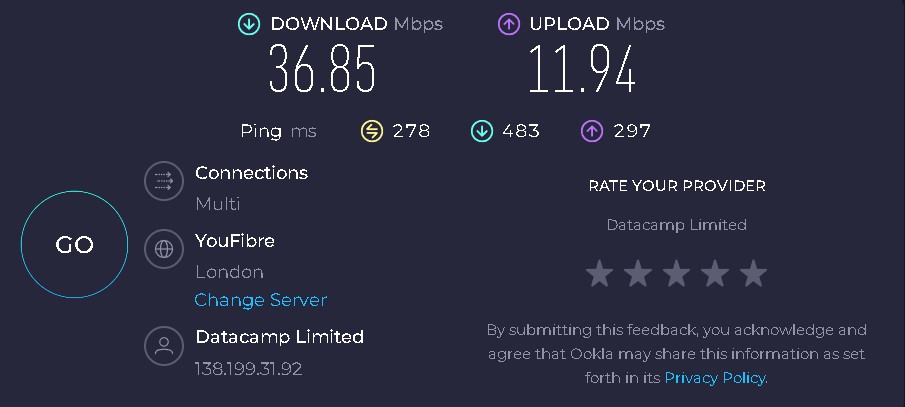 ZenMate VPN Customer Support
Despite all of the crossover following the ZenMate VPN / CyberGhost merger, one of the things that hasn't changed for ZenMate users is that the company will still be handling all forms of customer support. They are also careful to note on their website that users should not go to CyberGhost and that they are not sharing any customer information with CyberGhost customer support.
They offer customers a detailed FAQ section that aims to solve the most common problems and also allow customers to submit a request over email directly from the website.
ZenMate VPN Conclusion
It seems that the ZenMate VPN / CyberGhost partnership is a solid one and has given many benefits for ZenMate users and new customers alike. Whether it is the increased server network, the new features such as split tunneling or optimized servers, customers stand to benefit from their union. If you're looking for a solid VPN choice for your streaming or privacy needs then you could do a lot worse than ZenMate VPN.
FAQs (Frequently Asked Questions)
Is ZenMate VPN trustworthy?
Yes. After merging with CyberGhost VPN, ZenMate now has the benefit of partnering with a company that has a good track record, millions of users, and usually ranks as one of the top VPNs on the market. The company's jurisdiction is in Romania, an EU member state. It has an extensive server network and uses industry-standard security and encryption protocols.
Is ZenMate easy to use?
 ZenMate is aimed at non-technical users who want an easy way to protect their privacy. To set up ZenMate, all it takes is one click. Download the app for the device you use, run the installer when your download is ready, and then click the ZenMate logo to connect.
What is ZenMate's refund policy?

ZenMate has a 30-day refund policy. From the completion of the purchase of your subscription, you have 30 days to cancel your subscription to be eligible for a refund of the subscription amount. According to ZenMate's website, the refund should be processed within 5 working days. To get the reimbursement, you need to contact ZenMate
Is ZenMate trustworthy?
ZenMate uses military-grade encryption, a Kill Switch to protect your IP address and data from being exposed in case your VPN drops, and a no-logs policy so your IP address and personal identifying info will never be kept by your VPN.
Does ZenMate work on Chrome?
ZenMate VPN is fully compatible with Chrome. With ZenMate VPN for Chrome, you have a VPN solution that allows you to browse the internet without any concerns about restrictions. It provides robust encryption to safeguard all your online activities and keeps your real IP address hidden.
Write Your ZenMate VPN Review