VyprVPN review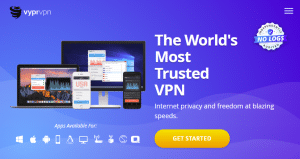 Golden Frog GmBH is based in Switzerland. Allegedly all of their customer data is stored near the Alps and hosted on their own. Is it true? Read VyprVPN review.
Price: 2.5
Price Currency: $
Operating System: Windows
Application Category: Utility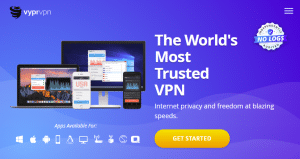 Privacy cowboys are back
There's something I particularly like about the old West.
As a kid, I remember often fooling around on grain fields, pretending to be a cowboy. I wore a toy revolver, a gallon hat, and my father's leather jacket. It was mostly for fun, but also because I thought this is what adults do (credit goes to Clint Eastwood). And after a few hours of daily banging, I got back into my natural habitat – behind a computer.
So, here I am writing to you the review on VyprVPN.
Bang bang! Let's get started!
VyprVPN synopsis
| | |
| --- | --- |
| Ranking: | 37#/52 |
| Parent company: | Golden Frog GMBH/Golden Frog Inc |
| Jurisdiction: | Switzerland/the United States |
| Locations: | 63+ countries/700+ servers |
| Overall test result: | SAFE |
| Torrenting: | PASSED (Torrent allowed) |
| Netflix: | PASSED (Unblocks Netflix 2/3) |
| Encryption/protocols: | AES-256/IKEv2/L2TP/IPsec/PPTP/Chameleon/OpenVPN UDP & TCP |
| Support: | E-mail response ~25h/Live Chat (24/7) |
| Cost: | $2.50/mo |
| Official site: | www.vyprvpn.com |
☒ Third-party trust – company profile
VyprVPN is a VPN service founded in 2009. Its legal entity Golden Frog, Inc. is a cybersecurity group in Texas and Switzerland.
The first question that pops into my mind: In which jurisdiction is it? – Switzerland or the U.S? Because one is part of 5 eyes alliance and the other one is not.
…Sort of.
Golden Frog GmBH is incorporated in Switzerland and therefore has favorable privacy laws. All of their customer data is stored near the Alps and hosted on their own.
But, what did I mean by Switzerland being sort of part of 5 eyes?
Switzerland is a 5 eyes partner and therefore in some cases willing to co-operate with foreign authorities.
And why does Golden Frog have a presence in Texas?
According to their founders Ronald and Carolyn Yokubaiti, it's because Texas is where they got started.
VyprVPN is only one of their brainchildren. The couple in their 70s are Internet veterans who have been in business since 1994. Their ventures include Texas.net (ISP), Giganews (Usenet provider), and Data Foundry (data center and colocation/managed services).
Goldenfrog, Inc. personnel are located in the Austin office and so are some of their servers. Their servers previously used to retain logged data for 30 days including:
customer IP
assigned IP
connection timestamps
bytes used
Yet this has changed.
…What exactly? – Bear with me.
☑ 

Logging policy seems trustworthy
Last year when we performed the first tests, VyprVPN was still one of the data logging VPNs.
According to an independent audit by Leviathan Security Group, Inc. Golden Frog has fixed all high and medium severities discovered. As a result, the user can now be sure that VyprVPN does NOT log your data.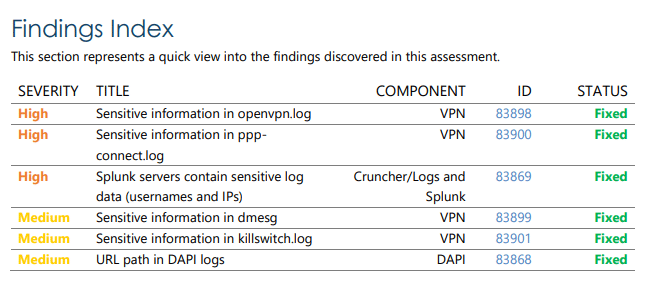 We're glad to hear that. Great job!
And if you are interested in Golden Frogs internal spirit, here's an explainer on the architecture and previous risk diagram: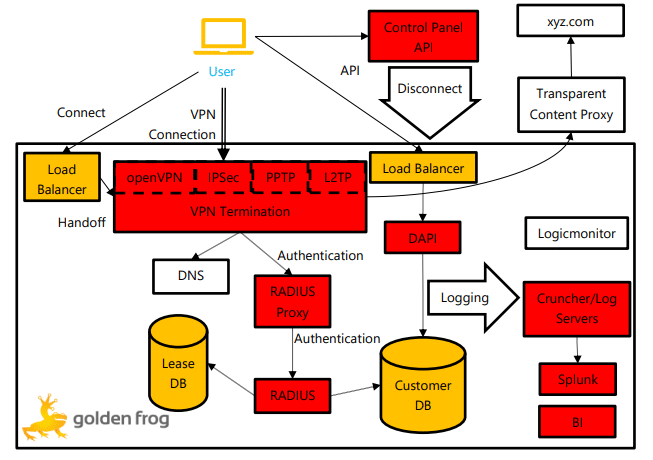 Red indicates a major threat in that the component has full data on the users' activity and can log it. Orange indicates a minor threat in that the component has some user data that could be logged.
Just to be sure the audit is the real deal we did a quick background check on the security firm. This is what we found:
Leviathan Security Group, Inc. is an IT company in Seattle. They have ~28 employees and have been awarded by the US Defence department programs twice:
Creators of an image exploitation detecting system for DARPA (The Defence Advanced Research Project Agency)
Received $143,300.00 for malicious behavior detection tool for high-risk data types (DetChambr)
Looks legit to me. Let's move on.
☑ 

Setup is quick and intuitive
The setup is fairly intuitive. The first thing to do is to check whether your device is compatible with the service.
Thankfully, a wide range of devices are supported including Windows, Mac OS X, Linux, Android, iOS, and Blackphone. In addition to desktop and mobile phones, you can use it on routers and enjoy smart TVs like Apple TV and Android TV.
If it might be a fit for you, let's move on to subscription plans
You have 4 options – Vyprvpn Standard or Premium plan, VyprVPN for Business, and Business Premium Cloud.
Business clients can have their whole team using it and Business Premium adds the additional possibility to use an account through cloud servers. These packages require customized price inquire by e-mail.
For personal use, the pricing of packages is much clearer.
The Standard plan includes 3 simultaneous connections and costs $60 / 2 years. One thing we immediately recognized and dislike is the fact that you cannot pay for the service on monthly basis but have to buy it the whole year upfront… I will come back to that later.
The Premium plan costs $80 / billed yearly and includes 5 simultaneous connections plus extra features like:
+ Chameleon Protocol (for VPN blocking and throttling)
+ VyprVPN Cloud (controllable dedicated cloud server, this one saves you from configuration pain with platforms like AWS, DigitalOcean, and VirtualBox
As mentioned earlier, yearly billing is a huge con because it puts the user at risk. Maybe you end up totally disliking the software? And that's not it. You can't even ask for a refund. (theoretically)
Okay, wait a minute. It's more complicated than that.
You can, but you can't. This is the easiest way to say it. There are two ways it can go: You either have a 3-day trial or a 30-days money-back guarantee.
Apparently, each user sees the page a bit differently. According to their support, it depends on different things, the location is one of those. Here's a screenshot of our conversation:
However, an extremely dislikable part was that the customer support didn't even know how it worked. Even if I asked him if he could figure it out or forward me to a technician, he assured me that it's not going to happen: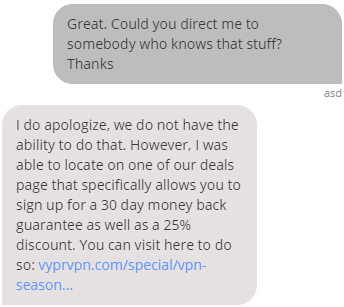 Okay, what about payment?
There are 3 ways to pay, and it doesn't include cryptos. Bummer! Either use a credit card, PayPal, or AliPay. Suit yourself.
Downloading took only a few seconds thanks to the super small file size: only 5.25 MB! Once downloaded, the Virustotal web tool helped us to perform a malware check. And it's looking good:

☑

Great usability
I have seen some ugly user interfaces. The worst one is the VPN Gate by the University of Tsukuba… Complex and unintuitive, I felt like I was thrown into an 18th-century hedge maze. Not a good choice for laymen.
VyprVPN has got it right. Large connection button, simple navigation, and logical structure. Servers are categorized and easy to find. While using it for 5 days, I didn't reckon any connection or software bugs whatsoever. The only complaint would be the tiny settings button under exit. A bit difficult to hit this one on a small screen.
And speaking of servers.
VyprVPN manages 700+ independent servers in 63+ countries. According to their website, users have total access to 200 000 IP addresses. It's not bad considering the market average, which is around ~40 countries.
☑ 

Connection test in China was successful
If you are a frequent traveler like me, you want to make sure VPN has your back everywhere you go.
China has an unusual approach to the Internet. Apparently, they don't enjoy Western cowboy movies as much as I do.
China has blocked a large number of websites like Google, Youtube, Wikipedia, and not only. Even most of the VPNs blocked. Thankfully some VPNs still work and we were eager to find out if Vypr is one of them.
Let's imagine you are already walking on a Great Chinese Wall and discover you have some business to do.  You usually use Gmail and only know the client's e-mail address. Would you be able to access VyprVPN site, download the app, and access Gmail?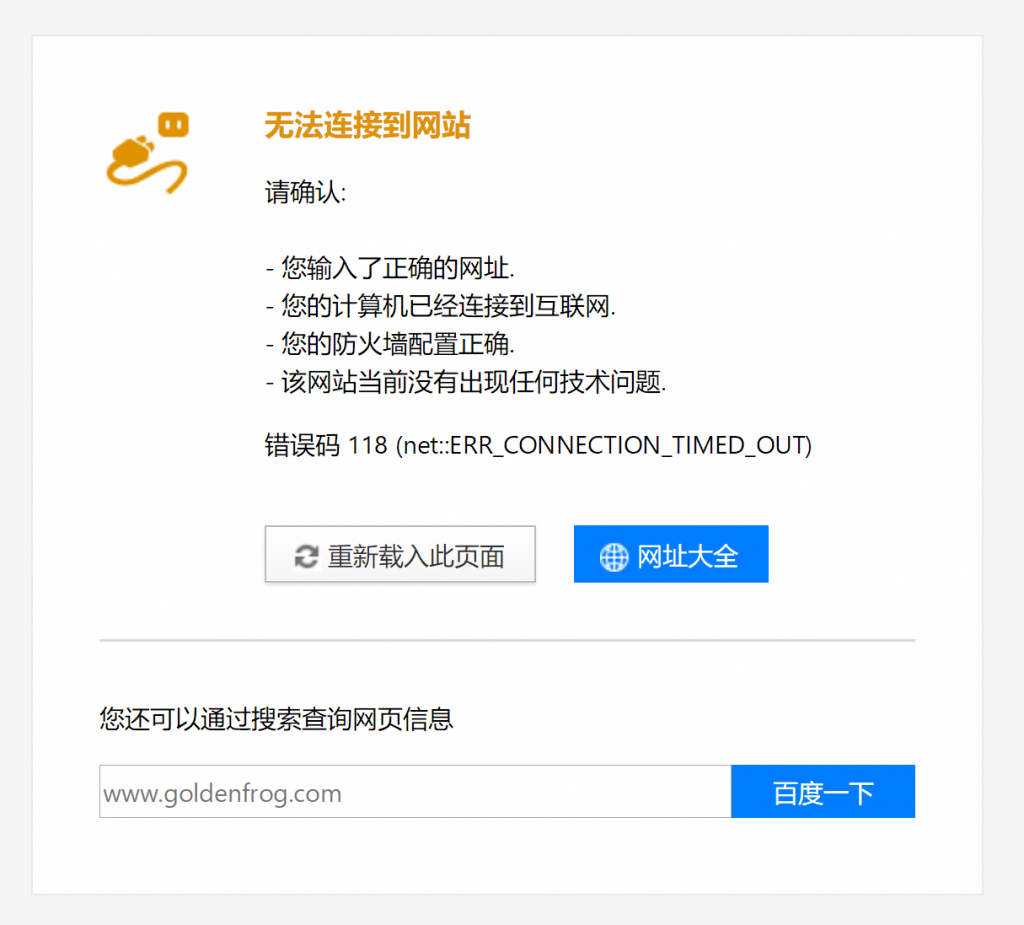 Nope, it's blocked. But if you have the account ready and software in your device before arriving in the country, then I have good news for you…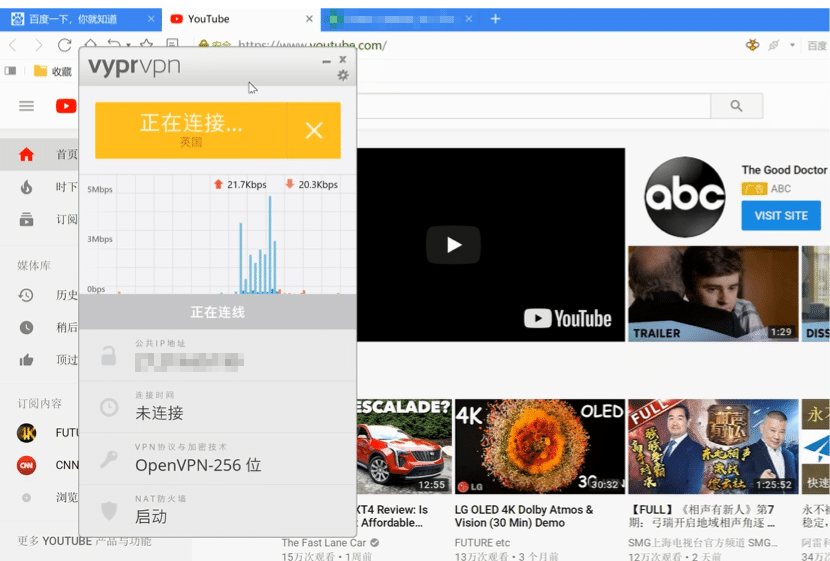 VyprVPN software works in China while using China Unicom ISP. The connection was successful and surprising as only 12 VPNs out of 51 do work.'
☒ Slow server speeds
VyprVPN server speeds rank as 44 out of 51. Although nothing much needs to be added, we'll briefly explain the background.
Each service we review gets tested with 3 servers around the globe – The United States, The United Kingdom, and Asia (Tokyo or Hong Kong). Keep in mind that the server speeds vary due to your geographical location and usable server. Here are the results of VyprVPN:
| | | | |
| --- | --- | --- | --- |
| Country | Ping | Download | Upload |
| U.S | 1161.11% | -85.16% | -60.58% |
| U.K | 461.11% | -83.48% | -29.82% |
| Asia | 1461.11% | -87.78% | -10.53% |
Download speeds are probably the most important for you to consider, as it influences the user experience while streaming videos and loading websites. The results were not good at all. As a comparison, ExpressVPN, one of the key players on the market decreases your download speeds only by -5% to 25%.
☑ 

Streaming Netflix and torrenting
Streaming can be limited by the host. For example, Netflix blocks certain IP addresses and doesn't allow users to watch movies out of their geographical region. Here, VyprVPN comes in handy, because 2 out of 3 randomly tested servers worked fine: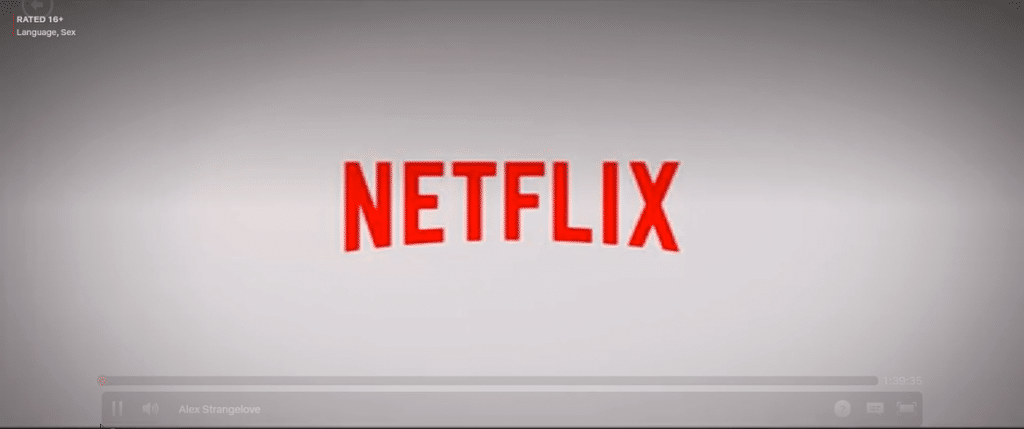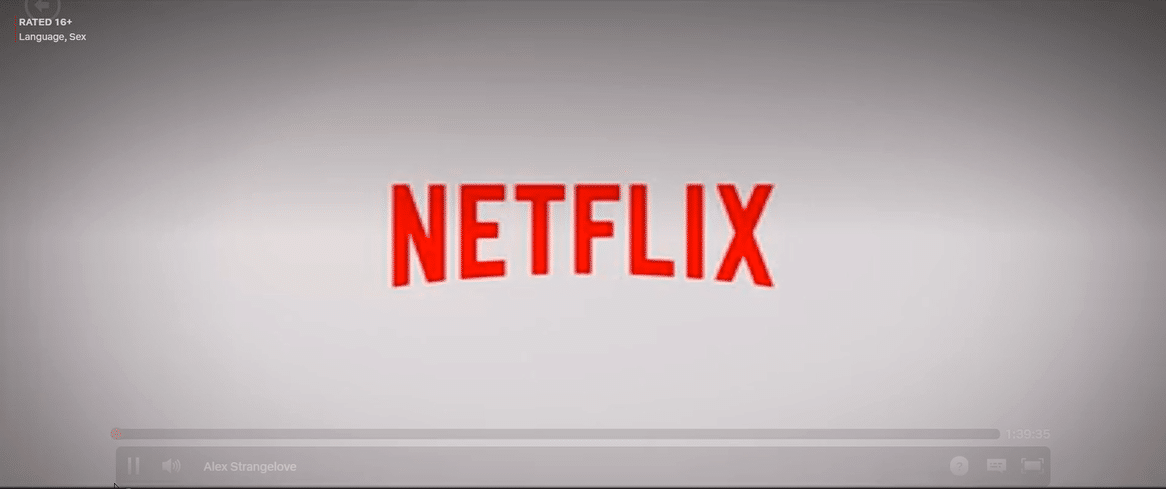 Another great thing about VyprVPN is that according to the provider: torrenting is available. Let's try to download copyright-free Jon Waynes "The Lucky Texan":

Not the greatest speed yet works like promised.
☑ 

Encryption and protocols
Finally, arriving back to the most important part – security. VyprVPN is equipped with military-grade AES 256-bit encryption. AES-256 stands for Advanced Encryption Standard and is used by Defence Agencies for highly sensitive data around the world. Encryption comes with different protocols and varies by speed, safety, and overall performance. Let me illustrate:
Encryption is like a door and protocols are the pins inside the lock. You have to choose between different materials: sliding plank for old barn door (robust yet vulnerable as everybody knows how it works), a metal lock with pins (much more modern yet a locksmith can easily enter) and smart locks (complex, requires high knowledge and skills).
VyprVPN protocols:
PPTP – The only advantage is speed. Not good for safety can be easily blocked.
L2TP/IPsec – Suffers from limited ports. Hackable, but can be ok for casual use.
IKEv2 (Manual setup and iOS only) – Useful if you're constantly switching connections. Stable. Good choice for travelers.
OpenVPN – an Industry standard. Highly recommended due to great speeds and security
Chameleon™ – VyprVPN's own protocol, that uses unmodified OpenVPN 256-bit protocol and scrambles the metadata to prevent DPI, VPN blocking and throttling.
☑ 

No DNS leaks found
During our study in 2018, 22 VPNs out of 51 leaked your DNS. DNS – Domain Name Service is what converts hard-to-remember IP address numbers into a hostname. DNS leak is what happens if the VPN tunnel fails to prevent DNS information from going out of the tunnel. There is one simple method to test it, we are going to use 5 web tools while connected to the service servers. Here's the result: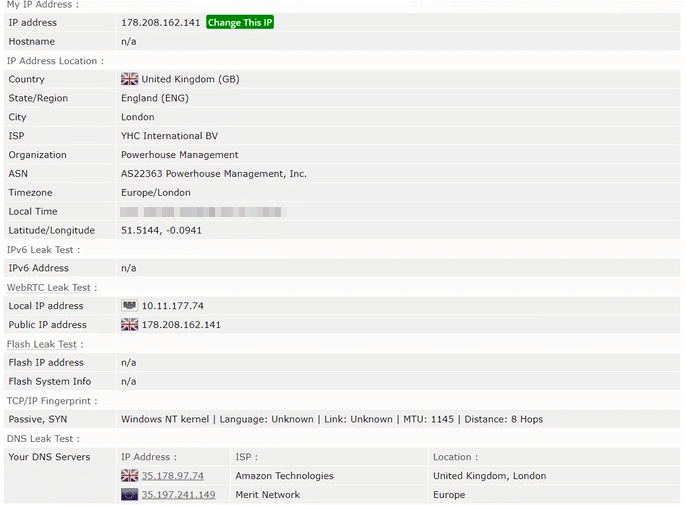 All other engines showed the same results. We can safely say that during our tests, VyprVPN didn't leak any DNS data.
VyprVPN review conclusion
Do we recommend VyprVPN?
Unfortunately, the reality is not black and white as an old movie. If you handle highly sensitive data in the banking industry, run a competitive company or just have blessed with a high level of paranoia, it wouldn't be your best option. This is because Switzerland is not a privacy haven, your payment data is not anonymous. In addition, the server speeds will likely disappoint you.
However, if you are looking for a VPN for regular use like unblocking content, streaming movies, and changing your virtual location to anonymously review your boss, good old Texan has your back.
NB: We would like to hear about your experience with VyprVPN. VPN test it now!
Write your VyprVPN review below