VPN Unlimited Review: Fast, But Not Unlimited for Everything [Pros & Cons]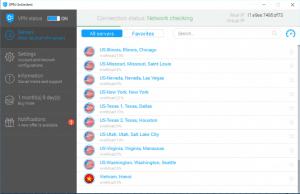 KeepSolid Inc was founded in 2013 by Russians. It is based in NY and houses 120+ workers. No, it doesn't offer unlimited bandwidth. Read VPN Unlimited review.
Price: 2.78
Price Currency: $
Operating System: Windows
Application Category: Utility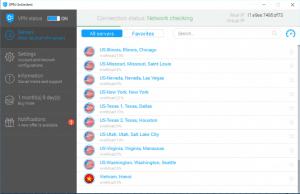 The fastest proxy on the block
KeepSolid Inc, a service founded in 2013 by V. Ivanov and O. Bocharnikov. Their headquarters is located in New York, USA, and with more than 120+ employees, it's a fairly large cookie to digest without a proper review. Hearing Unlimited, you probably wonder, "It's an unlimited bandwidth service"
Correct.
"It's unlimited torrenting?" Yes!
"It's unlimited country servers, right?"
Well…
"It's unlimited device connections per account, right..?"
Hold on. Here's when we hit the wall. VPN Unlimited is limited to 5 simultaneous connections. Ouch.
In this VPN Unlimited review, we will look into the pros and cons – Safety, pricing, support, and more. In the end, we will give our honest opinion of the service and a list of things we like and don't like.
Let's get right into it.
VPN Unlimited synopsis
| | |
| --- | --- |
| VPN rank: | 34#/52 |
| Parent company: | KeepSolid Inc |
| Jurisdiction: | New York, the United States |
| Locations: | 70+ countries/400+ servers |
| Overall test result: | SAFE* |
| Torrenting: | PASSED (Torrent allowed) |
| Netflix: | PASSED (Unblocks Netflix) |
| Encryption/protocols: | AES-256/IKEv2/KeepSolid Wise/OpenVPN UDP & TCP |
| Support: | E-mail response ~10 min/No live chat |
| Cost: | $2.78/mo |
| Official site: | www.vpnunlimitedapp.com |
☑

No-logging policy
Data-logging is the act of collecting users' information. Many VPNs do it yet we don't approve it, logging user data can work against the user, it's a bad practice of free VPNs and even worse for paid services.
Remember the Marriot leak? – Over 500m hotel accounts were leaked with personal data. It may seem like the Marriot was uncareful with the stored data, yet it might not be the case. Even world-class internet brands are vulnerable – Adobe and Yahoo leaks in 2013, one of the most recent one – Facebook. In the verdict, any personal data in the hands of a third-party company is a threat for the user. There are no "unsinkable ships".
Thankfully VPN Unlimited doesn't keep logs. A log-free policy is the second thing to look at when choosing a VPN. Here's a snapshot of their privacy policy page: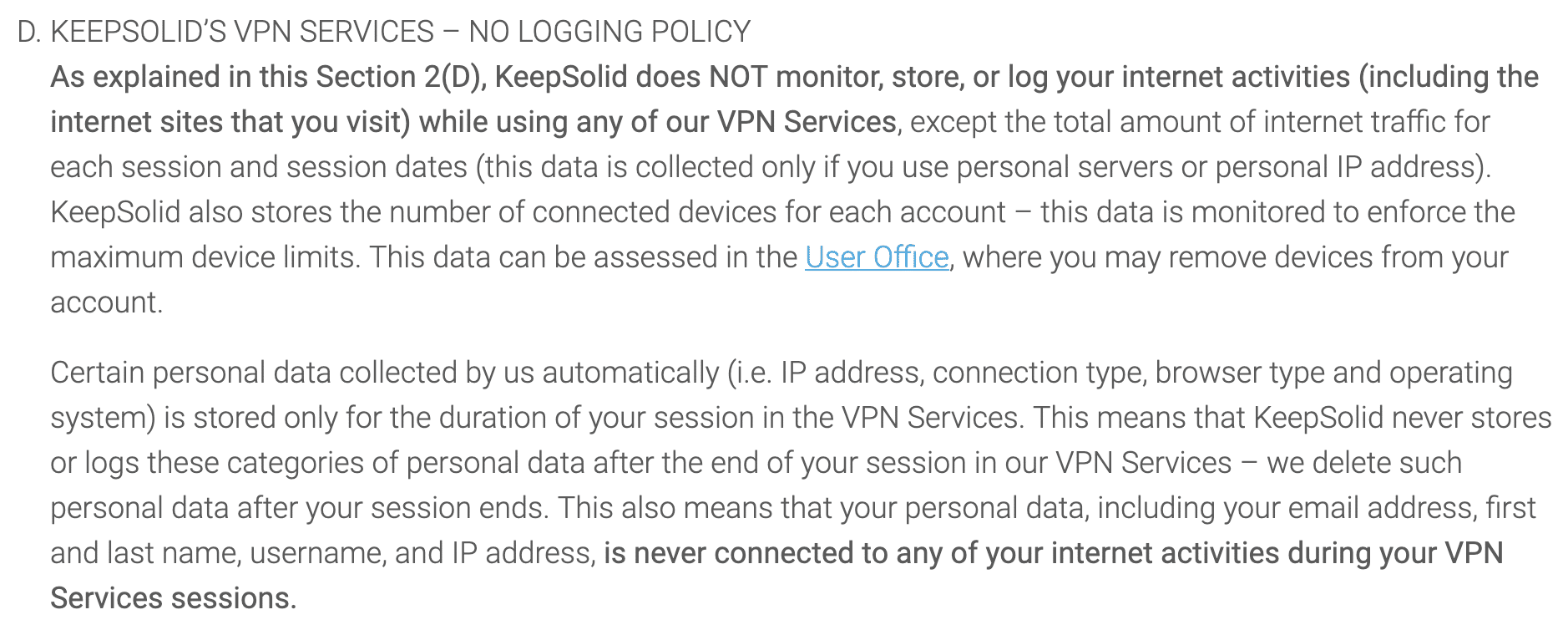 They only log the total amount of internet traffic, session dates and the number of connected devices for each account, which isn't personalized.
☒ Dangerous DNS leaks*
DNS leaks are security flaws that allow the request to be revealed to Internet Service Provider (ISP) DNS servers. These leaks happen when VPN is poorly designed. VPN Unlimited was tested with 5 different VPN leak test tools. These web tools help to analyze whether your IPv4, IPv6, and even WebRTC leak while a stable connection has been established. Both IPv and WebRTC are unique IP address protocols for identification and location definition.
This is what we found – VPN Unlimited leaks your DNS.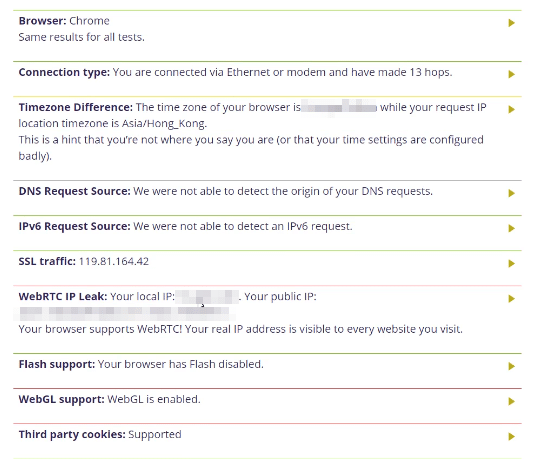 To be 100% certain, we took another test. Yet it failed again.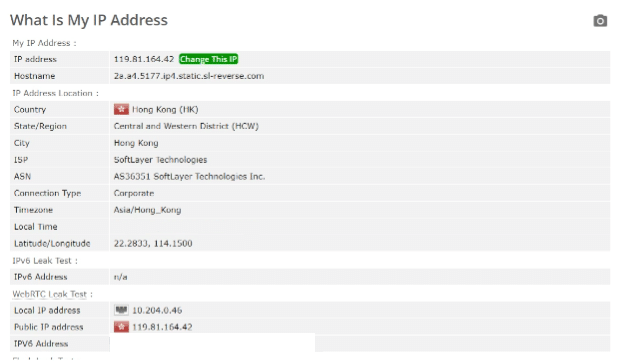 2019 Update* According to KeepSolid, with the new 6.0 Windows version DNS leaks are now fixed. 
☒ Part of 14 eyes jurisdiction
14 Eyes is an agreement for cooperation in signals intelligence between 14 countries. VPN Unlimited headquarters locate in the USA, which is part of "14 eyes" countries, allowing to share personal data about their citizens. During the NSA leaks scandal in 2013, E. Snowden revealed the espionage details, which confirmed the UK-US agreement dating back to the year 1943.
This is not just a privacy concern for citizens, yet a much broader problem – Jurisdictions acting against their own laws. This has a long history dating back to 1996, when The Independent reported about NSA tapping UK phones at the request of MI5, allowing them to bypass their own laws and evade limitations on domestic telephone tapping.
☑

Bulletproof AES-256 encryption
Advanced Encryption Standard (AES), originally known as Rijndael is a subset of a block cipher. Developed by Belgian cryptographers, Joan Daemen, and Vincent Rijmen, AES-256 bit has remained an industry standard for secure cryptographic connections. VPN Unlimited has includes both AES-256 bit and his younger brother AES-128.
Protocols are important as well. Protocols perform a security function and apply cryptography, they describe how algorithms should be used, think of them as military vehicles, which transport your data from one bank to another. VPN Unlimited has OpenVPN, IKEv2, KeepSolid Wise TCP/UDP for main OS platforms. Each of them is different in terms of speed and security. Our Favorite is OpenVPN TCP.
☒ VPN Unlimited abroad*
Your VPN might work in your country, yet not abroad. This can be due to this reason –
the country has restricted VPN use (China, UAE, North Korea, Iraq, Iran, Oman, Russia, Turkey, Uganda, Venezuela, Belarus). Yet some high-population countries like China have regulated the use by allowing only government-licensed VPNs.
As a tourist, you might be in a trap, as nothing really works in the Chinese network, as in the US, Google, Youtube, and more services are not reachable. As China didn't release any public list, we decided to do a test ourselves. Let's see If VPN Unlimited works in China, first let's try to access their website.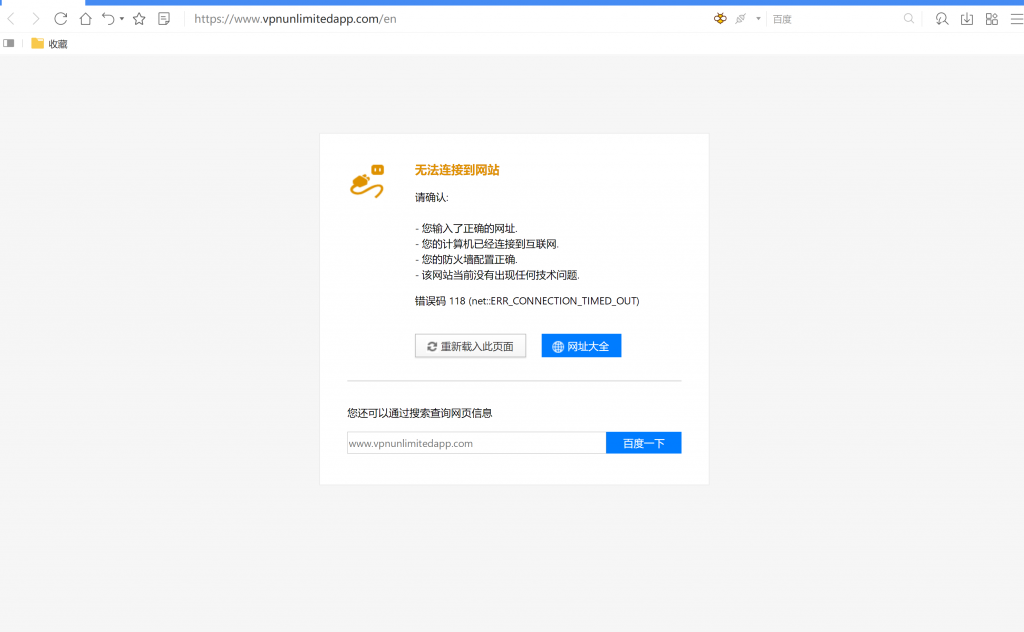 No luck. Unfortunately trying to access VPN Unlimited inside China (using CHINA UNICOM China169 Backbone ISP) didn't work as well.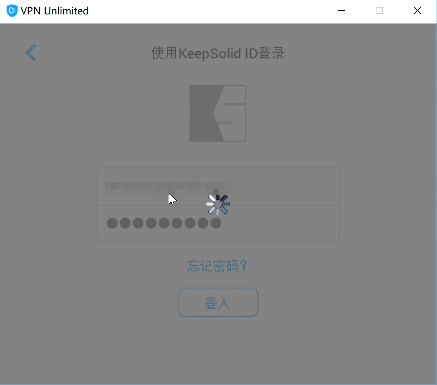 2019 Update* According to KeepSolid, the VPN should now work in China.
☑

Fast server speeds across the globe
Server speed is the rate of change of an object position. In terms of internet speed, it's the change of the data position. Measuring speed can be tricky, as people across the globe have different local internet speed and the difference in destination servers. Yet as we have measured more than 50 VPNs, the results are comparable and we can give you reliable results that place the service into 3 boxes – Fast, Average, or slow.
VPN Unlimited got really good results. After speed tests, while being connected to the service local, US, UK, and Asia servers, this VPN proved to rank as high 2nd place. This is the strongest feature we found on this service.
If you want to have a wide range of connection countries, it's a good choice as well. VPN Unlimited offers 400+ servers racked inside 70 countries.
☑

Super-quick customer service
Customer service is to assist clients in making correct use of a product. Support quality can be measured by a comprehensive and easy-to-use FAQ page, communication tools used by the host, response time, and representative's communication abilities.
VPN Unlimited has a decent FAQ page with more than 65+ pre-answered questions. The questions have been categorized and written in plain English. If you don't speak English, it will be more difficult for you to get an answer.
VPN Unlimited provides support by e-mail or live chat. To measure their response time, we sent over a few simple questions through both channels. By e-mail, we got a reply quite quickly – Total time: 10 min. The live chat was even more responsive. In our case, we got a quick and complete answer within a minute.
☑

Cheap price tag
Price is the quantity of payment requested for a service. The price is influenced by the resources needed for the maintenance, market demand, competition, and greediness. Usually VPNs price ranges from $2 to $10 per month and variate by subscription time.
VPN Unlimited offers 4-types of subscription plans – Monthly, yearly, 3 years, and lifetime. Monthly price is $9.99/mo, yearly $5 (-50%), 3 years $2.78 (-75%) and lifetime is $199.99. All of these are relatively cheap excluding monthly packages. For $9.99, you can find a long-list of better performing VPN services from the ranking page.
However, if you still decide in the favor of VPN Unlimited, here's what payment methods they accept:
PayPal
Amazon Payments – MasterCard, Visa, American Express, JCV, Diners Club, and Discover
AppStore
If they disappoint your expectations, you can always use their 7-day money-back guarantee to ask for a refund.
☑

Usability and software features
Usability is the ease of use of a tool. This can be measured by effectiveness, customer satisfaction, efficiency, and intuitiveness for a specific customer group. For a VPN, there are 3-steps we keep account of – Setup time, User Interface simplicity, reliability (bugs, errors).
Setup was like buying a new laptop off the shelf and driving it home near 5-min distance. The process is easy even for a beginner if you know what you are buying.
VPN Unlimited comes in 4 different shapes – for desktop, phone/tablet, SmartTV, router, and browser extension.
Desktop – Mac, Windows, and Linux
Phone/tablets – iOS, Android, and Windows Phone
SmartTV – Apple TV
Browser extensions – Chrome, Firefox, and Opera standalone
Routers – AC56U DD-WRT, R7000 Tomato, and more.
☑

No suspicious Android permissions
App permissions are the terms of agreement of an application. When downloading an app from Google Play, Appstore you will notice your phone asking if you confirm the permissions along with the software. Just like with terms of service, not many pay too much intention to their importance, yet it's like signing a contract.
"The purpose of a permission is to protect the privacy of an Android user." – Android Developer Documentation
There are 2 categories of permissions – Dangerous and normal. Dangerous permissions can evade the users' privacy, like asking for a location, accessing contact details, or use of a microphone. The collected data can either work for the use of the user or in the worst case, leak the users' personal information to unknown destinations.
VPN Unlimited App permissions: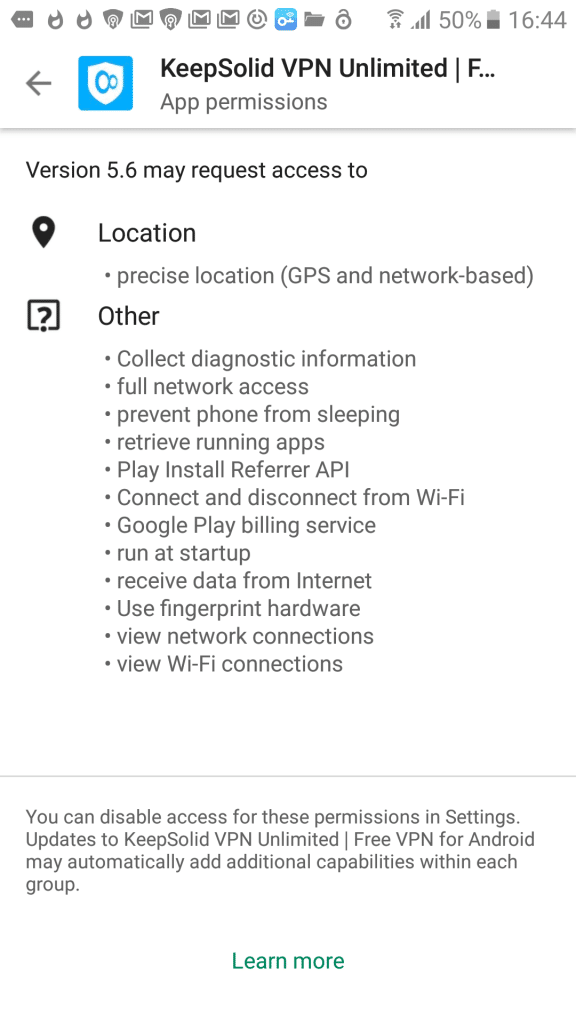 ACCESS_FINE_LOCATION – Your location
ACCESS_NETWORK_STATE – The network you use
ACCESS_WIFI_STATE – The Wi-Fi you use
CHANGE_WIFI_STATE – Change the Wi-Fi state
FOREGROUND_SERVICE – Allows the app to use Service.startForeground.
GET_TASKS – NO LONGER ENFORCED
RECEIVE_BOOT_COMPLETED – Allows receiving the Intent
ACTION_BOOT_COMPLETED, it's broadcast after the system finishes booting
USE_BIOMETRIC – Allows the use of device supported biometric modalities
USE_CREDENTIALS – Allows the use of AccountManager
USE_FINGERPRINT – NO LONGER ENFORCED (Same as USE_BIOMETRIC)
WAKE_LOCK – Allows the use of PowerManager. Keeps processor from sleeping or screen dim
BILLING – Allows to bill the user. Needed for In-App purchases.
RECEIVE – Receive data from the Internet, running apps
BIND_GET_INSTALL_REFERRER_SERVICE – Gives developers information on how the user arrived to the app before installing
WRITE_USE_APP_FEATURE_SURVEY – Lets SDK to be recognized (for developers)
All of these permissions are categorized as normal. The only exception is ACCESS_FINE_LOCATION, which lets the service access your location. Yet for a VPN, it's inevitable.
☑

Netflix works in the U.S
Netflix is an American media company with over 139 paid users. After being subscribed to Netflix you only see country-specified content, depending on your location. To gain access to all movies, you would have to change your IP address, which may sound rude, yet perfectly legal. Netflix is intentionally blocking VPN IPs for this purpose, but not all of them. The goal of this test is to see if VPN Unlimited works with Netflix.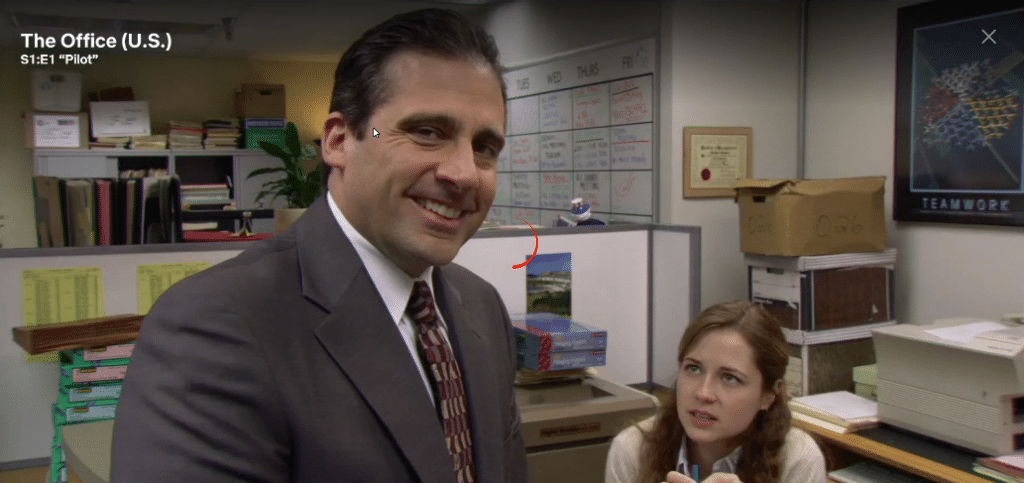 We bought a Netflix subscription and turned on the VPN. After a refresh and click on a random TV series, we managed to access Netflix. The test was successful.
☑

Great option for fast torrenting
Torrenting, originating from the word "Torrent", is a p2p technology that allows users to change files between two or more devices. Torrenting has a bad rep due to copyright issues, yet it's a case of misuse. Torrenting is discouraged or not available with some VPNs, even if claiming otherwise. To find out if VPN Unlimited works, we ran a quick test. The result – It works.
Full verdict – pros and cons
Pros and Cons are advantages and disadvantages, which we consider carefully. After reviewing more than 50 VPN services, it's quite easy to compare them and recognize service competitiveness.
The first thing we realized during VPN unlimited review was to recommend to the development team is to upgrade the features – Unlimited everything, it would make sense, name-wise. Not a big deal though.
The main concern is the lack of double-hop, an essential feature of a modern VPN, and their location in 14 eyes jurisdiction. However, the good part is their responsive customer service and of course the incredibly fast server speeds. VPN Unlimited ranks as 2nd fastest VPN on our list.
Tell us about your trial with VPN Unlimited.
Write your VPN Unlimited review