YES – It's safe but be cautious!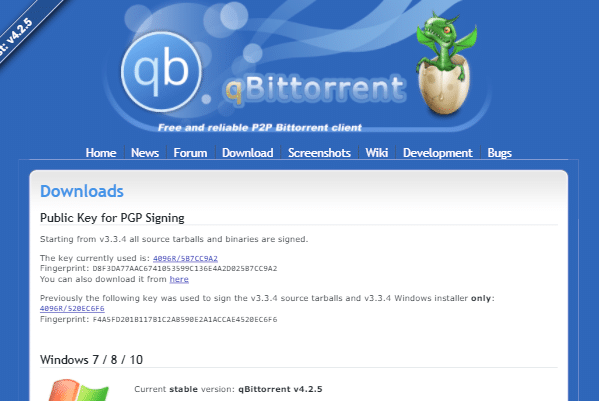 Since its release, qBittorrent has received numerous feedback and positive reviews as being reliable and very lightweight software. In addition, it is free, open-source, and packs most of the features found on BitTorrent. One of its most standout features is the ability to configure and attach qBittorrent to any VPN interface. This is important, especially to users who are worried about exposing their IP address over the internet while torrenting.
Features of qBittorrent
Despite its lightweight nature, it continues to boast several noteworthy features. Some of the most outstanding ones include:
Can be used as a torrent sites search engine

Supports RSS feed and has advanced download filters

Supports remote control

Includes bandwidth scheduler

IP Filtering and also IPv6 compliant

UPnP / NAT-PMP port forwarding support

Supports macOS, Windows, Linux, FreeBSD, and OS/2 clients
Even though qBittorrent does not support all the features found on other heavyweight torrenting platforms, such as Vuze, it comes loaded with most of the tools that any torrent user may ever need.
Once an user is familiar with these features, the other pending questions that come to mind are:
is qBittorrent safe?
Is qBittorrent safe to use?
Is there any evidence of qBittorrent malware?
What are qBittorrent encryption protocols?
This article will provide answers to these key concerns.
Is qBittorrent safe to use?
The fact that qBittorrent utilizes a peer-to-peer file-sharing protocol based on the blockchain concept makes qBittorrent safe to use, and there is nothing illegal about it. The answer to this question is simple and straightforward – YES! qBittorrent is safe and legal to use.
As a user, you are free to use qBittorrent for both your torrenting purposes of creating P2P communications.
However…
The only concern that you should have when using qBittorrent is that different states and countries use different sets of laws and regulations towards torrenting when it comes to sharing and distributing files over the internet. Therefore, you should always be aware of a specific country's guidelines when torrenting.
So, is qBittorrent safe? – YES.
Is it legal? – Torrenting is legal yet sharing/downloading copyrighted files is illegal.
qBittorrent encryption –

NONE
As mentioned in previous posts, torrents or clients, such as qBittorrent, are open and unencrypted. This leaves them vulnerable for anyone to snoop and access your IP address. As such, when using qBittorrent, it is advisable to utilize a VPN. What is a VPN? – VPN can assist you to bypass ISP throttling on any P2P traffic. It is advisable to take all the precautionary measures necessary when using qBittorrent to torrent.
Depending on the country that you are in, you can face legal action, and the severity of the punishment varies from country to country.
qBittorrent malware
qBittorrent and all BitTorrent software utilize Peer-to-Peer (P2P) applications. Because of the infrastructure they can connect to numerous servers and a different IP address. This is how you can access and download different files from torrenting sites. There is a chance that qBittorrent may unknowingly connect to a server that is known for hosting malicious content, including malware.
It is difficult for qBittorrent to have firsthand information on which servers contain malware since servers or IP addresses are often shared by numerous sites. Hence, while torrenting or downloading through qBittorrent may be perfectly safe, some of the sites that are actively being hosted with different IP addresses that qBittorrent connects to may contain malicious software. However, such connections do not pose a major threat to your web browsers and other critical web-facing programs.
Back to our pertinent question, is qbittorrent safe? Just like any other torrent client, qBittorrent does not come with pre-configured privacy settings. By default, when you Start using qBittorrent, most of the privacy settings are usually disabled. qBittorrent does this as it is one of the strategies that is used to increase peer and tracker availability when torrenting.
It is important to note that all BitTorrent clients contain similar privacy flaws since they utilize the peer-to-peer protocol that has been shown to leak identity information, such as your IP address, to both peers and trackers. Additionally, in the absence of encryption, your internet service provider is also able to access, read your traffic directly, and monitor all your downloads.
If hiding your IP address and preventing IP address from leaking online is important to you, then there are few steps that you can take to increase the security level of qBittorrent. To accomplish this the first step is using a VPN. Additionally, you can also use SOCKS proxy to conceal all your torrenting activities on qBittorrent.
As a user, when you reroute your traffic through a third-party server, such as a VPN or proxy, your peers will only be able to view the IP address of the VPN, but your original IP address will be concealed. This provides extra security when using qBittorrent, as the VPN completely safeguards your identity. Additionally, VPNs also allows you to escape ISP bandwidth throttling and change your location.
Encrypting your traffic is also another way to hide your IP address when using qBittorrent. Once your IP address is covered in layers of strong encryption it can easily prevent your internet service provider (ISP) from accessing and viewing your torrenting activities or downloads.
Final thoughts
Is qBittorrent safe?
Most of the time, YES!
Although torrenting using different clients is generally safe, there are still a few security and privacy issues attached to it. Therefore, as a precaution, it is important to always be vigilant, do some research, and make sure you use only certified security tools to ensure that you're always safe each time you use any torrenting sites.
Read also: Is 123Movies safe?