Y

ES – It's safe but be cautious!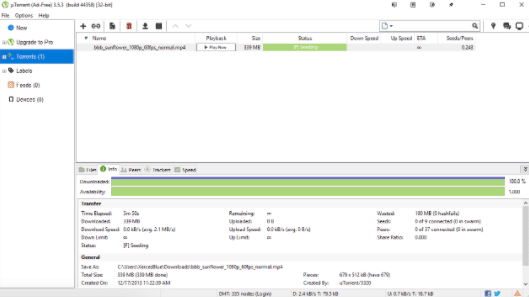 uTorrent is among the most popular software used to download files on the web. uTorrent is being used by more than 1+ million active daily users and therefore raises questions on how safe it really is. The basis of this article is to answer several questions:
What is uTorrent?

Is uTorrent Safe?

What are some of uTorrent risks?

Does uTorrent have malware?

Does uTorrent still work?
Digital security is vital for digital users, especially when it comes to software such as uTorrent. 
Our conclusion? Read below.
What is uTorrent?
uTorrent is a free software which is a free BitTorrent client released in 2005 with over 100 million users. It offers distinctive services and capabilities of other BitTorrent clients that use a few resources supported by advertisements and close-source. uTorrent enables a peer to peer file sharing protocol via the internet to distribute large amounts of data. Moreover, it allows the users to receive a large amount of data without strains on their gadgets, hence standard internet hosting.
Since the first release, BitTorrent has released different versions over the period and rebranded over the course. With new codes, uTorrent has offered different functionality comparable to the BitTorrent clients like BitComet, among others in the market.
Is uTorrent Safe?
Due to its capabilities and usability in the market, uTorrent is one of today's most popular software, used by many across the globe. In short, YES – uTorrent is safe to use, irrespective of the complication while using it you might need to add extra security layers to ensure you don't leak your personal data. According to several researchers, uTorrent platform itself is free from dangerous malware that might affect the computer's normal functions and data loss. The complication arises from the malicious or infected torrent files downloaded from the web, also platform vulnerabilities such as the incident on remote code vulnerability back in 2018 discovered by Google Project Zero researchers.
Yet, in most cases, it is upon the client or the user to protect themselves from downloading unsafe files that might contain trojans, malware, and rootkits. Torrent clients nor torrent sites cannot protect an individual from downloading unsafe files from the web.
uTorrent risks
There are various risks involved while using uTorrent on the internet despite being fairly secure software in the market. There have been some incidences in the past, such as in 2015, where it was reported that uTorrent was bundling bitcoin mining software, which would automatically install along with uTorrent. Besides, it was secretly used as host machines to mine for bitcoin without the users' knowledge on the web, essentially working as a botnet.
Various torrent clients have shown some rate of risks involved when it comes to adware and ransomware when downloading even from trustworthy sources. However, in numerous cases there have been ransomware infection in the firm's server instead, where hackers would exploit and hold users' hostage by encrypting their gadgets and demanding payment.
Does uTorrent have malware?
uTorrent malware is just another aspect criticized by the public. Digital privacy and safety are essential for the users in the market where new technology is emerging with innovations and inventions that might be used to harm users. 
There are various ways of how malware may be used while using uTorrent. For example, through the use of ads from the uTorrent, through monitoring and tracking an individual proxy server to target a particular client or organization, other threats to the client's experience. Therefore, users need to use a Virtual Private Network (VPN) to enable the anonymous use of uTorrent to hinder monitoring and tracing through the torrent IP address. The VPN enhances strong encryption where it changes the IP address and routes traffic for the device used and its client compatibility.
The question if uTorrent safe or unsafe is depended on numerous elements of the software. uTorrent has released new versions and retreats some of the versions that have been claimed to have malware, Trojan, or rootkits. These have been substantiated from past experiences by the Google Chrome browser that flagged uTorrent software as malware and also infected transmission of ransomware in 2016. Google Chrome browser came up with a virus scanner to ensure their users are protected from these threats. Over the period, the uTorrent firm has ensured clients and users that it has developed an improved version that will enhance users' privacy and safety. These features include the addition of a VPN, removing ads from the software, and using proxy settings to customize the software tool depending on an individual's needs. Some of these clients that support fully proxy usage include Deluge, qBittorent, Vuze, and uTorrent.
Does uTorrent still work?
The answer to this is very simple and straightforward, yes! uTorrent still works.  
Coming back to the original question, is uTorrent safe or not?
uTorrent is safe and still retains the position of being the client's best choice in the market, with over 100 million users worldwide. uTorrent is safe and even provides an adware free and ad-free torrent experience to the users. However, it is fundamentally important to note some risks involved while using uTorrent in the digital space. These include what a person or organization downloads from the web; some files are tricky, especially .exe and .BAT files, which oftentimes contain viruses, spyware, and keyloggers. An individual needs to be aware of what files they are downloading from the web to avoid threats such as malware, Trojans, and rootkits.
YES – uTorrent is a safe software from BitTorrent Inc. that enables a peer to peer file sharing protocol via the internet, which is used to distribute a large amount of data. Just be mindful to use a VPN service as an extra layer of security.