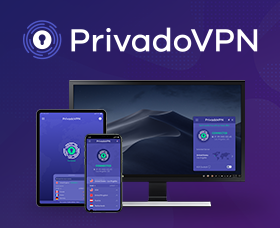 Can you trust this free-to-use VPN?
PrivadoVPN is an emerging, zero-logs VPN service that combines some of the best features of its premium competitors into a straightforward package. Best of all, it has a free VPN plan that refreshes every month.
Pros & Cons
Pros
Offers a free plan
10 simultaneous connections
Control Tower (Ad blocker, malware protection, and parental controls)
Smart DNS feature
Registered in Switzerland
Cons
Limited range of server countries
No dedicated IP option
PrivadoVPN Overview
Countries:

47

Servers & Locations:

64 cities throughout 47 countries across

Americas, Europe, Asia Pacific, Africa, and the Middle East

Customer Support:
24/7 via online ticket

Log policy:
No logs
Encryption Protocols:
OpenVPN (UDP and TCP), IKEv2, and WireGuard, with 256-bit AES encryption ciphers

Supported Platforms:
Windows, MacOS, iOS, Android, Linux, Fire TV, Android TV

Routers Supported:
Asus RT-AC66U routers, plus those compatible with DD-WRT or pfSense software.
Simultaneous Connections:

10

Split Tunneling:
Yes, but only on Windows, Android, and Amazon devices currently

Kill Switch:

Yes

P2P File Sharing (Torrenting):

Yes

Country of Registration:
Switzerland
Dedicated IP:
No

Smart DNS:
Yes

Multihop:
No

Price
From free, with paid plans starting at $1.99/month

Free Trial or Money-Back Guarantee?
30-day money-back guarantee

Having officially launched in 2019, PrivadoVPN may not be as established as some of the older VPN services out there. The company claims it's committed to providing everyone with privacy and data security while online, and promises to provide unrestricted speeds, to never sell its users' data, and to keep its service ad-free.
In addition, PrivadoVPN provides high-end features like DNS and IP leak protection, an optional kill switch, and a strict no-logs policy. It also has servers in 47 countries and offers a SOCKS5 proxy for fast and secure downloads.
PrivadoVPN is based in Switzerland, so can operate protected by the world's best privacy laws. While it may have only launched in 2019, its team has more than 20 years of combined experience in building and running secure infrastructure with major internet service providers (ISPs). Though originally built for Windows and Android, PrivadoVPN has grown to include support for macOS, iOS, Fire TV, and Android TV.
Streaming Movies and TV Shows With PrivadoVPN
Users choose to use a VPN to securely access content online. This is particularly useful if you're traveling and want to continue watching your favorite Netflix show or are visiting areas where censored content is restricted.
Using a VPN while using streaming services also protects your account and personal data stored in it (such as your email address and credit card information) from hackers.
PrivadoVPN claims it's the best VPN for Netflix as it has super fast servers that let you watch from anywhere in the world, without buffering.
Compatible Devices and Services
PrivadoVPN works with most of the popular streaming services, including:
PrivadoVPN works on most devices, including:
Windows
Android
macOS
iOS
Linux
Fire TV
Android TV
Apart from Fire TV and Android TV, Privado doesn't have any details about using it on other smart TVs and devices. However, you can install it on your home router so that every connected device (which would include gaming consoles and smart TVs) is protected.
Detailed guides explaining how to set PrivadoVPN up on compatible platforms are available on its website. This also includes information on how to choose the right protocol for your needs.
Buffering
Since its launch, PrivadoVPN has worked hard to optimize its network so it can offer super quick servers. As of 2023, the company reported 35% faster connections, eliminating any buffering. This means you can watch content from streaming providers like Netflix without interruptions.
In addition, by offering a choice of encryption protocols – including the new, faster WireGuard – and a choice of server locations, users should be able to find the fastest combination for their needs automatically.
PrivadoVPN also offers a SOCKS5 proxy as part of its paid plan. A proxy will still mask your IP address to keep your identity private, but it won't encrypt your traffic (making it less secure than a standard VPN) – saving this step should increase your connection speed while continuing to maintain your anonymity.
Bandwidth
PrivadoVPN guarantees to never throttle your speed, and it offers unlimited data on its paid plan. If you're using the free plan, you're restricted to 10GB every 30 days.
Using Privado may also mitigate against bandwidth throttling. This is when some internet service providers (ISPs) slow down activities like streaming to encourage users to upgrade to higher-paid plans. By hiding your activity with VPN encryption, PrivadoVPN ensures its users continue to receive high-speed streaming and download speeds.
Ease of Use
With desktop and mobile apps available for all major platforms, it's a simple one-click download to install PrivadoVPN on your device. From there, it's as easy as clicking "auto-connect", which is a big central button, on the app's clean interface.
Features
PrivadoVPN includes all of the essential features you would expect from a premium VPN service. These include DNS and IP leak protection, secure encryption protocols, a kill switch, smart DNS, and a strict no-log policy.
Its paid plan also offers a SOCKS5 proxy, to provide faster downloads through an anonymous and untraceable IP address, and a cybersecurity package, complete with parental controls.
VPN Protocols
PrivadoVPN allows users to choose between the best VPN protocols on the market: OpenVPN, IKEv2, and WireGuard.
OpenVPN has been the strongest, most secure industry-standard option since the beginning of the millennium, with years of proven reliability. IKEv2 is faster, though its security is slightly less robust. WireGuard is the newest option, having been built to be faster and easier to update – providing a compromise between its two predecessors.
DNS and IP Leak Protection
If a VPN is leaking, some of your data or personal information is not being encrypted, meaning a third party could view it.
PrivadoVPN protects against DNS leaks by routing all DNS queries to a private DNS server, through an encrypted tunnel, so someone can't intercept them. It also provides users with an IP address from one of its global VPN servers the moment they connect to the PrivadoVPN network, to prevent IP leaks.
PrivadoVPN's website offers a leak test, which anyone can use to see if their IP address is visible (and, therefore, whether their VPN is leaking if they're supposed to be connected to one).
Kill Switch
If your VPN connection unexpectedly drops out while you're online, your personal information, IP address, and traffic could become visible to anyone trying to access it.
To prevent this from happening, PrivadoVPN's apps come with a built-in Kill Switch, which will automatically disconnect your device from the internet (and any prying eyes) should you lose your encrypted tunnel, until one can be re-established again (or you disable the Kill Switch).
Split Tunneling
Since VPNs encrypt your data and route it through a secure server before delivering it to its final destination, they can sometimes cause a slight reduction in internet speed. Some sites also block VPNs or need to verify your real location (such as banks).
For sites where you need the fastest speeds possible, or don't want the encryption of a VPN, PrivadoVPN's split tunneling feature allows you to access these sites outside of the VPN tunnel, while keeping the rest of your internet activity protected within it.
Simultaneous Connections
With a premium, paid PrivadoVPN account, you can protect up to 10 devices at any one time. You can also install PrivadoVPN on your router (counting as one device) and any device connected to it will be protected as well.
Auto Connect
PrivadoVPN's apps include an "Auto Connect" feature, which users can turn on or off in the settings menu. When this option is enabled, the app will automatically connect to the best location available, the previously saved location, or a randomly selected available server, depending on which setting you choose.
Unlimited Data
PrivadoVPN's free plan allows users 10GB of data every month (refreshes every 30 days).
Those who opt to pay for one of its premium plans will receive unlimited data, so there's no traffic cap regardless of whether you're streaming content, downloading large files, or playing online games.
Privado Control Tower
Privado Control Tower is included free with all premium plans. It's PrivadoVPN's complete cybersecurity solution to prevent tracking and protect against online threats.
Including an ad blocker, malware, and ransomware blocker, plus more, it also incorporates parental controls that block dangerous sites (such as adult content or online drug sites) and lets users restrict or manage access to social media platforms.
PrivadoVPN's Plans and Pricing
Unlike most other reputable VPN providers, PrivadoVPN can be used for free.
The free version includes many of the paid-for features, such as no logging, no ads, no speed limits, plus access to its private and secure encryption protocols. However, you're limited to only one device, compared to the 10 simultaneous connections on the paid plans, and you can only access 12 server locations. You're also restricted to a 10GB monthly usage limit and don't get access to Privado's Control Tower.
If you need more data, connections, or server locations, you can choose one of PrivadoVPN's paid subscription plans:
1 month – $10.99/month
24 months – $1.99/month, billed now at $47.76 for the first 24 months, then $95.76 every 24 months
12 months – $2.50/month, billed now at $30 for the first 12 months, then $59.88 every 12 months
All three paid plans offer the same features, regardless of which subscription length you choose.

Money-Back Guarantee
There's a 30-day money-back guarantee on both the 12- and 24-month plans. PrivadoVPN says you will need to contact its support team for more information.
Payment Options
PrivadoVPN accepts all major credits, as well as payments through PayPal or cryptocurrency. Buying with cryptocurrency is a completely anonymous way to buy a VPN, particularly useful if you reside in a country where the use of VPNs is banned.
How to Cancel PrivadoVPN
All of PrivadoVPN's subscription plans will renew automatically, so you will need to cancel before then if you want to avoid being charged for another billing cycle.
If you downloaded Privado from an additional partner (like the Apple App Store), you will need to cancel your subscription from within that service. Otherwise, you will need to contact Privado's support team for further information.
PrivadoVPN's Privacy and Security Features
PrivadoVPN has several features to ensure your security and privacy online. These are:
No Logs Policy

PrivadoVPN is insistent that its service never collects or records any personal information about your browsing history or the servers you're connecting to. This is set out in its Privacy Policy, which also makes a point to state your data will never be sold to third parties.
The policy also makes it clear what information PrivadoVPN does collect. This includes:
Account creation information, including your email address and username.
Your payment information is done through third-party payment processors (Privado does not collect or store your credit card number).
If you use Privado's support services, it will keep the information you provide and may use third-party software for reporting purposes.
When using PrivadoVPN's services, it may also collect:
Version(s) of desktop and/or mobile application  you have activated (for troubleshooting and support).
Mobile analytics software (to provide bug fixes).
Mobile identifiers provided by iOS and Android (these don't contain your email address or name, but provide statistics for marketing or channel partners).
Information by cookies, pixels, and other similar technologies is also collected. This is used to see which features are popular and how PrivadoVPN can continue to improve your experience.
It is possible to opt out of some of these options, but it involves installing add-ons or visiting additional advertiser sites.
Encryption
PrivadoVPN utilizes the latest technology for its encryption protocols.
The service uses 256-bit encryption, which is currently the best in the world. It supports OpenVPN (UDP), which is compatible with most networks, and OpenVPN (TCP), which is a little slower but more secure.
PrivadoVPN also offers IKEv2, which is one of the fastest protocols around, and the newest Wireguard protocol, which offers a hybrid balance between speed and security.
Server Technology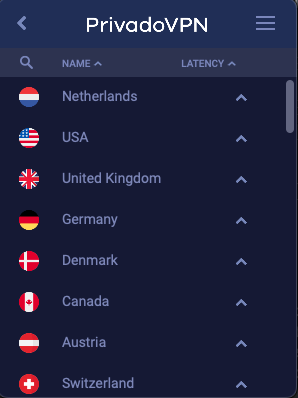 PrivadoVPN uses physical servers that cover 47 countries and 64 cities across North and South America, Europe, Asia Pacific, Africa, and the Middle East. The full list of countries is on PrivadoVPN's website.
While the spread of countries is adequate, PrivadoVPN has far fewer server locations than many other top-tier VPN services, like Surfshark (which covers 100 countries).  That said, PrivadoVPN has servers in some of the most desirable locations, such as the US, UK, Netherlands, Germany, Canada, and Australia.
However, you will need to sort the countries by latency to ensure you establish the fastest connection. Simply choose the server with the most bars and then return to the main page and connect.
Connections are made within seconds, provided you've chosen a server within range. If you haven't, then it will attempt to connect to a server before disconnecting automatically.
Defense Against Malware
Software (for example, a program or file) that can harm your computer is known as malware. You can accidentally download malware to your device by clicking on infected links or files. Hackers can then use it for malicious purposes, such as to steal your data.
Privado Control Tower is a new feature included with PrivadoVPN premium plans that protects against malware and other cyber threats. It prevents users from accessing suspected malware and phishing sites, so you can't unintentionally access pages containing dangerous content.
The feature also comes with family security and parental controls. These settings prevent younger household members from accessing adult content, online drug sites, and pages that trick minors into sharing personal information. The controls also let users limit when and how family members use social media sites.
Technical Details
Here we'll take a look at the technical details of PrivadoVPN. This includes the ease of installation and speed test.
How Easy Is PrivadoVPN to Install?
PrivadoVPN is one of the easiest VPNs to install, thanks to its comprehensive download page on its website. Here it has download links for every desktop app, platform, and device it has an app for, including Windows, macOS, iOS (iPhone and iPad), Android, Linux, AndroidTV, Amazon Fire TV, and routers, plus instructions for all of its SOCKS5 proxy options.
It also provides links to all official platform stores, such as Google Play, Apple App Store, Amazon, and Huawei App Gallery, if you would rather download directly from your device's app store.
Once you've downloaded the app to your device, you simply need to launch it and log in. PrivadoVPN can then automatically connect you to the best VPN server and protocol for your situation and needs.
How Fast Is It?
Since VPNs have to direct your traffic through a secure server in another location, they tend to cause a slight reduction in your internet connection speed. Generally, the closer you are to the server location, the less the decrease in speed is likely to be since your data has less distance to travel.
With servers in only 47 countries, PrivadoVPN doesn't have the network coverage offered by bigger VPN providers, like ExpressVPN and NordVPN. This means there's less likely to be a server relatively close to your actual location. Which probably means you'll experience slower VPN speeds.
When connecting to the closest server, the speed dropped by 32%. That said, we still clocked 34 Mbps, plenty for streaming in HD quality.
Here is the baseline speed without PrivadoVPN connected.
Here was the closest server, which also displayed full bars in regards to latency.

How Many Servers Does PrivadoVPN Have?
PrivadoVPN has servers in 47 countries and 64 cities around the world. Its website allows you to browse where all of its servers are situated, by country and city, or to search for a specific location to see if there's one where you need it.
Locations include (but are not limited to):
Canada (Montreal, Vancouver, and Toronto)
Brazil (Sao Paulo)
Japan (Tokyo)
Switzerland (Zurich)
France (Paris)
United Kingdom (London, and Manchester)
Thailand (Bangkok)
Australia (Sydney)
South Africa (Johannesburg)
Customer Support
PrivadoVPN has two main options for contacting its support team: through either live chat or an email ticket, both via its website. The PrivadoVPN support team is available 24/7, every day of the year.
In addition, PrivadoVPN has a Support section on its website that contains setup guides, tutorials, FAQs, and troubleshooting pages, with a search feature to quickly find what you're looking for.
When we checked, most of these help pages had been updated recently (within the last year), with all the FAQ and troubleshooting guides having been reviewed within the last couple of months.
How does PrivadoVPN stack up to CyberGhost, ExpressVPN, and ProtonVPN?
PrivadoVPN is a relatively new VPN provider compared to most others, particularly ExpressVPN and CyberGhost which were founded over a decade ago. As a result, PrivadoVPN has had the least development time, so some of its features aren't as robust as the more established providers.
This also means PrivadoVPN's growing server network covers the fewest number of countries, spanning just 47 compared to ProtonVPN's 67, CyberGhost's 90+, and ExpressVPN's 94. This could impact the number of geo-restrictions PrivadoVPN users can bypass, depending on the location of the content and blocks. There's the potential for it to cause a reduction in connection speeds due to user congestion at a smaller number of servers.
However, PrivadoVPN is the only service to offer a completely free tier, which includes expected premium features such as a Kill Switch and an ad blocker. Upgrading to its paid plan then provides users with additional features that are also offered by CyberGhost, ExpressVPN, and ProtonVPN, including unlimited data and simultaneous connections – though PrivadoVPN offers the most, with up to 10 devices on one subscription.
If you're looking for further features, ExpressVPN's long-standing reputation and experience bring a few more options. These include private DNS options, Trusted Server technology on its servers, and a built-in speed test. ExpressVPN also includes Threat Manager, to block trackers and malicious third parties, which is similar to PrivadoVPN's recently added new cybersecurity measure, Control Tower.
All four providers use AES-256 encryption and offer industry-standard protocols, including OpenVPN and the newer WireGuard (except for ExpressVPN, which offers its own in-house developed protocol Lightway instead). Each service also offers a 30-day money-back guarantee for their paid plans, so you can try all of them risk-free.
Does It Work in China?
PrivadoVPN doesn't appear to have any servers in China, so it may not be the best option if you need to unblock content or bypass geo-restrictions there.
Methodology
We personally try out each VPN for our reviews. We evaluate speed, security features, ability to unblock streaming services, support for torrenting, customer support, and many other factors. We also look at the VPN company's jurisdiction, history, past security incidents, privacy policy, and audit reports to ensure that you get a complete picture of the service. Learn more about how we test VPNs on our methodology page.
Wrapping Up
PrivadoVPN offers a lot of features, especially considering it's relatively new to the VPN market. With a strict no-logs policy, some of the best security protocols and settings available, plus a SOCKS5 proxy option, it also supports the most popular streaming services and platforms.
It's also one of the few trustworthy VPN providers to offer a free plan – so you can try it without any commitment. And with great customer support from a Switzerland-based company, it seems passionate about providing a safe and useful VPN for everyone.
FAQs
Is PrivadoVPN legit?
Yes, PrivadoVPN is legit. It was created by security experts and programmers who believe in a free and open Internet, with a strict no-logging policy, and uses industry-standard encryption AES-256 with the strongest protocols available, including OpenVPN, IKEv2, and WireGuard, to keep your data safe.
PrivadoVPN is also based in Switzerland, which is outside any of the five/nine/14-Eyes Alliances and has some of the world's best privacy laws.
Does Privado sell your data?
No, PrivadoVPN doesn't sell its users' data. Its privacy policy explicitly states "We will never sell your data to any third parties" and it has a strict no-logs policy which PrivadoVPN doesn't keep any records of its users' data or browsing history to be able to sell it.
The only information it does collect includes the email address and username provided on sign-up, payment information, and any support requests. Full details are available above.
How does PrivadoVPN work?
PrivadoVPN works like any reputable VPN service. A VPN (which stands for Virtual Private Network) is like a digital tunnel that provides a safe and secure route between you and the internet. It scrambles your information and data using an uncrackable code and then routes it through one of its VPN servers, so your online activities, personal data, and location are hidden.
To use PrivadoVPN, you need to create a free or paid-for account and then download one of its apps to your device.
What is the fastest VPN?
The fastest VPN can be subjective, depending on a user's location and online activities (for example, streaming content and playing games are much more data-intensive than general browsing). VPN speeds can be tested by a device using sites such as Speedtest.net.
This measures latency, download speeds, and upload speeds from the device through several servers spread across different locations around the world.
However, there are many variables involved in these kinds of tests—and every provider will perform differently based on server and congestion during the time of use. The main parameter to keep in mind when searching for a VPN is download speed, as this is most commonly used by most consumers.
Is PrivadoVPN a good VPN for torrenting?
Yes, PrivadoVPN is a good VPN for torrenting, providing a safe and anonymous way to use torrents. It supports P2P file sharing on all its servers and is compatible with torrenting apps.
While torrenting has many legitimate uses, it can also be risky, as there's an increased chance of being exposed to malware, hackers, or unwanted third parties, so using a private and secure VPN like PrivadoVPN can help protect users' data and safety.
Latest posts by Georgie Butler
(see all)