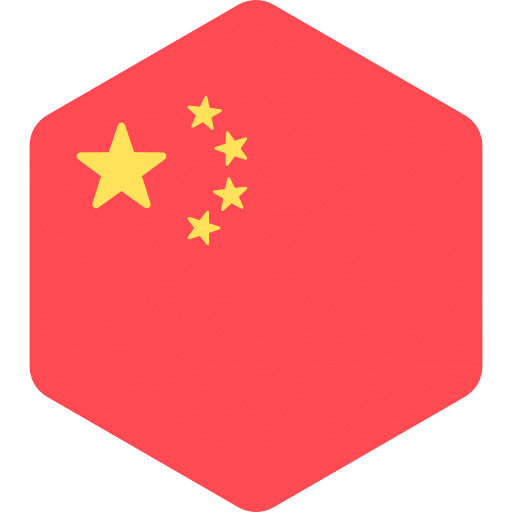 Does it feel like it's impossible to find a working VPN in China?
It's common knowledge that the internet is heavily regulated in China. The communist regime has blocked many popular sites, including Google and Facebook. There are also thousands of other websites that you can't access when you're connected to the internet in the country.
The only solution to reach these sites is with a VPN. The problem is that the Chinese government has banned many virtual private networks (VPNs) along with many of the sites they would unblock. You cannot currently find any VPN apps in the Chinese app store that are not approved by the government.
The government of China is consistently working to block VPNs, but it's not entirely impossible to find a VPN that still works in China. Take a look at our list of the best VPNs in China.
An Overview of China
If you're new to the country or unfamiliar with the data rules in China, here is the information you need to know to ensure you're acting within the laws of the land.
Jurisdiction characteristics
Political culture

Communism

Main IT hub location

Beijing

Data protection registration

Not required

Data protection officers appointment

Not required

Data transfer to 3rd party disclosure 

Consent required

Unlawful disclosure of sensitive information

RMB 1,000,000 Ten times the value of any benefit gained through the misuse of information

Breach notice obligations

Within 24 hours of becoming aware of any data breach

VPN allowance

Only government-approved VPNs allowed

Downloading copyrighted content

Not allowed.
Fines of up to RMB 1,000,000, and
up to 5 years in prison
Step-By-Step Process On Finding The Best China VPN
Subscribed to more than 90+ VPNs
Chose 51 promising services for testing
Tried to access VPN websites through Chinese servers
Ran tests with each service with China Unicom Shandong ISP
Documented every single test with screenshots
VPN in China Key Insights:
80.9%

of VPN websites are not accessible
Only

13.7%

of VPNs are working
Only 12 of 51 Websites Are Accessible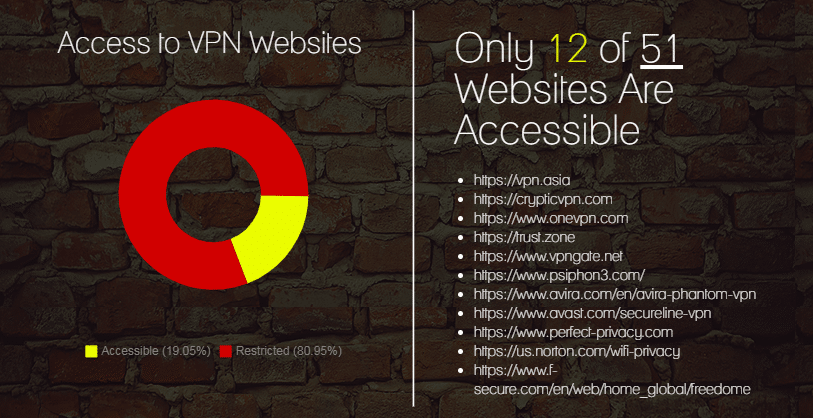 Unblocked websites:
vpn.asia (SS)
crypticvpn.com (SS)
onevpn.com (SS)
trust.zone (SS)
vpngate.net (SS)
psiphon3.com (SS)
avira.com (SS)
avast.com (SS)
perfect-privacy.com (SS)
us.norton.com (SS)
f-secure.com (SS)
SmartVPN (SS).
Blocked websites:
airvpn.org (SS)
astrill.com (SS)
betternet.com (SS)
browsec.com (SS)
buffered.com (SS)
cyberghost.com (SS)
earthvpn (SS)
fastestvpn.com (SS)
flyvpn.com (SS)
ghostpath.com (SS)
goldenfrog.com (SS)
hide.me (SS)
hidemyass.com (SS),
hola.org (SS)
hotspotshield.com (SS)
ibvpn.com (SS)
ipvanish.com (SS)
ivacy.com (SS)
le-vpn.com (SS)
expressvpn.com (SS)
limevpn.com (SS)
nordvpn.com (SS)
overplay.net (SS)
privateinternetaccess.com (SS)
protonvpn.com (SS)
purevpn.com (SS)
seed4.me (SS)
shadeyouvpn.com (SS)
steganos.com (SS)
strongvpn.com (SS)
sumrando.com (SS)
zenmate.com (SS)
tigervpn.com (SS)
torguard.com (SS)
windscribe.com (SS)
vpnsecure.me (SS)
vpn.ht (SS)
vpninja.net (SS)
vpnunlimitedapp.com (SS)
7 of 51 VPN Services Work in China

Unblocked VPNs:

(Click to see the screenshot)
ExpressVPN
Astrill
Strong VPN
VyprVPN
Le VPN
HotSpotShield
Seed4.me
Blocked VPNs:
AirVPN
Avast SecureLine
Avira Phantom
Betternet
Browsec
Buffered
CrypticVPN
CyberGhost
EarthVPN
FastestVPN
FlyVPN
Freedome
Ghostpath
Hide.me
HideMyAss
Hola
ibVPN
IPVanish
Ivacy
LimeVPN
NordVPN
Norton WiFi Privacy
OneVPN
Overplay
Perfect-Privacy
PIA
ProtonVPN
Psiphon
Pure
ShadeYou
SmartVPN
Steganos
SumRando
ZenMate
TigerVPN
TorGuard
Trust.Zone
WindScribe
VPN Gate
VPN Unlimited
VPN.asia
VPN.ht
VPNinja
VPNSecure.
Quick Guide to Choosing a VPN For China
What to look for:
Fortified security measures. A dependable VPN for China should offer top-notch encryption, a kill switch, and leak protection to ensure your data remains secure.
Sidestep China's stringent internet controls by opting for a VPN equipped with obfuscated servers. These servers disguise your VPN traffic, granting access to blocked content.
What to avoid:
Beware of unreliable VPN services that can land you in trouble. Relying on a subpar VPN might give you a false sense of security, putting your online activities at risk.
Considering most VPNs are banned in the country, it should be simple to determine the best VPN for China. Here are the VPN services that we know currently work while you're in the country.
1. ExpressVPN

Rank: 1 | Servers: 3,000+ | Speed: Download: 87 Mbps | Countries: 90+ | Encryption Type:AES-256/PPTP/SSTP/L2TP/IKEv2/IPsec/OpenVPN UDP & TCP| Max devices:5 simultaneous, but unlimited installations | 24/7 support: ✅| Free trial:✅ | Money-back guarantee: ✅ | Apps & Devices: Win~Mac~Android~iOS~Router~LGTV~Samsung TV~Amazon Sticks~Xbox | Jurisdiction: |British Virgin Islands (BVI)
There's a lot to like about ExpressVPN, especially if you're in China. It has over 2000 servers in 94 countries. It also doesn't keep any traffic logs, thanks to it being based in the British Virgin Islands, where there are no data retention laws.
The Express VPN app can be downloaded to macOS, Windows, iOS and Android devices, Linux, and even some routers. You're able to access restricted content outside of China and stream services like Netflix US, UK, and Japan, BBC iPlayer and Hulu as well as Apple TV and Android TV. It can also help you access social media sites that would otherwise be blocked, as well as Gmail and WhatsApp, YouTube and Wikipedia. ExpressVPN offers customer support through live chat, email, troubleshooting guides on the website and a web form (email).
Our Deal: Get an extra three months free with a 12-month subscription
Best & Worst:
Best feature – Reliably accesses Chinese content, and can bypass Chinese restrictions.
Worst feature – Not always as fast within China as it is outside the country.
Read our full ExpressVPN review.
2. AstrillVPN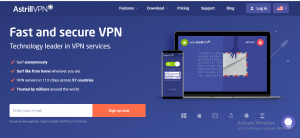 Rank: 2 | Servers: 100+ | Speed: Download: 77 Mbps | Countries: 57 | Encryption Type:AES-256/PPTP/SSTP/L2TP/IKEv2/IPsec/OpenVPN UDP & TCP/StealthVPN/OpenWeb| Max devices:5 | 24/7 support: ✅| Free trial:✅ | Money-back guarantee: ❌| Apps & Devices: Win~Mac~Android~iOS~Router~LGTV~Samsung TV~Amazon Sticks~Xbox | Jurisdiction: Seychelles
Is AstrillVPN expensive but worth it? Well, Astrill offers several distinct features, including StealthVPN and Smart Mode, that are designed to circumvent the Great Firewall of China. By utilizing obfuscation technology, StealthVPN disguises VPN traffic as regular internet traffic, making it challenging for China to block VPN connections. The connection is scrambled over either UDP or TCP using the OpenVPN protocol. It's worth noting, however, that StealthVPN is not accessible on iOS devices.
Another feature offered by AstrillVPN is Smart Mode, which is a proprietary technology that enhances anonymity in China. Smart Mode mimics DNS and HTTPS traffic using a Chinese IP address. This enables you to unblock international websites while still using a local IP address.
Not only will it overcome the Great Firewall, but it also unblocks Netflix and provides peer-to-peer support for torrents while maintaining fast connection speeds. There's an ad blocker, kill switch, and leak protection. These features make the price of this VPN software more understandable.
Best & Worst:
Best feature – Many servers in Asia.
Worst feature – Fairly expensive.
Read our full Astrill VPN review.
3. Surfshark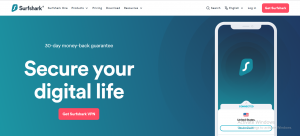 Rank: 3 | Servers: 3,200 | Speed: 80.08 Mbps | Countries: 100 | Encryption Type: AES-256 GCM, OpenVPN, IKEv2 | Max devices: Unlimited | 24/7 support: ✅| Free trial: ❌| Money-back guarantee: ✅ | Apps & Devices: Win~Mac~Android~iOS~Router~LGTV~Samsung TV~Amazon Sticks~Xbox~ PlayStation | Jurisdiction: Netherlands |
Surfshark has good functionality in China, although at times the connection may be inconsistent. This is not unique to Surfshark and is a common issue faced by all VPN providers, despite their claims to the contrary. Nonetheless, Surfshark is constantly working to identify and address any connectivity problems. One method used to ensure reliable protection is the implementation of NoBorders mode, which is automatically activated when the app detects that you are using Surfshark in a geo-restricted area like China. This mode provides a list of servers that are optimized to work well with network restrictions. Additionally, Surfshark has other features that help to protect users in China such as Camouflage mode, No-logs policy, and RAM-only servers. The latter ensures that all servers operate on volatile (RAM) memory, which means that any data stored on the hard disk is immediately erased when a server is shut down. As a result, no one can access data physically from the servers.
Surfshark can unblock Netflix US, UK, as well as Disney+ and Hulu. It can also help you access social media, WhatsApp, Gmail, YouTube, and Wikipedia.
Our Deal
: Save 82% and get 2 months FREE with the 24-month subscription
Best & Worst:
Best feature – A powerful VPN with obfuscated servers.
Worst feature – An inconsistent connection in China.
4. StrongVPN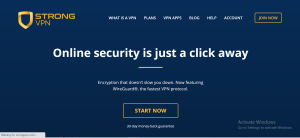 Rank: 4 | Servers: 950+ | Speed: 74.6 Mbps | Countries: 30+ | Encryption Type: L2TP/IPsec, OpenVPN (TCP), OpenVPN (UDP), PPTP, IPsec, and IKEv2 | Max devices: 12 | 24/7 support: ✅| Free trial:✅ | Money-back guarantee: ✅ | Apps & Devices: Win~Mac~Android~iOS~Routers (DD-WRT, Tomato, ASUS Merlin)~LGTV~Samsung TV~Amazon Sticks~Xbox | Jurisdiction: Florida, USA
Another one of the best VPNs for China is StrongVPN, as it includes 950 servers located in 46 cities from 20 countries around the globe. Despite being based in Florida, the service has a no-logging policy. So even if it's forced to hand over data to authorities, there won't be much to pass on.
The service also includes a kill switch and can work across 12 devices simultaneously. The other benefit is that it comes with 250 GB of cloud storage if you need to keep any files or documents safe.  If you're having any trouble with the platform, then you can also access the 24/7 live chat support, which is handy, especially when you're abroad.
Read our full StrongVPN review.
5. VyprVPN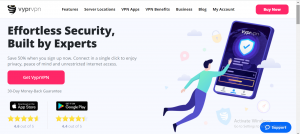 Rank: 5 | Servers: 700+ | Speed: Download: 81.1 Mbps | Countries: 70+ | Encryption Type: PPTP, L2TP/IPsec, IKEv2, WireGuard, OpenVPN, and Chameleon | Max devices: 30 (if signing up via their website) | 24/7 support: ✅| Free trial:✅ | Money-back guarantee: ✅ | Apps & Devices: Win~Mac~Android~iOS~Route~Samsung TV~Amazon Sticks~Xbox | Jurisdiction: Switzerland
Every server that VyprVPN offers is maintained in-house as it allows them to ensure that none of your personal information will ever get exposed. Its servers are located in over 70 locations, and there are no bandwidth restrictions, no matter how long you stay on the service.
Unfortunately, it doesn't work with Netflix, and speeds can differ between countries. But it's very easy to use on Windows, Mac, iOS, and Android. You can even get apps for some smart TVs and your router if you prefer to have every connected device protected by VyprVPN.
6. Hotspot Shield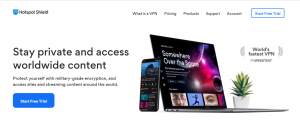 Rank: 6 | Servers: 1,800+ | Speed: Download: 89.3 Mbps | Countries: 80+ | Encryption Type: 128-bit AES, OpenVPN Hydra (TLS) | Max devices: 10 | 24/7 support: ✅| Free trial:✅ | Money-back guarantee: ✅ | Apps & Devices: Win~Mac~Android~iOS~Router~LGTV~Samsung TV~Amazon Sticks~Xbox | Jurisdiction: California, USA
The Hotspot Shield VPN service continues to expand its operations and servers. It now hosts over 1,800 servers across 80 countries. It includes multiple security features too. The USA is a member of the 5/9/14 Eyes Alliance. This alliance allows these countries to share data and intelligence with each other, including data collected through surveillance programs. This has led to concerns about privacy and surveillance, as the 14 Eyes countries are able to access a significant amount of data on individuals from around the world. However, HotspotSheild has a no-logs policy that ensures that they have none of your data to turn over to the government even if they were asked for some reason.
The speeds are perfect for bypassing the great firewall and streaming Hulu, Amazon Prime Video, and Netflix while you're in China. You can even use it on Windows, Mac, iOS, and Android devices. It also includes a generous 45-day money-back guarantee if you're not satisfied with the speed or privacy features.
Read our full Hotspot Shield review.
Honorable Mention for Le VPN: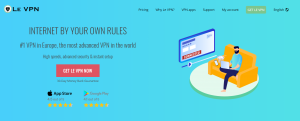 Rank: Bonus | Servers: 700+ | Speed: Download: 82.3 Mbps | Countries: 100+ | Encryption Type: L2TP/IPsec, OpenVPN (TCP), OpenVPN (UDP), PPTP, IPsec, and IKEv2 | Max devices:5  | 24/7 support: ✅| Free trial:✅ | Money-back guarantee: ✅ | Apps & Devices: Win~Mac~Android~iOS~Router~LGTV~Samsung TV~Amazon Sticks~Xbox | Jurisdiction: Hong Kong
Despite the French name, Le VPN is based out of Hong Kong. It features servers in 114 countries including 20 in Asia and Oceania, which is part of why it makes this list.
There are no logs kept in Hong Kong of your online activity, and with Le VPN you can connect up to five devices at once. This is ideal if you need a China VPN to access content on your laptop and mobile device. Like other VPNs that work in China, it's an expensive investment. But it will give you what you need to bypass the great firewall.
Le VPN provides an easy solution for accessing blocked websites while in China. With their all-inclusive subscription pricing and immediate activation, you can cost-effectively access the information and content you desire, whenever you want. Their secure connections are also compatible with a wide range of devices and operating systems.
Whether you are traveling overseas and need to connect to international content that is blocked by Chinese Internet providers or using a Windows, Mac, or Linux computer, or smart devices like iPads, iPhones, and Androids, Le VPN has got you covered. Their VPN services come with unlimited speeds for connection and unlimited transferable data. You can also make multiple connections simultaneously, and their VPN servers are equipped with military-grade encryption and are available in over 100 locations worldwide.
Why Use a VPN for China?
Following are some techniques used by the Chinese government to control internet access, censor content, and limit users' online freedom.
IP Throttling: IP throttling is when your internet speed is intentionally slowed down based on your IP address, making it difficult to access certain websites or services.
Filtering: Filtering is the process of blocking or censoring specific content or websites, preventing you from accessing them.
DNS Spoofing: DNS spoofing involves redirecting your internet traffic to different websites by manipulating the system that translates domain names into IP addresses, potentially blocking access to specific sites.
DNS Poisoning: DNS poisoning is when false or malicious information is inserted into the system that translates domain names into IP addresses, leading to incorrect or blocked access to websites.
What to Look For in a VPN for China
When selecting a VPN for China, make sure to consider these features:
Reliable access from China
Look for a VPN that is accessible from within China and offers optimized servers specifically designed for reliable usage within the country.
Strong security measures:
Prioritize a VPN with robust encryption, a kill switch, leak protection, and obfuscated servers. These features are crucial for bypassing China's firewall and ensuring your online activities remain protected.
Be cautious of the following:
Unreliable VPNs: Using an unreliable VPN in China can lead to unnecessary complications. Don't be fooled into thinking you're safe when, in reality, your protection is compromised.
Things to keep in mind:
The Chinese government is constantly enhancing its efforts to restrict VPN usage. Even some top VPN providers may struggle to consistently bypass these strict controls.
Choose a VPN that aligns with your needs and provides strong security and privacy features. Recommended VPNs for China include ExpressVPN, NordVPN, and Surfshark VPN.
Are VPNs Legal in China?
The rules around using a virtual private network in China are not black and white. The technology itself isn't banned, but you need special permission to use one.
Many businesses and companies in China use virtual private networks (VPNs) to communicate with their international partners, but a government license is required for businesses to use a VPN. Individuals cannot obtain such a license. Foreigners and tourists are allowed to use VPNs within the country.
A September 2017 report from GlobalWebIndex claimed the VPN crackdown was disrupting work and study for entrepreneurs, scientists, and students.
The firm's survey of Chinese internet users found that 14 percent use a VPN daily. For China's online population of 731 million, this means 100 million regular users.
However, some services are not approved by the government.
State-run news site: The statement from China's Ministry of Industry and Information Technology says that "authorized" VPNs will be allowed to conduct business as usual and the new restrictions only apply to companies using unauthorized VPNs, a policy that, the ministry notes, has been in place since January 2018.
If you're caught utilizing a VPN to access banned websites without the proper paperwork, then you're technically breaking the law in China. The punishment is usually a fine. No jail time has ever been recorded for this offense. But that doesn't mean you shouldn't be careful.
Why Do You Need to Use a VPN in China?
If you're traveling to China for business, then you're going to find it very difficult to get any work done without a VPN. There is a high chance that many of the websites you usually access are blocked, and without a virtual private network, there is no way to log into them.
A VPN is also beneficial if you cherish your privacy and don't want your internet history shared with anyone. When you log into a virtual private network, your IP address will get hidden, and your browsing history won't be logged with the ISP.
The Chinese government employs Deep Packet Inspection techniques to monitor citizens' internet activities. Deep Packet Inspection (DPI) allows for a thorough examination of the data being transmitted over a network. It goes beyond just looking at the source and destination addresses of the packets (which is done in regular packet inspection) and delves into the actual content within each packet.
Even Netflix and Amazon Prime Video aren't available in China. If you're in the middle of binging a TV series or you're halfway through a movie, then you're not going to be able to resume it when you're connected to a Chinese network. You'll need to activate your VPN and choose another country to continue viewing your content.
Finally, a VPN will give you peace of mind knowing that your data and information are secure. By taking advantage of the security features of a VPN, you can rest assured that your personal information is invisible and protected against hackers.
The Pros of Using a VPN in China
There are many advantages of using a VPN in China. Some of the most common reasons why you should consider signing up for one before you land in the country include:
Protection over your personal information
Your web history doesn't get logged with internet service providers
Access to streaming services that aren't available in China
Able to view content that is geo-blocked
Admittance to websites blocked or banned in China
Complete anonymity online
Protection from data breaches and malware attacks, mainly when using public Wi-Fi
The Cons of Using a VPN in China
The most significant disadvantage of using a VPN to overcome the great firewall of China is that you need to apply for a license. Using a virtual private network to access websites that the government has carefully chosen to ban can land you in some trouble. While there are fines for using an unauthorized VPN, there is always the potential that the punishment can be more severe.
There are also concerns around choosing the wrong VPN service and your information being compromised. Not all VPN companies work the same way. Some of the free VPNs don't offer the same security features as other services and can leave some of your information exposed to hackers or internet service providers. Free VPNs don't always provide leak protection or have a logging policy, meaning they don't give you complete anonymity and log the websites you visit.
There are also free VPNs that throttle your bandwidth. Some paid VPN companies may not give you fast speeds either. In these instances, you may not be able to watch videos or utilize streaming services due to server restrictions or data caps.
To avoid these issues, you need to understand what to look out for when choosing a VPN. It can help prevent your personal details from being exposed and your internet becoming unusable.
How to Get Started Using a VPN for China
Here's a practical guide to help you install ExpressVPN in China:
Step 1:
Sign up for ExpressVPN before going to China – Before your trip to China, visit ExpressVPN's website and sign up for their service.
Step 1A:
If you are already in China, download the ExpressVPN APK file. Since the ExpressVPN website is blocked in China, you won't be able to download the app from the official website. Instead, you can download the APK file from a mirrored link or contact the ExpressVPN support team to get the installer URL
Step 2:
Download and install the ExpressVPN app – Once you've signed up, download and install the ExpressVPN app on your device of choice.
Step 3:
Open the app and navigate to settings – Launch the ExpressVPN app and explore its settings menu.
Step 4:
Select the Automatic protocol – In the settings, choose the Automatic protocol option as recommended by ExpressVPN for optimal performance in China.
Step 5:
Connect to a VPN server – Activate the app and connect to a VPN server of your preference.
If you can, it is essential to set up the VPN app before your arrival in China. The Chinese government restricts access to non-approved VPN services within the country.
What to Look for in a VPN Service for China?
Privacy Policy and Logs Policy for Your IP Address
The best VPNs will have a no-logs policy. Some free VPN services may advertise that they offer complete anonymity when you're online, but their privacy policy and log policy will detail how they handle user data. For example, they may hold on to it for a certain period of time and willingly turn it over to the authorities if user data is ever requested. While it might seem like a lot of pages to read, it's worth delving into these policies so that your private information doesn't get stored on a VPN server.
Number of Servers
The best VPNs will brag about how many servers they have. For example, a company like NordVPN highlights that it has over 5,500 server locations, while free VPNs may only offer anywhere from three to five. The more VPN servers on offer, the faster your connection will be when you're online.
Server Locations
If accessing blocked websites in China is the reason you're using a VPN, then you're going to want to ensure that you can access servers across the globe. The more server locations on offer, the more blocked content you can retrieve and streaming services you'll have available to you.
Data Limits
A free VPN will tend to have a limit on how much you can download in a day or month. Once you've hit that cap, your bandwidth will get throttled. Some offer 250 MB a month, and others can be more generous and provide 10 GB. You'll need to pay a monthly fee or sign up for a year plan if you want unlimited data for your VPN.
Simultaneous Connections
Many free VPNs limit how many devices can utilize the service at once. Even some paid services will make you take out one of the higher plans to have simultaneous connections. If you need to connect several devices to your VPN, then ensure that you don't need to spend more money for the privilege or won't get disconnected because you're using too many gadgets.
Types of Devices
The most common devices people want to protect with a VPN are their Windows or Mac laptop or computer. However, some VPNs can also be used on Android and iOS devices. If you need to access websites or blocked content on mobiles or other items, then you'll want to make sure you can install it on these devices easily so that you don't have to worry about making a mess of the settings.
Wrapping up
If you're planning to visit or reside in China, you may have concerns about your online security and the risks associated with accessing restricted content. China employs techniques like IP throttling, filtering, DNS spoofing, and DNS poisoning to control internet access and censor content. A VPN can help overcome these restrictions and protect your online privacy.
When selecting a VPN for China, prioritize reliability, strong security measures (such as encryption, a kill switch, and leak protection), and don't risk using unreliable VPNs.
Note that while VPN technology itself isn't banned in China, the laws aren't black and white. Businesses can obtain licenses, but unauthorized VPN usage is prohibited. Foreigners and tourists, however, are allowed to use VPNs within the country.
Frequently Asked Questions (FAQs)
Which VPN is best for China?
ExpressVPN: With over 3,000 servers in 94 countries, ExpressVPN stands out for its ability to bypass Chinese restrictions and access restricted content. AstrillVPN offers unique features like StealthVPN and Smart Mode, specifically designed to circumvent China's Great Firewall, while Surfshark is constantly improving its functionality in China and offers features like NoBorders mode to ensure reliable protection.
Which free VPN works best in China?
We were unable to find an entirely free VPN that works reliably in China. ExpressVPN offers a 30-day money-back guarantee, as does Surfshark, so you can try either one of those very reliable VPN services without having to worry about paying if it doesn't work for you.
Are there any Chinese VPNs?
Yes, there are Chinese VPNs, but they are required to cooperate with the state and must have government approval to operate. You will not be able to access any sites the government doesn't want you to access using them.
Which VPN can bypass China's firewall?
Surfshark and ExpressVPN have both reliably bypassed China's firewall.
Which VPN can access Chinese servers?
ExpressVPN has two servers in Hong Kong as well as servers in nearby Taiwan, Hotspot Shield has 3 servers in China, and Surfshark also has servers in Asia Pacific. Some VPNs that are not on this list but have servers in China are CyberGhost, PureVPN, NordVPN, and PrivateVPN.
Disclaimer: We are not lawyers. This is an informative article for educational purposes only. Citizens and travelers should always do their own research and follow the local laws.