Avira Phantom VPN review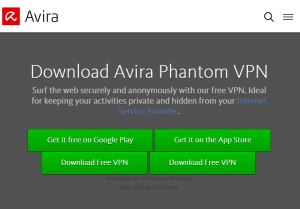 Avira Operations GmbH & Co. KG was founded in 2006 and its creator H+BEDV Datentechnik in 1986. A trusted firm but is it private? Read Avira Phantom VPN review.
Price: 4.74
Price Currency: $
Operating System: Windows
Application Category: Utility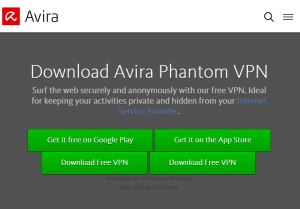 Unfortunately, corporations never make great VPNs
I remember once downloading the Avira antivirus software. It was back in 2018 when they released their new version. I was just finishing formatting my laptop and wanted to try something new instead of Avast, Kaspersky, or FireEye.
Yet the next thing I remember was uninstalling it as quickly as I got it.
Why?
Avira Antivirus had "free" extra features that were actually trialware. In addition, the protection was quite mediocre and it has a heavy impact on the system performance.
But this time, we will have a look at the Avira Phantom VPN review further.
Let's begin.
Avira Phantom VPN synopsis
| | |
| --- | --- |
| Ranking: | 36#/52 |
| Parent company: | Avira Operations GmbH & Co. KG |
| Jurisdiction: | Germany |
| Locations: | 27+ countries/80+ servers |
| Overall test result: | SAFE |
| Torrenting: | PASSED (Torrent allowed) |
| Netflix: | PASSED (Unblocks Netflix 2/3) |
| Encryption/protocols: | AES-256/IKEv2/IPsec/OpenVPN |
| Support: | E-mail response ~44h |
| Cost: | $4.74/mo |
| Official site: | www.avira.com |
Founded by a "Benevolent Dictator"
Avira Operations GmbH & Co. KG was founded in 2006, and its predecessor H+BEDV Datentechnik GmbH in 1986. As a result, they have been on the cybersecurity market for over 33 years.
The founder is Tjark Auerbach, the "Benevolent Dictator" as he calls himself on his LinkedIn profile. After 27 years of running the company, he retired early in 2013, leaving behind a company estimated 9.6% of global market share (according to OPSWAT) and over 100+ million customers.
Avira was considered the sixth largest antivirus vendor in 2012.
☑

No browsing logging
Out of 51 VPNs, 20 log your personal data. Personal data could be either connection timestamps, your IP address, or the websites you visit. There are 3 reasons why your data might be at risk in case of data logging:
Data breaches – In the year 2018 alone, over 5+ billion personal data records were leaked from well-known brands like Facebook, Marriott Hotels, etc
Court information requests – In case the company is based in 14 eyes jurisdiction, your data might be leaked
Vendor honesty – Some VPN services have sold users data to 3rd party advertisers.
Here's Avira Phantom VPN logging policy by date 18th May 2019:

Avira Phantom VPN claims no logging. And it seems they have acted according to the policy because we are not aware of any public court cases that prove the opposite.
☑

Secure encryption and features
The essence of a great VPN is security. It comes in many forms like the type of encryption, additional features, and reliability. And like most of the services out there, Avira is packed with some really good stuff.
AES 256-bit encryption method. Advanced encryption standard is a subset of ciphers, an algorithm that defines the process of data encryption. NASA, and cybersecurity firms all use it, so it's wildly secure. We won't say it's unhackable, but it would be an incredibly complicated task
Encryption Protocols OpenVPN, IPSec, and ikev2. If you want the highest level of safety and speed, OpenVPN is what you should use. However, you cannot change between ports and UDP/TCP
Kill switch is an automatic connection cutter in case of system failure. It lets you sleep peacefully at night, even if the PC is switched on.
Yet not everything is for free. As every feature requires development hours and maintenance, it's intelligible that some features have to serve only the paying customers. For example, kill switch doesn't come along with the free plan.
Unfortunately, hopping between servers is not available. Multi-hop (Double hop) routes your traffic through two to three countries before it reaches the destination server, just to increase the level of security.
☑

Average server speeds
Speed is the result of server management. As Avira has unlimited connections, we assumed that the server speed is not that great. However, in the case of Perfect-Privacy (unlimited yet the fastest speeds), we were absolutely wrong so the best way to learn about the speeds is to test them.
As a result, we found that speed Avira ranks 27th on our speed tests. Out of 52 VPNs, Avira was placed exactly in the middle.
| | | | |
| --- | --- | --- | --- |
| Server | Ping | Download | Upload |
| US | 663.64% | -33.20% | -6.18% |
| UK | 350% | -40.78% | -18.15% |
| Japan | 1750% | -21.09% | -80.89% |
☒ Only 27 destination countries
The more widely spread servers, the faster the connection speed. This is due to the fact that closer servers to your geographical location travel faster back and forth over the VPN.
The most widely spread server parks are maintained by HideMyAss, which has them in over 196+ countries, way above the market average. But unfortunately, Avira is not keeping up even with the average. It only has 80+ servers in 27 countries.
The speed is affected due to other things as well. Overloading servers with many users is something we consider Avira is doing. This is because Avira has unlimited simultaneous connections per account, and therefore, some users may simply abuse the system.
On the bright side, you can spread one account between your family and friends.
☒ Doesn't work in China
Speaking of destinations, what if your next travel destination is China? Would Avira help you connect with Western websites?
China is one of those countries which has incredibly strict Internet rules. You cannot use Google Scholar, YouTube, Wikipedia, and many other platforms due to the government regime. For example in 2018, even some VPN services like Private Internet Access and ProtonVPN were banned, left alone a few that could still be your gateway back home.
Affected providers are unknown. The Chinese government hasn't released any official list of available services. For this reason, we had to do our own research and the results were stunning.
Only 12 out of 51 service websites are accessible
Only 7 out of 51 services are not affected
The start seemed to be promising. Accessing avira.com was successful, meaning that you can easily navigate and download the products you need. However, if you live in China or plan to have a visit, it's not a good choice: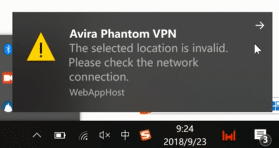 Avira Phantom doesn't work in China
☑

Setup and usability
Every once in a while, we stumble on services that are painful to set up. The main reason for this is complex registration and bad support.
Just imagine the moment, when you have made a decision to buy a tool and you won't get a confirmation e-mail to finish the registration. Or worse, you send an e-mail asking for help but the response arrives a week later. It's such a downer.
So we went through the same process as all new customers do.
It fits with 2 types of devices – Desktop and mobile. The operating systems supported are iMac, Windows, Android, and iOS. Want something lightweight? Avira offers even a Google Chrome extension.
You can choose between the free version or the paid ones. The only difference is the paid version is equipped with tech support and "fail-safe" aka kill switch.
The cost of the paid service is $4.74 per month. Yet this is only with an annual subscription, if you choose the monthly option, you would pay $7/mo. It's not a good investment if you consider premium providers like NordVPN have 1-3 year subscriptions plans for as cheap as $2.99 / mo.
Try it, but you probably need to use their 30-days money-back guarantee…
Another bummer is the lack of payment methods. Usually, if a VPN doesn't offer crypto payments, you can be sure that you are not anonymous. The only options are PayPal or good old credit card.
Positive virus scan results
And finally, if you have downloaded the setup file (At least it's small! Only 5.2 MB), you face an elephant. Antiy-AVL scanner found Trojan.Win32.SGeneric engine. If it's false-positive or a real one, we don't know.

Let's go back to 2018 when we did initial tests with all 51 VPNs. At that time we were stunned how bad was the customer support response for those services. Some of them responded within minutes, yet some didn't answer at all!
There are two ways to contact Avira. Either e-mail them or look up the answer yourself from their FAQ page.
We tried the e-mail.
Waiting 43 hours for 3 simple questions reminds of using snail mail again. A similar situation occurred with Norton, and that's one of the reasons why large corporations VPNs are not at the top of our list.
☑ 

No DNS leaks
Acronym DNS stands for Domain Name Service. It works as a domain translation machine between the host and the user. As an example, Google.com is actually an IP address such as 192.168.1.1. During your connection from a browser to a Google website, a conversion is being done by certain DNS providers.
In case of a bad VPN. Your real IP is being exposed and that is what is considered in the VPN leak test tool.
Testing this sort of failure is part of the review… and we have good news for you!

Avira Phantom VPN DNS does NOT leak.
☑

 

Netflix and torrenting available
After 5 days of usability testing, we were skeptical about the streaming availability. Netflix is the go-to place for movie streaming and online entertainment. Did you know that it's currently the seventh-largest Internet company by revenue?
A VPN combined with Netflix is powerful. You could see movies from all around the globe within a few clicks.
Yet some of the VPN IP addresses are blocked.
We conducted a quick test with 3 random servers to find out if Avira is one of them. Here's the result.

Two out of 3 were unsuccessful. "Whoops, something went wrong…" indicates that you have to either change the server or your VPN provider.
If you are ready to do your own trial and error tests, you might find a few that work.
The good news is that Avira claims to work with torrenting. In our case, we wanted to enjoy "Metropolis", a public domain movie from the past. And we can confirm: torrenting is available:

Avira Phantom VPN review verdict – Do we recommend it?
Avira is a well-known brand. This definitely gives them a competitive advantage in terms of financial backing and know-how. And this is exactly what you see when first using their brainchildren Phantom and Premium.
Both arrive in the beautiful form of design, strong encryption, and protocols. It seems they have nailed it… But they haven't… exactly the opposite.
The product is hideous!
Lacking double-hop and responsive support team are what first caught our attention. But being part of 5 eyes jurisdiction, average speeds, lack of router support, and positive virus test results are unforgivable.
It may be a good fit for business users though.
Test VPN and share your thoughts on Avira Phantom VPN.
Write your Avira Phantom VPN review below