Perfect Privacy review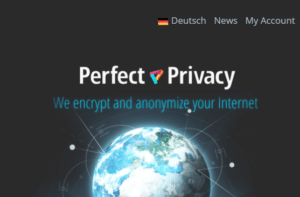 Perfect Privacy's parent, Vectura Data Management Limited, is based in Switzerland: a country with a strong privacy reputation. Read Perfect Privacy review.
Price: 14.68
Price Currency: $
Operating System: Windows
Application Category: Utility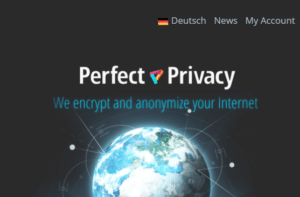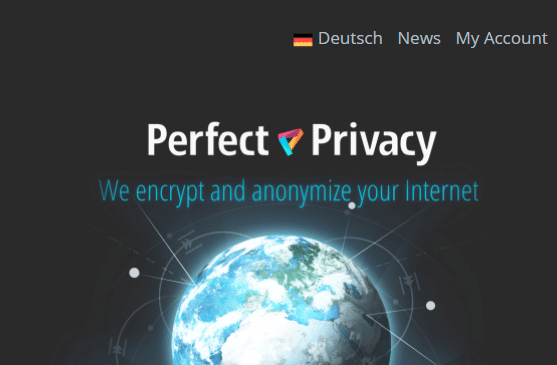 Security comes with a price tag
Perfect Privacy VPN is one of the more popular providers in the market today, with a string of proxy, connection, and encryption services for users with an appreciation of online anonymity.
Established in 2008, Perfect Privacy is the brainchild of Vectura Data Management Limited, a company domiciled in the privacy-friendly nation of Switzerland.
With a name like Perfect Privacy, your services must be at the very top end of anonymity and IP obfuscation capabilities.
'Privacy' has become a buzzword; with corporation spying, obtrusive advertisers, and the uptick in spy and malware.
..Yet is it perfect?
Perfect Privacy synopsis
| | |
| --- | --- |
| Ranking: | 7#/52 |
| Parent company: | Vectura Data Management Limited |
| Jurisdiction: | Switzerland |
| Locations: | 25+ countries/50+ servers |
| Overall test result: | SAFE |
| Torrenting: | PASSED (P2P torrent allowed) |
| Netflix: | PASSED (Unblocks Netflix 1/3) |
| Encryption/protocols: | AES-256/SOCKS5/IPsec/PPTP/OpenVPN UDP & TCP |
| Support: | E-mail response ~14h |
| Cost: | $10.12/mo |
| Official site: | www.perfect-privacy.com |
☑

Location and jurisdiction
Seeing as the point of a VPN is to prevent online monitoring and tracking by corporations and criminal elements alike, it is always critical to dig into the more mundane aspects of your VPN provider like — what country is the company based in, and what are the privacy laws in place?
Perfect Privacy's parent company, Vectura Data Management Limited, is based in Switzerland: a country that has a strong privacy reputation. Swiss-based VPN companies are not compelled to retain data or logs on their customers, and as such, no personally identifiable data beyond what is provided at signup is stored on their servers.
Readers with even a passing knowledge of the risks of poor internet privacy must appreciate the location of Perfect Privacy: not being a member of the Fourteen Eyes Alliance — a group of nations who collectively spy on the activities of their citizens.
With a Swiss-based location, you can best rest assured your internet habits cannot be poured upon by corporations.
☑

Great features
What are the features that make Perfect Privacy one of the best VPN services around?
The most important aspect of a VPN — much more than the bells and whistles a pretty interface — is the encryption protocols it comes equipped with. The privacy industry is ever-evolving, and the number of protocols continues to increase: with varying levels of reliability and anonymity.
Perfect Privacy offers among others, the industry recommended OpenVPN protocol, as well as SOCKS5 and PPTP proxies. There is also an allowance for IPSEC and SSH connections, depending on your preference and technical capability.
OpenVPN, the recommended protocol, comes secured with near-impenetrable 256-bit encryption. It is also open-sourced, meaning it is constantly modified to provide tighter security, plug gaps, and fix glitches.
The number of servers a VPN provides acts as way more than petty bragging rights. In the battle of VPNs, the more the merrier. A VPN with thousands of servers has a much lower risk of lagging network speeds due to user load. A network with fewer servers, on the other hand, will be plagued by slower speeds.
Another factor to consider is the number of countries servers they offer. Again, the higher the number of countries, the better the performance for customers. With multiple countries, users can switch servers across locations without necessarily suffering from a sharp decline in speed.
So, when looking into the Perfect Privacy review, how does it match up?
Not very well, in this aspect.
50+ servers in 23 countries are not a sales pitch VPN enthusiasts are going to be frothing at the mouth over. Servers are located in the usual suspects — USA, UK, and the rest of Europe. Asian servers: Hong Kong, Malaysia, and Japan are also available for users looking for that.

Compared to giants like NordVPN, ExpressVPN, and Astrill, the number of servers is alarmingly minuscule, and it is easy to have doubts regarding performance.
Yet you shouldn't… We'll come back to its performance later…
In theory, Perfect Privacy is compatible with the entire array of devices. Practically, however, the story is a little more convoluted. The company has produced licensed apps for only devices running on Windows and Linux operating systems. Android, iOS, macOS, and internet TVs can only be configured using third-party apps.
The introduction of a third-party app or client makes usability an issue. Users with little to no technical knowledge are left scratching their heads on how to configure ports, sockets, and the whole shebang. The lack of dedicated apps for mobile devices is especially telling, seeing as a rising proportion of internet traffic is mobile.
Perfect Privacy offers an option that puts other VPNs to shame—unlimited simultaneous connections. You are not restricted to 5 devices per plan or required to pay an extra monthly fee to increase the number of users that can connect on a plan. This unlimited access ensures your entire virtual presence is covered by the broad wings of privacy.
Perfect Privacy's client has a basic, straightforward, retro look. The app is stripped down, the barebones interface that, while not catching the eye, offers a clear path to your goal. There is an option to connect to a preferred server, as well as the option to change encryption protocols. Navigating through the app is so easy, which more than makes up for the drab, colorless design.
Sometimes your internet suddenly disconnects. Those precious seconds between the internet reconnecting and your VPN catching up is enough to leak critical personal data without encryption.
A kill switch disables all internet traffic until your VPN can successfully reconnect and keep your data anonymous. Perfect Privacy has three different settings for the inbuilt kill-switch: to customize what apps can connect with or without encryption.
☑

Zero data logging
Most, if not all, VPN companies claim to have a zero-logging privacy policy. Meaning, they do not keep track of identifiable user info, or any retain any data that could even remotely point as an individual as its source of origin.
While the 'no-logs' policy is supposed to inspire confidence, many a VPN provider has been caught monitoring the activity of users — ironic, considering the point of a VPN.

Perfect Privacy's logging policy claims all services are run on RAM disks, which does not allow for long-term retention of data. Disconnecting the power cables will also erase all data stored on the already secure storage disks. The company is also not compelled by any data retention laws to collect information on its users, and as such, your data is never stored within the network.
☑

Fastest overall speed out of all VPNs
Second, to only encryption capability, the performance of a VPN in terms of speed can is absolutely great. In fact, during our speed tests with over 51 VPNs, Perfect-Privacy was the best in the overall score.
Due to the limited number of available servers and locations, users consistently report speeds between 30-40% of the unencrypted bandwidth speed, yet it's actually better than most of the services. Just perfect for gamers and torrent users.
☑

Perfect Privacy for torrenting?
If you are a big fan of file sharing and torrent downloads, a VPN should be a requirement rather than a suggestion.
Service providers have been known to crack down on torrent users, with charges and huge penalties being the end result oftentimes. If you are sharing legal files—a VPN can boost download and upload speeds.
Perfect Privacy classifies their servers as premium dedicated servers, well capable of sustaining speeds up to 1000mbps.
However, with only 50+ servers, torrent speeds may experience lulls due to traffic and competition by users.
☑

Netflix support and streaming
Perfect Privacy, true to its name, does a terrific job of obfuscating internet IPs, and ensuring your privacy is secured while browsing the web. If privacy is the end-all-be-all in your search for a VPN, then you will be very well served.
For the more adventurous: those seeking out an avenue to scale the many barriers streaming services as Netflix and Hulu have installed on their sites, Perfect Privacy falls a little short.
The thing with Perfect Privacy is that, when it comes to Netflix unblocking, there is no false advertisement. Scanning through their website, there is a telling absence of Netflix support claims — they do not offer streaming unblocking as a major selling point. This is not to say there is no hope for Netflix lovers, though.
Here's our first test. Works great!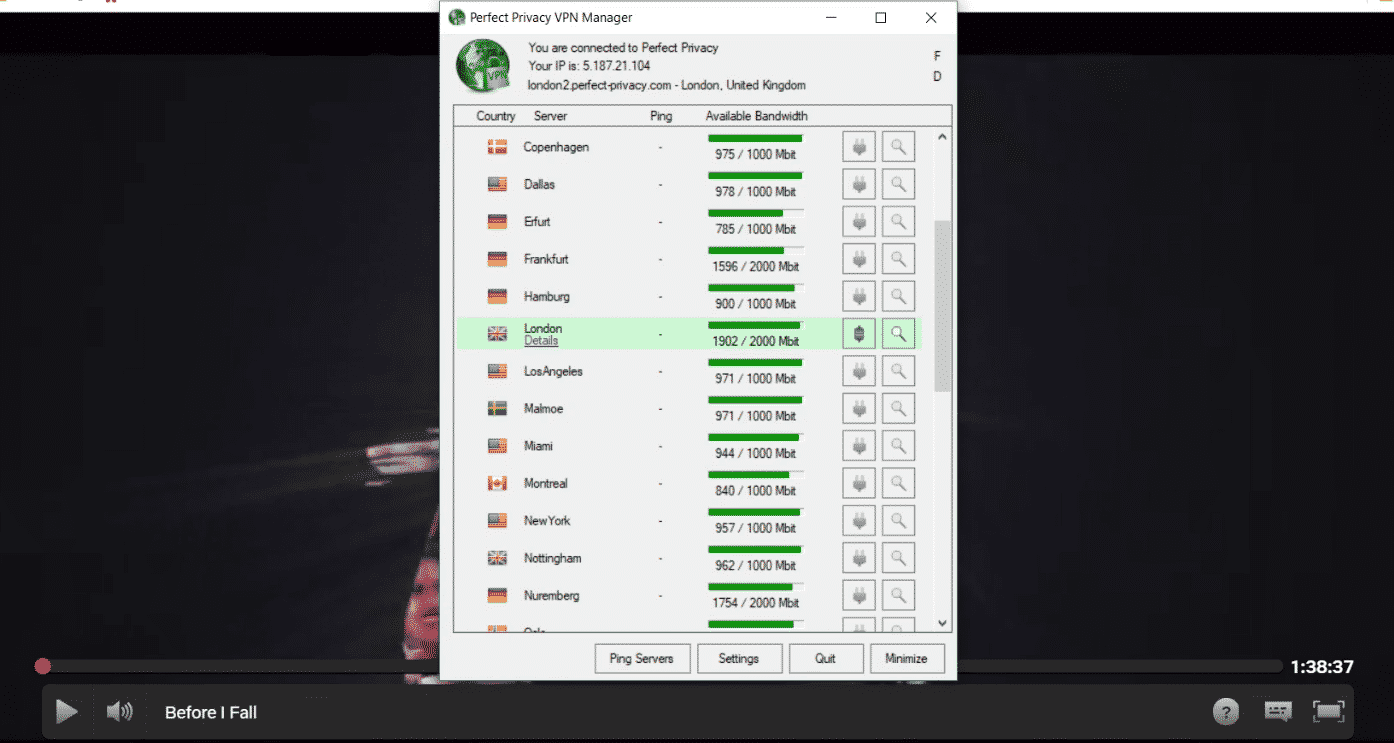 Yet with Dallas server.. it didn't work.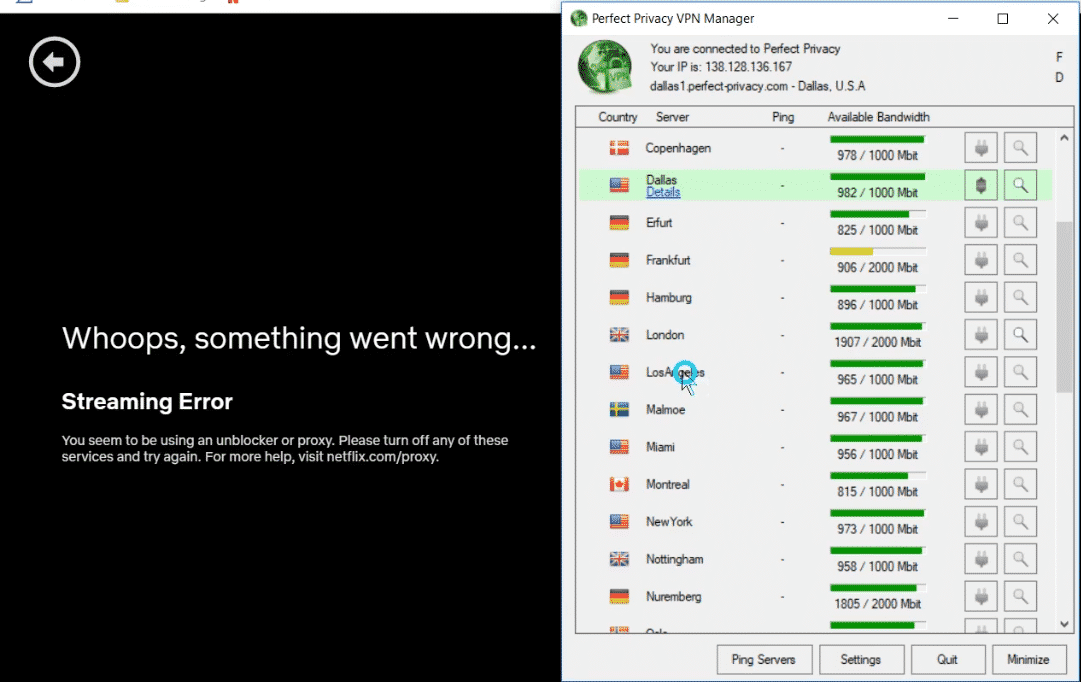 Out of 3 tests in total, it worked only once with the London server.
If you need a more robust catalog, you are better served to choose a provider that makes Netflix unblocking a priority.
☒ Pricing and payment options
Perfect Privacy's subscription packages are highlighted on their website. Being a European based business, the prices are displayed in Euros. The pricing plans are as follows:
Monthly: €12.99 ≈ $14.68 per month
Quarterly: €35.95 ≈ $40.62 every 3 months.
Semi-annually: €65.95 ≈ $74.52 every 6 months
Yearly: €119.99 ≈ $135.59 every 12 months
24 months: €214.95 ≈ $242.89
At $14.68 per month, for the base plan, Perfect Privacy is one of the more expensive VPNs out in the market. For that amount, and seeing the weaker server strength, you might be justified swinging for cheaper options like Surfshark and  ExpressVPN.
Payment can be made through a number of secure platforms. Your payment details are secure and are processed by internationally reputable gateways like, PayPal, Mobiamo, Visa and Mastercard, Amex, and UnionPay. If what you desire is even more anonymity, you can pay via Bitcoin, without providing identifiable data.

The company has gone above and beyond to temper the fears of the more paranoid customers. Mail your payment to a nondescript address in the sweet country of Latvia, and start using Perfect Privacy without delay.
There is no free trial available for new customers, so you have to hop in with blind faith. However, there is a 7-day money-back guarantee from the date of payment. This guarantee does not extend to the Bond-esque cash payment or the unregulated cryptocurrency Bitcoin.
☑

Terms of service and privacy policy
The terms of service are brief and to the point. There are no complicated legal jargon, or ambiguous statements designed to confuse readers. Perfect Privacy claims to store no data, besides:
Username and password for login
The email address provided at the point of sign up. Anonymous email addresses are acceptable for registration.
Account expiration date, for billing purposes.
There are no explicit bandwidth limits. However, Perfect Privacy has a reasonable use clause as a deterrent for indiscriminate downloads. How this would be enforced without tracking individual browsing activity is yet to be determined.
☑

"Okayish" customer support
Perfect Privacy has multiple channels of contact, but the one drawback is the absence of live chat. Users can reach out to customer support staff via a contact form, an interactive forum, and through their contact email. Issues are handled via a ticketed mode of correspondence: with staff responding to requests within the 12 hours of contact.
There is an active forum for users and moderators to discuss new features, report glitches, bugs, and complaints about the VPN functioning.
A contact form is provided for users to state the subject of their complaints. In most cases, you can expect a helpful response from a trained agent in just a few hours.
The rest of the website is pretty straightforward to navigate. There is a FAQ section where new or existing customers can find answers to basic to intermediate questions on VPN, privacy, online anonymity, and Perfect Privacy's policies.
Final thoughts
In this Perfect Privacy VPN review, we saw that it provides industry-standard encryption and anonymity protocols, along with a slew of free internet resources. However, the sheer size of its network, with under 60 servers in just 23 countries leaves a lot to be desired in terms of performance.
The cost of the subscription is also off-putting considering there is no Netflix support. There is also an absence of apps for multiple platforms.
Yet Perfect Privacy is a solid tool for anonymity, the speeds are super fast: ranking as nr 1 in our speed tests.. and it's actually surprisingly great in terms of safety. We would definitely recommend Perfect-Privacy if you are able to pay the buck.
Join the community, conduct a VPN leak test and leave us your thoughts about Perfect Privacy.
Write your Perfect Privacy review